When we were looking for a hotel in Evora we were struck by the very reasonable room rate offered at the Hotel Evora Olive, a member of the Lux Hotel group, and by the good reviews on Tripadvisor. It was a relative newcomer to the Evora hotel scene but ticked all the boxes for us.
First impressions were excellent – that is once we had found it – a few signs from the station would be good. Everything looked new, stylish (in particular the central spiral staircase), the receptionist spoke excellent English, having lived for a while in the UK, and equipped us with a map and directions of where to go and what to see, pending our room being ready later in the day. The other receptionists that we came across during our stay were equally welcoming, one even presenting me with a carnation, this being 25 April and the anniversary of Portugal's Carnation Revolution.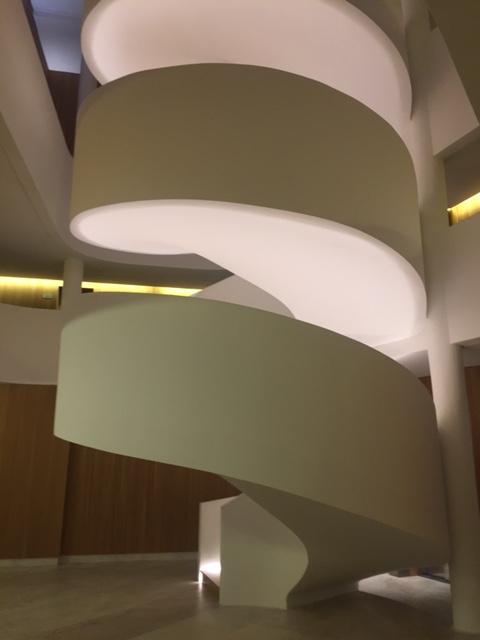 We were delighted to find that the hotel was close to everything that we wanted to see and yet in a very quiet street. The restaurant that we were booked into for dinner that night, Fialho, was on the opposite side of town, as was our wine tasting but both were still easily walkable.
Our room was on the small side but the bed was a good size and very comfy. Complimentary water was provided (a nice touch) and we had ample storage space and an in-room safe. Had we been staying say for a week it would have been worth paying for a larger room. The bathroom was relatively small too but very stylish with its brushed concrete floor. Just make sure, however, that you are on intimate terms with anyone you're sharing a room with since the bathroom walls, somewhat strangely, stop short of the ceiling by a foot or two, meaning privacy is in short supply!
Our room rate did not include breakfast but we could have paid a discounted price at check-in to have it for €8 instead of the usual €10. We did sample the bar after dinner and found it a comfortable area with good service and reasonable prices.
We didn't find time (or energy) to use the indoor plunge pool but did enjoy the lovely outdoor space, planted attractively with olive trees and well equipped with tables and chairs plus sunloungers.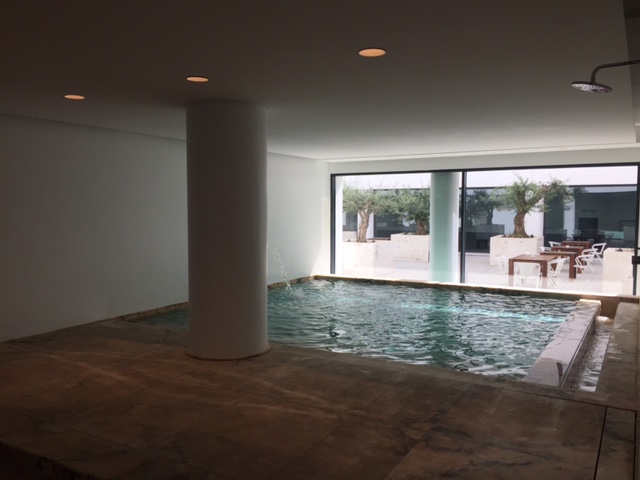 All in all, we loved our stay at the hotel but our recommendation comes with the bathroom design caveat!