It was Bologna's cultural sights that made us decide to pay it a visit but in the knowledge that it also has a great reputation as a foodie destination we were justifiably excited about what and where we would be eating.

As part of our walking tour of Bologna we visited the Quadrilatero district, just off the Piazza Maggiore. This area is jam packed with cafes, bars, the market and specialist shops selling cheeses, hams, salume, colourful fruit and veg, fish, bread and wines. We knew we would be paying a return visit under our own steam to have a more leisurely look. In fact it rather made us wish we had opted for an apartment rather than a hotel so that we could buy our own feasts each day from this gastronomic paradise!


That would, however, have meant missing out on some great meals in the city. We were lucky enough to have lots of recommendations for restaurants: some from a young relative who had spent a year at the university, some from our contact at Bologna Welcome and some from one of the receptionists at our hotel who was very keen to steer us away from the tourist trail and ensure we enjoyed the traditional Bolognese cuisine. Sadly we didn't have time to try them all but other recommendations (apart from those mentioned below) included Osteria dell'Orso for something casual, Osteria Bottega and Teresina for a more special meal and Da Nello and Serghei for typical Bolognese cuisine.

Of course we couldn't be in Bologna without sampling the spaghetti or, as seemed to be more common, tagliatelle ragu (spaghetti Bolognaise to us Brits) and very tasty it was too. However, one of our favourite pasta dishes turned out to be Da Pietro's tagliatelle with minced rabbit, black olives and tomatoes. We soon learned that sharing a pasta dish as a starter was the way to go and perfectly acceptable at all the restaurants that we ate in.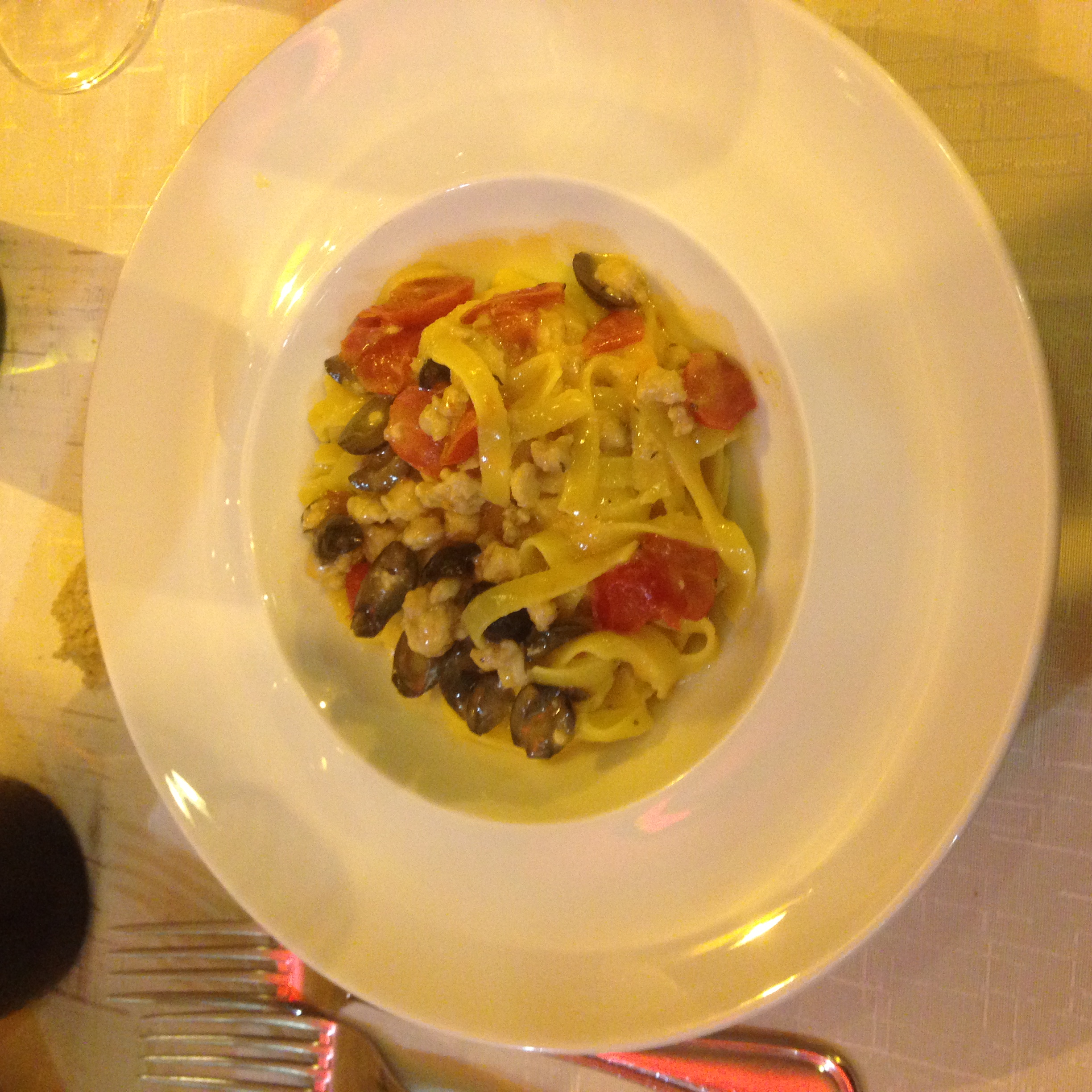 That left plenty of room for the delicious main courses that we enjoyed, more often than not in Da Pietro which became our favourite place to eat but also in Franco Rossi and its close neighbour, Pino, whose seafood risotto, packed with clams, mussels, squid and a large prawn was up there with the best.


Lamb was a popular dish on Bologna's menus and Da Pietro dished up their rack with a pistachio crust which added something different to the traditional flavours of rosemary and garlic. Their guinea fowl breast cooked in a delicious citrus sauce was a high point for me whilst my husband was almost (but not quite) defeated by the generous pork shank, served with scrumptious roast potatoes.
The local red wine, a Sangiovese, provided the perfect accompaniment to our meals. Of course no stay in Italy would be complete without a pre dinner (or lunchtime) glass of prosecco and where could be better to have that than on a roof terrace with a 360 degree view of the historic city. We found the best roof terrace was at the boutique Hotel Touring, near Piazza Cavour, although our own hotel, the Metropolitan, came a close second.
For those on a budget, eating from the set price lunch menu makes good sense. For €13 each we enjoyed a lunch of tagliatelle carbonara, veal al Marsala served with fries and a small carafe of wine. That gave us the perfect excuse later on to join the Bolognese in their evening activity of aperitivi. €8 provided us with a glass of wine plus access to the most terrific buffet spread. This is usually served from about 6.30 to 9.30 and the bars around the Quadrilatero seemed to be the most popular place to be.

This area is also a good place to grab a quick lunch of a salami tagliere and a glass of wine at Zerocinquantino (051). Alternatively treat yourself to an ice cream lunch at the Cremeria Funivia in Piazza Cavour – just don't be tempted by their ice cream cakes which looked amazing but would require the presence of several friends to share with!


All in all Bologna proved to be a great destination for those who love Italian food – the diet starts today!