This spring has seen the launch of Brooklyn Brewery's Mix Vol 1, possibly the coolest package of beer you're ever going to see, and probably one of the best tasting too!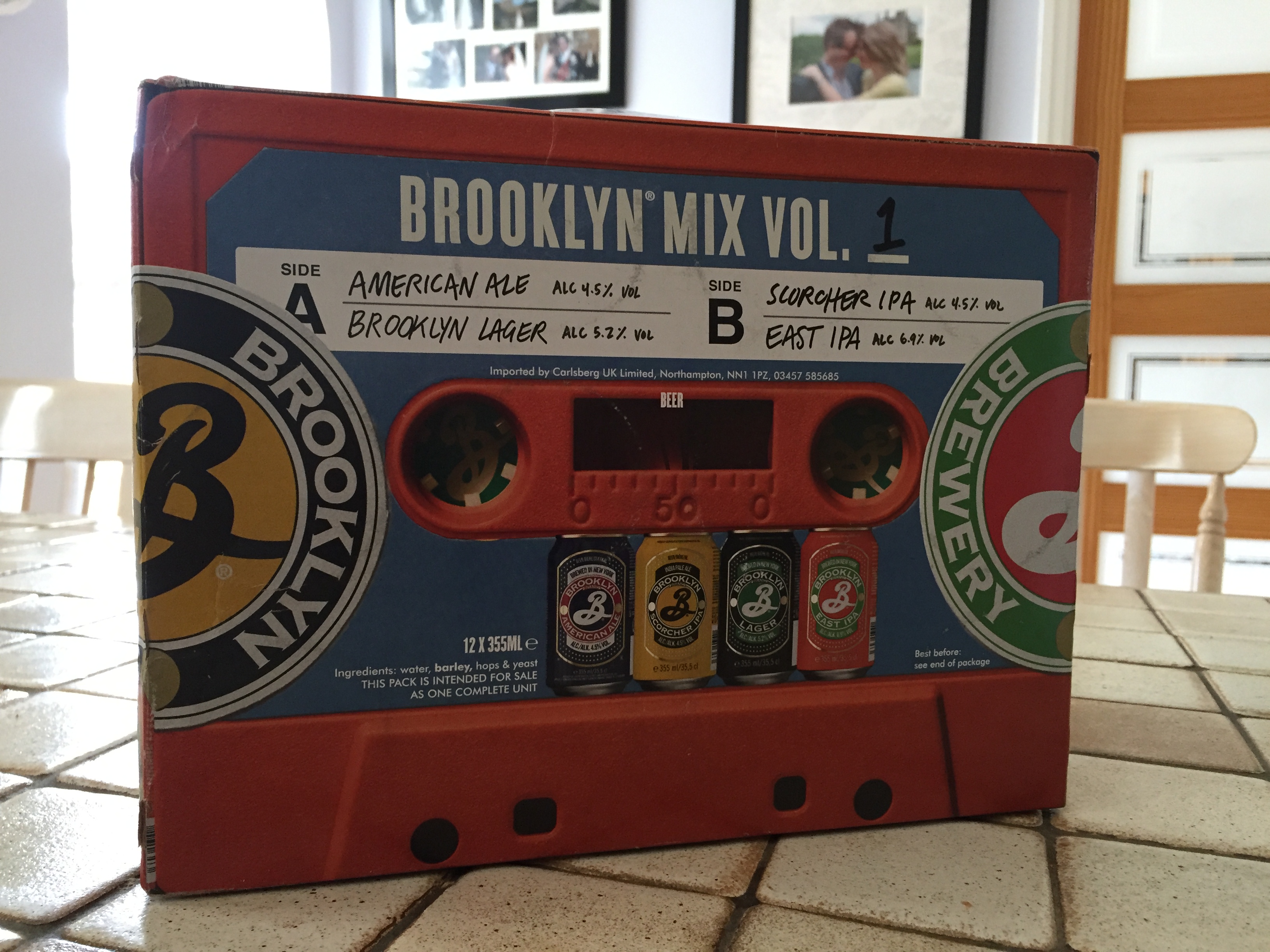 The first mixed multi-pack release from the Williamsburg-based brewery delivers a range of hit beers in one handy package. It's great for anyone who can't quite decide on their favourite beer; in total there are 12 cans of the brewery's finest brews, kicking off with the signature Brooklyn Lager (5.2% ABV), followed by the easygoing Brooklyn American Ale (4.5% ABV), the bold yet balanced Brooklyn East IPA (6.9%) and finishing off nicely with the newest addition to their eclectic set list, Brooklyn Scorcher IPA (4.5% ABV).
One of the best things about Brooklyn Brewery beer is that it is designed to pair well with food, in much the same way a good wine is. So, there's beer suitable for teaming up with pizza, burger, spicy food, cheese, and meats, and they've given a handy list as to which beers go with which foods.
Here's a little more detail about what you can expect from the box, which would make an indulgent treat for yourself, or a fantastic birthday gift for the beer-lover in your life.
Brooklyn Lager
The most-famous of the crew and the brewery's signature beer, this is the beer you may have stumbled across most often from Brooklyn when drinking in bars in England. The Vienna-style lager is a beautiful amber-gold in colour and unites traditional flavours of toffee, toast, caramel and a dry-hopped aroma full of grapefruit, flowers and pine. We enjoyed this with a Sunday roast dinner and it more than held its own with its depth in flavour.
Food pairing suggestions: Pizza, burgers, salads, steaks, Mexican food, roast chicken, barbecue, fried fish, pork, Chinese dishes, manchego, Stilton, farmhouse cheddar and mild Gruyere.
Brooklyn American Ale
Brooklyn American Ale is easygoing, versatile, and dependable. A vigorous dry hopping of Amarillo punches up the aroma with the herbal, piney scents that are a hallmark of US pale ales. Crisp, clean malt and a gentle bitterness leaves the palate refreshed and thirsty for more. We found this one really moreish and the good news is that a couple of pints of this won't make you feel bloated! This is also a really nice one to sip on a hot day.
Food pairing suggestions: Pizza, burgers, spicy foods, Thai, Mexican, salads, fresh cheeses, and sharp cheddars.
Brooklyn East IPA
Brooklyn East IPA blends American hops with an English balance into one uniquely satisfying IPA. This go-to classic features slightly sweet malts and pleasantly bitter hints of grapefruit, orange and pine. We found this one to be a perfect companion to a Thai takeaway one evening; it has enough of a fruity edge to offset the spice.
Food pairing suggestions: Spicy foods, especially Thai, Indian, Vietnamese, Malaysian, Szcheuan and Mexican dishes; crab cakes, salmon, and English farmhouse cheddar.
Brooklyn Scorcher IPA
Brooklyn Scorcher IPA is a surprisingly light IPA that is perfect for those looking for a beer that delivers big flavours. A floral, piney aroma goes on to deliver a mouth-watering bitterness as the hops hit the taste buds, followed by a hint of toasty malt and a clean and lively finish.
Food pairing suggestions: Spicy foods, sandwiches, salads, grilled meats, fresh cheeses, cheddars, and goat cheeses.
The Brooklyn Mix Vol 1 is available to buy online now, or from supermarkets. Enjoy!