Having enjoyed an absolutely brilliant day exploring The Deep (read about how we got on here), we were rather intrigued by what would be in store for us when we returned later that same day to enjoy a unique and very different dining experience at the Two Rivers restaurant.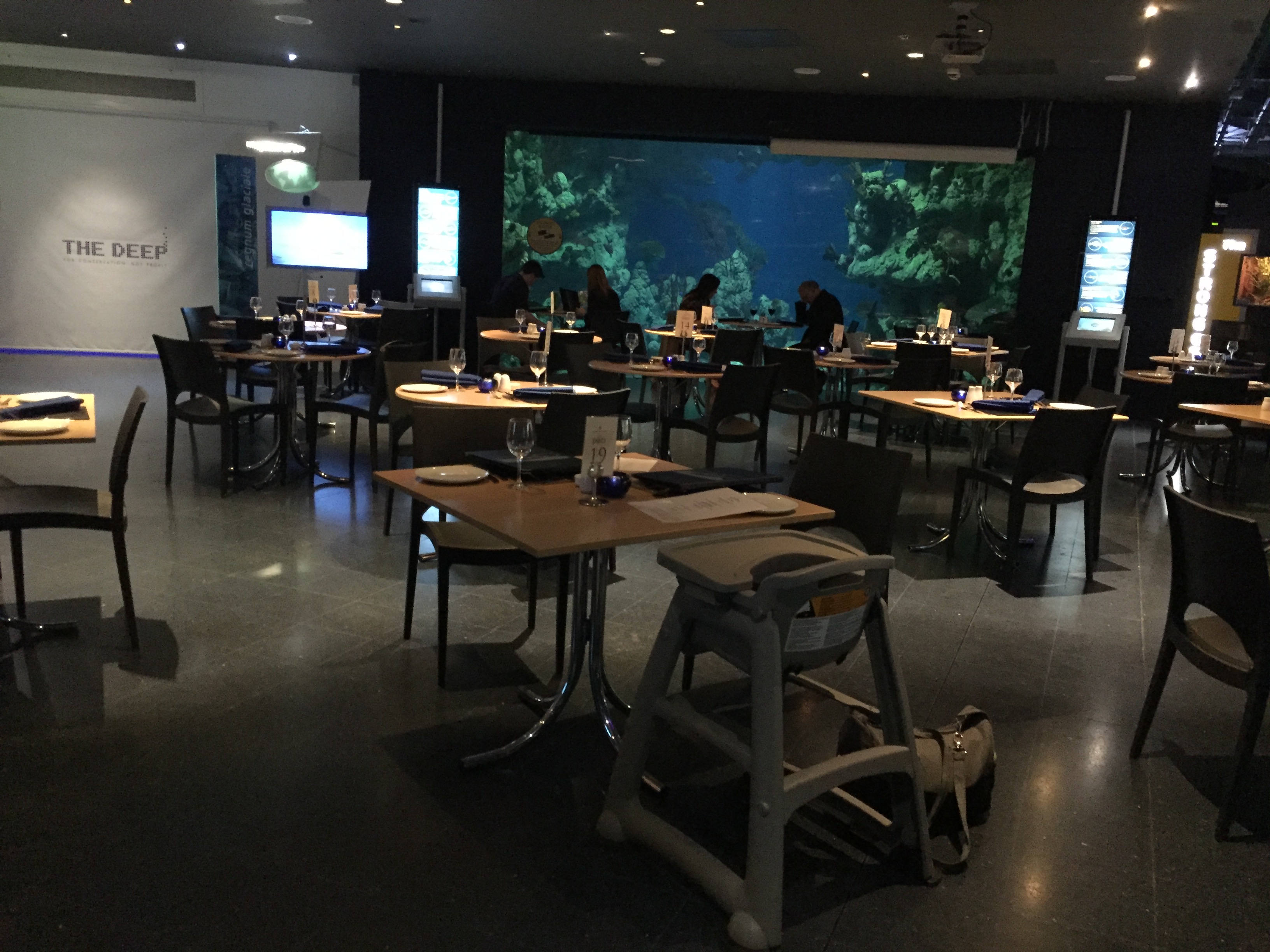 Whilst Two Rivers has its own bar area, offering a great place for meeting friends and family, the restaurant itself is actually in the aquarium area, allowing for a unique insight into the marine life after hours and also providing a rather incredible backdrop to the meal.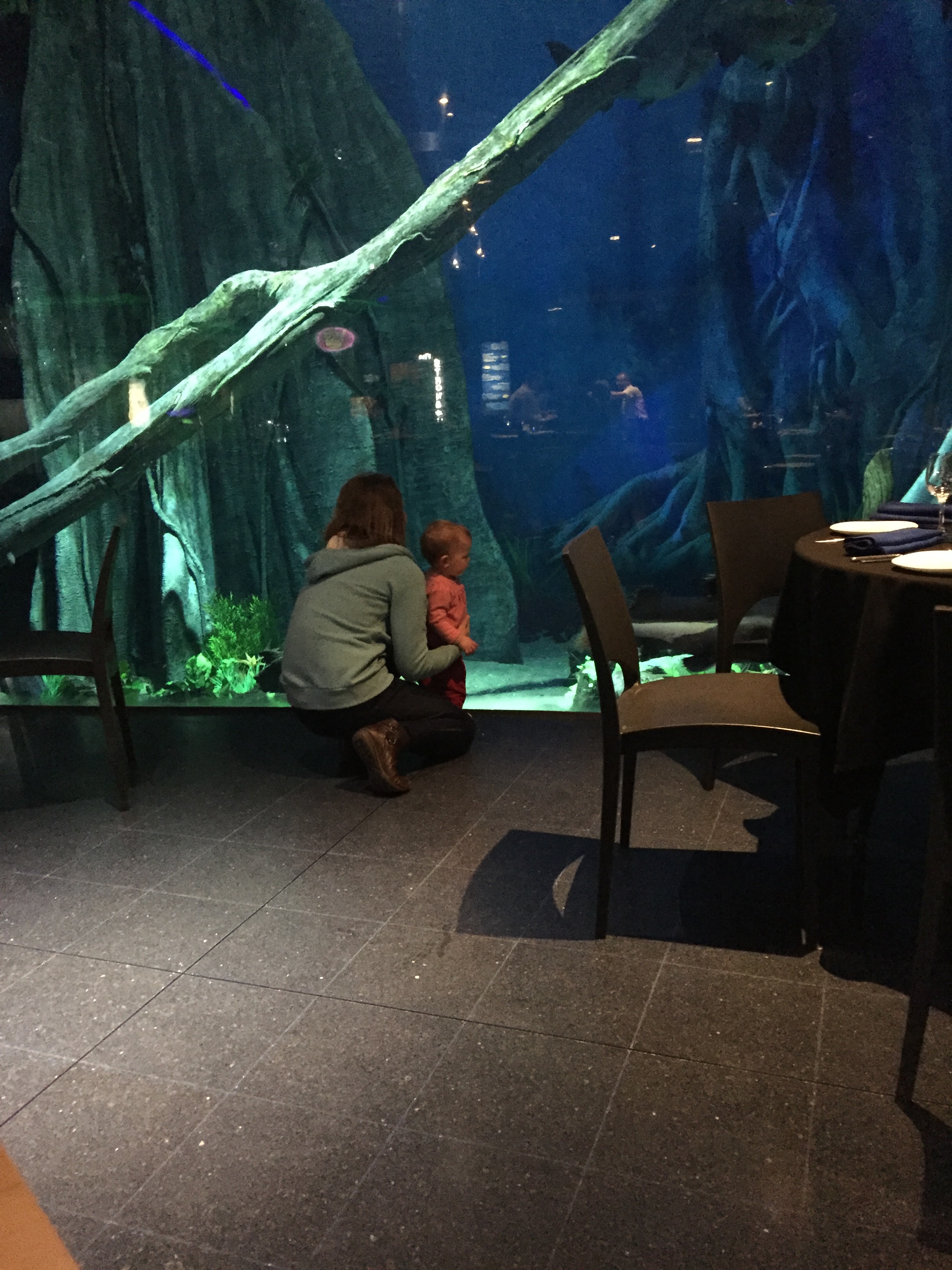 The atmosphere is such that it is appropriate for celebrations, family groups, casual groups of friends out for a bite to eat, and couples. This is a restaurant that is classy enough for some refined dining but also not so formal that you feel like you can't walk around between courses exploring the tanks and exhibits!
Of course, while a unique and rather amazing setting is great, service and of course food is going to be key. We decided to order two courses (main and dessert) in the knowledge that we had to drive back to Leeds with our little girl a little bit later than her normal bedtime. Whilst we waited for our main dishes to turn up, the waiting team were kind enough to ply us with enough bread to keep our little one's hunger at bay as she gazed in amazement at the sea turtle that was seemingly having a whale of a time swimming up and down the tank!
For her main, Charlotte ordered the lemon and pepper stuffed chicken breast, whilst I opted for a cod special that sounded divine and seemed to fit in nicely with our location by the coast. For our little lady, a kid's menu was available and we opted for a fish goujon meal, with the staff once again impressing by accommodating our request for the chips to be replaced with a salad.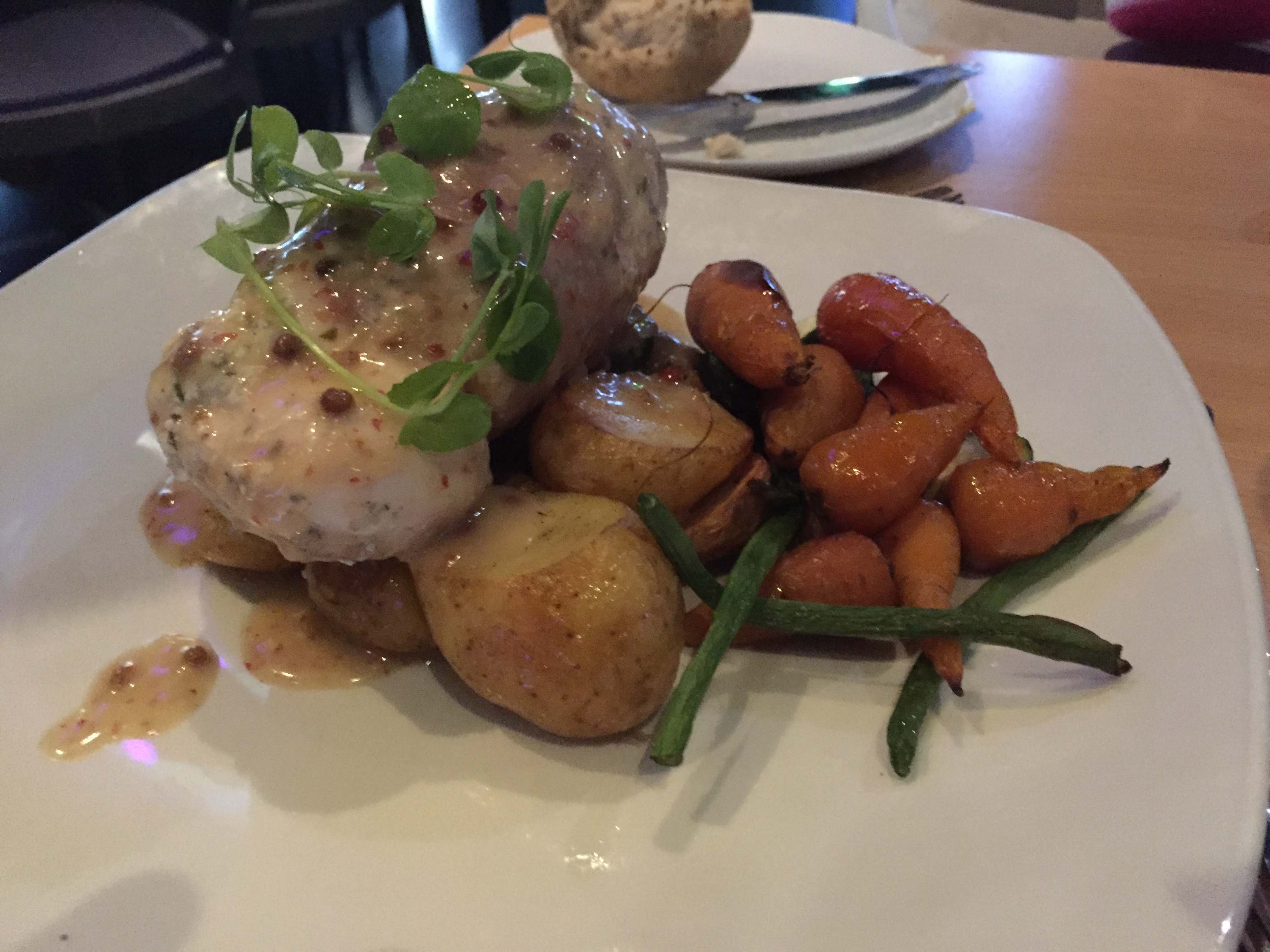 As you can see from our images, the dishes were presented nicely with the chicken cooked to perfection and the flavour enhanced by the Parma ham and rounded off delightfully by the delicate lemon sauce. In addition, the Chantenay carrots were cooked well, meaning that they still kept their texture, and the accompanying potatoes (as with my dish) provided a well-seasoned and enjoyable side.
My cod dish managed to elevate a fish that can be very easy to make boring or cook badly into a winning one. Served with a delightful creamy sauce that didn't overpower the more delicate fish flavours, I could have eaten the dish three times over. It should also be noted that our little girl tucked in very happily to her meal!
For dessert, it was a big decision. Eventually after a long hard think Charlotte opted to order the chocolate and pecan caramel tart while I chose the hot cherry chocolate pudding. While the staff very kindly also offered to get our little lady some ice cream we decided that given the proximity to her bedtime and the fact that she hasn't quite mastered cutlery yet, we would give it a miss for her!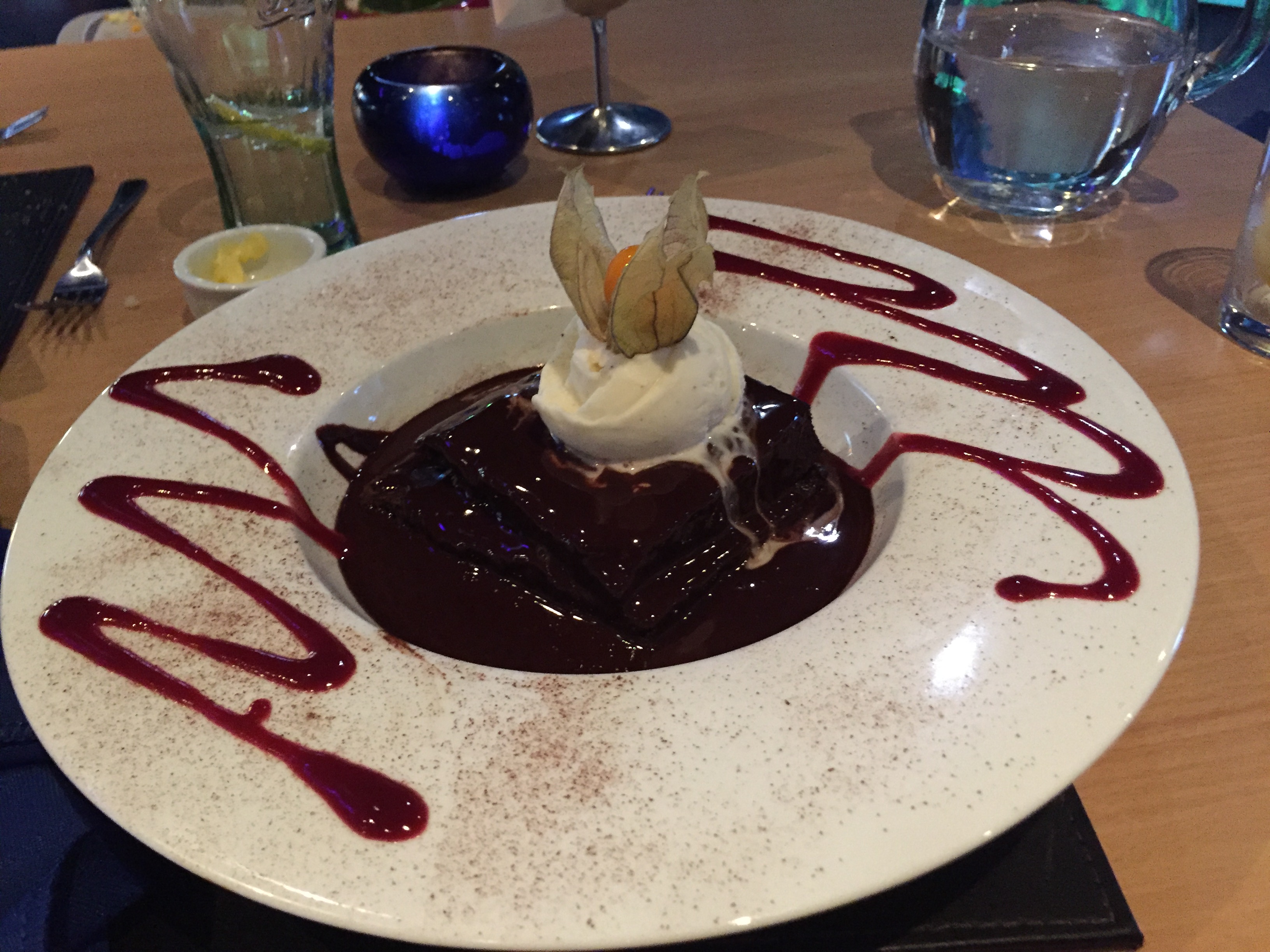 When they both arrived, our desserts looked sublime. My cherry chocolate pudding had a beautiful appearance to it and struck the perfect balance between sponge and sauce. The cherry wasn't sharp as under-ripe ones can be but it did offer a lovely twist on a traditional chocolate pudding and was a really enjoyable way to end my meal.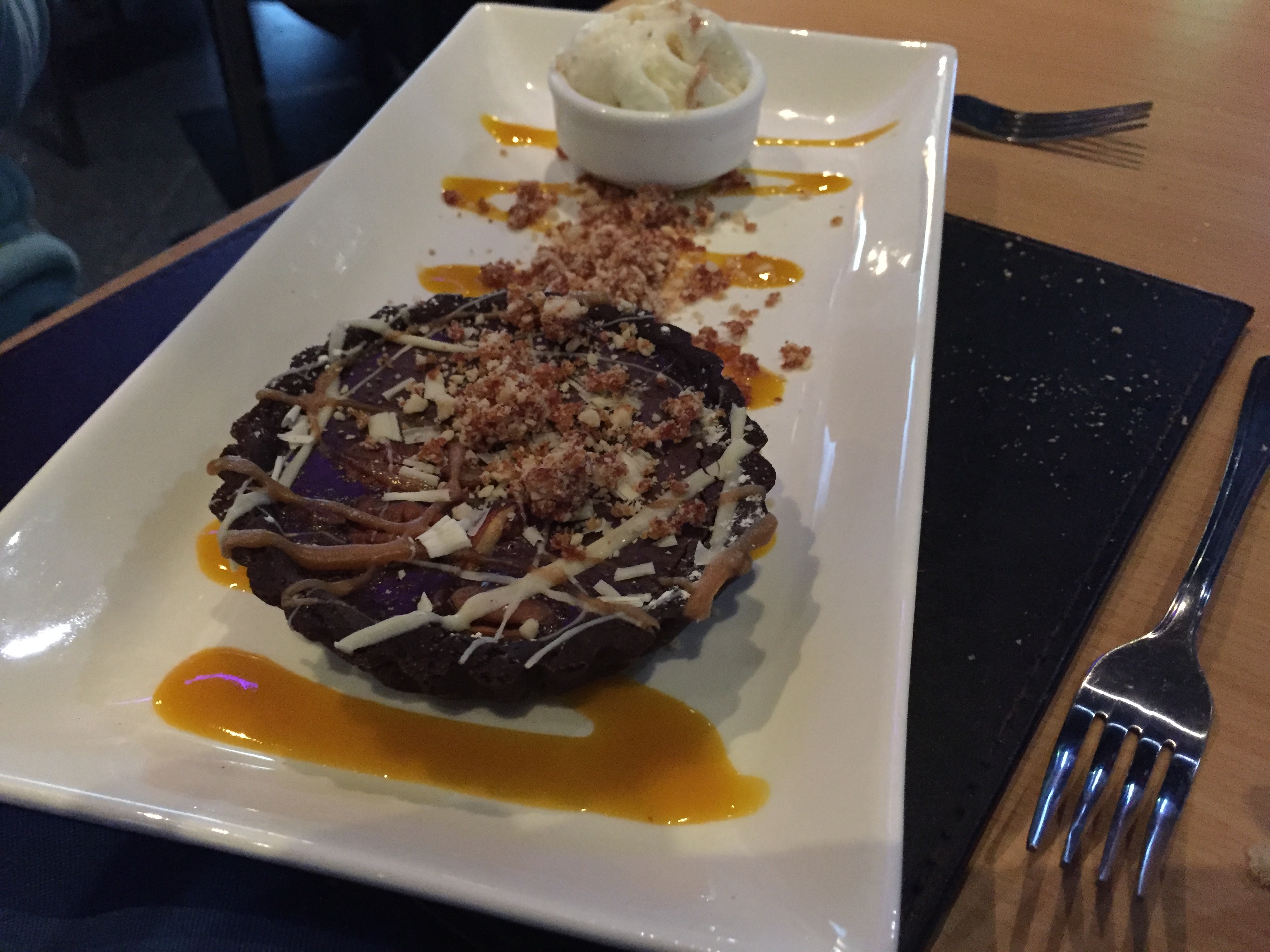 Charlotte was left even more impressed with her pudding, which not only had a mixture of textures with the peanut brittle and oozing of caramel sauce surrounding the tart but also boasted genuinely good quality pastry.
All in all, the backdrop to the dining experience was a major reason behind us accepting the offer to try out this wonderful concept of a restaurant, but the food was of such a high standard that it demands attention as a foodie haunt, no matter the distractions.
Where is it: The Deep, Tower St, Hull, HU1 4DP
Reservations: 01482 382883 / tworivers@thedeep.co.uk
When is it open: Thursday, Friday and Saturday evenings from 7pm
Cost: Thursday – two courses for £21.95 or three courses for £25.95
Friday/Saturday – two courses for £25.95 or three courses for £29.95