Located in the West End area of Edinburgh's New Town, The Bonham hotel is perfect for business travellers and families. With its attractive facade and great reputation, we were excited to be invited to try out the Gin Fizz Afternoon Tea when we were in Edinburgh (our little lady was being looked after by her grandparents while we indulged in our afternoon luxury!).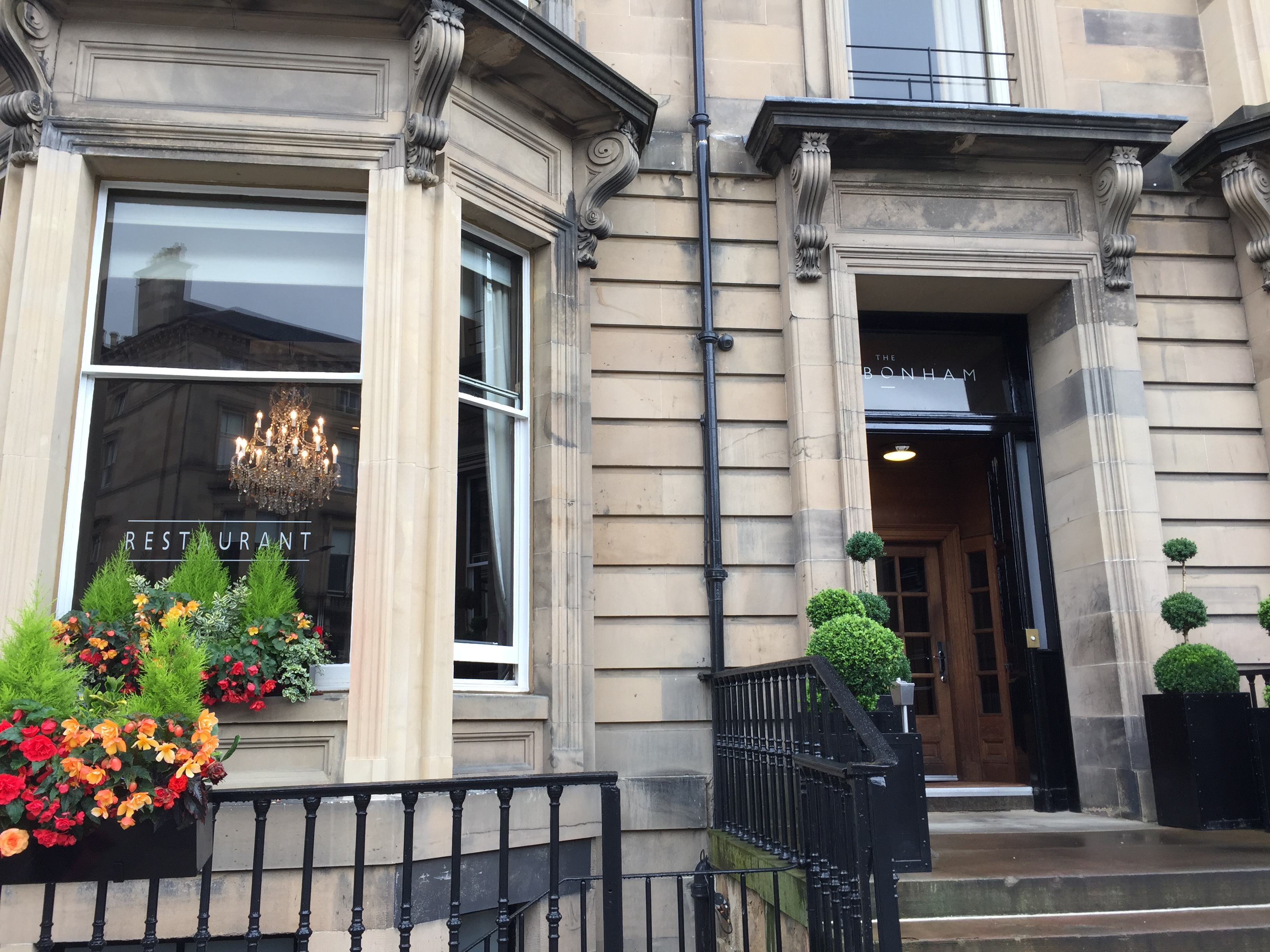 While The Bonham is indeed impressive from the outside, it comes alive on the inside with excellent furnishings, attentive staff and an elegance which shows why it is so popular not just as a hotel but for a place to grab a drink, eat lunch or supper, or in our case indulge in a decadent afternoon tea.
Of course, elegance, decent staff and a good location only get you so far when it comes to afternoon tea. We have had the great pleasure of sampling some pretty fine efforts from the likes of Browns in London and Oulton Hall in Leeds.With this in mind, we were keen to see just how well The Bonham could compete against our past experiences.
We both enjoyed our refreshing (and pleasantly alcoholic!) gin fizz to begin with, but it was of course vital that the teas also delivered given that tea is a key element to afternoon tea. My Famous Edinburgh blend certainly hit the spot and provided a refreshing accompaniment to the meal while Charlotte was not at all let down by her excellent Darjeeling.
When our food arrived, it was certainly an impressive looking afternoon tea with all three tiers packed with treats. On first sight, we were both excited by the sandwiches (there were white and wholemeal options available) and no attempts to go over the top with any silly flavour combinations. There was egg mayo, ham with cheese and pickle, and smoked salmon. The ham particularly stood out because of the quality of the pickle on offer, which rounded off the sandwich nicely.
Charlotte is particularly picky when it comes to scones. In fact what I considered to be a delicious afternoon tea in South Africa at the Camp Nelson hotel is dismissed by her in its entirety for not including scones, so the scone layer was of course going to make or break the afternoon tea for her! We were both left very impressed by the still warm scones here. They were a good size, ideal texture, and came with some really nice, indulgent clotted cream and jam.
My only complaint (and it isn't really a complaint!) is that we would have loved to have devoured more. That is a reflection of our greed rather than a comment on the size of the scones!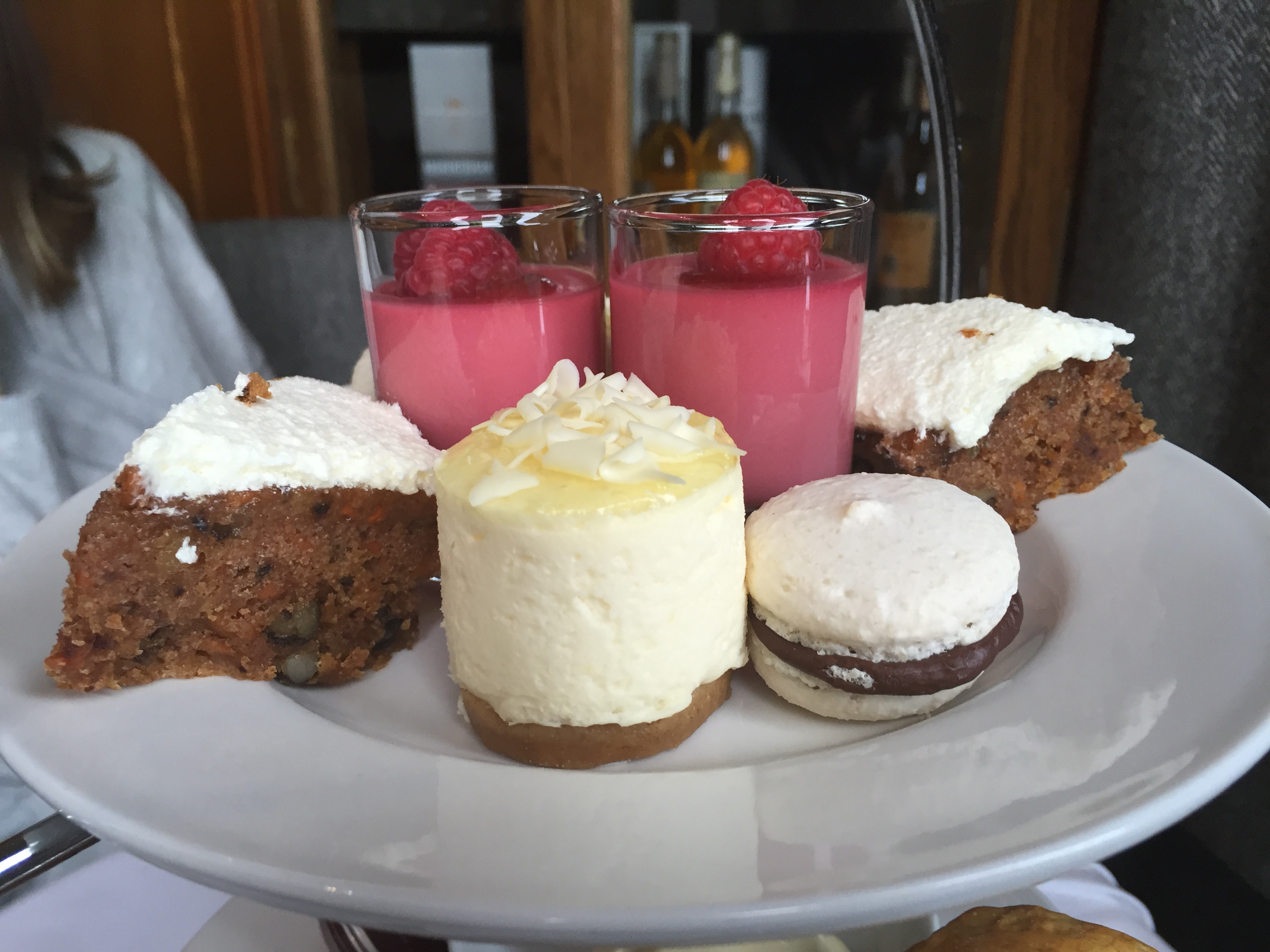 Much like the scone layer is make or break for Charlotte, the top tier of cakes is the vital part of any afternoon tea for me! At The Bonham the top tier again didn't let me down. I cannot be considered the biggest fan of carrot cake but this one was moist, bursting with flavour and earned my appreciation. The chocolate and orange macaroon was stunning – especially the ganache filling – while the raspberry possett and lemon cheesecake were both tart enough to combine wonderfully with their subtle sweetness.
All in all, for £19.95 per person, this was a fantastic way to pass an afternoon in this gorgeous city.
Where it is: 35 Drumsheugh Gardens, Edinburgh, EH3 7RN
Reservations: 0131 226 6050