As one of the thriving business hubs in the north of England, it comes as little surprise that Leeds boasts its fair share of business-focused hotels.
In such a crowded market, though, which are the best options for those heading to the city to do business?
Here are five options that will offer you all you need to make your stay on business in Leeds comfortable, and hopefully successful!
Quebecs
Fiercely independent and high-end, Quebecs brings a touch of class and elegance to the Leeds business hotel scene. No two rooms are the same, with options ranging from comfortable rooms all the way up to suites named after members of the Liberal Party.
The touches of elegance and luxury weave their way through the hotel; even the complimentary bottles of still and sparkling water speak volumes here.
Class is great, but practicality is better. There is no on-site parking here (the Light car park is the closest option) but the hotel is a short walk from the station and comes with free access to the Virgin Health club in the Light shopping centre.
Breakfast isn't cheap if not included in your room rate, with a full Yorkshire coming in at £15.25 (add a £5 tray charge if you want it in your room). You can be sure of getting exceptional ingredients and decent service, though.
For those looking to conclude serious business or give an update in 'positive' surroundings, there are three rooms available to hire, with options starting at £200 for the day.
Where to find it: 9 Quebec St, Leeds, LS1 2HA
Malmaison
The Malmaison in Leeds is perhaps the location to wine and dine your clients (or your boss) without having to leave the comfort of the hotel.
Unlike Quebecs, the parking here is a bit easier. There are limited spaces available at the hotel and there is also a link-up with the nearby Q Park. With the hotel only a short walk from the station, the Mal is easily accessible.
Rooms range from cosy doubles (perhaps not the ones to book to impress) all the way up to the stunning executive suite. This comes with a walk-in monsoon shower and a deep sunken plunge bath (as well as a plasma flat screen TV). It's fair to say the Malmaison offers a chic approach to the hotel world.
Our slightly outdated review of the restaurant here gives you a bit more of an insight into the meals on offer. Mealtimes at the Mal are not readily replicated in other hotels and are certainly a selling point. Breakfast is also a big draw, with a continental or full English option available with eggs any way you fancy.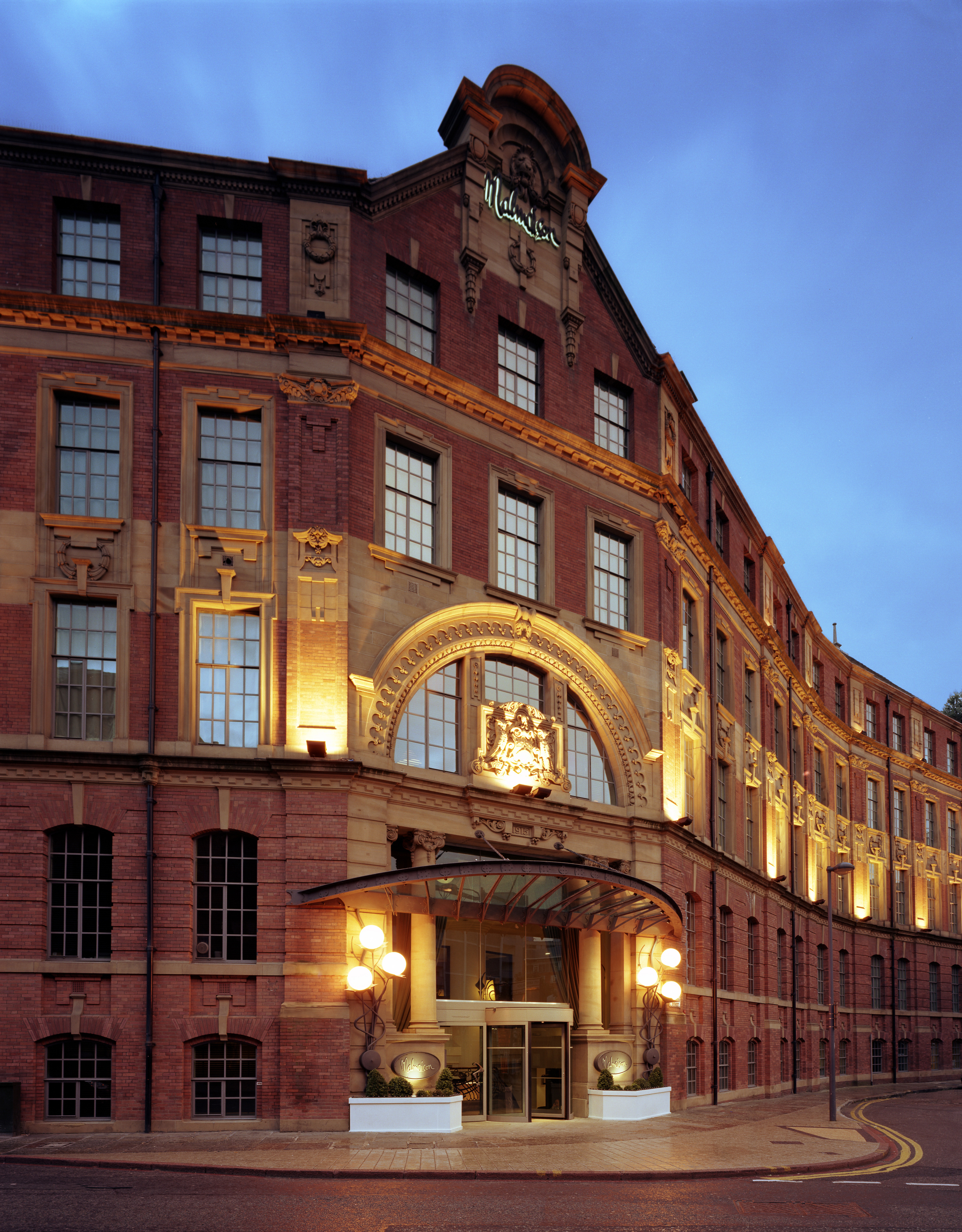 Finally, meeting rooms all come with free wifi to make sure that you aren't left cursing the ethernet cable you knew you had to bring…
Where to find it: 1 Swinegate, Leeds, LS1 4AG
Radisson Blu
Offering a thoroughly modern and more minimalist approach than its competitors, the Radisson Blu in Leeds is one of the sleekest options available. We gave an in-depth review of a more family-orientated experience that you can check out here, but for business travellers, all the boxes are ticked.
Rooms are all of an excellent standard (we stayed in the standard class room and still found it spacious and comfortable) and the hotel is located about as centrally as you can be in Leeds.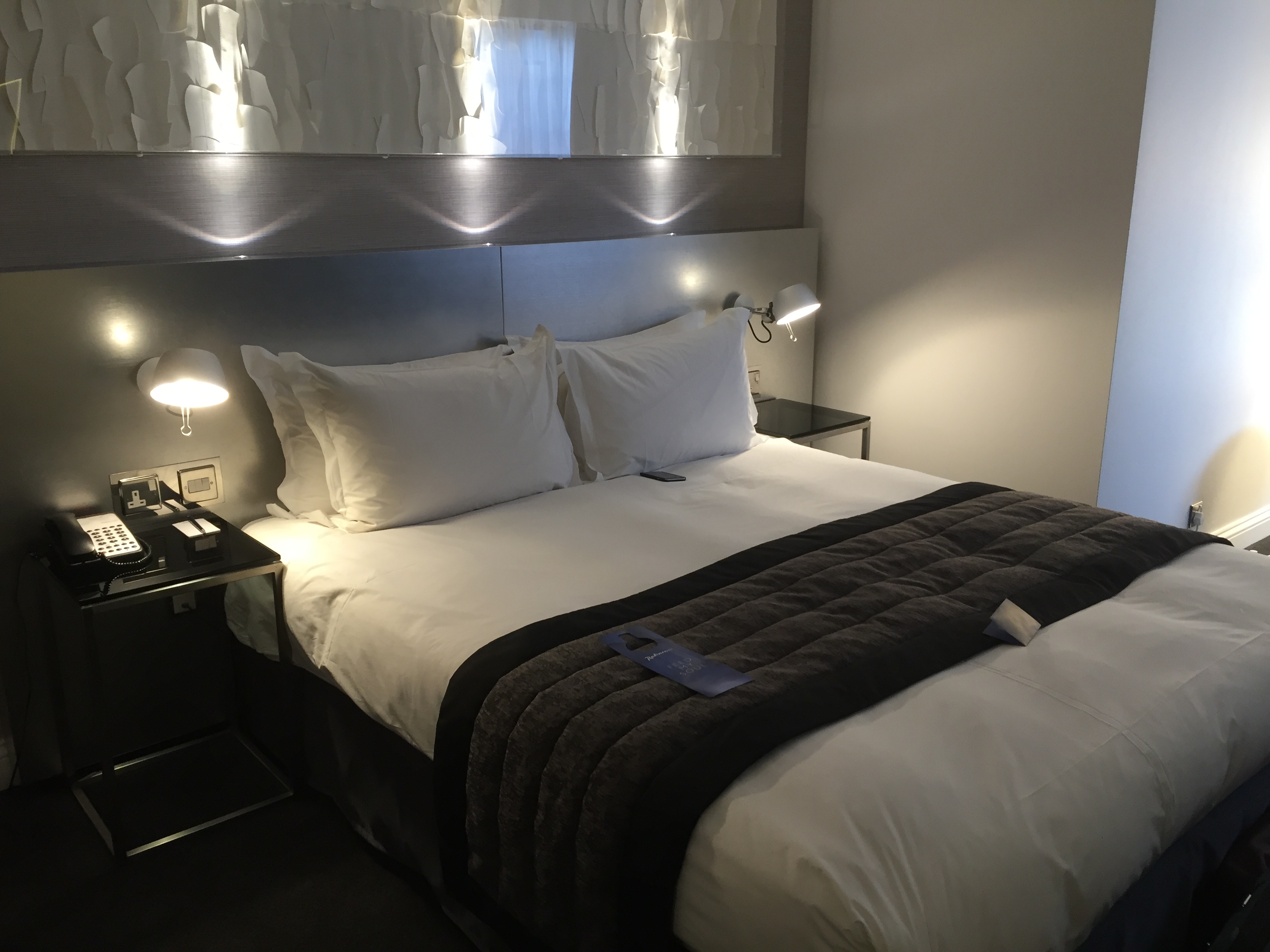 Amenities-wise, there are no great perks here other than a useful tea and coffee facility in all rooms. You need to pay for off-site car parking and to use any local gym, but there is an excellent restaurant (that serves a great continental buffet breakfast) and the option to grab breakfast on the go with a special takeaway table.
With 10 meeting rooms, free internet and some local themed treats for those who use the rooms, as well as a specific coordinator on offer for those arranging meetings, this focus may edge it for you if you're trying to choose between options.
Where to find it: 1 The Light, The Headrow, Leeds, LS1 8TL
The New Ellington
Located in the heart of the city's financial district, The New Ellington is a slightly more 'under the radar' option for business travellers.
There's a gin garden for post-work relaxation, Nespresso coffee machines in all rooms, and swanky rooms that are sophisticated without being too snobby. This is a high-end option that comes in well on budget for most businesses looking to avoid Premier Inns or Travelodges.
Although there is no on-site parking, there is an agreement for a night's parking at the nearby NCP for £12.50. If you arrive by train, you will only have a short walk to get here from the station.
With a couple of meeting rooms available for hire, you can even present your case before heading to the gin garden to seal the deal!
Where to find it: 23-25 York Pl, Leeds, LS1 2EY
Doubletree by Hilton
For a long time, Doubletree by Hilton was held back from earning its status as a well-located business hotel in Leeds due to the long walk from the station. Now, though, it's all change. The new station entrance means that it's mere minutes away from the station.
The hotel's bar is a huge draw. The SkyLounge offers some of the best views of Leeds, although drinks are pricey. This is a decent spot for bringing clients if you want to seriously impress.
The picturesque Granary Wharf makes for a pleasant backdrop to proceedings here, and the Hilton membership scheme is also a great draw. Your standard Doubletree style rooms offer good value for money and are genuinely comfortable.
Offering valet parking as well as standard day parking (neither coming in cheap), there's also the option to drive here if the short hop to the train station seems too bothersome. Should you feel the need, there is a fitness room, along with free wifi and bottled water. There is also a photocopying service on offer for those rushing to get ready for meetings.
With a huge range of meeting rooms and the normal high-quality Doubletree by Hilton service on offer, this is certainly a hotel we recommend to anyone on business in our fine city.
Where to find it: Granary Wharf, 2 Wharf Approach, Leeds, LS1 4BR