Caroline's Canadian trip has had so many highlights that Vancouver has a lot to live up to. Hotel L'Hermitage, however, turns out to be equal to the task…
Our Canadian odyssey had seen us hire three cars, take three internal flights, spend two days on the Skeena train, take three ferry crossings and now it was time to use the local bus service to get from the ferry terminal to L'Hermitage, our hotel in Vancouver.
First impressions were good: the bus driver could not accept notes but as we didn't have much change he told me just to give him what I had and off we went. The service got even better as we prepared to get off a few blocks from our hotel. The driver found out where we were going, told us to sit tight and parked illegally to let us off almost outside! How's that for service?
We were feeling kindly disposed towards Vancouver when we walked into the hotel and the warm welcome from the receptionist added to the feel-good factor. The hotel is boutique in style and has 60 rooms, meaning it is small enough to have a personalized ambience but large enough to provide good amenities. The salt water 15 metre lap pool was nicely heated and the hot tub a good place to chat to fellow travellers. There was also a gym with a good selection of cardio equipment.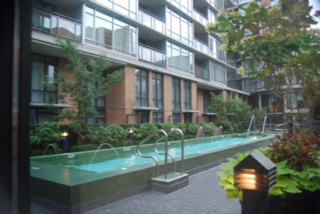 We had booked a Boutique Room and were delighted by its spaciousness, double aspect and stylish decor. The king sized bed was comfortable and the Nespresso coffee machine a welcome extra. Unlike Fairmont Chateau Lake Louise there was no charge for high speed internet and there was also an iPod docking station which we thought was a nice touch.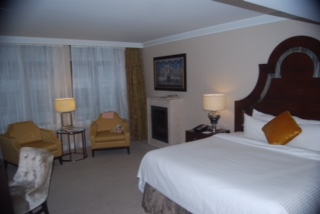 We were planning to meet a Canadian friend for Sunday lunch and had already received recommendations of where to go from the concierge. Surprisingly a lot of Vancouver restaurants are shut on Sundays or else don't open at lunchtime. They got it spot on, however, recommending an Italian restaurant, The Italian Kitchen, not far from the hotel which was quiet enough to mean that we could settle down for a good catch-up with Liz, but buzzy enough to provide a good atmosphere. Hotel concierges can vary enormously but we couldn't fault the information provided by David at L'Hermitage.
All in all we thoroughly enjoyed our stay in Vancouver. It had a lot to live up to but the hotel's location was great for sightseeing, eating out and enjoying the pleasant walk to the waterfront; it's therefore no big surprise to see that it is number one on TripAdvisor.