Caroline is overwhelmed by the size of this iconic hotel at Lake Louise…
It was always going to be a shock moving from the intimate Tuwanek Hotel to the 550-roomed Fairmont Chateau Lake Louise and I tried very hard not to make unfair comparisons but I couldn't help having a little grumble under my breath at the steep charge for wi-fi and the $30 a day for the car park (even more if you opted for the valet parking option which included "in and out privileges" whatever that meant)!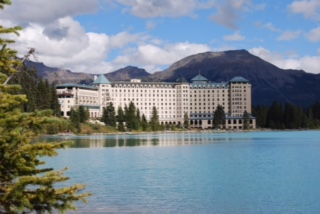 When I read that I could enhance my stay for $23 and have five strawberries dipped in chocolate served on a decorative sugar plate (provided I gave them 24 hours notice) I had to laugh, especially when I thought back to some of the superb offerings that Krista had produced for us at Tuwanek. I suspect that if we had asked her to dip some strawberries in chocolate for us she would have done so and wouldn't have needed 24 hours notice!
The public rooms at the Chateau were most impressive but the actual bedroom (admittedly not a swanky suite) was a tad characterless. The bed was comfy though and king sized and we had the most wonderful view of the lake. When we booked we had opted to pay a supplement which meant that if a lake view room were available when we arrived we would get it. If not, the supplement would be refunded. It turned out to be a very reasonable way of getting a room with a lake view which would normally attract a hefty premium. We swiftly discovered that it was not a good idea to open the curtains in the morning in a state of undress because coach loads of Japanese tourists started arriving from an early hour with cameras pointing not only at the lake but at the hotel too!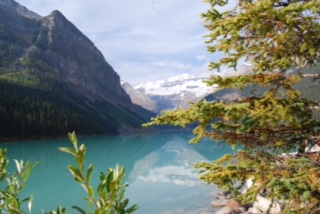 Dining options were many and varied at the hotel, ranging from the fairly formal (for North America anyway) to the pub grub on offer at their western style sports bar. If you just fancy some tapas-type snacks these are on offer at the cocktail lounge. There is also the Chateau Deli which is their self service coffee shop where we had breakfast each day rather than pay for the expensive buffet breakfast at the Brasserie. The deli is also ideal for a light lunch if you are at the hotel during the day. They also do picnics for anyone going off on a hike.
The views of the emerald lake and surrounding mountains more than made up for the anonymity of the hotel, service was good, the pool and spa area relaxing but nothing can prepare you for the sheer number of people to-ing and fro-ing in a hotel with 550 rooms to say nothing of the number of tourists that came in to the public areas just to take photos of this iconic building.