If you're spending a few days in Tokyo, you'll be spoilt for choice when it comes to dining options. The city is packed full of restaurants, local eateries, street stalls, and even supermarkets and department stores offering tasty dinner options. However, if it's gyoza you're after, there's one place you should head to immediately: Harajuku Gyoza Lou.
The restaurant is located just off Omotesando in central Harajuku. It's not easy to find, especially if, like us, you don't have mobile data enabled on your phone. However, with a little persistence and with the help of some friendly locals, you'll hopefully be able to track this eatery down (it also doesn't help that the name of the restaurant isn't written anywhere in English!).
Once you've found it, you'll realise it's well worth the effort tracking it down. The restaurant serves gyoza dumplings either fried or steamed. For six gyoza, you'll pay the equivalent of around £2-£3. We ordered plate after plate between us, alternating between fried and steamed, and struggled to spend more than the amount you'd pay for an average meal out in the UK.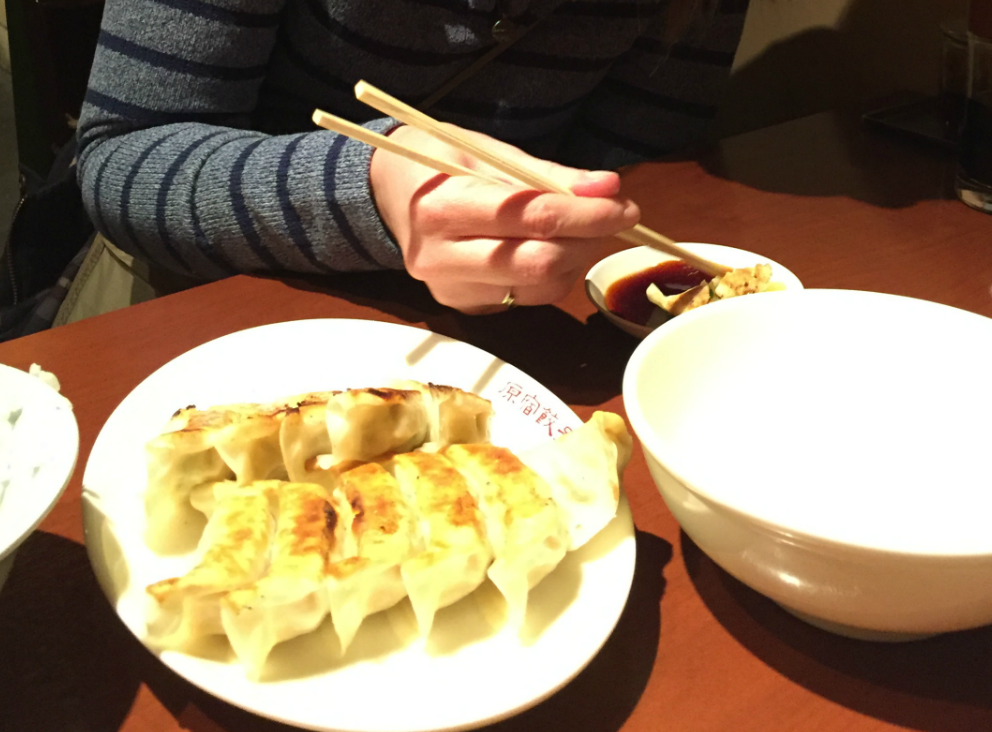 The quality of the gyoza really shines through; the minced pork is brought to life by the addition of garlic and other flavours that go beautifully with the fresh dumpling casing. If you like gyoza as we know it in the UK thanks to chains like Wagamama, you'll love the authentic thing here 10 times more.
If you're travelling with small children, bear in mind that there are no high chairs. You can, however, order a side of rice, which, if your little one is like our little girl, will go down a treat alongside a few bites of gyoza.
Another top tip for those heading here with children: if you go for lunch, head to nearby Kiddy Land for an hour or so afterwards. This shop is a haven of Disney characters, huge cuddly toys, Hello Kitty and Snoopy memorabilia, and Japanese-inspired cuteness that errs a little on the 'strange' side. Your kids will love it!
Where is it: 6-2-4 Jingumae, Shibuya-ku. The nearest station is Meiji-Jingumae Station (Chiyoda, Fukutoshin lines). This information probably won't help you very much, so do what we did – either go to the nearest Starbucks to use their wifi and have a quick look on Google maps (there is a Starbucks really nearby), or ask friendly locals to point you in the right direction!
When is it open: 11.30am-4.30am (last orders at 10pm on Sundays)