It's been a couple of days now since we got home after our weekend away, split between Fishmore Hall in Shropshire and The Elms in Worcestershire, and it's our time at the latter that is really sticking in the mind.
Our two days and one night at The Elms was one of the best trips we've ever been on and the reason for that is simple: our little girl was put at the centre of everything, which made her happy, and, in the process, made us even happier.
Somehow The Elms manages to combine a genuinely family-friendly approach with an atmosphere of relaxed luxury and calm. Everything at The Elms is about keeping the little people in your life happy and entertained.
This approach is there in the "big things" – kids are allowed in the spa area at all times, and you don't need to worry about judging looks or frowns if your little one gets a little too "splashy", there's a creche, and a baby listening service.
More importantly, though, it's also there in the little touches, the line of wellington boots lined up at the back door in all shapes and sizes that can be used to toddle outdoors, the toy chest under the main stairs, and the canapés served in the restaurant suitable for adults and babies (houmous and crudités!).
Of course, most importantly, even if The Elms did none of this, they have that most crucial of things from a toddler point of view: a friendly resident cat! George clearly puts up with an awful lot of "affection" from little guests, and he does so with patience and a big dose of cuteness.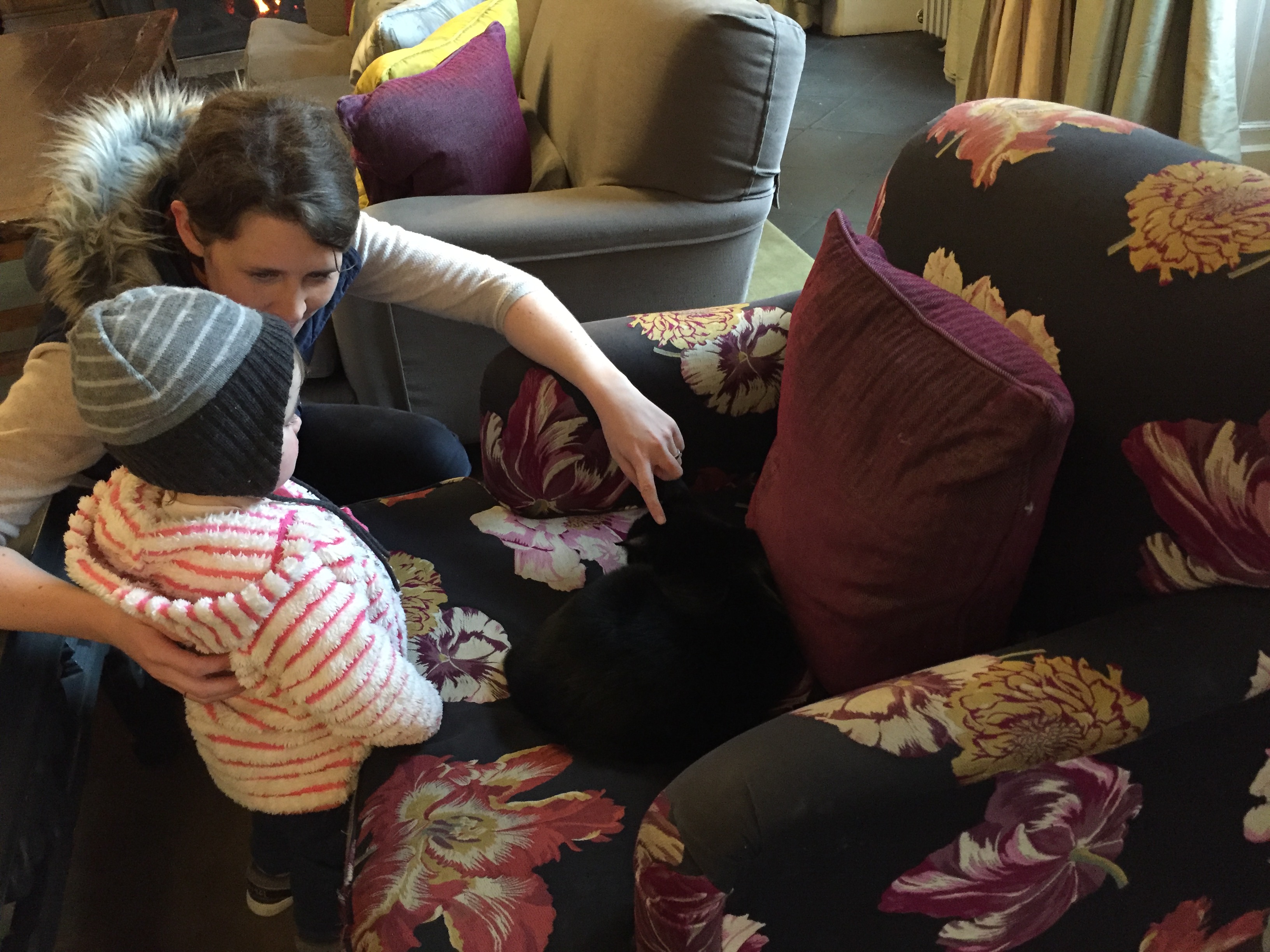 When we arrived, after saying a long, long hello to George the cat, curled up by the roaring log fire, we headed straight to the spa. Our room wasn't ready yet but the staff made sure we knew where we were going and we grabbed a quick coffee and a cheese sandwich for our little one in the cafe by the swimming pool. The cheese sandwich was really cutely presented and came with some vegetable crisps, striking the right balance between health and a treat.

Once refuelled, we headed into the spa area. It was quiet, so we used the baby changing table in the disabled toilet to change our little one. We split our time so that one of us could use the adult-only facilities like the sauna, steam room, and jacuzzi, and the other went swimming with our little girl.

The temperature of the main pool was perfect and ideal for little ones who might not always enjoy getting into chilly pools! There was plenty of space for us to splash around without bumping into anyone else, and we enjoyed making use of the floats provided at the side of the pool. As for the adult-only facilities, the jacuzzi was amazing. Split 50/50 indoors and outdoors, it was a relaxing experience sitting there for 10 minutes or so.

It was soon time to check into our room, and what a lovely room it was. Spacious, luxuriously decorated, but baby-friendly throughout, it was clearly set up to appeal to both adults and little ones. It was so nice that our little girl was still at the centre of things, with a bundle of goodies left for her: a proper changing mat, a baby blanket, a hooded towel, and in the bathroom, a nappy bin all set up and ready to use. There was also a proper mat for the bottom of the bath. As for us adults, we'd been left a little treat in the form of some chocolates on our bed. A great start to our stay all round!


With some time to kill before dinner, we headed for an explore around the grounds (saying hello again to George on the way). We stumbled across the Bear's Den, an Ofsted-Registered creche. We had intended to poke our heads around the door to see if we could play with our little girl with some of the toys, but we soon found out that babies aged three months and upwards can spend two hours each day free of charge being looked after by the lovely staff. We debated whether to leave her – she doesn't go to nursery so we weren't sure how she would feel being left with people she doesn't know – but after watching her run over to a giant Tigger and a track full of cars, it seemed more cruel dragging her away! The staff reassured us they'd come to get us if she wasn't happy, and so off we trotted on our own.

We decided to go back to the spa as a couple and had a really relaxing time, chilling in the sauna and relaxing in the jacuzzi. We may have spent 90% of our time talking about our little girl, but still!

After an hour and a half, we headed back to the creche to pick her up and were told that she'd had a great time following a little boy around, climbing into the toy pram and demanding to be pushed (!), and playing with the soft toys.

After all of that, it was nearly time for dinner. The main restaurant is split into two parts. One part is just for the adults, and the other is set up for families. You can choose to dine with or without your little one, so there's the option for them to have an early dinner before you head down as a couple later. We had chosen to eat with our little girl at around 6.30pm.

When we entered the restaurant, our table was set up nicely for our little girl. There was no hurrying to find a high chair for her that ends up being the wrong height, and no need for us to dig out our own plate and cutlery; she had a high chair already set up, a plastic plate and bowl on her place mat, full plastic cutlery, and her own little sippy cup. She had her own menu to choose from and an atmosphere where it really didn't matter if she wanted to shout a little overly enthusiastically upon sight of the houmous..!

The best thing about the restaurant was that, even though designed to be family-friendly, from an adult perspective, the food was divine. My beef was genuinely melt in the mouth, and Kyle's belly pork was just as tender and delicious. I also tried our little one's spaghetti bolognese and it was really good! Pudding was also a serious high point, the bread and butter pudding and sticky toffee pudding both spot on. Thumbs up as well for the vanilla ice cream from our little one!


On something of a sugar high, we nonetheless managed to give our little girl a bath and get her to sleep without any trouble. After a few minutes of waiting for her chatter to die down before we knew she was fully asleep, we called reception to turn on the baby listening service. We had never used such a device before but there were instructions on how to use it and it worked a treat. Knowing our little girl was fast asleep, we headed downstairs to enjoy a drink and a game next to the fire.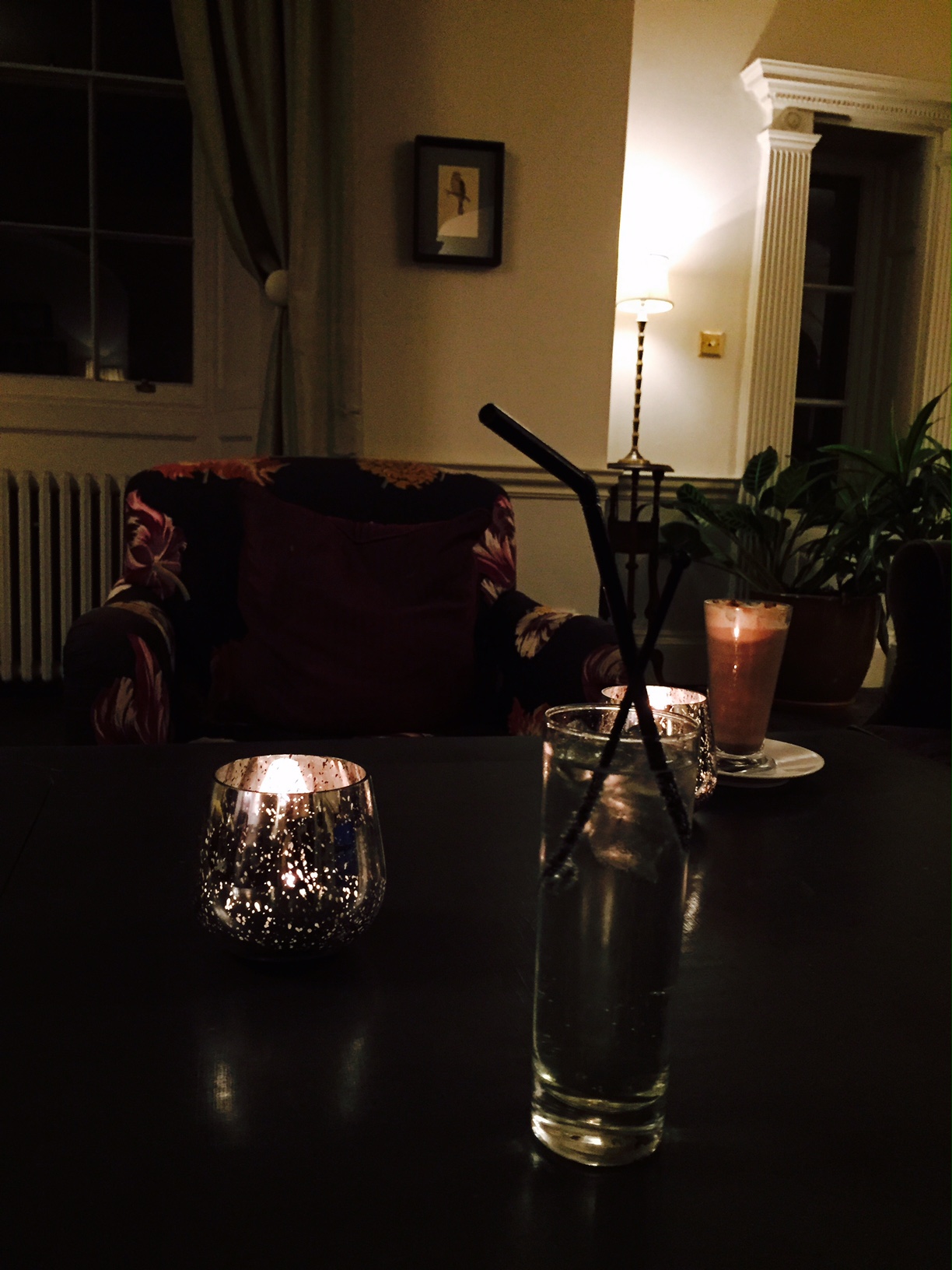 After a great night's sleep, it was time for breakfast! Our Full English was exceptional, especially the sausage, and our little one tucked into a big plate of beans on toast, followed up by some fresh fruit.
A final morning in the spa followed, until it was time to head back to Leeds. We were really sad to leave because it was such an amazing stay on so many levels. Our little girl loved being at the centre of everything, and we loved that she could enjoy every aspect of the stay without being made to feel awkward. The staff were also brilliant, from the receptionist who introduced us to George to the waitress who came to find us when we were having a drink downstairs to check our little one had gone to sleep OK.
We will definitely be back for another stay at The Elms as soon as we can get back there!