Turtle Bay has certainly brought a taste of the Caribbean to Leeds since opening. When we popped down last year, we thoroughly enjoyed ourselves tucking into some wonderful food and sipping on some delightful cocktails (you can see our full review here).
This Halloween, we have once again teamed up with Turtle Bay in Leeds in order to bring you a chance to win an amazing prize of a three course dinner for two people, with a complimentary cocktail each!
To win this awesome prize couldn't be easier – all you have to do is retweet our pinned Turtle Bay Twitter post and follow us on Twitter before midnight on 28th October. Full terms and conditions are at the bottom of this post.
Choosing whether to go for a one pot dish like 'our curry goat' or a jerk pit dish such as jerk chicken is going to be a tough choice but we might be able to help you choose a cocktail as we have teamed up with Abbey Johnston, mixologist from Turtle Bay Leeds, who has shared her spooky 'EYE SEE YOU BABY…' Halloween cocktail recipe! The ingredients and method are listed below!
Midouri Sours with Lychee & Blueberry Eyeballs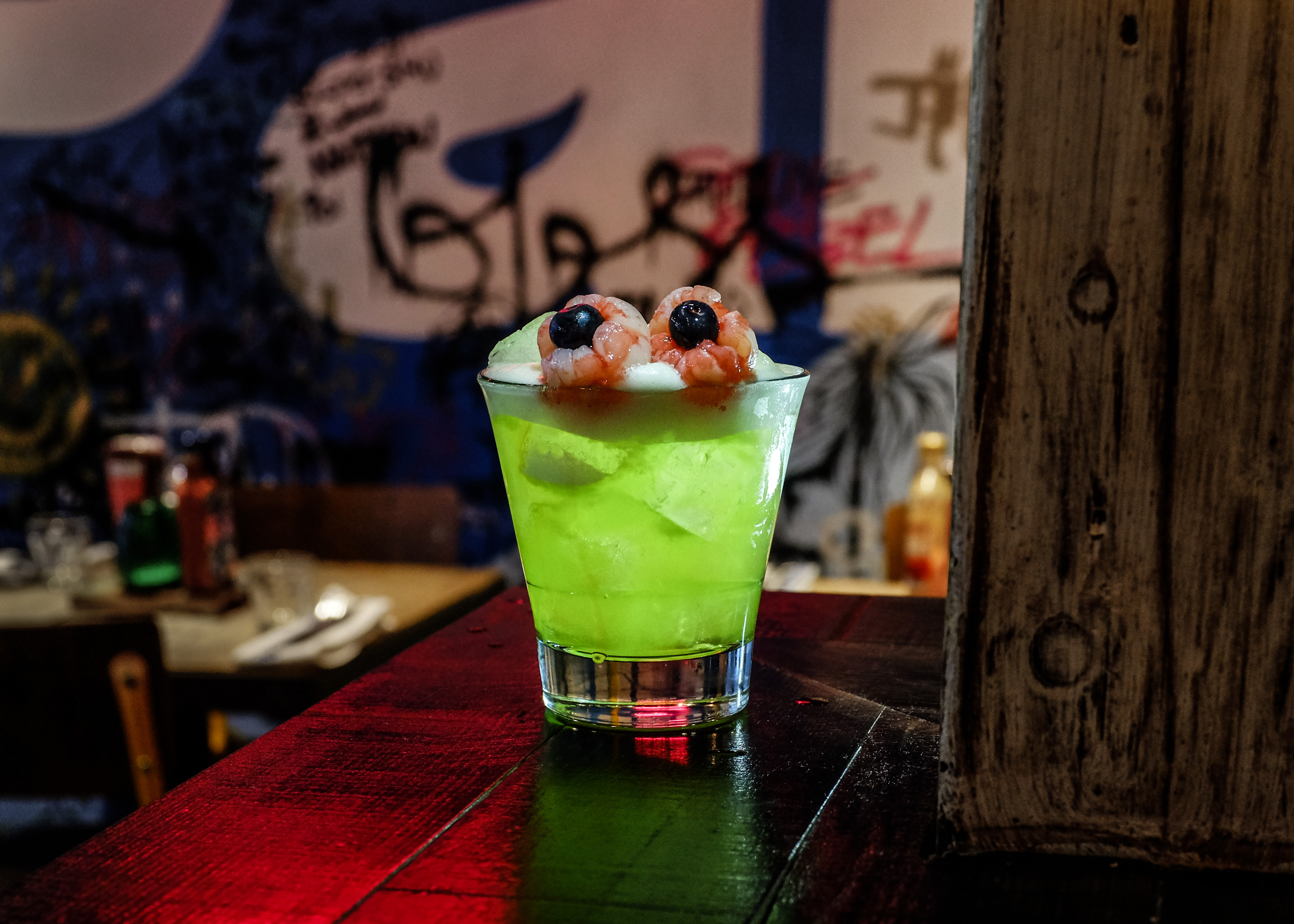 Sweet and sour is going to be the IN flavour combination of 2017, so get one step ahead and serve the perfect Midouri Sour with a Caribbean twist. This bright green cocktail is sure to send chills up the spines of all guests! They've replaced the traditional whisky with dark Jamaican rum, and added eyeballs made from superfoods lychees and blueberries, making this part of your five a day too!
All you need is (per cocktail):
50ml Midori melon liqueur
25 ml Cockspur Rim
25 ml sour mix (egg whites + lemon) – optional for vegans!
Dash of Sprite
2 lychees
2 blueberries
Dash of Grenadine
Fill a highball glass with ice
Pour a little grenadine into the hole that you'll find in the centre of the lychees, then stick the blueberries into the hole
Add the midori, sour mix to the glass and give a quick stir
Top with a dash of Sprite
Place your lychee eye balls on top!
Terms and conditions for the giveaway: Winner must be able to provide their email address and be prepared to have this shared with a third party in order to arrange claiming the prize. Winner must redeem voucher at the Turtle Bay in Leeds, West Yorkshire in the UK. Prize cannot be substituted for a cash alternative. Winner will be chosen at random from entries received.