The Britax King II ATS is a multi-award-winning forward-facing Group 1 car seat suitable for a weight range of 9 kg – 18 kg that has been causing a real stir online.
We were sent one to review this summer, and have taken time to give it a thorough road test, putting it through its paces with our little girl (one-year-old) for journeys between Leeds and Edinburgh, and Leeds and Surrey (plus plenty of short hops in between).
So, let's not waste any more time: here are our thoughts on the Britax King II ATS car seat:
How does it look?
It looks really, really good! You can buy the Britax King II ATS in a range of colours, from flame red (see the snazzy colour below), to ocean blue, to our personal favourite: cosmos black.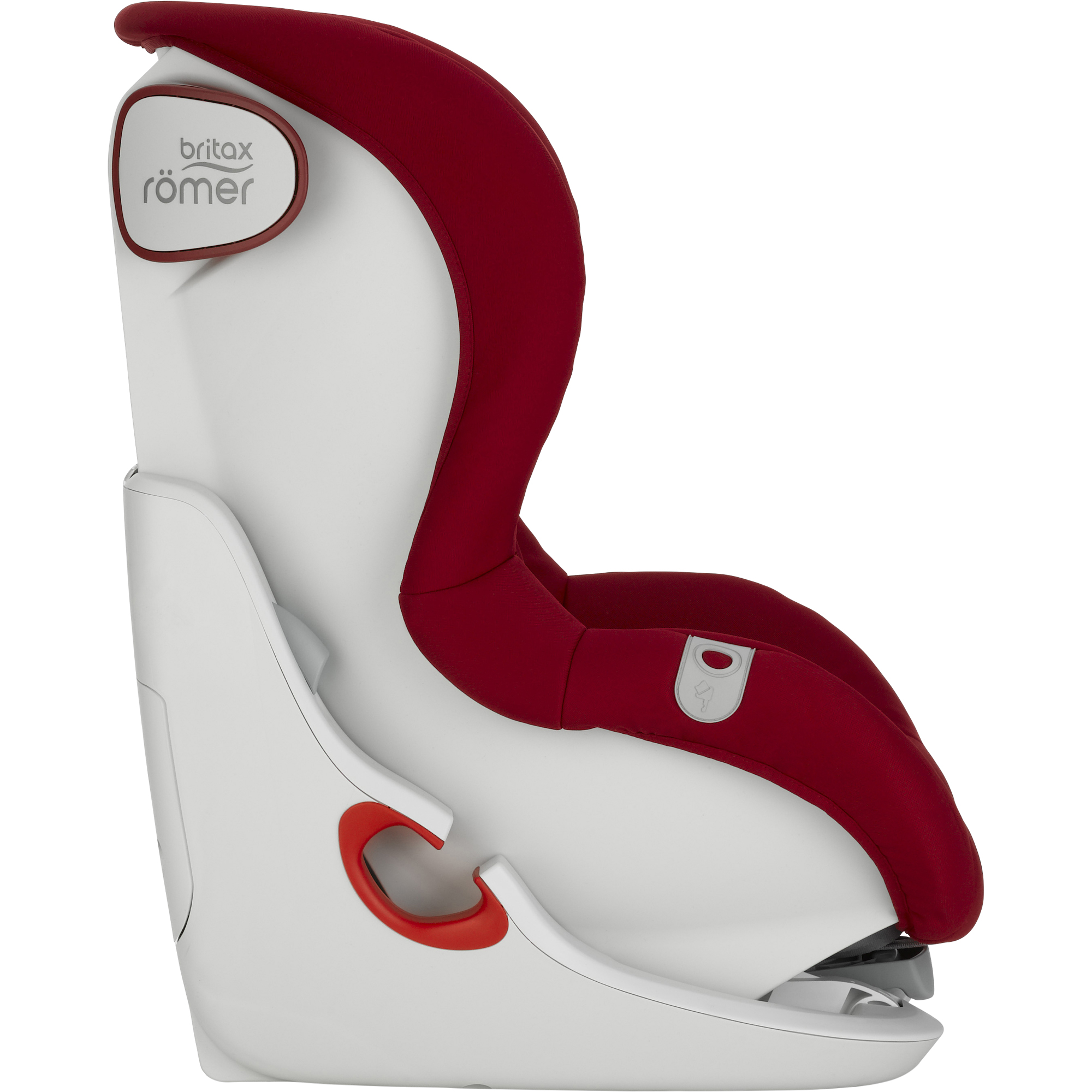 We think it looks awesome in our Alfa Romeo with its black leather seats. It also oozes safety; you can tell from one glance that this is a sturdy piece of kit that combines safety with genuine comfort. There's a lot of padding going on, so you know your little one will be comfy, and it just looks like a car seat you'd be happy having in your car for three or so years.
What's so great about the seat – what sets it apart from its rivals?
The tagline on the Britax King II ATS is 'the seat that never sleeps'. This is the car seat equivalent of a paranoid mother watching over her baby while he sleeps. After strapping your little one in at just the right tightness for their body shape (you'll know when to stop tightening thanks to a green light and a pleasing little ping noise), the car seat constantly checks that the harness tension is correct throughout your car journey, adjusting and retracting if necessary with each passing minute.
Amazingly, it does this regardless of the number of layers of clothing your little one is wearing. If there are any issues, you'll know about it thanks to an alert you can't ignore, so you'll know you need to pull over when safe to take action. There's always the temptation with little ones to take a glance at them in the mirror (or just turn around at lights) to check they're still strapped into their seat properly, but with the Britax King II ATS there really isn't a need to do that. You can trust this seat, no doubt about that.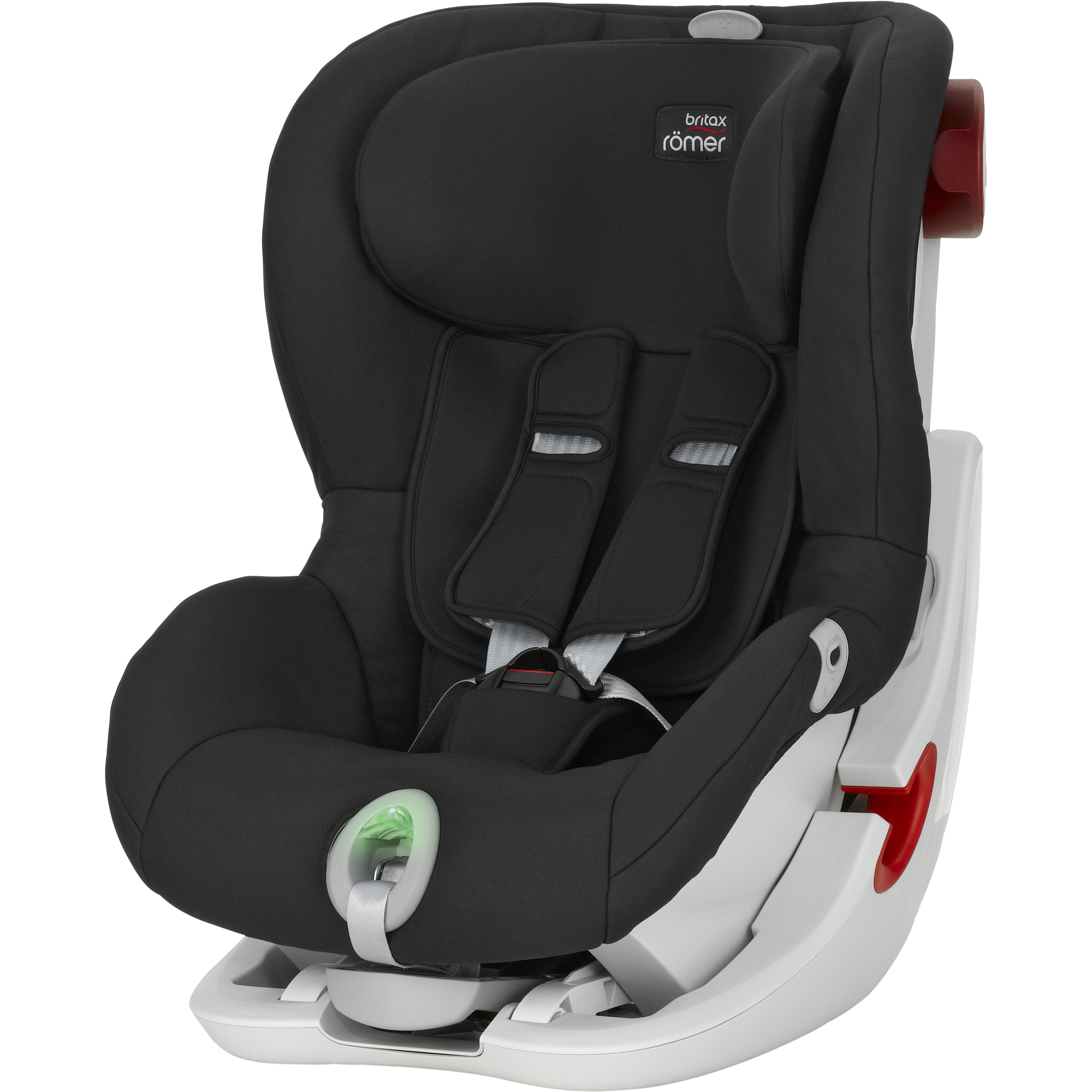 You can also recline your little one as you're going along (ideally someone in the passenger seat would do this!) without needing to stop and wake them. In the picture above, the grey handle at the bottom can be pulled up in order to recline the seat. This is a huge plus if your kids are prone to snoozing on the go and you want them to get some proper rest. This is the case for our little girl, especially on long journeys that might impose on her bedtime routine.
The seat also gets full parenting points from us for being easy to clean in case of those inevitable accidents or sticky fingers; you just need to remove the washable cover (there is no need to remove the harness). We can tell you from experience that this is an easy, seamless process (big thanks here to our little girl's love of bananas – it really helped us test out this feature!).
Tell me about the geeky stuff…
Put simply, if you like your car seat to come with a hefty dose of technical wizardry behind it, the Britax King II ATS really is the seat for you. Here are some of the geekier features to this car seat:
Five-point safety harness. You may well have the wriggliest toddler on the planet but your little one really is not going anywhere once they're strapped in!
Active tensioning system. As mentioned above, lights and sounds help you to understand when your child has been strapped in tightly enough. There is no room for doubt here.
Patented seat belt tensioning system for a secure and easy installation. It really is easy to install this seat. It's heavy to get in and out of the car, but it's extremely straightforward to fix it to the seat.
Side Impact Protection applies for your little one along the entire seat thanks to deep, softly padded wings.
Performance chest pads reduce the forward movement of your little one.
If your child goes through a growth spurt, worry not, just adjust the headrest and harness with one hand!
What's the downside?
The Britax King II ATS cannot be used in all cars. It's not compatible with our Honda Jazz, for instance (except in the front passenger seat, oddly), and so takes pride of place in our Alfa Romeo. This is a shame for us only because we love the seat so much we want to use it all the time no matter what car we're in! You can check whether the make and model of your car is compatible on the Britax website.
Another thing to bear in mind is that you have to pull the harness very, very tightly in order to get the green light and satisfying ping sound. I'd say it takes about three uses to master this – until then, you might worry you're going to pull too tightly and break something but you really won't! It's actually very reassuring knowing that you're really making sure your little one is strapped in tightly. Top tip: if you struggle pulling the harness horizontally until the green light shows, try angling it upwards with the final couple of tugs.
Is it good value for money?
Exceptional value. Retailing at the £180 mark, that works out at about £60 a year, or a fiver a month! That genuinely is amazing value when you take into account the serious technical investments that must have gone in to creating this neat piece of kit. Nothing about this product feels 'cheap'; it genuinely feels like a premium product, but thankfully for parents, it comes without the premium price tag. Win!
Should I buy this for my child?
Well, in a word, yes! This product is especially good for parents prone to worrying (don't worry, we're guilty of it too!) Peace of mind is priceless and worth paying out for, and it's even better when the amount you're paying out represents amazing value considering the lifespan of the product.