Shears Yard is one of those places in Leeds that, even though you may never have been there yourself, you tend to hear a lot of buzz about.
Owned by the talented foodie people behind the Arts Cafe in the city centre, Kyle and I had, until last weekend, never ventured into Shears Yard, despite always hearing rave reviews. In fact, we'd last been in the building when it was occupied by Livebait, years and years and years ago.
So, when we were invited down recently to sample brunch by the lovely folk at Shears Yard, it's fair to say we were keen to see what all the fuss has been about recently.
Shears Yard have just started a bottomless brunch option, for those who like a glass or two (or three, or four!) of alcohol to wash their brunch down with. The idea behind the bottomless brunch is that you pay a flat fee of £25 per person, and for that you can order as many drinks as you like (within the time limit of 90 minutes) from a menu featuring prosecco, ale, beer, Bloody Marys, and an English take on the French 75. Let's not forget the food – you can also order a dish from the main brunch menu, which features classics like eggs benedict, alongside dishes like smoked pea and haddock risotto.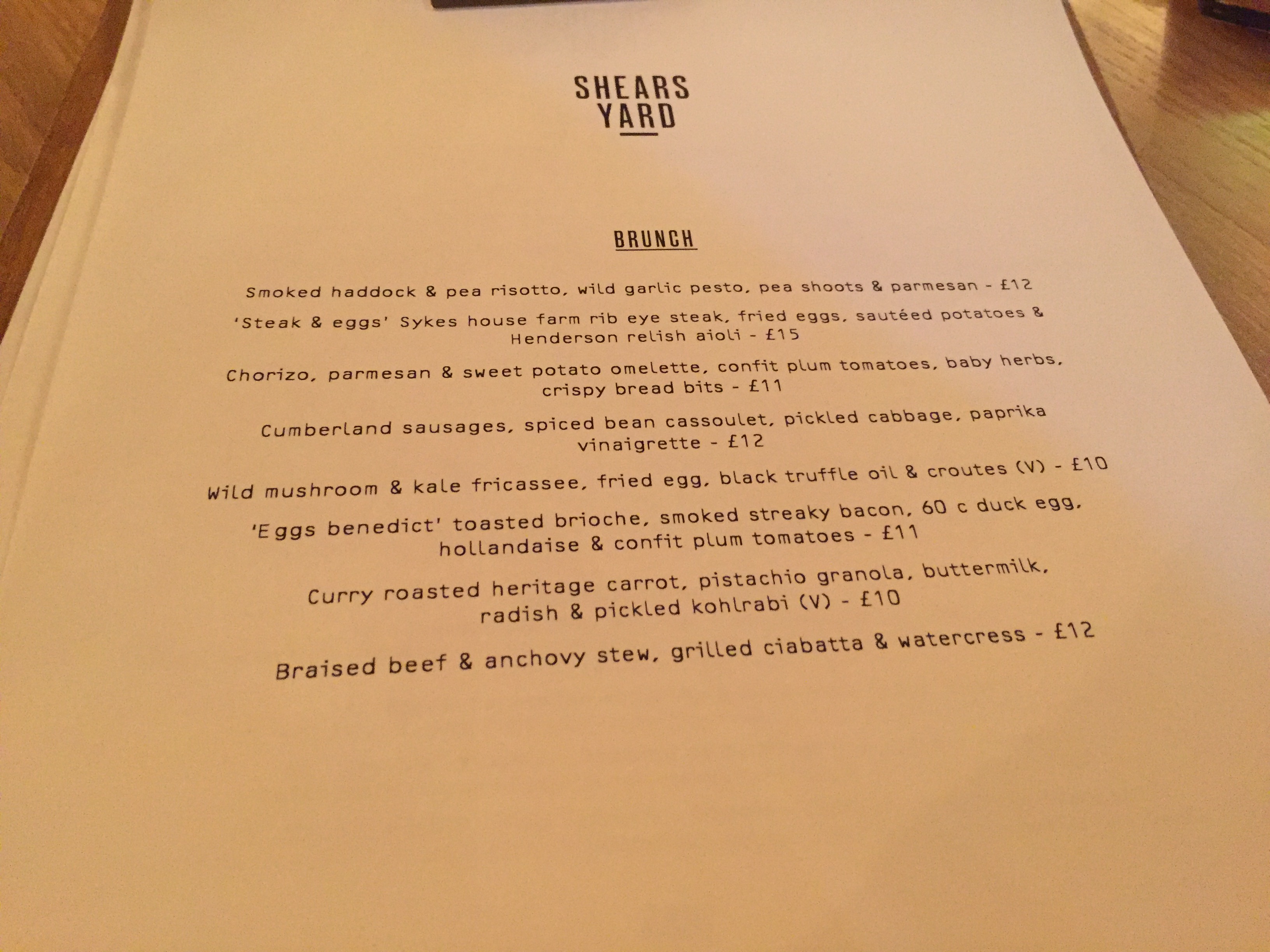 Bottomless brunch aside, it was really the food on the normal brunch menu that we were there to sample (when you have a 9 month old in tow, you really shouldn't be tackling the bottomless brunch!).
We were seated in the bar area, which suited us just fine, even though it's set away slightly from the main restaurant area, which is dominated by really attractive exposed beams and a light airy feel. Our little one was given a wooden high chair, which she seemed to fit in without needing too much extra padding (this isn't always the case at restaurants for some reason!).
After a quick glance through the menu, I decided to order the chorizo, parmesan & sweet potato omelette, with confit plum tomatoes, baby herbs, and crispy bread bits. Kyle, meanwhile, opted for 'Steak & eggs' – Sykes house farm rib eye steak, served with fried eggs, sautéed potatoes & Henderson relish aioli.
We also both ordered coffees. As we sat back and waited for our food to arrive, we soaked up the atmosphere and had a good nose at the other parties around us. The clientele was made up of mainly young groups of friends keen to tuck into the bottomless booze. That said, the atmosphere wasn't rowdy, it was just lively and buzzy.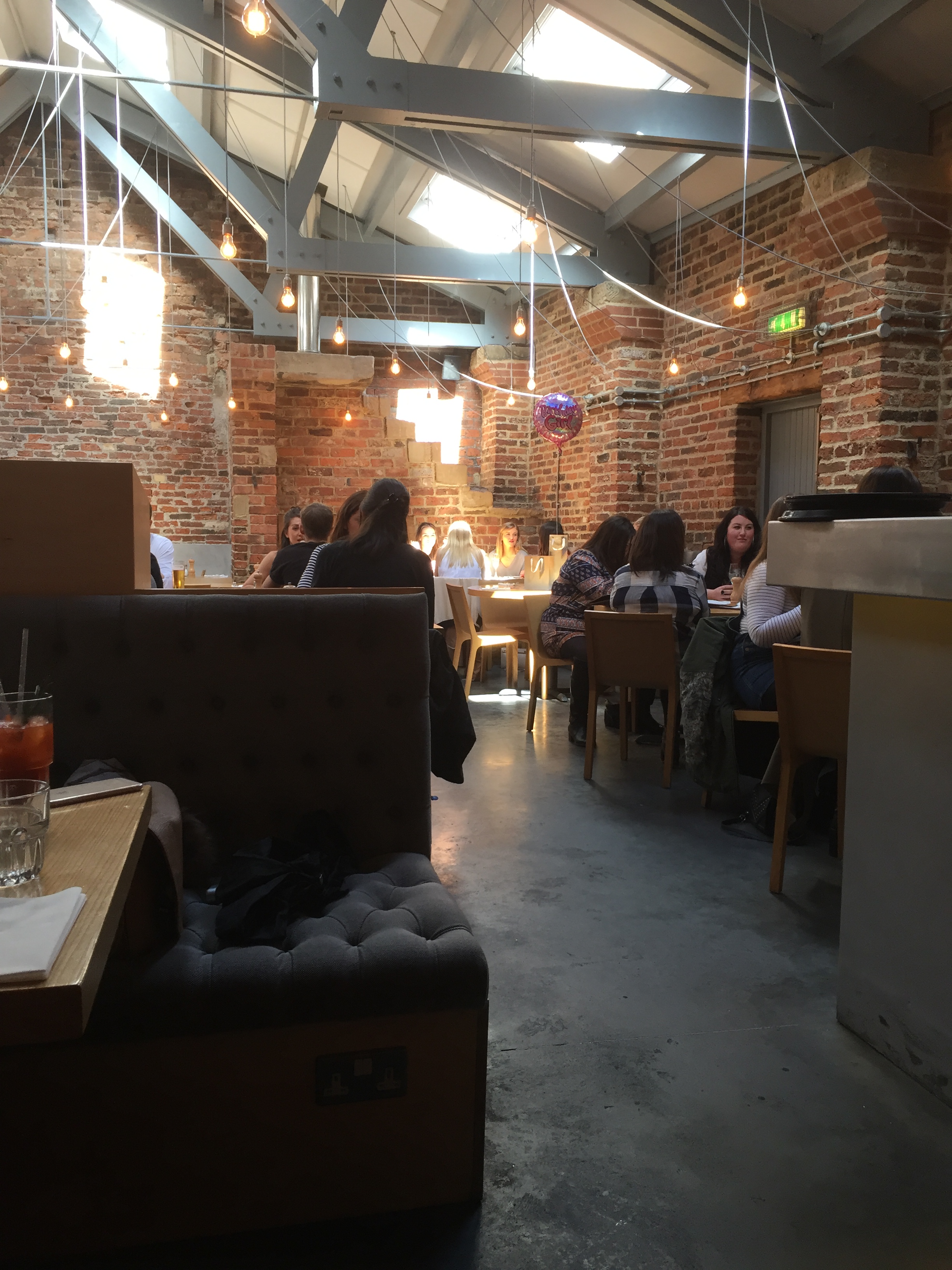 We were the only people in there with a little one, but we weren't made to feel judged or out of place. In fact, it's amazing how much amusement people take in trying to make a nine month old baby crack a smile when they've got a few glasses of bubbly in their system! The brunch would be perfect for those who want a birthday celebration or a more laid-back stag or hen without anything getting too out of hand.
When our food turned up, it's fair to say we were impressed by the look of the dishes. My omelette was presented more like a tortilla than an omelette, but it had the texture of an omelette. The chorizo and parmesan flavours dominated, in a very pleasant way, although I thought the crispy bread bits on top were a touch unnecessary. Our little one was a grateful recipient of these, dipped in the sweet potato puree on top of the omelette! The portion size was seriously big and I was fairly full once I'd finished my plate.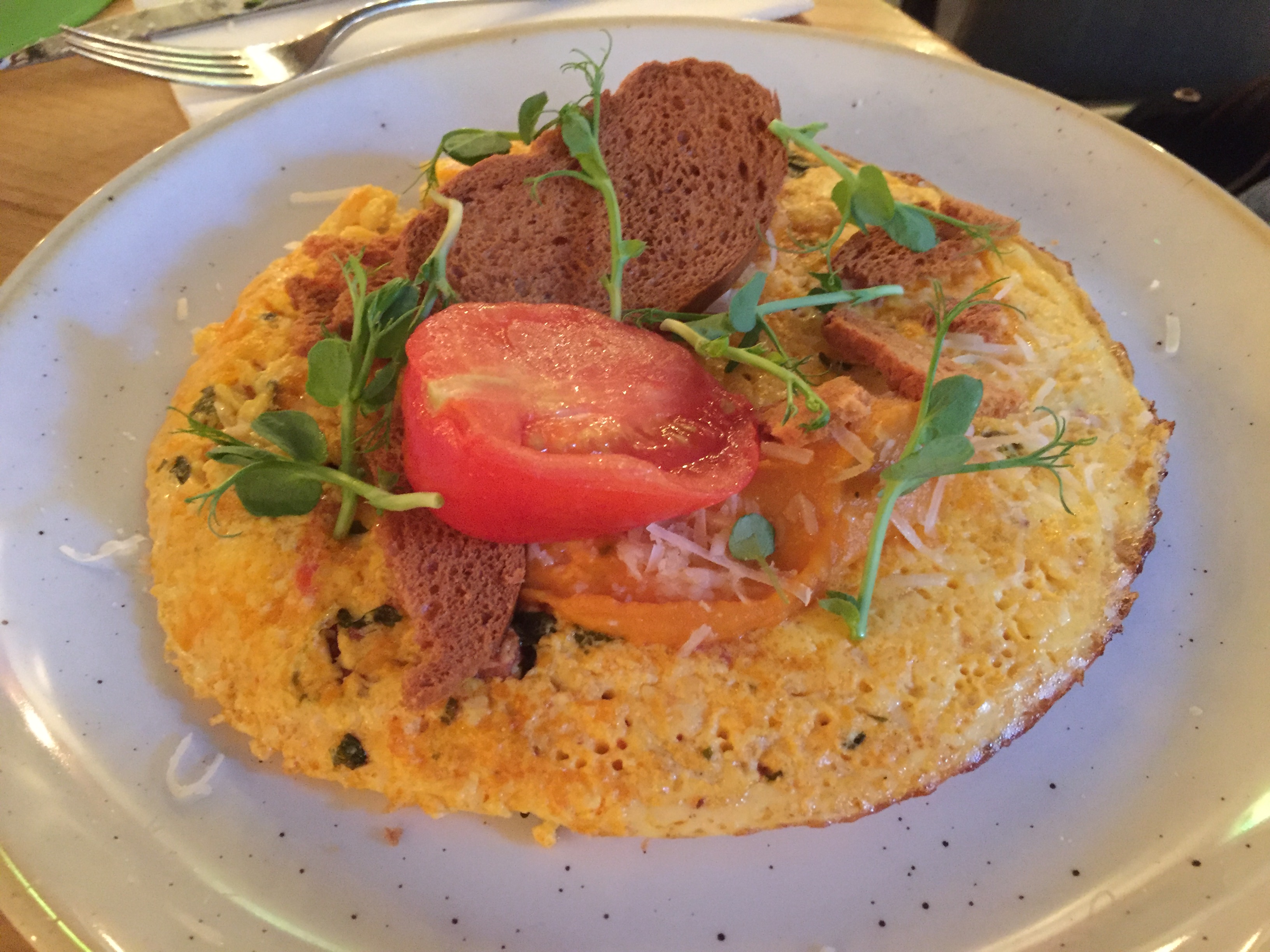 Kyle had asked for his steak to come medium rare, and medium rare it did come. This is always a good test of the skill of a chef at a restaurant like this and a test of the skill of the waiting staff to ensure the meat arrives at the table at the perfect moment, so two thumbs up to Shears Yard for that. The sautéed potatoes and fried eggs made it a real undertaking, but Kyle polished it all off without too much effort!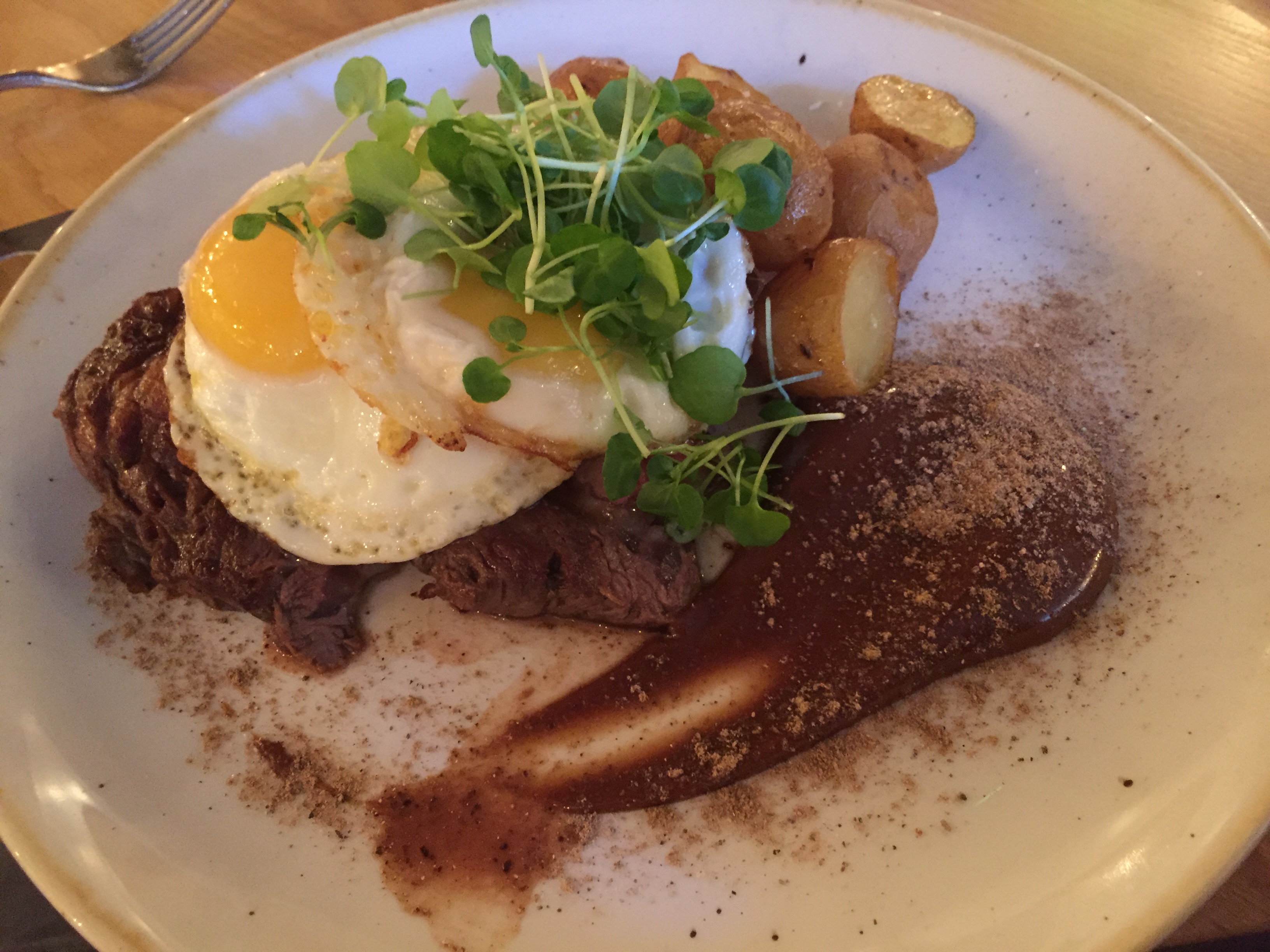 Our coffees were also very good; smooth and rich, without being bitter.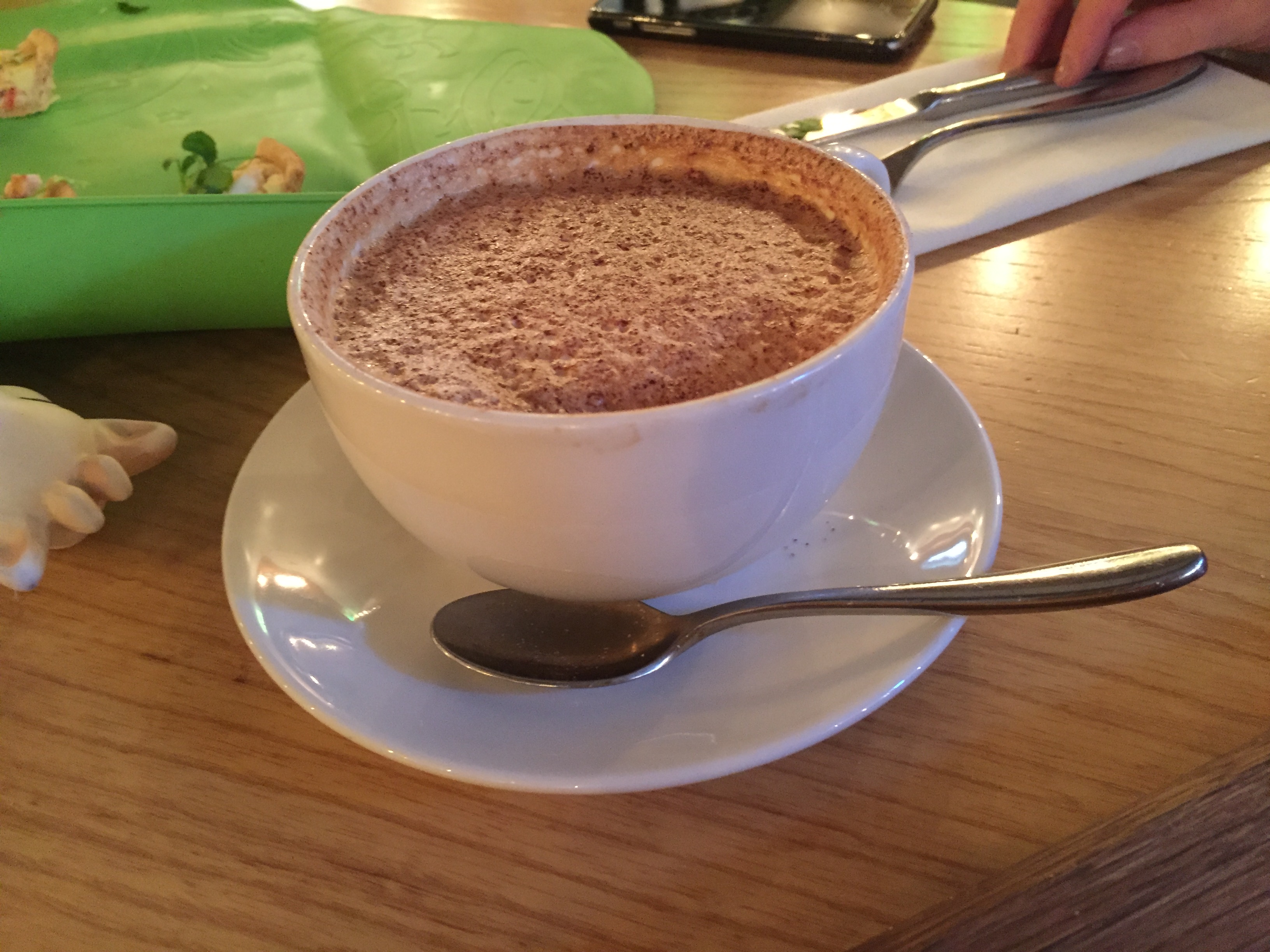 Shears Yard is a restaurant suitable for all sorts of groups: families, groups of friends, and couples. There are probably more child-friendly brunch options in town for those with babies and toddlers, but if you do decide to go here, you won't be made to feel unwelcome in the slightest. That said, the bottomless brunch is probably best enjoyed by those who can shrug off responsibility for an hour or two in the afternoon!