Oulton Hall is a hotel that Leeds can be proud of. We thought as much when we stayed several years ago for Kyle's birthday weekend, and our feelings were confirmed this weekend when we popped in for a sumptuous afternoon tea.
Afternoon tea at Oulton Hall is a special affair. Served in the drawing room next to the bar, the chairs and sofas are deep, plush furnishings that make you want to stick around for a couple of hours, the plates of savoury and sweet goodies are served on a triple tiered silver tea tray, the china is excellent quality, the cutlery heavy, and the tea menu extensive. This afternoon tea means business, and for afternoon tea fans like us, that's good news!
My traditional approach when tackling afternoon tea is to kick off with the sandwiches, make things decadent with the scones, and then round things off with the top tier of cakes and pastries.
So, let's start with the sarnies. There were cucumber sandwiches, egg mayo, ham and mustard, and smoked salmon. The ham and mustard sandwiches were really good; there was a generous amount of wholegrain mustard running through the filling, and the ham had an interesting smoky flavour to it. The egg mayo was creamy and satisfying, and our little girl can vouch for how amazingly exciting the cucumber sandwich was! My personal favourite was the smoked salmon sandwich. They hadn't skimped on the smoked salmon, which is all that needs to be said here really.
And so on to the scones. There was a mixture of plain and fruit scones. They were on the large side but were crumbly on the outside and soft and bready on the inside. The clotted cream and jam were served in cute little china jars, which I loved. The clotted cream was exceptional and when we asked for another jar after we'd finished our first, it arrived quickly! The strawberry jam tasted like really good quality jam; runny but not too runny, it combined beautifully with the clotted cream. Needless to say the scone layer, in my mind the most important of the afternoon tea layers, went down a storm.
Also on the scone plate were two slices of tea cake. This isn't really my thing, but Kyle reliably informed me that the fruity cake, served with cold, rich butter, was a delight.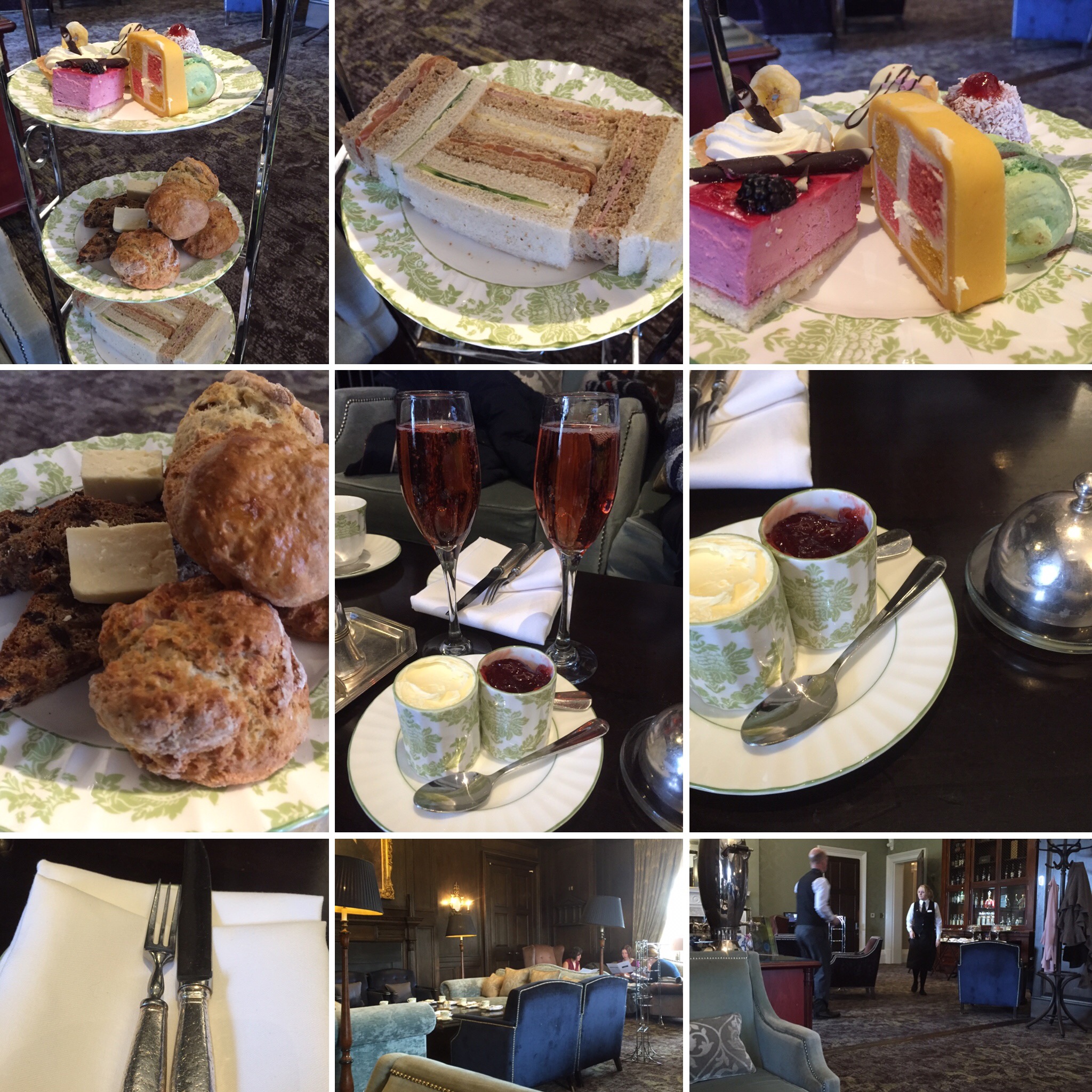 We were pretty full at this point, but managed to steel ourselves to tackle the top tier of pastries. I kicked things off with a little coffee eclair. It was very tasty, the bitter taste of the coffee cutting through the cream and pastry nicely. Kyle started with a coconut tea cake, which was a little heavy and dense, but very edible nonetheless!
My eyes were then caught by the Battenberg cake. The flavour of marzipan here was almost too much for me (I'm not always a big marzipan fan) but it did veer on the right side of the marzipan divide! The banoffee tart was a good palate cleanser after the strong flavours of the Battenberg and I wolfed it down before Kyle could take a nibble.
We were left with a black forest gateau sponge creation and a macaroon, both of which went down very nicely indeed (especially the macaroon; I could have eaten 10 of them!).
After the plates had been emptied, we sat back in the plush armchairs and sipped our rose champagne and tea (Darjeeling for me and lemon and ginger for Kyle). It was a very relaxing, laidback experience and one which I'd love to repeat in the not too distant future.
Afternoon tea at Oulton Hall doesn't come cheap, especially if you add on a glass or two of champagne, but you wouldn't want to come here just on a whim; it's too special for that. As well as us with our baby, there were couples, family groups out for a birthday, a baby shower, and a group of friends catching up after shopping in Leeds.
The appeal of Oulton Hall is obvious just from a couple of hours spent in the gorgeous surroundings, and if you want to sample this luxury amped up a level or three, you could always try their Butler Experience, where your afternoon tea or evening meal is served by an experienced team of butlers!
Disclaimer: We were invited down to review a complimentary champagne afternoon tea. All views are our own and we were under no obligation to provide a positive review.