There's something special going on at Shibden Mill Inn. A record-breaking December has been followed up by a record-breaking January. Rooms are fully booked (despite the inclement weather), tables in the pub and restaurant are packed with bodies, and visitors from far and wide are lining up to secure bookings at this picturesque inn, nestled in the Yorkshire countryside.
Even better as far as Shibden Mill Inn's proprietors are concerned, the awards are stacking up as well. Last week they were named in the UK's top 50 gastropubs, they were previously awarded AA 5 star status, and in 2015 they were named Yorkshire Pub of the Year.
Quite frankly, we wanted to find out what all the fuss is about! We were invited to stay at Shibden Mill Inn during the last weekend of January. For us, it was something to look forward to after my first fortnight back at work after maternity leave, and something to get us through the gloomy weather that has beset Yorkshire this month.
Speaking of gloomy weather, we set off from home in the middle of a freakish blizzard, which unfortunately failed to subside for the entire 45 minute drive across to Halifax. It was pretty miserable until, all of a sudden, we turned a corner and stumbled across the stunning Shibden Valley, covered in snow and mist. It really was a sight to behold as we made our way down the valley to the bottom, where Shibden Mill Inn is nestled next to a little stream.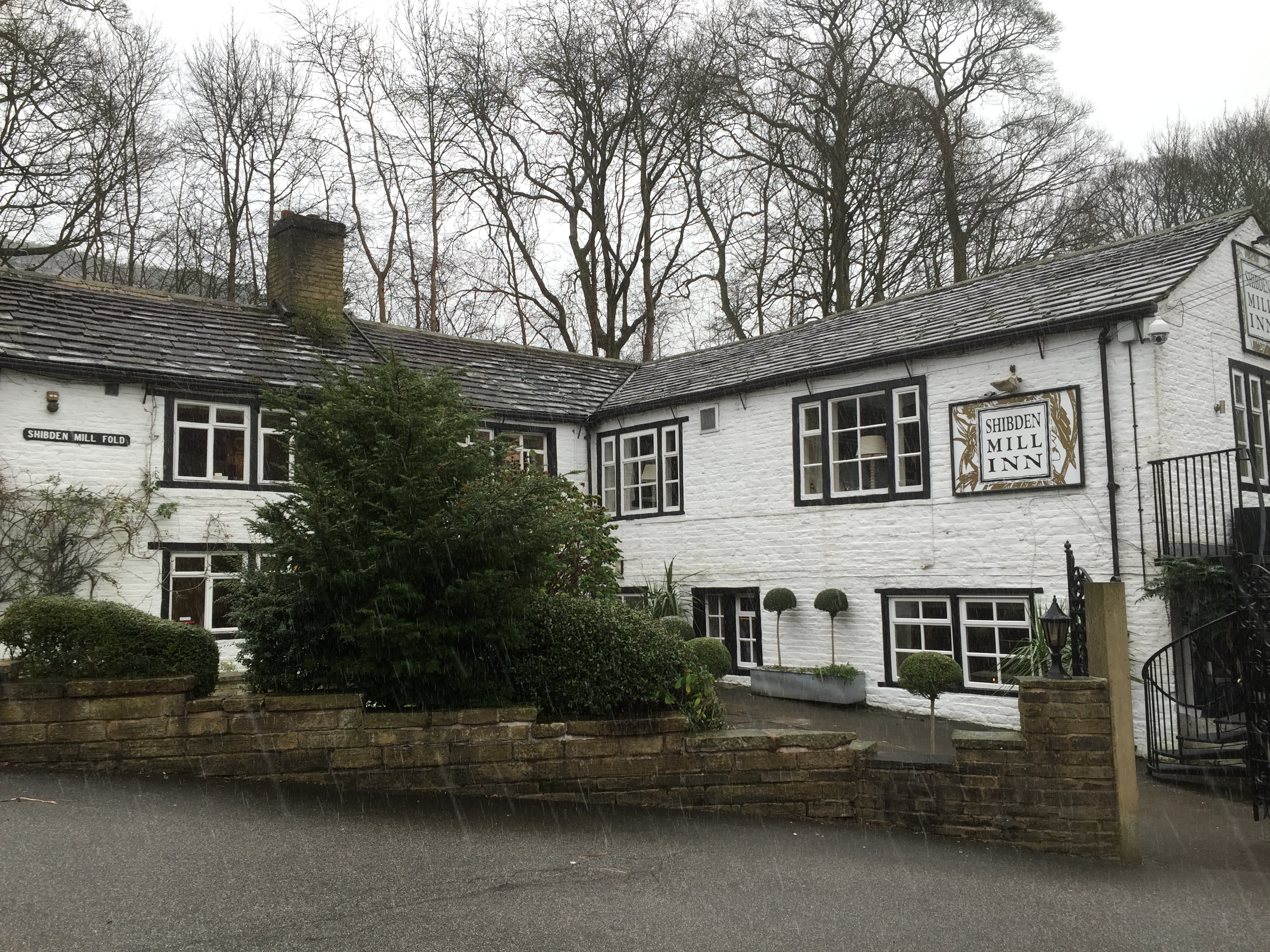 It was exactly the sort of weather that makes you want to hibernate, and as we stepped into the welcoming reception area, with its little bowl of complimentary apples, its plush sofas, and genuinely friendly receptionists, it was clear we were in the ideal place to do exactly that.
We were shown to our room, and our day got even better. We were lucky enough to be staying in the inn's best room: the Bower Suite. The Shibden Mill Inn website states of this room that "no expense has been spared in making this suite a haven in which to relax, unwind or indulge" and that's no exaggeration.
Not only does this room look fantastic (retaining the original features of this amazing 17th century building), but it's extremely comfortable and provided a gorgeous retreat for us to hide away from the weather.
After making a cup of tea, we headed down to the pub, which welcomed us with roaring log fires, low wooden beams, and walls lined with wine bottles. We settled for a couple of lemonades with lime, but beer fans will be impressed by the range of regional ales on offer.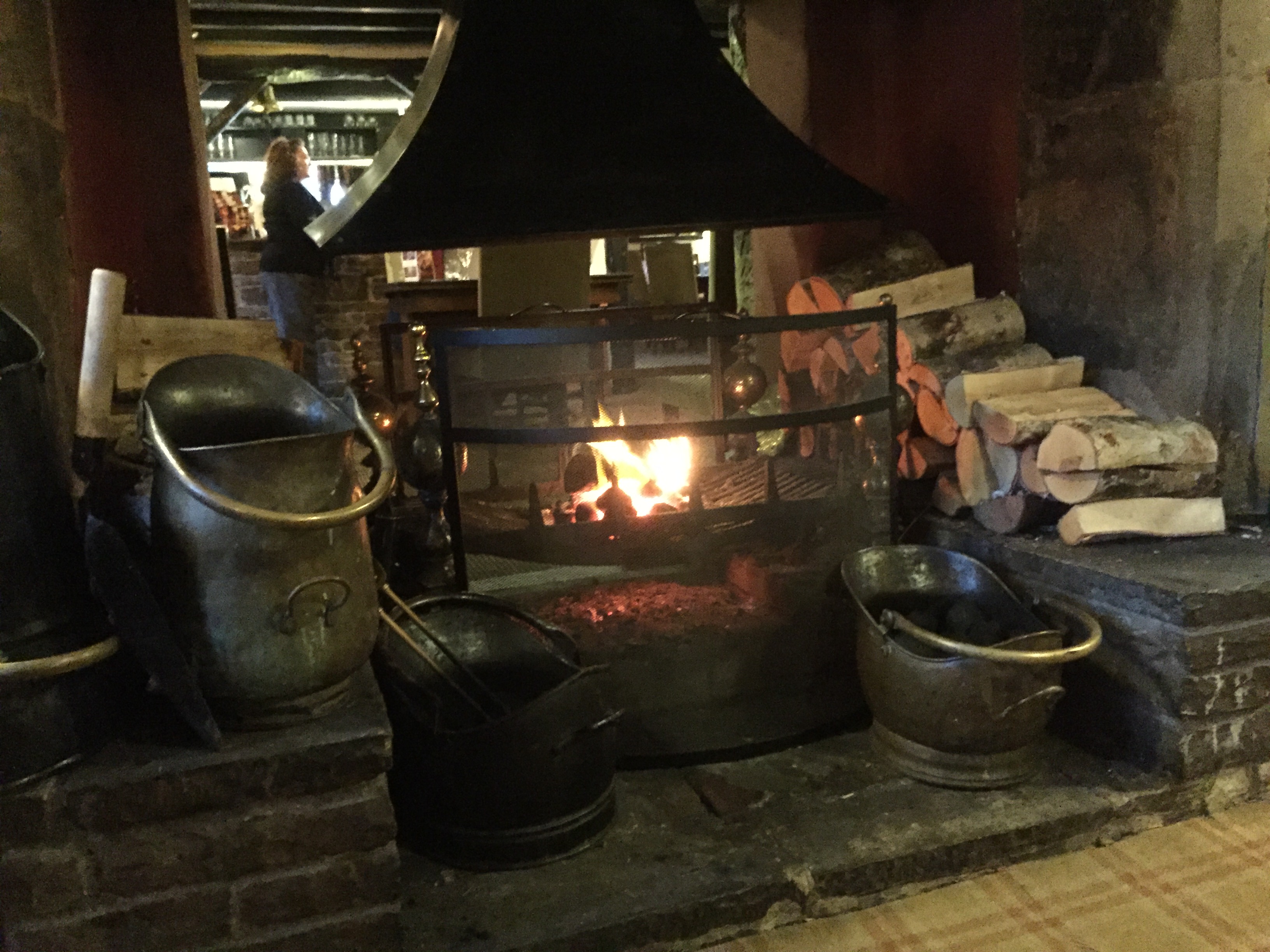 We headed back to our room, pausing to admire the cute decorative touches scattered around the hotel corridors, to play a few games before dinner and to chill out in the huge bath tub, which was actually part of the main bedroom (see the room photos above) – amazing!
Soon enough, it was time for dinner. We'll cover the food in the Grill Room in a separate post but needless to say we returned to our room with full stomachs, and in dire need of a good lie down!
After putting our little girl to bed (there was plenty of space to put her travel cot down by the side of our bed), we watched a DVD on the DVD player. It became clear to us throughout our stay that one of the things that sets Shibden Mill Inn apart from its competitors is its focus on 'the little things'. The best example of this is the DVD cupboard. Tucked away next to reception is a cupboard stacked full of DVDs and guests can borrow as many as they want during their stay. There's plenty in there to suit all tastes.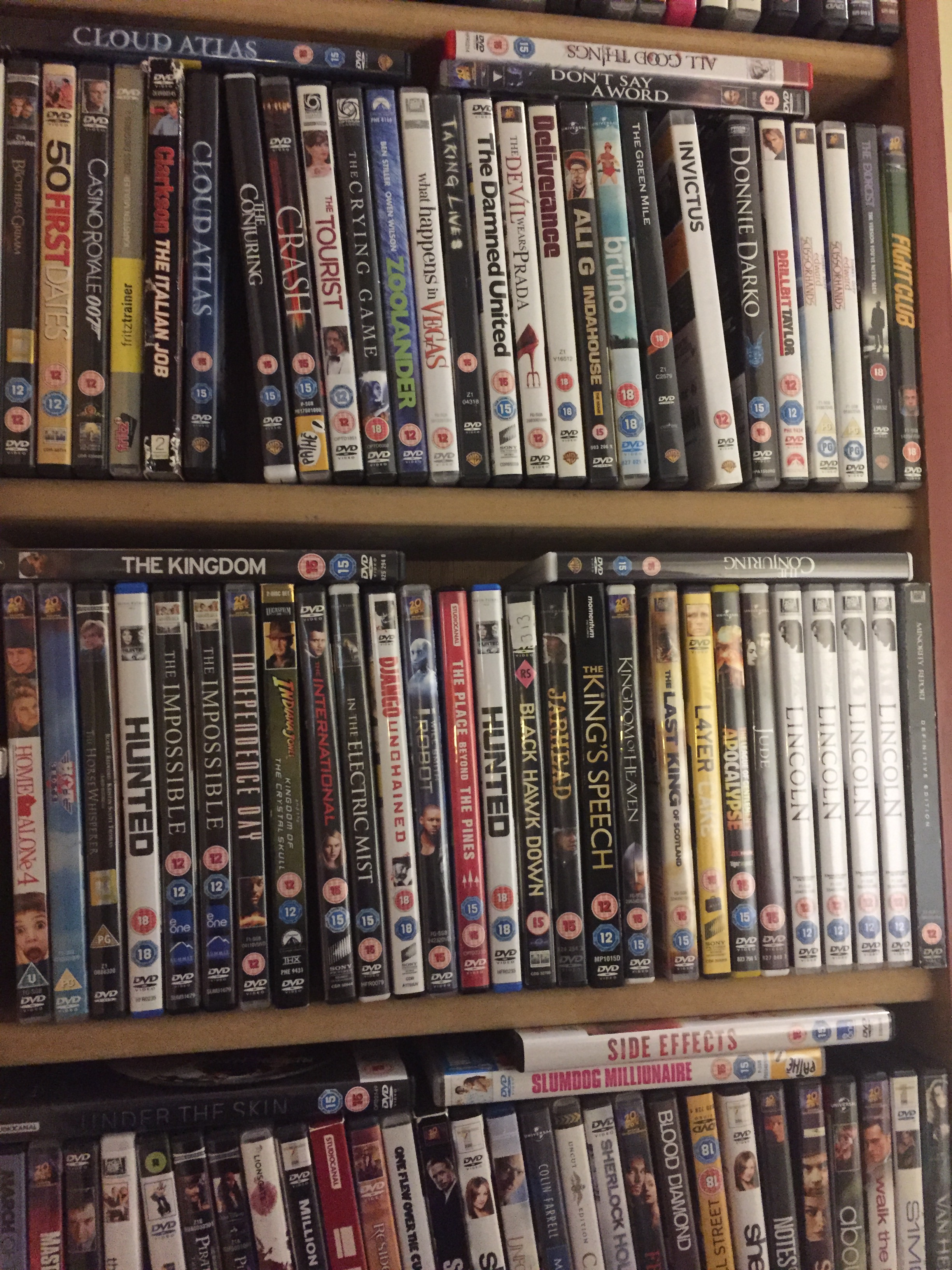 After a good night's sleep in a very, very comfy bed, we woke up with the promise of a great breakfast on the horizon. Breakfast is served in the same room as our dinner, but it had undergone something of a transformation overnight. The same room that had looked so warm and cosy during our dinner now looked light and airy and provided a nice relaxed setting for a long breakfast.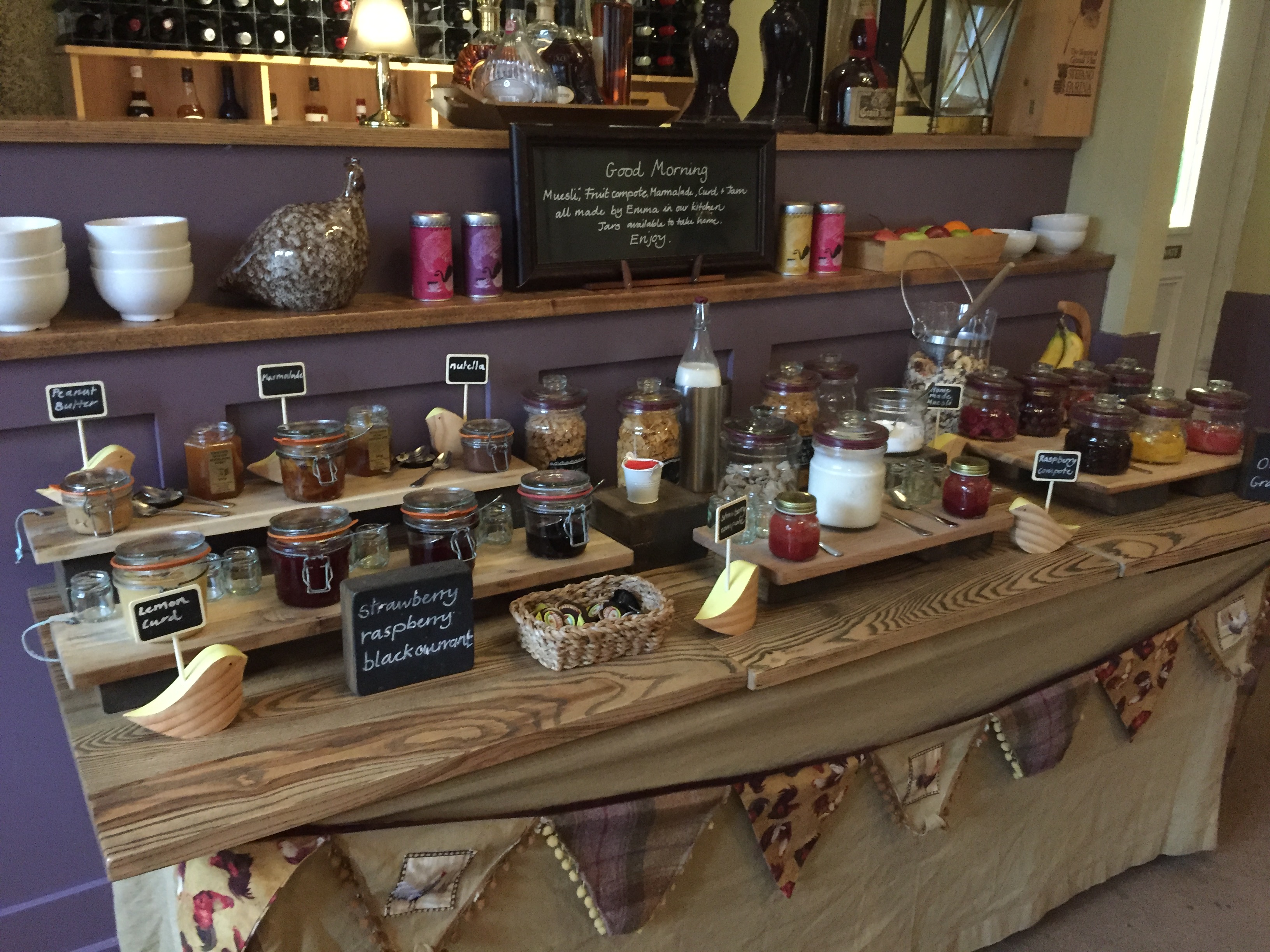 We started off with some fresh juices, some coffee (actually, plenty of coffee after being up for some of the night with our little girl!), and a round of toast. Also on offer on the main buffet table was homemade muesli, organic yoghurt, fresh fruit, and various spreads and cereals.
It's clearly the hot options where Shibden Mill Inn excel, though, and after some deliberation we opted for the omelette with Yorkshire ham and tomato (me) and sausage sandwich with mushroom (Kyle). We asked for some extra toast for our little one and the waitress suggested that we also order a small portion of scrambled egg for her (on a side note, this was representative of the friendly service from all the staff we encountered; they all seemed to go out of their way to look after us and to make us feel welcome with our little one).
My omelette was sensational. Cooked to perfection, the ham was salty, smoky, and packed a real flavour punch. It came topped with two grilled tomatoes and set me up really well for the day. Kyle's sandwich had all the hallmarks of a fine breakfast sandwich: thick bread, high-quality sausages, and brown sauce! Our little girl proceeded to eat the majority of her eggs and toast, so clearly there was a seal of approval from her too.
Shibden Mill Inn is the sort of place where you can forget about the real world for a night, or a few nights if you're really lucky. It's the perfect location for hibernating, for tucking yourself away by a roaring log fire with a good book, for looking outside at the driving rain and being thankful that you don't have to venture out the front door.
That said, for those who do choose to leave the inn behind, there's plenty of walking nearby, and a leaflet in reception lists some circular routes that start and finish at the inn. For anyone feeling particularly energetic, guests also get complimentary access to a nearby health club.
We knew something special was going on at Shibden Mill Inn, we just didn't know how special until we saw it with our own eyes.
Disclaimer: We were invited to stay at Shibden Mill Inn but were under no obligation to provide a positive review. All opinions unbiased and our own.