Restaurants seem to be opening all the time at the moment, emphasising the great foodie location we live in here in Yorkshire. One of the restaurants that doesn't deserve to get lost among the crowd of new ventures is Wild in Harrogate.
We previewed the opening of Wild a while back and were intrigued by what we would find on the menu from James Key, a man who has achieved a great deal in his career (including being a finalist in "The Great British Dish"). It's fair to say we were suitably impressed by the food (and restaurant design) on offer in his newest creation.
Charlotte, our little girl, and I had the pleasure of eating a bespoke version of one of the tasting menus and we also had the chance to chat to Jim about the restaurant and what he is offering.
For those of you who like fine dining (we do!), Wild is an impressive addition to the Harrogate restaurant scene, taking over the location of Mirabelle (and getting rid of its microwaves!). In terms of location, it is not blessed with the highest footfall but deserves to draw people in purely for the food and drink on offer.
In terms of the atmosphere and design of the restaurant, Wild lives up to its name, with the decorations and design seemingly inspired by nature (one of the walls is decorated with real moss!). As well as this, for those of you who remember Mirabelle, the old slightly cramped bar area has gone, replaced by a chef's table which makes the whole restaurant, especially the entrance, seem an awful lot more spacious.
So, enough of the setting, what was the food like, I hear you cry! Well, to start with we enjoyed a delicious serving of bread with some flavoured butter. This set the tone in terms of elegance and taste and we couldn't help but ask for another serving. Our first real course, however, was a delightful winter warmer (needed on a freezing day in Harrogate) of carrot soup with caviar. This went down a treat with the bread.
After wolfing down the soup, it was on to the fish starter, a wonderful, plump and juicy (and perfectly cooked) scallop on a beetroot purée that was topped with truffle, apple and a subtle herb garnish. This dish was a real winner for me, with the crunch of the apple combining beautifully with the silky smooth texture of the scallop. As well as tasting great, it is worth pointing out that Jim was brave enough to serve the scallop on a generously sized plate. This allowed us the opportunity to really be impressed by the scallop itself as it took centre stage.
As a surprise for us, we were then presented with that traditional English classic: ham, eggs and pineapple! Now, I am a man who will try most things once, and on the whole I would say I've tried this combination before and it has just been a disaster throwback to an era of British food that is perhaps best forgotten. Jim has changed my mind though after this dish!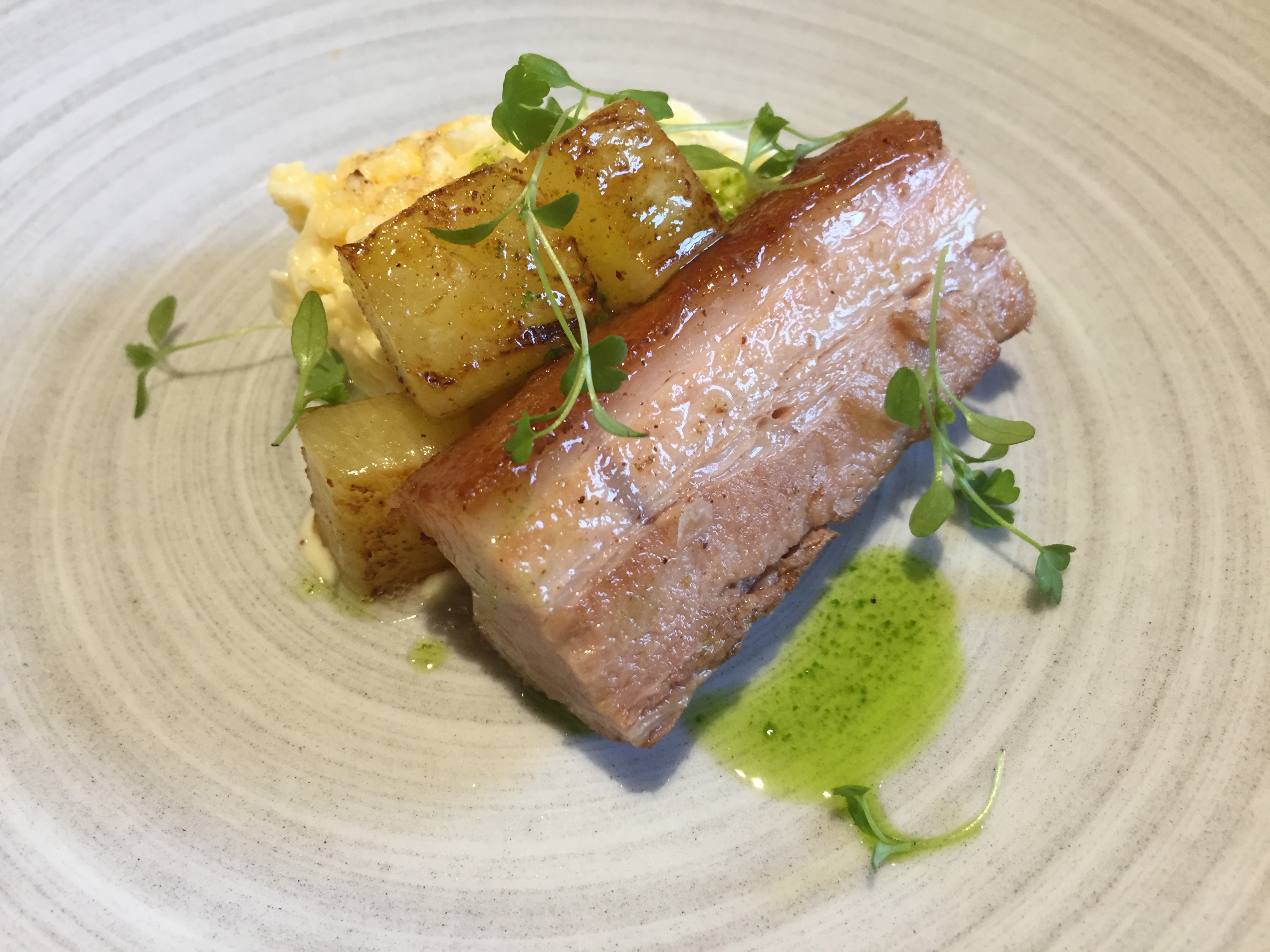 We had a long chat after we had eaten this course and we both said that this was a dish that screamed flavour. It was modern and challenged you when you ate it. It was a delight. The wonderfully scrambled eggs (again, a risky way of serving eggs to people at a fine dining restaurant) combined beautifully with the melt in the mouth pork belly and the pineapple added that sweet and sour note to really round off the whole dish. There is a problem though: up until now this has not appeared on the menu. Simply put, this error needs to be addressed!
Next up was a return to the main menu and the world of line caught seabass. This dish was elegantly presented, came with a lovely volute and well cooked celeriac (something that some lesser chefs can really ruin). The fish was cooked to perfection and had a real meaty texture to it, which you don't always get with fish courses.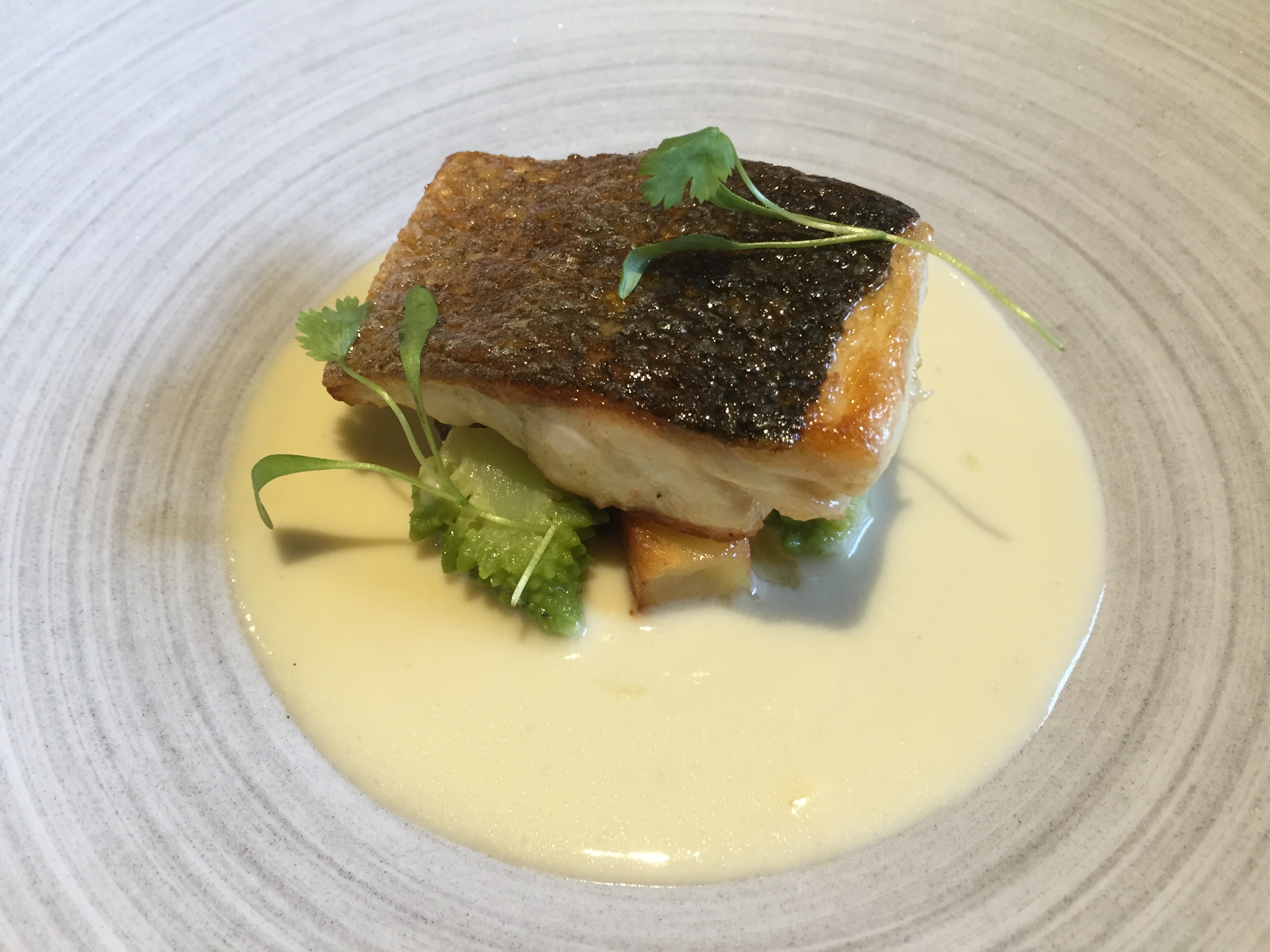 The final main dish was venison. We like venison. In fact, we like it a lot. Having enjoyed a fair few excellent offerings of this fine meat recently, I was wondering how Jim would make his dish stand out from the crowd. Basically he did it in two ways that left us both very impressed.
The first was cooking the venison spot on. It really was right on the money. The second, and I am glossing over the other complex and flavourful parts of this dish here, was that he put thin slices of parma ham in between a serving of dauphinoise potatoes. This combination tasted so good it should be illegal. The creamy taste of the potatoes was balanced beautifully by the salt from the ham and it was lip-smackingly good. Charlotte said afterwards that she could have eaten a whole casserole dish of those potatoes, which is praise indeed from a potato lover!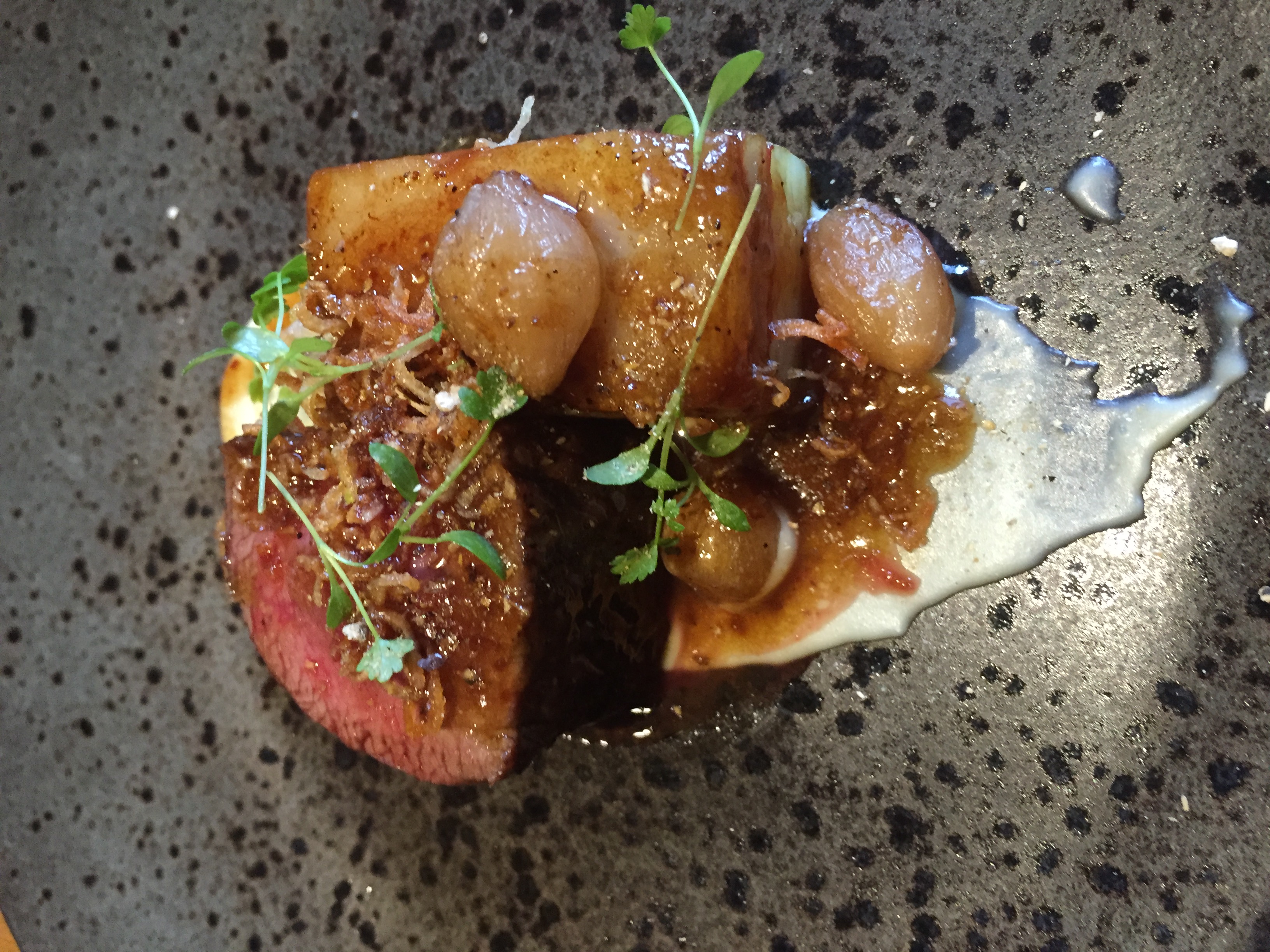 As for dessert, the Yorkshire through and through rhubarb dish went well when plated up with different textures of chocolate. This was a sweet dish that nearly lived up to the best pudding I have ever eaten (at Test Kitchen in Cape Town). Bearing in mind the fact that that restaurant is regularly named in the top 50, if not top 25 restaurants in the world, and you have some idea of how well this dish worked.
For us, the final treat was a chance to enjoy some excellent local cheese and have a chat to Jim about everything we'd eaten. He also told us about his plans to offer a lunch menu at £14.95 for two courses and a glass of wine (truly excellent value). His food is high class, tastes amazing and has its roots in Yorkshire but is not designed to be foamy, pretentious or disguise the excellence of the ingredients he uses by turning them into something unrecognisable.
As regular readers will know, we aren't big drinkers. That said, we did indulge here with a punchy white and a red that was sublime when combined with the venison in particular. The wine list for those who find them more exciting than we do offered a good range of high value items alongside more affordable options by the glass.
All in all, Wild was a find for us comparable to the Hare Inn at Scawton, which is high praise indeed. So, we ask you, our readers, to do one simple thing: try out Wild. Try fine dining in a style befitting of Yorkshire, with great food, a laidback but refined atmosphere, and best of all with a passionate, talented local lad behind it all.
If you fancy following our advice and want to give someone a special treat you may even want to get in early and book the £40 per head Valentines day menu.
Disclaimer: We were invited down to try out the food at Wild and were given complimentary food and a drink but were under no obligation to provide a positive review. All views are our own.