We recently wrote about an idea for a fun foodie day out in London: visiting Borough Market. Borough Market is fantastic for those with an appetite. You can fill up on breakfast, lunch, or dinner here, perhaps with a croissant, a few oysters, and a paella!
That said, for those who prefer a gentle wander around the market or perhaps a serious shopping expedition for foodie goods like olive oil, cheese, and fruit/veg rather than a food-filled gorge, there's a fantastic solution for making sure you have enough energy to get through your visit: breakfast first at Roast.
Roast overlooks Borough Market and has plenty of window tables, so you can sit and watch the hustle and bustle of the market as you tuck into some tasty grub.
Known for their meat offerings, Roast are also famous for their tasty breakfasts. Although portions are generous, this is no greasy spoon breakfast joint. The breakfasts here are on the expensive side, but will keep you satisfied until dinner and the quality of the ingredients is clear right from the outset.
When you visit Roast for breakfast, you can keep things (relatively) cheap and simple with the likes of a bowl of porridge, or you can crank it up with their signature breakfasts: the Full Borough, the Full Scottish, or the Veggie Borough. There are other breakfast offerings in between those two extremes, such as dropped scones, and kippers.
We sampled a range of the Roast breakfast menu items during our visit over the Christmas and New Year period.
I immediately spotted what I wanted after one glance at the Roast menu: Eggs Benedict. Just to clear up any confusion, with dishes like this on the Roast menu, there are two prices quoted. Essentially, if you choose the higher price, you're getting double portions. So, I chose the higher priced Eggs Benedict dish and got two muffins, two poached eggs, two lots of bacon (I could have chosen ham as an alternative), and two lots of hollandaise sauce. To put it simply: go for the smaller option and you've got breakfast; go for the larger option and you've got brunch.
When mine turned up, I was impressed. My choice of bacon over ham was justified; it was salty, smoky, and delicious. The real impressive aspect of my dish, though, was the colour and texture of the hollandaise sauce. It was thick, rich, and packed full of buttery, creamy flavour. Needless to say my eggs were poached to perfection. Check out the colour of that hollandaise below…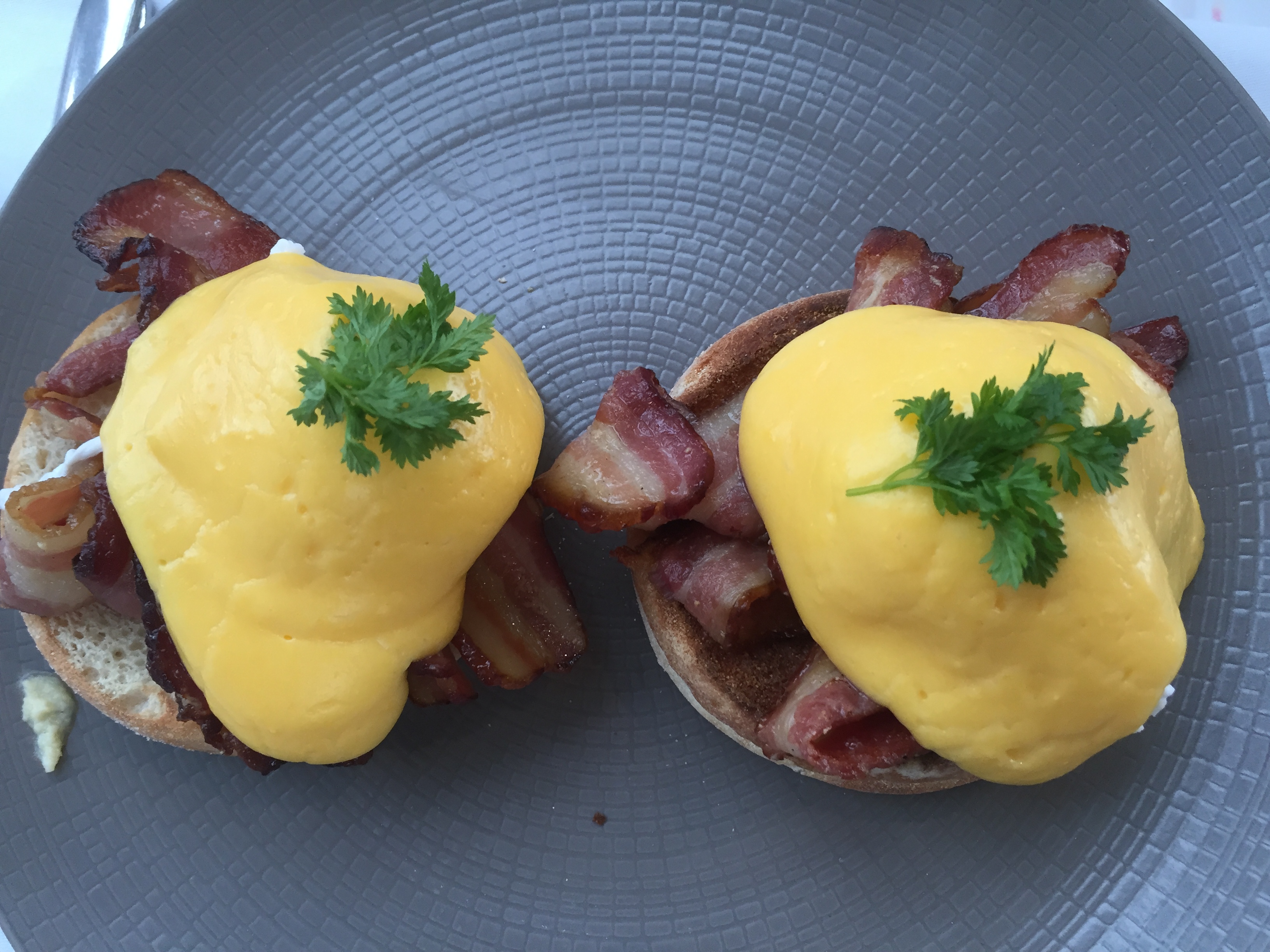 Kyle had ordered the Full Borough, which consists of smoked streaky bacon, special Roast recipe sausages, fried bread, black pudding (although he asked for his without!), grilled tomato, field mushrooms, bubble 'n' squeak, and a choice of eggs (he chose scrambled as you can see in the photo below).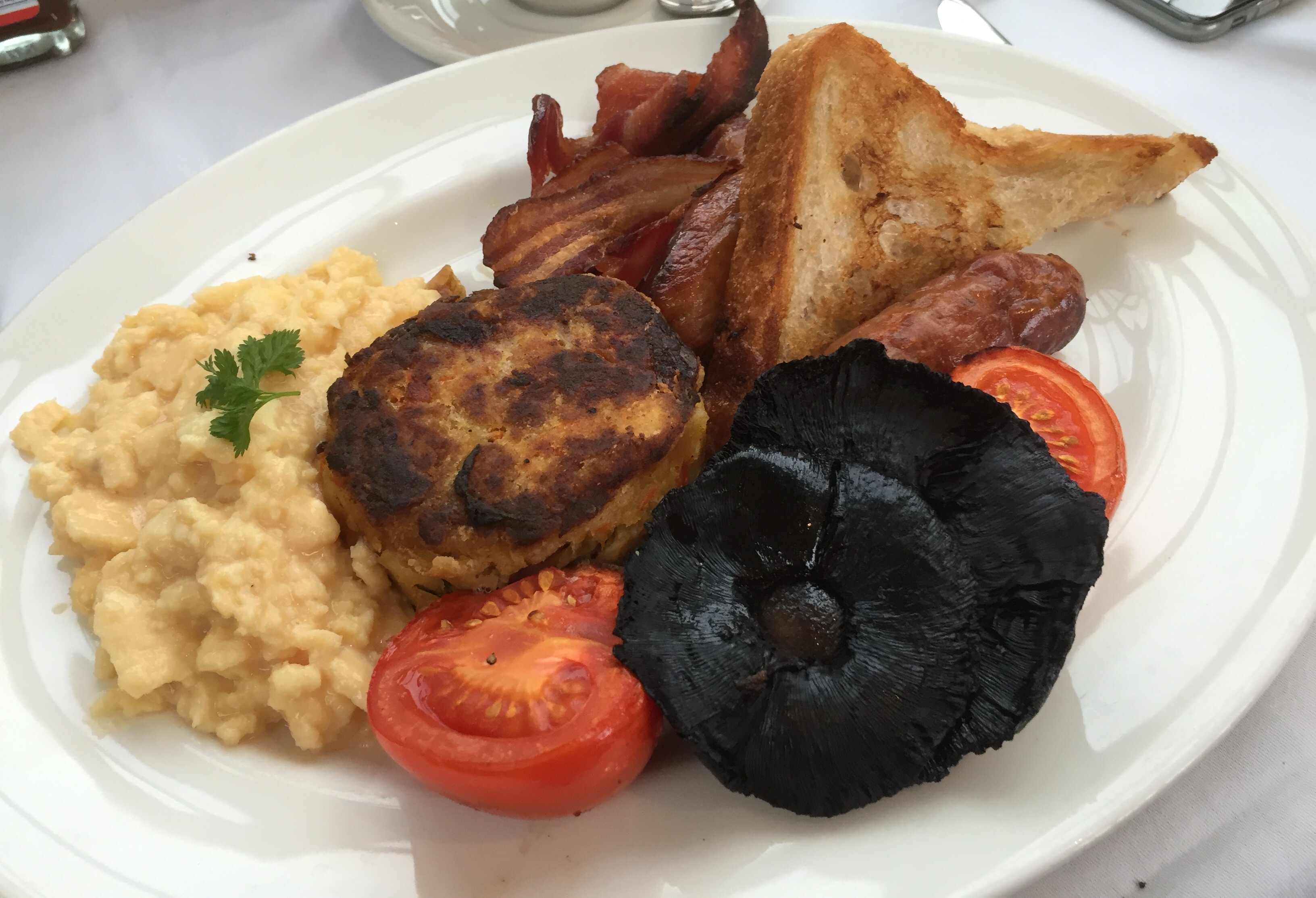 There was none of the grease you associate with a fried breakfast and the high points were really the sausages and the bubble 'n' squeak (a nice point of difference from a standard fry-up). Kyle also isn't normally a fan of streaky bacon but this almost converted him to the streaky bacon cause!
Kyle's grandparents were with us and ordered smoked trout with poached eggs, and steamed fillet of smoked haddock with poached eggs, spinach, and hollandaise sauce.
The trout dish was so pretty when it turned up. It was a treat for the eyes as well as the taste buds. The fish had a really delicate taste to it and went well with the soft texture of the poached egg.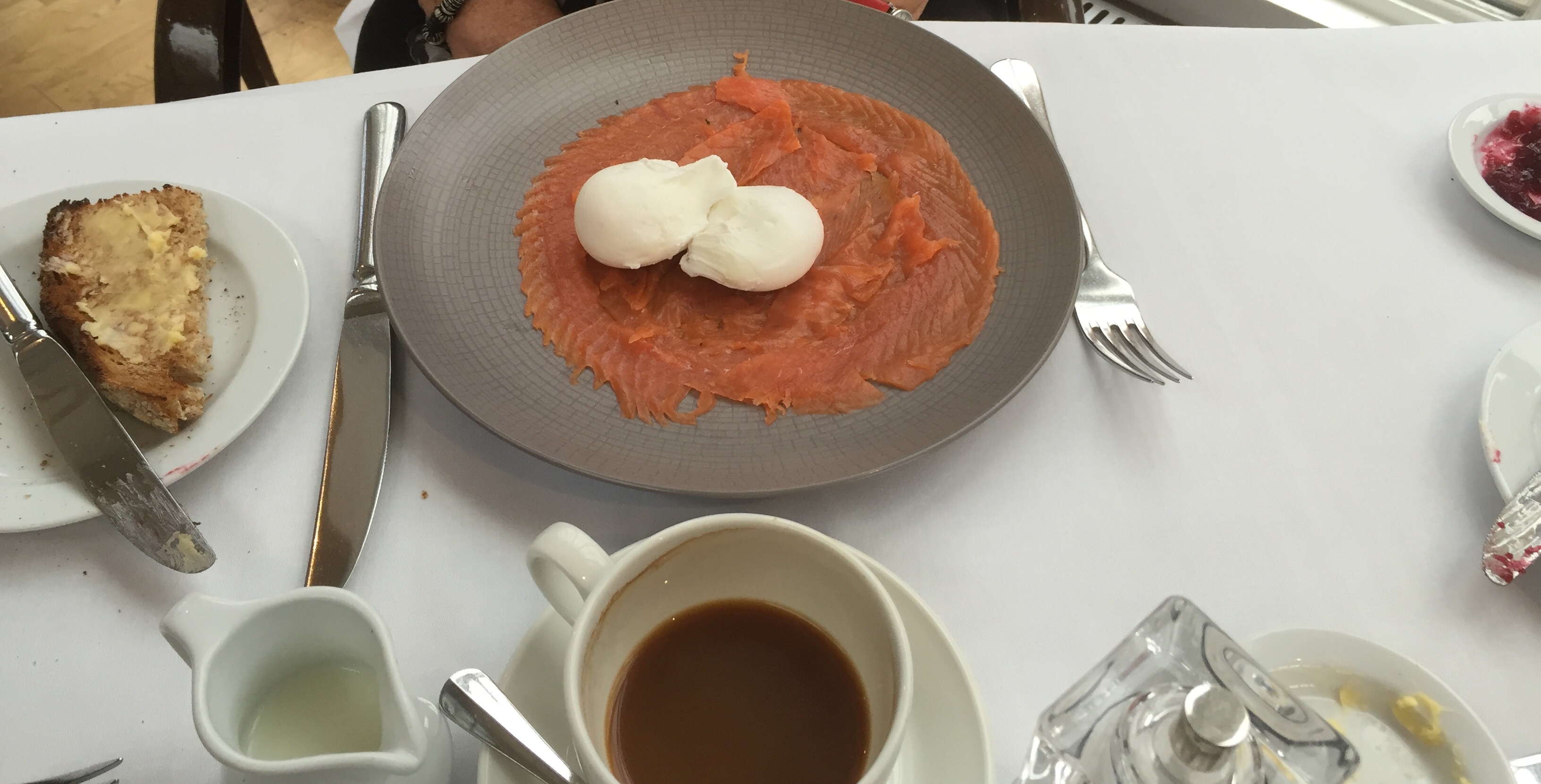 The haddock dish went down a treat as well. Another attractive breakfast offering, the rich hollandaise sauce topped off the silky smooth haddock.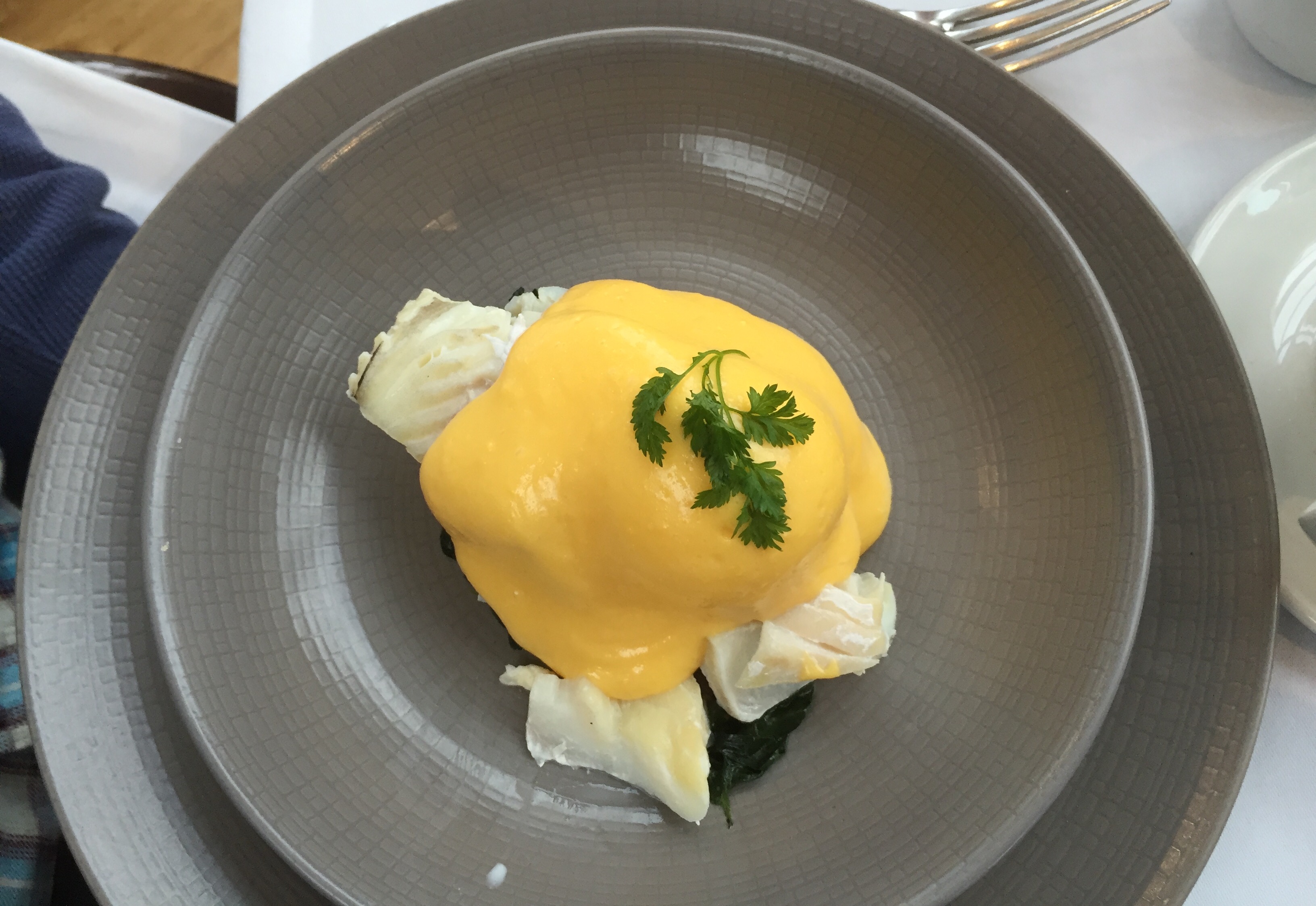 With our breakfasts done, we lingered for a while over another cup of coffee (bear in mind that coffees, around the £3 mark, aren't cheap at Roast) and looked out at the views of the busy market entrance.
It's worth saying as a final point that, despite being an upmarket London restaurant, Roast is family-friendly. We had our five month old baby with us and she wasn't made to feel unwelcome at all (although it's worth knowing that there are no baby change facilities outside the women's toilet, which could have been a bit awkward had Kyle been out on his own).
Our breakfast at Roast will live long in our memories and we hope to be able to return again in the not too distant future for another mammoth feed before a stroll around the fantastic Borough Market!