Having been huge fans of the Foodies Festival at Ripley Castle earlier in the year, we were delighted to be invited earlier this month to the Christmas Foodies Festival at Harrogate International Centre.
In a similar vein to the Foodies Festival in the summer, this festival again showcased a range of suppliers, both large and small, from across the UK, and gave those lucky enough to have a ticket the opportunity to sample some of their products amid a fun festival atmosphere.
Aside from the suppliers, the main draw here was the chance to watch Nadiya, this year's GBBO winner, lead a cooking demonstration. There was also the opportunity to learn about a range of drinks from experts as well as to take part in cake and baking lessons.
We really enjoyed the demonstration from Nadiya and also had our eye on the cute kids' area for when our daughter is a bit older (you could decorate cookies etc and it looked like a really nice activity for little ones).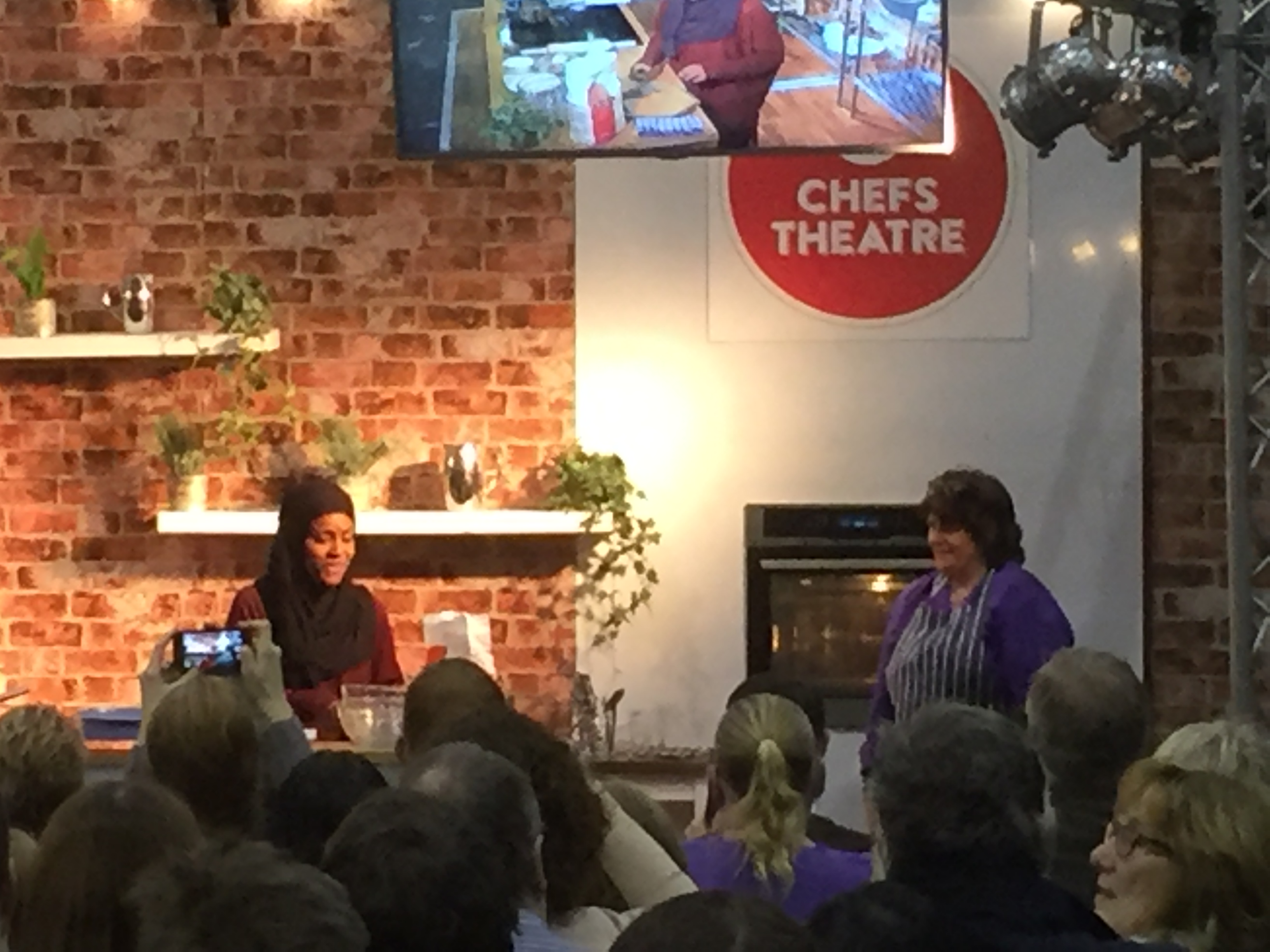 The products on offer at the stalls made for some excellent Christmas gifts, with some great discounts on offer from some diverse suppliers. Here are a few that particularly caught our eye:
Magma Sauces: We were impressed by Magma Sauces (despite the fact they're from Lancashire..!) and found ourselves pushing our ability to handle chilli heat by sampling and then buying their Ghost Chilli sauce. Be warned: this explosive sauce left two of us feeling beaten by the heat! In small quantities, though, it's a great addition to an array of dishes.
Marvellous Mustard: This small company offers a range of make your own mustard kits and little pots to take home. The kits looked like fun but we opted for a jar of mustard with port. There's an intriguing sweetness to this mustard and the mustard grains have retained their crunch due to the simple technique used in the production process. Mustard can be boring but every flavour we tried at this stall was exceptional. We were sorely tempted by a jar of the honey flavour but ultimately decided on the port.
Indian Street Food Company: After much debate, we decided on some Indian food for our lunch. We had two wraps, one with chicken in and one with lamb and they were both truly sensational. The meat was moist, well seasoned, and neither too spicy nor too bland, and the sauce was delicious. The wraps they were served in were doughy, stretchy, bready, and delicious! This was authentic Indian street food served in the heart of Harrogate!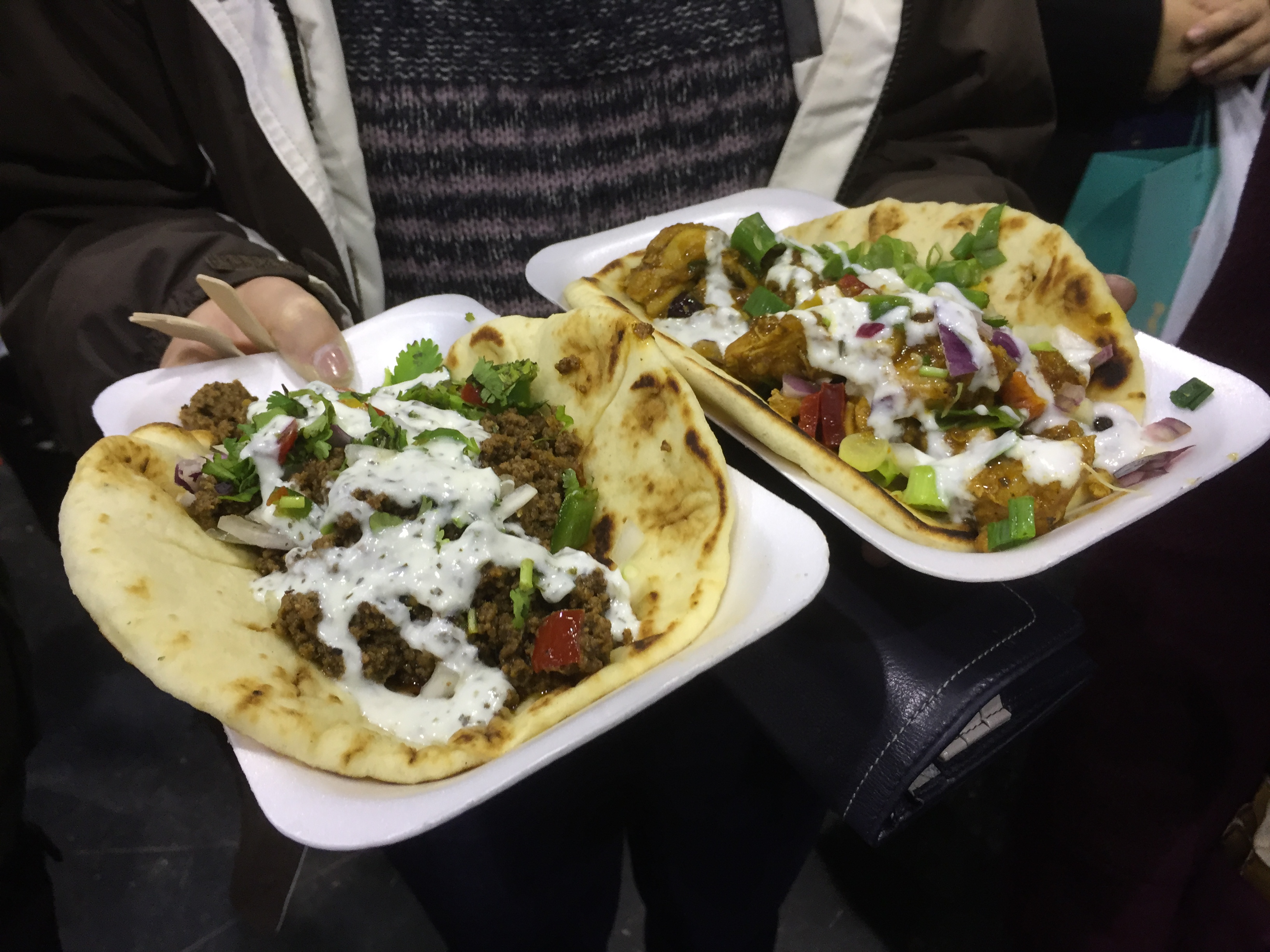 The Brownie Bar: We've written a post recently explaining why we love the Brownie Bar. You can read it here but to sum it up in one equation: brownie + cookie = corker!
Wandering around, there were lots of other stalls selling fantastic gifts for Christmas, including fortune cookies in place of crackers, chocolate truffles, and festive fudge. For this reason, it was certainly worth popping along to this Foodies Festival despite us having been to the summer one.
Much like the summer festival, there was entertainment on offer in the form of music and the VIP section was very enjoyable, especially the free glass of fizz! The ski chalet-style champagne bar in the main part of the festival also proved popular with those attending.
As an official Foodies Festival blogger, I was sent four VIP tickets to attend the event.