Having been invited down by the good folk of Stockdales of Yorkshire to try out their new menu, the challenge was on to see if this wonderfully converted (at a cost of a reported £1.2 million shelled out by the ABP Food Group) restaurant could showcase the best of Yorkshire's produce.
ABP were previously responsible for bringing a Wagyu bull over from Japan in order to help start a British herd of Wagyu, so the focus at Stockdales is clearly on the steak and making sure that this ingredient shines through. This was reinforced in the dining area downstairs where our meal was served, with the cuts of steak proudly displayed in a glass cabinet. There were also conversation starters in the form of paintings of cows that stare at you while you consume your food!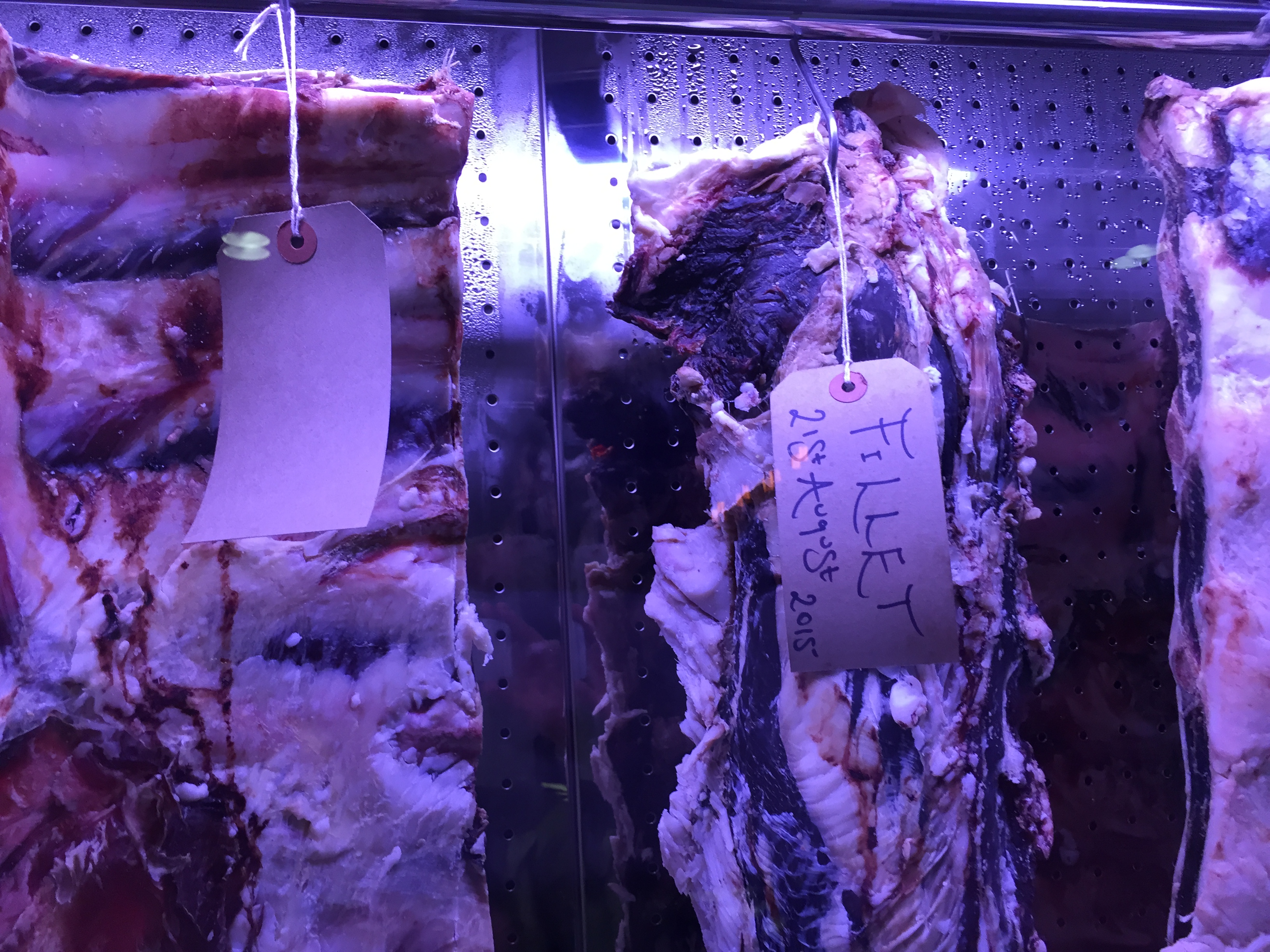 Stockdales is up against Gaucho, Blackhouse and Miller & Carter in the Leeds steak restaurant scene, so there needs to be a point of difference in order to make it stand out. It would seem that the Wagyu beef on offer is that point of difference, so whilst heading down to try the food, all my thoughts were focused on how good this British Wagyu would be.
The feel of Stockdales is very much that of a trendy and upmarket restaurant. However, in a way, this belies the fact that the staff will hand out Nintendo 3DS to children to help parents enjoy a quiet meal. After a chat with the owner as well as the manager, both confirmed that the restaurant is not trying to just rely on business lunches/dinners or those looking to impress, but is instead trying to get everyone to come in and sample their sumptuous steak even if it's not a particularly special occasion.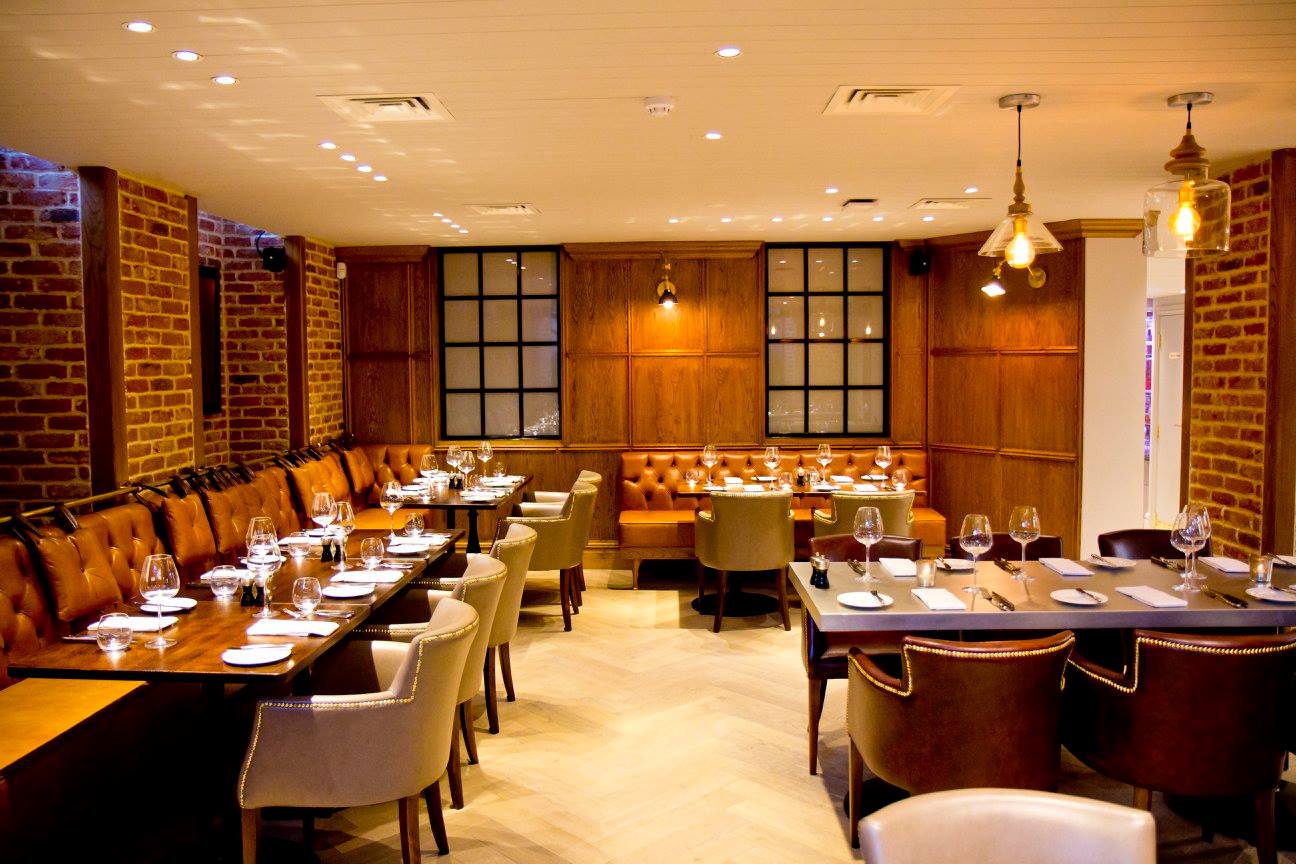 Sitting down for cocktails, there are a few nods to the 'Yorkshire' part of the name, with rhubarb cocktails on offer. The alcoholic options on offer are fairly reasonably priced, as are the bar snacks that are fairly interesting and decent tasting. Most cocktails start at about £7.50, with bar snacks around £3. After a long chat with the sommelier, it is clear that there has been a lot of thought put into the drinks on offer and it is fair to say that the options have been well researched and will continue to be improved over time.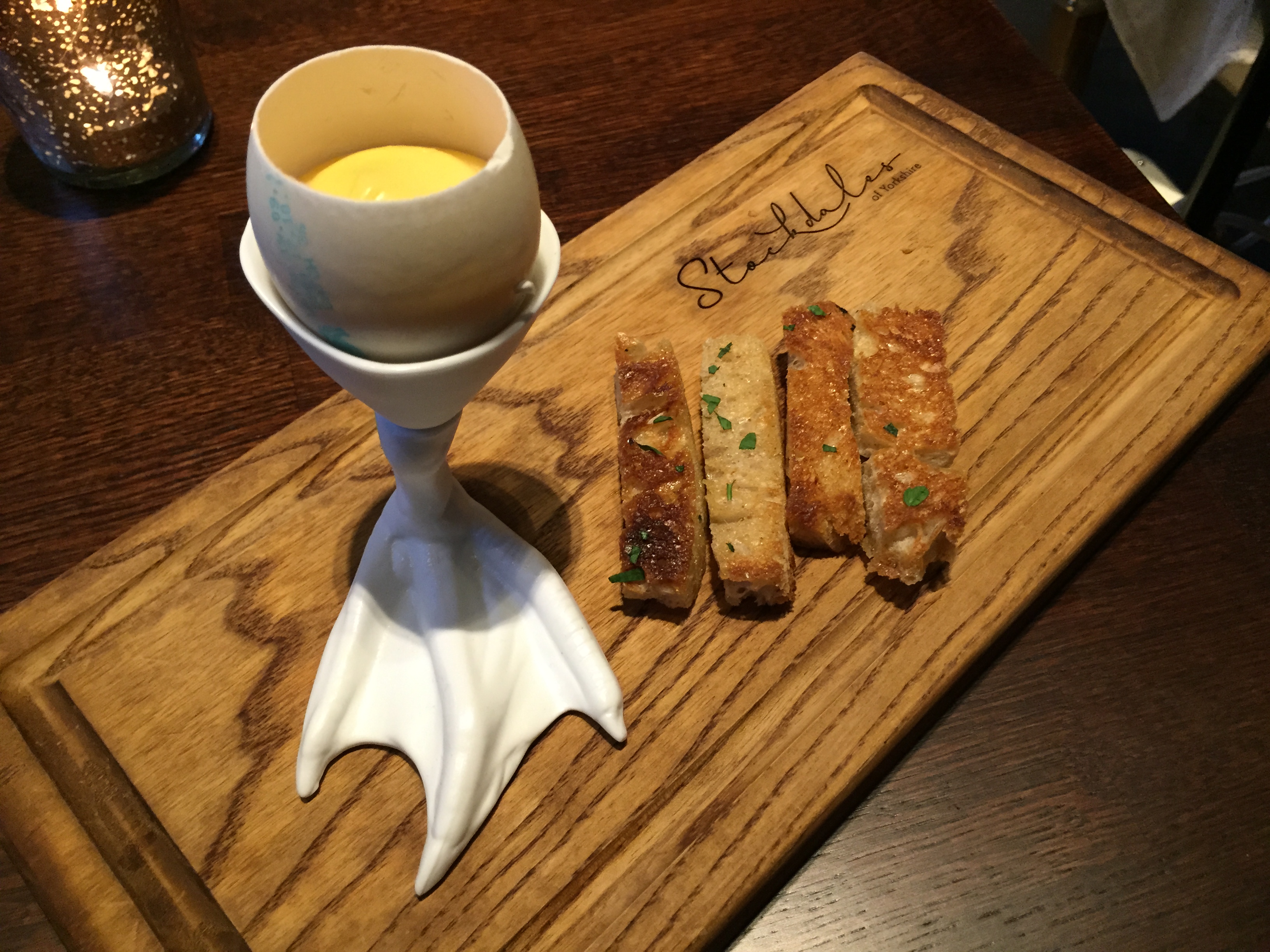 Once the pre-meal drinks and snacks had been nibbled on, the starters were soon upon us and we were offered the chance to taste what the chef clearly felt were the best options on offer. The trio of starters consisted of a wonderfully seasoned 'umami' Wagyu fillet steak tartare, a chicken liver parfait, and a twist on a prawn cocktail.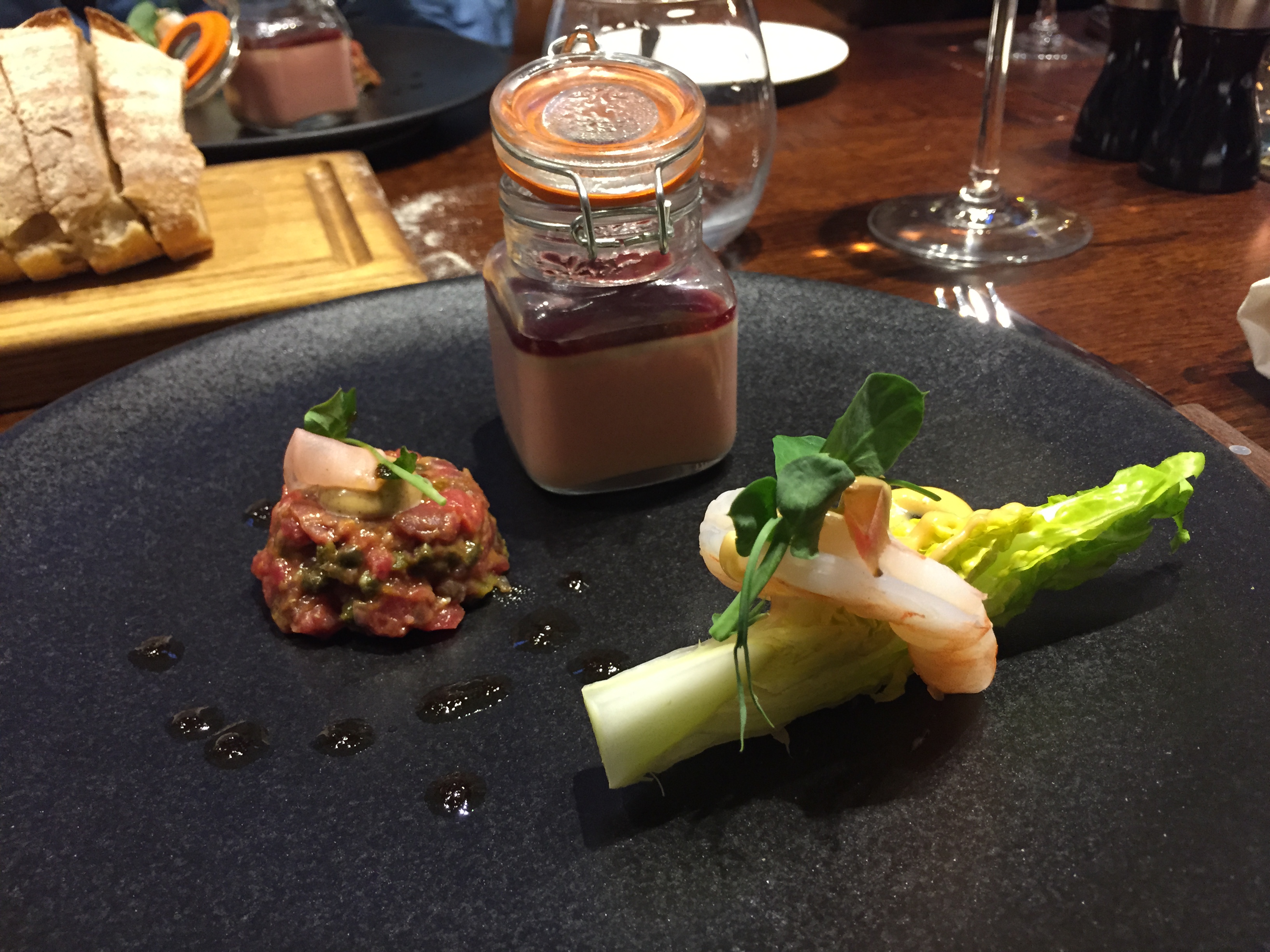 For me, I felt that the parfait was slightly overpowered by the jam topping, and the prawn cocktail was not particularly exciting and needed a bit more from the sauce. Despite this, there was a real high point on the dish that everyone on my table enjoyed and that was the wonderful tartare. Seasoned delightfully and clearly boasting high quality steak, this dish really came together to 'sing' and was a very promising dish that showed that the head chef Jonathan Elvin is driving the concept of the restaurant forward.
For the main course, there were a few excellent choices on offer, including pumpkin risotto for vegetarians (incidentally the cheapest priced main course dish at £12). There were also a few seafood options. However, the real options for steak fans are the different cuts on offer. After a conversation with one of the waiters, it was clear that the staff here have been well drilled to confirm that the Wagyu steaks are seen as the best on offer. I chose the Wagyu sirloin steak (rare) as my main option. At £35.50 for the steak and a piece of grilled lettuce (albeit with some nice touches to give it a bit more flavour) it was clear that the steak had to deliver.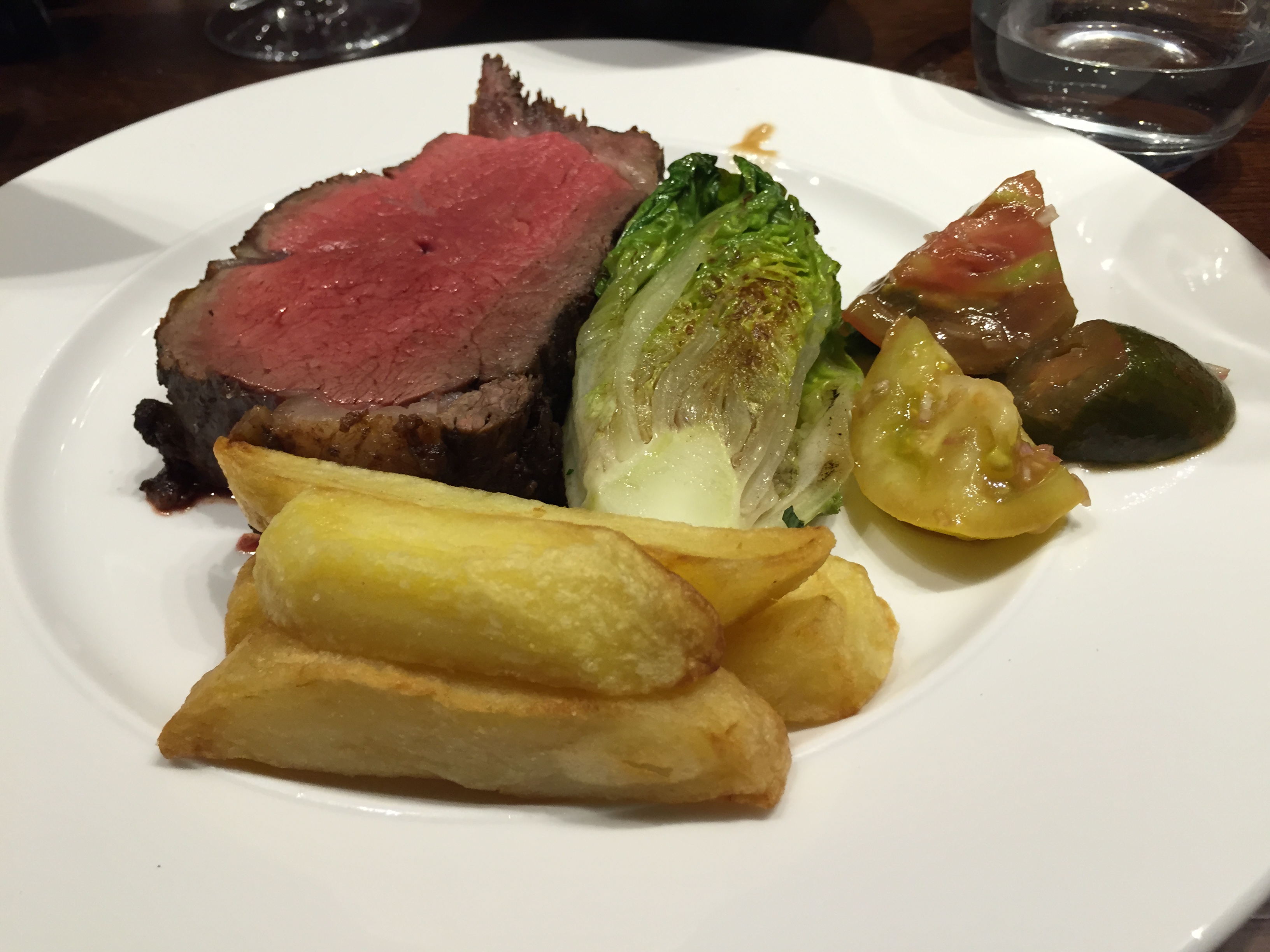 The beef was tender, well seasoned and, all in all, lived up to its billing. Cooked in a water bath before going into the Josper Grill (the second one to hit Leeds) the cooking process has clearly been well thought through to make sure that the meat is as tender as it can be when it hits your plate.
Despite this, I think that you need to be careful about what to go for when adding any sides to this dish. The steak is already likely to be slightly 'juicy' if you are looking to get it rare, which means that (despite the fact that the heritage tomatoes on offer taste great) you are adding more juice to the plate if you choose that option. Combine this with the gravy on offer and you're starting to look at making it similar to a broth and not a steak dish.
Being overly critical, I would perhaps say that the lettuce is a foe in this dish because it doesn't offer enough of a texture or flavour difference to the steak and restricts your sides on offer. This in turn detracts from the excellent steak you should be focusing on. If you go for the more traditional approach and go for the chips (chunky, thick chips seem to be a nice nod to the taste preferences of Yorkshire folk) and the wonderful truffle hollandaise, then the lettuce suddenly feels okay on the plate and doesn't detract from the dish.
Given that most people will choose to have a drink with their meal, it is worth pointing out that the red wine we were given (Carigan, £45 a bottle) was delightful and offered a really nice and interesting complimentary background to the steak. For those who are not looking for a bottle, the wine by the glass (or the wine I tried) was certainly nice but the Carigan was certainly worth a try if you are looking for a slightly different wine experience.
For dessert, as with the starter, we were offered the chance to sample the chef's finest and were presented with a wonderful valrhona dark chocolate tart that was rich and had a real element of chocolaty indulgence, a lemon curd 'baked alaska' that for me didn't quite hit the same heights as the chocolate tart, and finally a toasted hazelnut creme brulee that while very tasty lacked that sugary crispness at the top.
If you are going for pudding, I would encourage you to try the chocolate tart despite the fact it is a pound more than other puddings at £7 for the dish. If you want, you can push through and enjoy cheese and coffee, but I was beaten by this stage and will instead look forward to hearing what any of you made of this extra course!
All in all, the food on offer here is of very good quality. There are some tweaks that need to happen for this restaurant to be a real success but you can see that they have got some great ideas for the direction that they want to head in. If you don't love steak, this might not be the place for you but if you want a restaurant in which to enjoy great Wagyu steak, nice wine and a classy environment, Stockdales of Yorkshire could well be for you.