Caroline gives the thumbs-up to the freebies and the spotless white shirts at Jamie's…
Like most people I do love a freebie and have always been impressed by the little treats on offer to Jamie's Gold Card holders. The card came free a number of years ago when the chain started and we have had lots of nice free appetisers over the years, the odd glass of wine and even a pair of oven gloves one Christmas. Today we were looking for a cheap and cheerful lunch in Edinburgh and I remembered that I had had an email a couple of weeks ago offering me a free bottle of prosecco this month in honour of my birthday. I needed no further tempting to make Jamie's in George Street my lunch time destination!
I booked a table online and unlike my senior moment with Mother India the other day managed to book a table in the right city! Claiming my birthday freebie was easy: all I had to do was give my membership number and the waiter picked up immediately on the fact that it was a special occasion. The bottle of prosecco was brought out straight away and in addition we were given the choice of two free appetisers : crostini or cured scallops (which we opted for) with pomegranate seeds, lime juice and something which gave it a great kick – a splash of Tabasco perhaps? We also ordered some of the artisan breads to share and enjoyed the good selection: focaccia, sourdough, ciabatta, grissini and crackerbread served with olive oil, balsamic vinegar and a little pot of tapenade.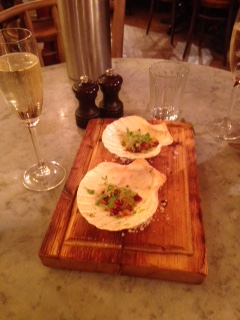 For our mains, Richard being a man of habit had his usual favourite – the sausage papardelle whilst I decided to splash out on the Lamb Chops Scotta Ditta. Scotta Ditta literally means burnt fingers, implying I guess that they're so good you'll get burnt fingers picking them up to eat. They were certainly extremely tasty and were served with small dishes containing yogurt, fresh mint, pickled red onion and crushed nuts for dunking. They should also have come with polenta chips but being no great fan of polenta I substituted these for triple cooked chips and very tasty they were too!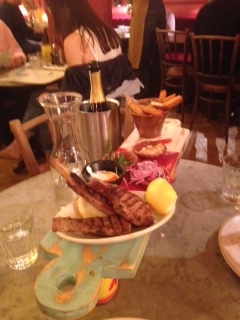 We were far too full for a dessert but we did manage to do justice to the final freebie of the meal: a chocolate brownie with ice cream and popcorn. Popcorn must be the trendy ingredient at the moment because the other night at Castle Terrace popcorn appeared with the ice cream accompanying my caramel soufflé. Jamie's in good company!
We have been to various Jamie's restaurants (Guildford, Islington, York and Gatwick Airport spring to mind) but the Edinburgh setting is by far the best. It is situated in the Assembly Rooms and the sheer elegance of the place sets it apart: chandeliers, fancy cornices and bold scarlet walls combine to make it feel a million miles from a chain restaurant. After last week's stomach-turning experience with the waiter with the stained black shirt at the Clarendon I took particular note of how pristine all the serving staff today looked in their spotless white shirts.
All in all it was a very pleasant way to spend a couple of hours at lunchtime, made all the more special by the generous free offer, which goes a long way in ensuring our loyalty to the Jamie brand.