Thanks to my mother in law for this guest post!
When the Leeds Foodie and his wife were living it up in Hong Kong recently, their three crazy cats were being cared for by the in-laws, the Fetcham Foodies. No sooner were they released from cat-sitting duties but they hot-footed it to southern Spain for a blast of blue skies, warmth and above all some great Spanish food.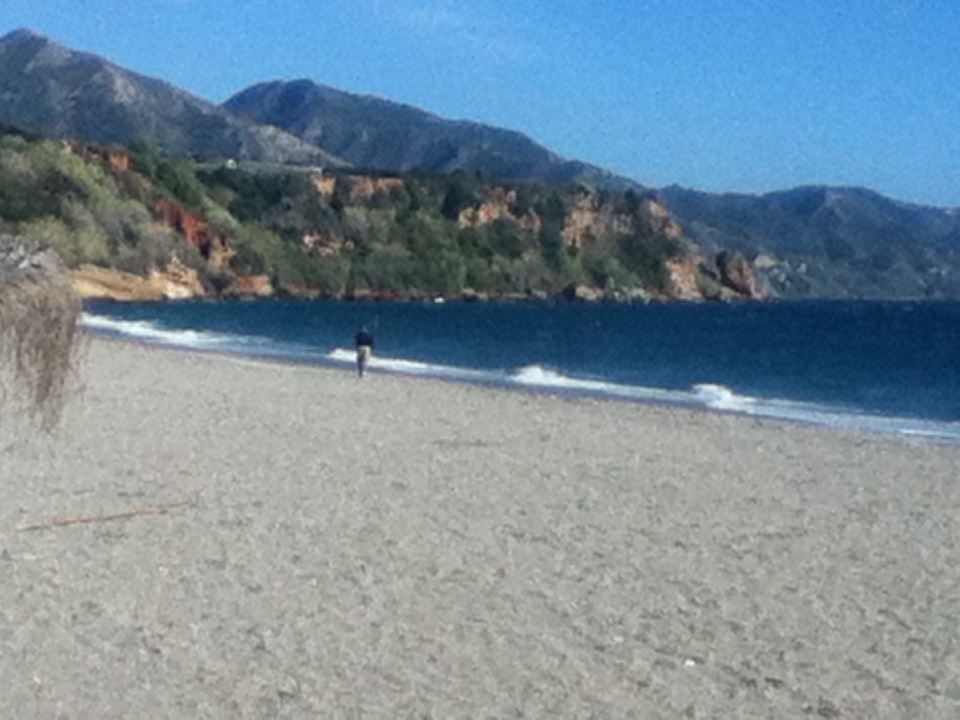 Here are some of their recommendations from Nerja, a town on the Costa Tropical, some 35 miles east of Malaga.
Nerja may not have any restaurants in the same league as Hong Kong's Tang Court where Mr and Mrs Leeds Foodie celebrated recently, but El Nino in the middle of town is one of our favourite haunts so we knew exactly where we were headed on our first evening. The restaurant is family-run with Bibi, the daughter, always providing a warm welcome while Mum is in the kitchen.
Whether you want to sit at the bar and enjoy a few tapas or head for the comfortable and cosy restaurant, the food is consistently good. The home-made chicken croquettas from the tapas menu are delicious so that is what we usually opt for as a starter. This time my husband had one of the daily specials for his main course: shoulder of baby lamb cooked in a tomato and red pepper sauce. I chose pork with a green peppercorn sauce and was not disappointed.
We were staying in an apartment on Burriana Beach and if you are looking for a cheap lunch in the sun there are various excellent options along the sea-front. The most famous of the "chiringuitos" or little seaside restaurants is Ayo's right at the end, where a gigantic paella is cooked over a wood fire every day.
We have found, however, that the paella can be rather dry and the service a tad ungracious. What they do well though is a lamb dish, cooked in olive oil, garlic, tomatoes, onions and green and red peppers with lovely sauté potatoes. This is served twice a week and is well worth trying.
For our paella fix, we tend to go to the other end of the beach to Moreno's, where the service is always friendly and efficient and the food plentiful and reasonably priced. Free tapas are always offered while you wait for your meal so there is definitely no need to order a starter! Whilst their paella is always extremely tasty (and a real bargain at 6.50 Euros) it is worth sampling some of their other dishes cooked over the barbecue or in the wood-fired oven. Their sardines, fresh fish of the day, chicken with lemon and garlic and fish skewers are some of our favourites.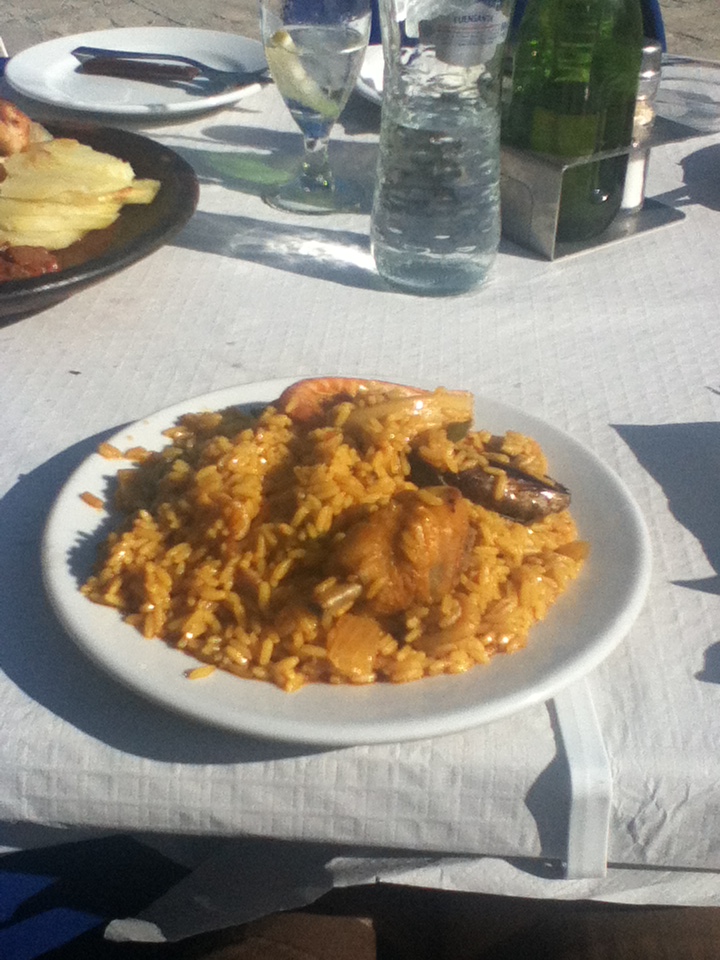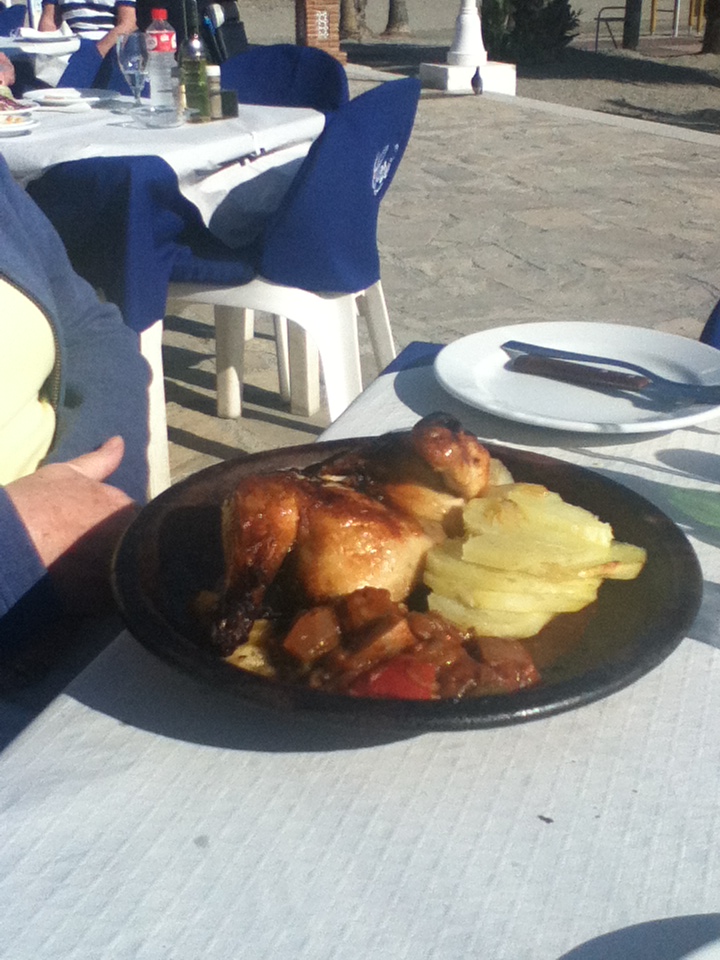 We have been frequent visitors to Nerja over the last 15 years or so and have found that the best zarzuela in town is served at El Nautico, the ground-floor restaurant at the Balcon de Europa hotel. Imagine our disappointment when we rolled up this year to discover that it had been taken off the menu. We ordered the gambas pil-pil (prawns cooked in sizzling oil with garlic and chilli) and a huge plate of assorted fried fish, which, washed down by a jug of sangria, made for an enjoyable meal.
However, our zarzuela cravings were yet to be satisfied so a few days later we headed back to El Nino to sample their take on the dish. A zarzuela is a traditional Spanish stew of fish and shellfish and typically contains such goodies as mussels, clams, prawns, langoustines, white fish such as hake or monkfish and squid. We have tried to cook it at home but have never succeeded in quite reproducing the unctuous sauce of El Nautico. El Nino's version was delicious but again the sauce did not quite live up to El Nautico's.
Nerja has its fair share of establishments catering for Brits who can't bear to leave their English breakfasts and Sunday roasts (complete with Yorkshire puds) behind when they venture to foreign shores. However, despite being a great roast lamb lover it's definitely not something I would dream of doing abroad. We did, however, discover a great little restaurant up in Frigiliana, which serves the most delicious lamb imaginable.
Frigiliana is a beautiful village of white washed houses above Nerja and the restaurant, Taberna de Sacristan, is in the little square by the church. It makes a beautiful spot to sit with a drink and watch the world go by or sample the culinary delights on offer. The lamb in question was the same cut as we had at El Nino: whole shoulder of milk-fed baby lamb.
This time it had been roasted with whole cloves of garlic and served with an unctuous gravy made from the juices. It was among the more expensive meals of the holiday but we could hardly complain when the bill came in at 50 Euros for two lamb shoulders and a nice bottle of Rioja. The lamb was served with fresh vegetables and a big jacket potato with allioli.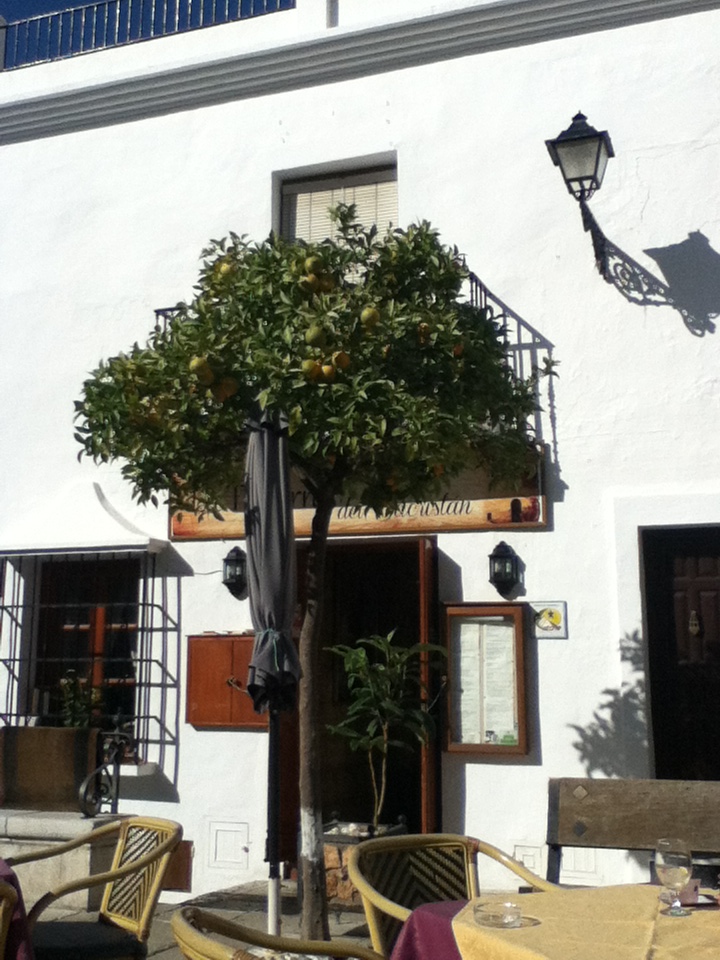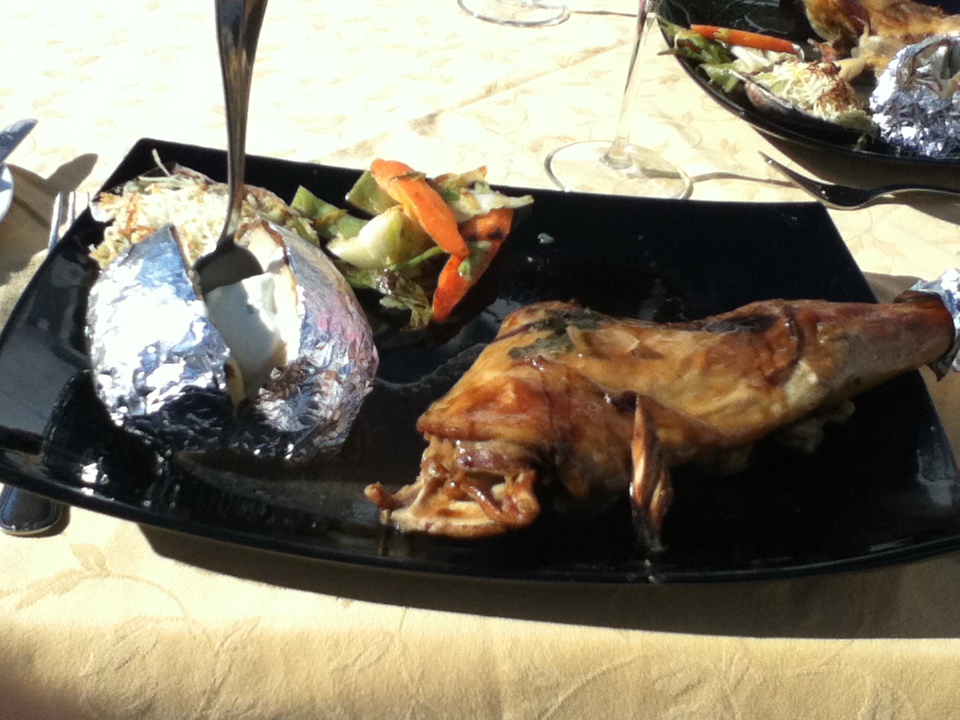 November in Nerja can be wet and we had a couple of days with rain of biblical proportions. By the third day the rain had stopped but the skies were grey so, being ready for a change of scenery, we took the bus to Malaga for a spot of culture and some great tapas.
We had discovered on our last trip that Meson Cortijo de Pepe is a fantastic place to soak up a very buzzy local atmosphere and sample some good wine and tapas. Our favourites are the gambas pil-pil, the stuffed aubergines and the home-made ham croquettas.
Many of the dishes can be ordered in racion size (large) media racion (medium) or tapas (small). Sadly our croquettas only come as full racion portions and so when I decided I just had room for a few more we were "forced" to eat eight more between us! If you don't speak Spanish you may come unstuck as there are no foreign language menus and I have never heard the staff speak anything but Spanish. They are, however, friendly and I suspect that pointing at the dishes on display might suffice!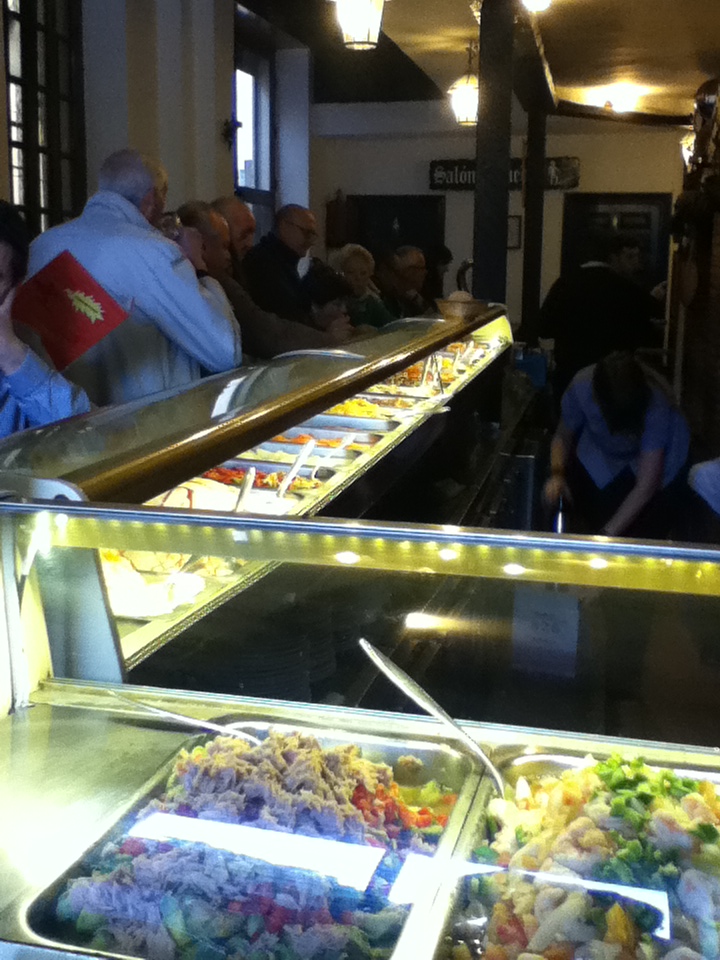 Finally a recommendation for ice cream lovers: Cafe Albi on the road behind Ayo's and Moreno's has a brilliant range of artisan ice-creams. Being stuck in a rut (or knowing what I like) I can only comment on the Malaga ice cream (rum and raisin) which has both a great flavour and texture. Trying a few more of the flavours on offer is definitely a good reason to start planning our next trip to Nerja!