One of our favourite dishes when we stayed in the lovely Italian city of Vicenza was bigoli (a kind of pasta peculiar to the Venetian region) with duck ragu. When we came across a recipe for it the other day we couldn't resist giving it a try and can report it a resounding success.
Here's how to do it:
1. Fry two duck legs in a dessert spoon of olive oil for about 10 mins until they are browned all over. Take off the heat and put on a plate.
2. Add a finely chopped onion and fry for 5 minutes until soft. Add a large clove of garlic, finely chopped, and fry for a minute.
3. Stir in 1 teaspoon of plain flour and 1 teaspoon of cinnamon and cook for a minute.
4. Put the duck back in and add a glass of red wine, 125ml chicken stock, a tin of chopped tomatoes, half a teaspoon of sugar, a bay leaf and two sprigs of fresh rosemary. Don't worry if the sauce looks a bit runny at this stage. There's still a lot of cooking time and it will thicken up.
5. Bring to a simmer, turn the heat down and cook for 2 hours, giving it an occasional stir.
6. Lift the duck out of the sauce (carefully as the legs will be collapsing by this stage!) and put on a plate. Remove the fat and shred with two forks.
7. Put the shredded meat back into the sauce along with a tablespoon of milk and simmer, uncovered, for another 15 minutes.
8. Serve with a pasta of your choice; we used pappardelle.
Some other recipes that I've seen for duck ragu include half a diced carrot and half a diced stick of celery added at the same time as the onion and some add half an ounce of dried porcini mushrooms with the fluids. Some use white wine instead of red which will give you a paler coloured sauce. Like the more familiar meat ragu (or Bolognese sauce, a term which not many Italians are familiar with incidentally) each family has its own way of making this delicious dish.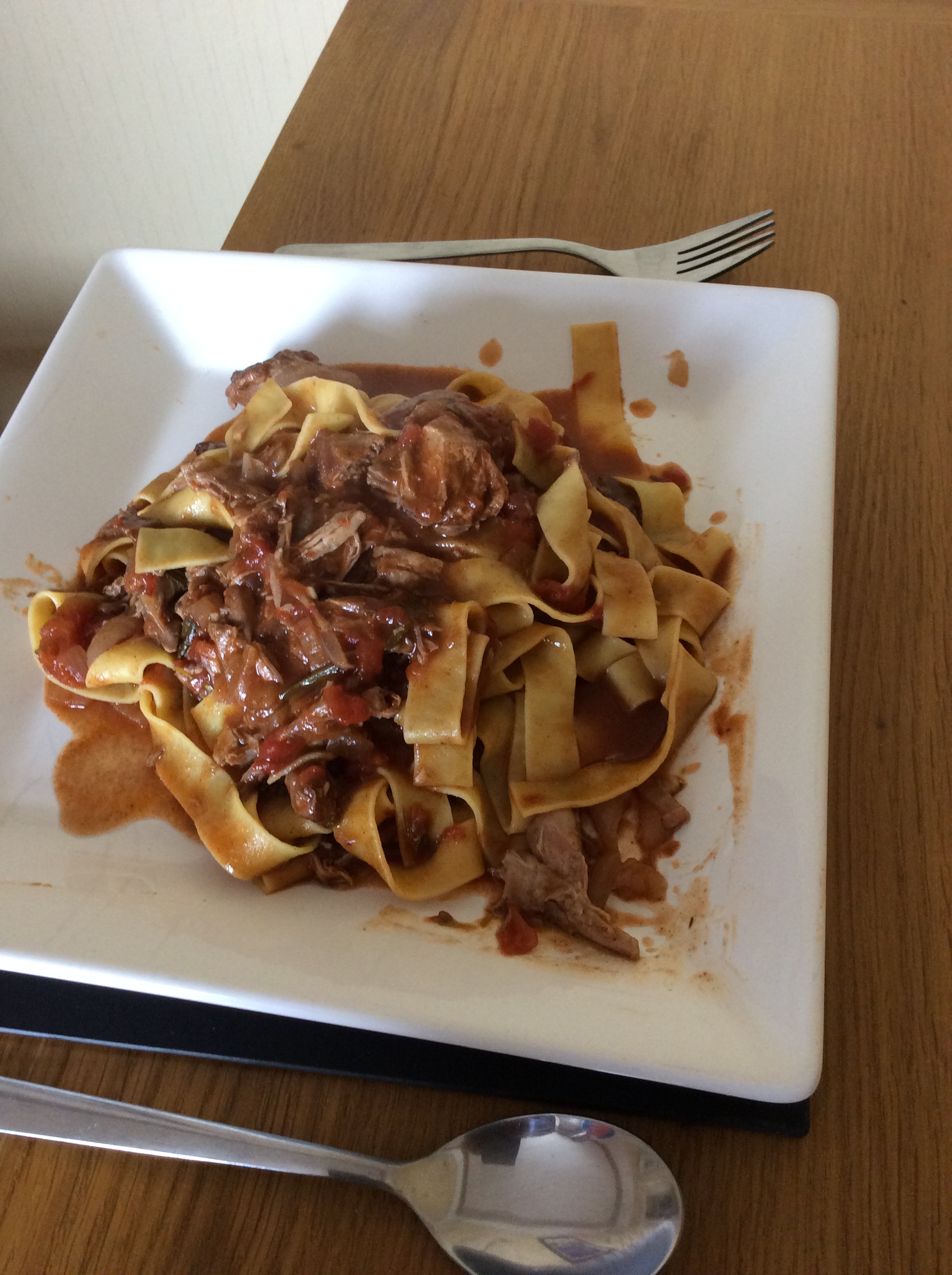 Whichever recipe you decide to use, it's certainly worth giving it a try. It's pretty healthy, there are no obscure ingredients to buy and although it takes over two hours to be ready, the actual time that you're involved in the cooking process is much less. Enjoy!