Here at leedsfoodie.co.uk, we love the taste of a good roast, but hate the stresses and strains that come with cooking one!
Over the years, a concerted effort has been made by both of us to get timings organised to a tee when making a roast in order to ensure that things don't get too hectic in that last 3o minute slot where all the chaos seems to occur. One issue that we haven't managed to solve until now though is the gravy one.
Gravy is obviously a vital part of a roast dinner, but it can become a burden when it comes to those final last minute bits and bobs that make or break a roast. Thankfully the good people at Judge Cookware have come up with a solution, the Judge Thermal Jug.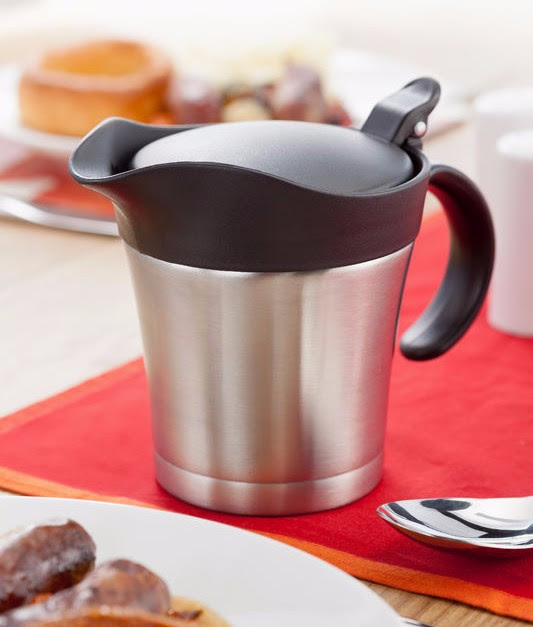 In our most recent roast dinner we gave this gadget, which makes a big claim of keeping gravy warm for up to four hours, a proper test-drive to see if it could indeed be used as a way to do the gravy in the middle part of cooking a roast when you're not really having to cook anything and you're just cleaning up the mess you have created in getting your masterpiece ready.
Having cooked up our gravy, we popped it in the jug and left it to stand while the roast continued to cook. Once everything else was done and out the oven, we then had the last minute dripping of fats and flavours into the jug, as is family tradition in our gravy making, before then pouring the gravy over our roast dinner and of course mainly into our Yorkshire puddings!
The gravy was perfectly warm with no metallic taste or issues from the thermal jug and the gravy itself poured nicely from the non-drip spout. All in all, we were left impressed by the stress levels that this gadget had reduced a notch or two, especially with our toddler and cats all desperately trying to make the rest of dishing up the dinner fairly hard!
If you fancy trying out the Judge thermal jug (which even keeps milk cold!) you can find out where to buy them here.