OK, let's face it: it's pretty grim in Leeds at the moment. It's cold, rainy, miserable, and the evenings seem to be drawing in earlier and earlier. There's just one thing capable of cheering our spirits as we progress through the autumn months into winter's gloomy grip: comfort food!
Iberica, with their ever-changing seasonal menu, has struck the right balance with their autumn offerings between comfort food and fresh, light dishes that show off the foodie highlights of this time of year.
We popped down last week to taste the new menu for ourselves, and can now bring you the highlights of a very diverse, exceptionally tasty new menu:
Oxtail Sandwich
The rich, tender meat in this "sandwich" (it's so far elevated above what you might think of as a sandwich that it really deserves a different name) is brought down to earth by a subtle potato cream, cutting through the intense flavour of the oxtail in a really clever way. This is one of those dishes you might fight over if you share it, especially if, like us, you have a one-year-old who has suddenly developed a taste for oxtail and a corresponding hatred of sharing!
Fish & Chips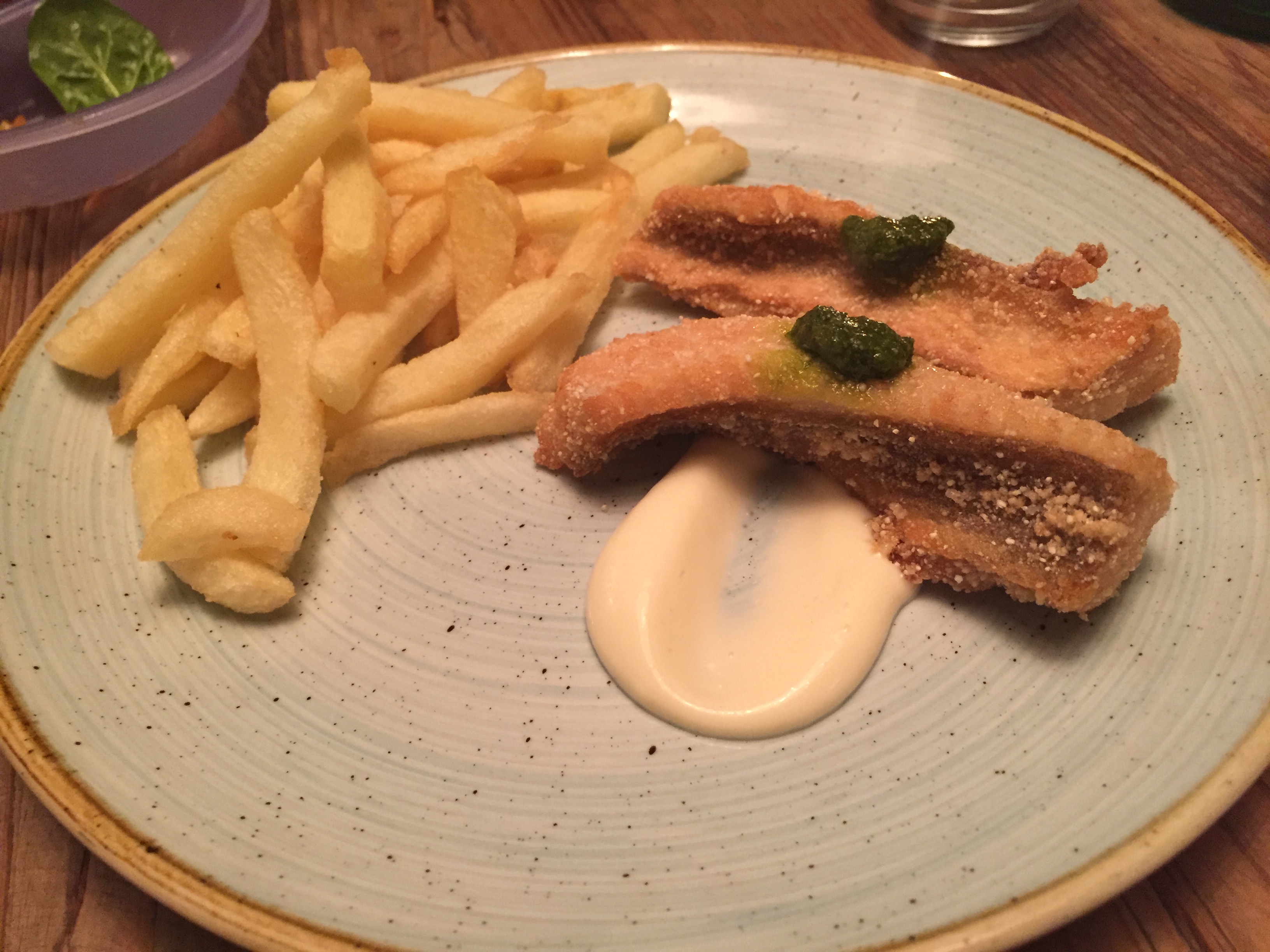 Delivering a heavyweight punch on the "comfort food" part of the autumn menu, the chips are served thin, crispy and piping hot, and the flaky white fish encased in a delicate batter. The lemon aioli served on the side is hard not to just eat straightaway with a spoon, the only challenging part of this crowd-pleaser of a dish!
Pumpkin Salad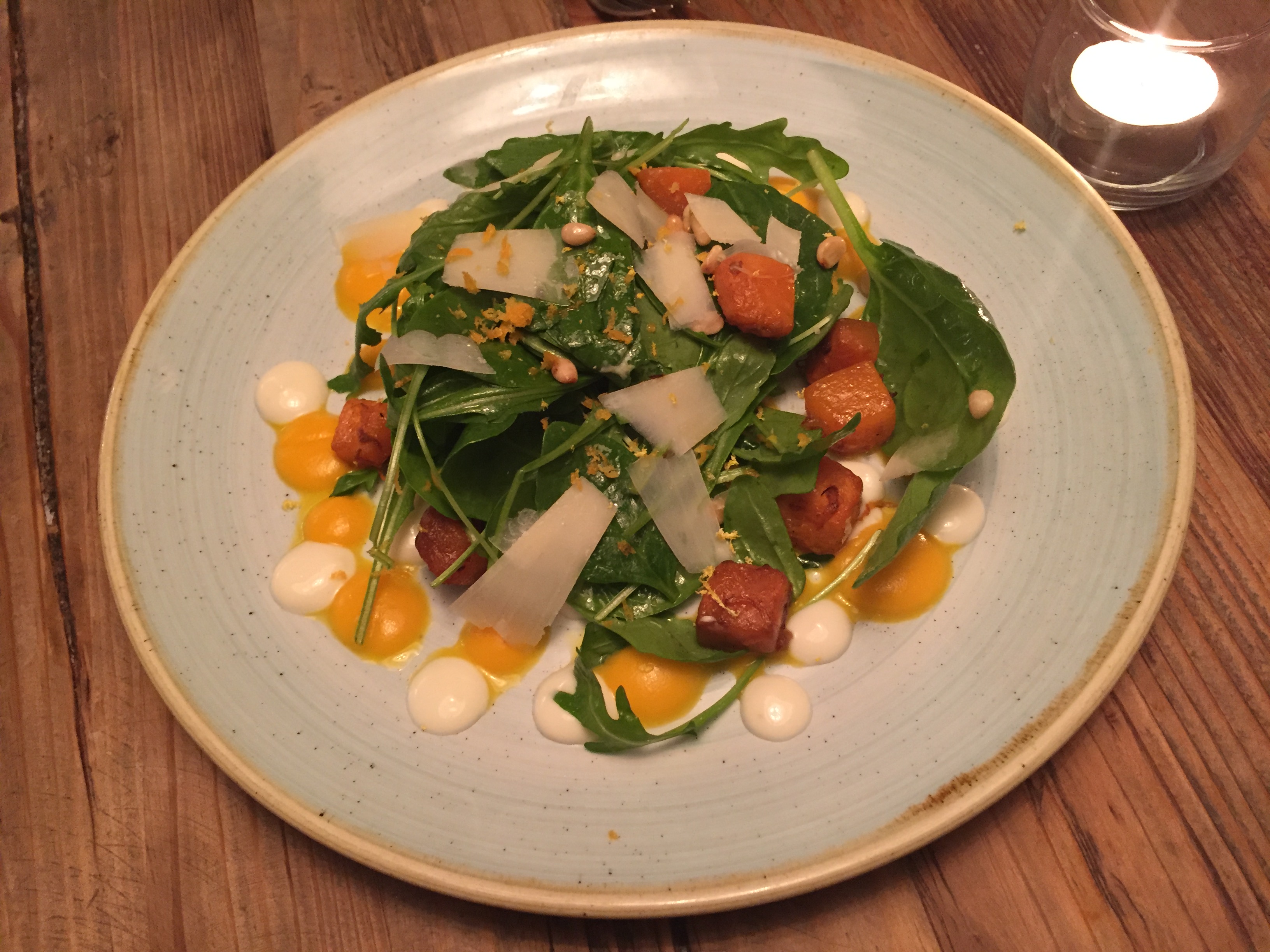 Just the vibrant, fresh look of this dish is enough to make you smile, even if it is dark and feeling like minus 2 outside. The roasted pumpkin is served with goat's cheese, lemon thyme, and an orange dressing, all strong flavours that somehow manage to combine well without one overpowering another. This dish was a particular winner with our little girl.
Ham Croquetas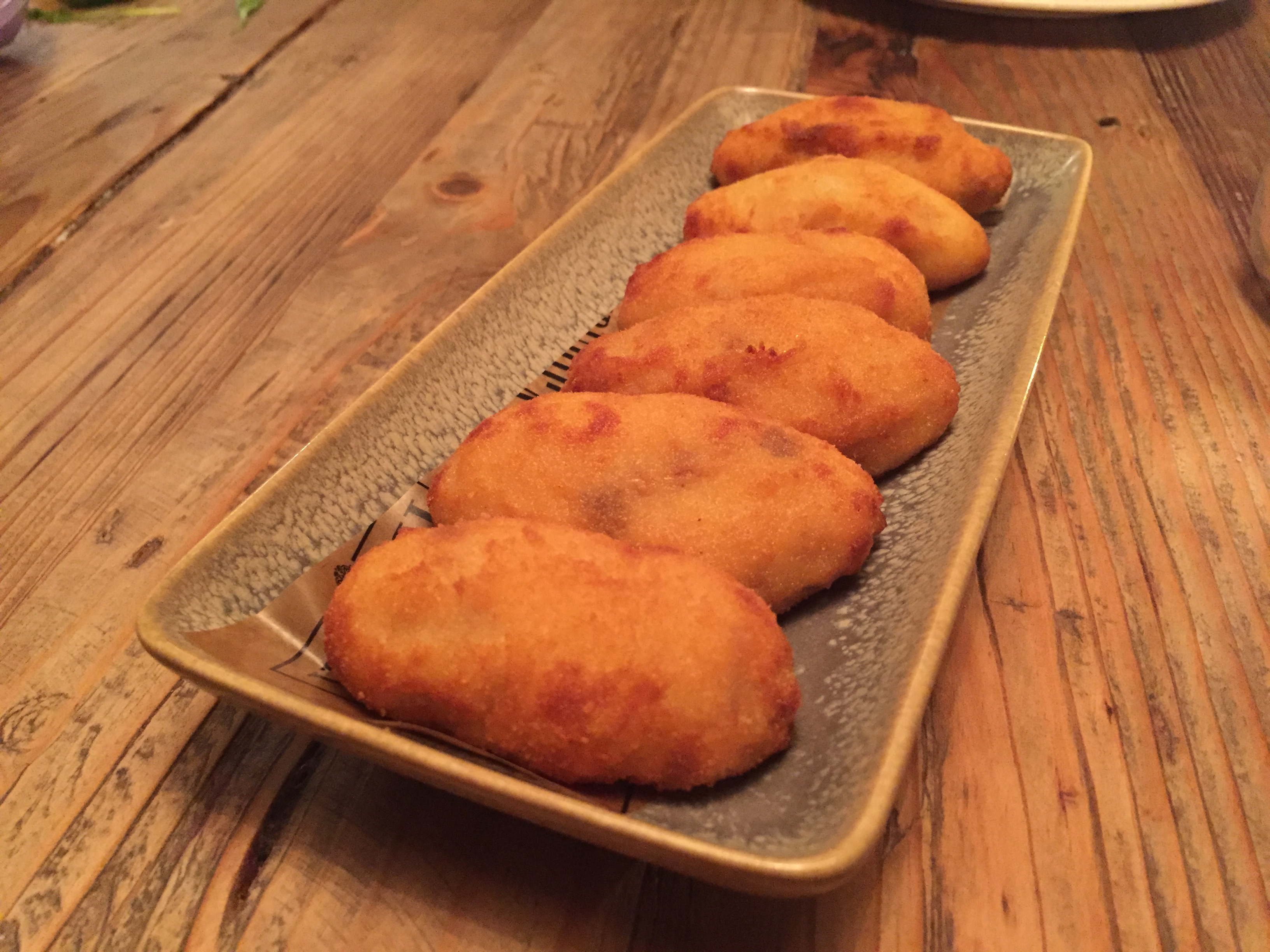 Not a new autumn introduction, but a menu favourite that you should order nonetheless, the ham croquetas are crispy, brought to life by the strength of the serrano ham, and incredibly moreish. One tip: order two of these plates, at the very least.
Fresh Mackerel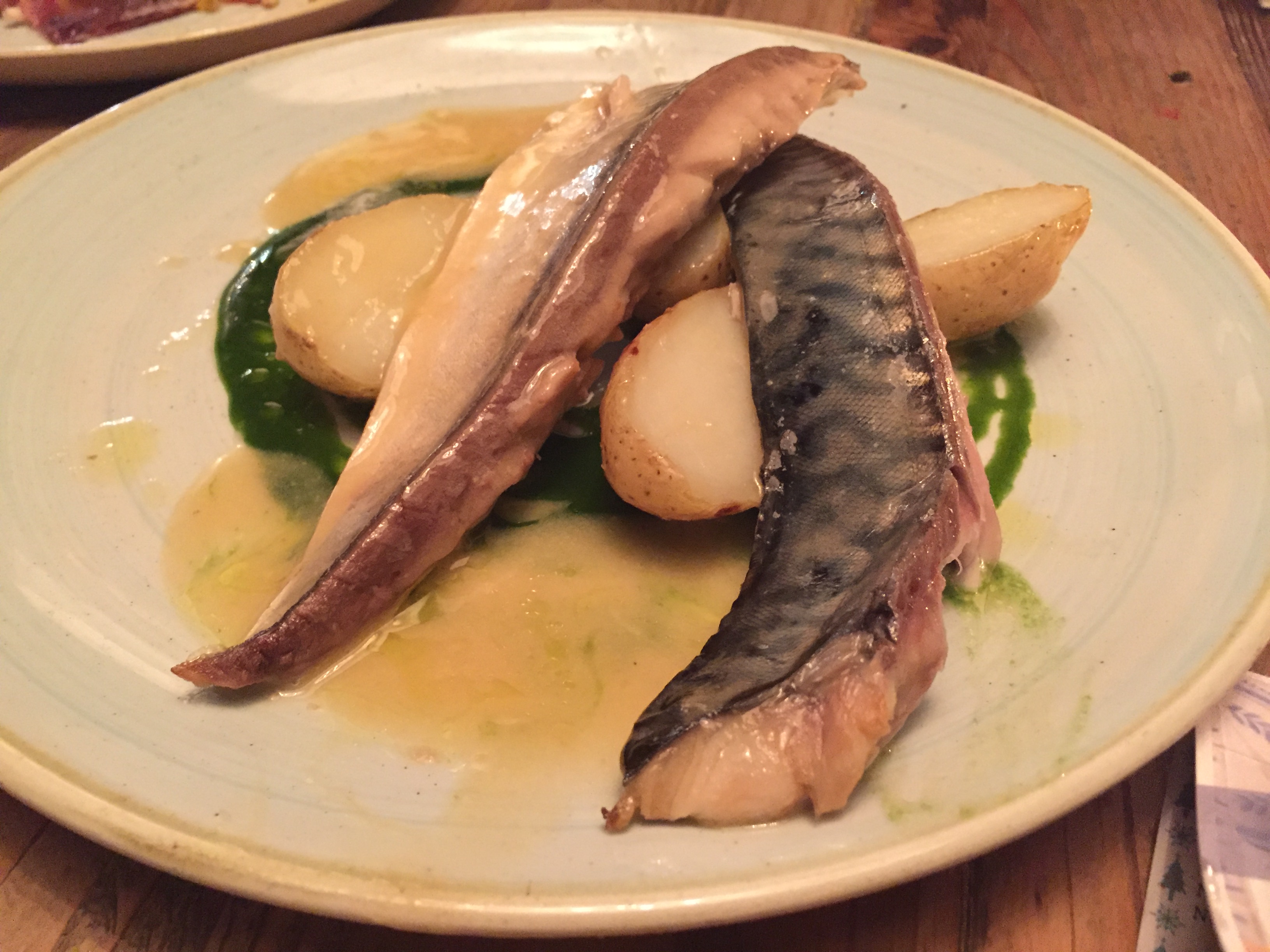 One of the best dishes we tried, the mackerel was perfectly cooked, and the parsley and seaweed emulsion stopped the strong flavour of this distinctive fish from being at all overwhelming. The portion size here was huge, so it makes for a real treat for mackerel fans!
Coca Mediterranea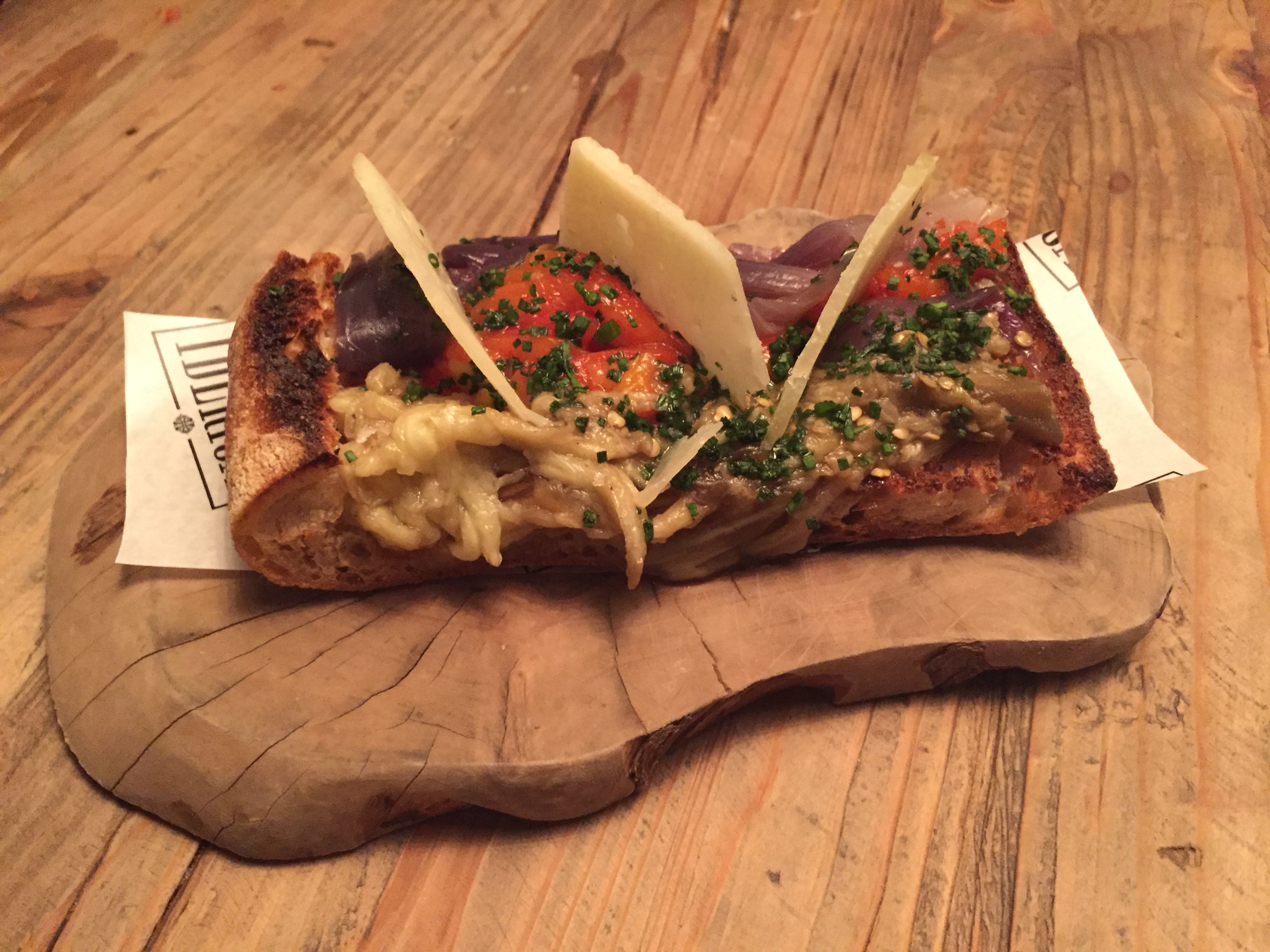 On the face of it, it looks and sounds simple: roasted vegetables with Manchego cheese on toast. It was simple, but it was very, very tasty. The bread retained a nice crunch despite the vegetable stew sitting on top of it, and the Manchego cheese added a real element of deliciousness to the whole thing. We could have eaten this dish three times over, and would really recommend ordering it to complement the more "exciting"-sounding dishes at Iberica.
Trio of Hams
Alongside our tapas was a trio of hams, the 100% Iberico Ham Cebo de Campo the highlight. You can tell this ham has been left to cure for two years and a few mouthfuls of this is a real treat.
Caramelised Spanish rice pudding
Unfortunately we cannot describe this dish in too much detail since it was commandeered by our one-year-old as soon as she laid eyes on it. I did have a spoonful of it and can vouch for its quality, but perhaps the biggest compliment we can pay it is the fact our little girl ate the whole bowl in about five minutes.
Torrija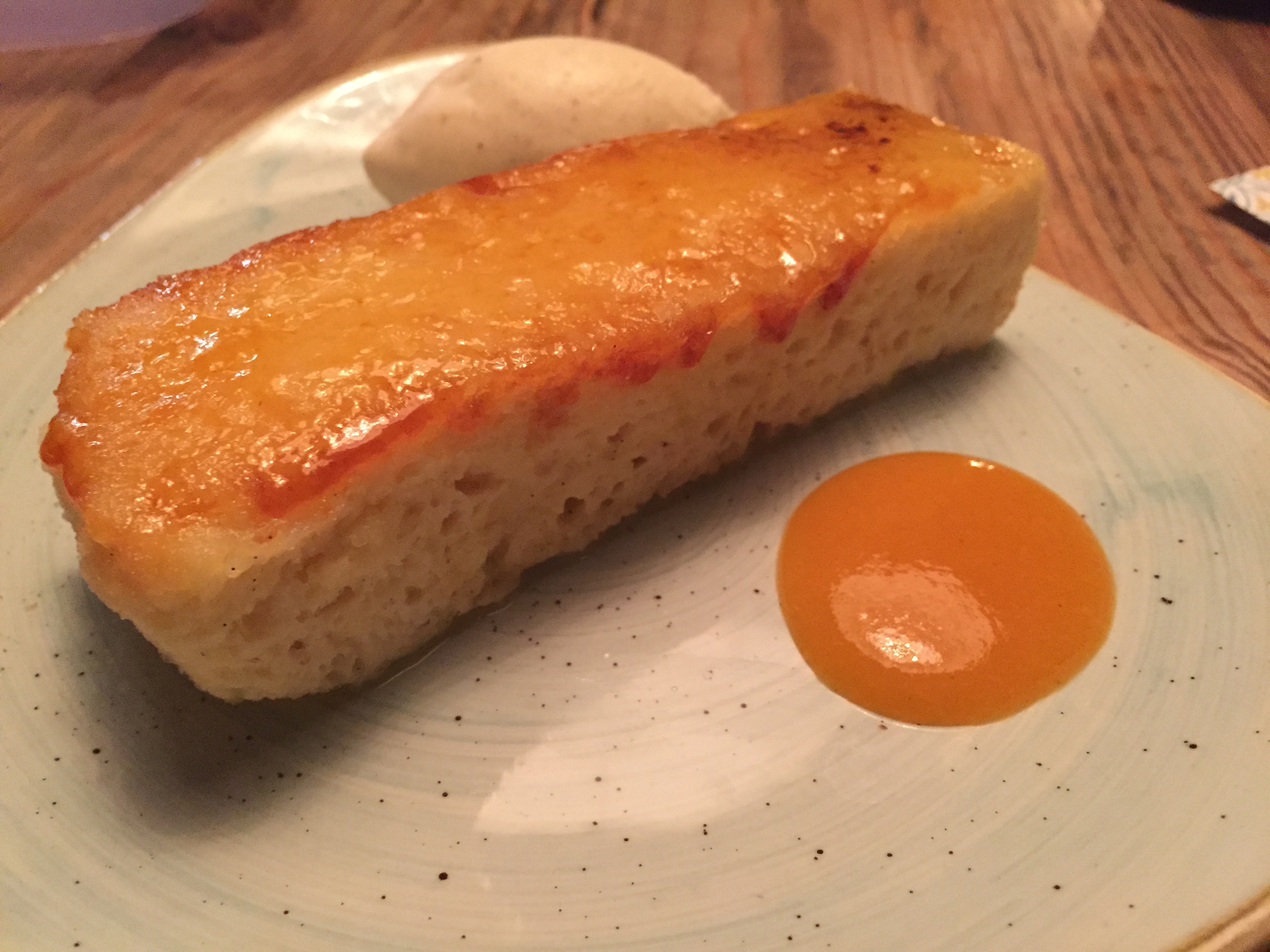 This brioche was combined with apricot coulis and served with vanilla ice cream and was a winner of a pud. The brioche was moist, tasted indulgent but retained a light quality to it that meant it wasn't hard to finish this plate. The Torrija was a great way for us to finish our meal and we would very much recommend it.