We are blessed in Leeds to have so many exceptional French restaurants almost on our doorstep. One of the best, and one which is held in high, affectionate regard by many a foodie in Yorkshire, is Sous Le Nez.
Hidden away from view and spread across basement level beneath Quebec House, Sous Le Nez have managed to create the sort of atmosphere that combines pure escapism with real comfort. You can spend an evening here imbibing French wine and dining on the best steak frites this side of Paris, without fully realising until you walk back out the door that you're just across the road from Leeds train station.
It's not all about the steak frites, though, although it's worth making a disclaimer at this point: steak frites did feature heavily during our evening and for good reason!
The moules mariniere I ordered for my starter was a hefty level or three above the standard moules dish you tend to get in French bistros. The mussels were plump, fresh, seriously big, and coated in a delicate yet rich creamy sauce, brought to life by the addition of fresh thyme. This was comfort in a bowl and I couldn't help but lap up every single drop of it.
My Mum went down a slightly more experimental route for her starter, ordering a chicken and duck ballantine. The textures here were spot on, with the addition of Parma ham ensuring that the soft texture of the filling was kept interesting to the palate.
And so on to the main event. Steak frites is easy to do badly. Here, the steak is allowed to sing, and sing it does. Perfectly cooked and placed in a bed of peppercorn sauce (glossy and thick rather than thin and insipid), the crunchy frites were salty, freshly cooked, and hard to resist. This is perhaps the best steak frites you'll find in Leeds, and is worth the trip to Sous Le Nez alone.
Steak aside, I ordered the lamb rump, which came with minted peas and fondant potato. The lamb was served pink, and a forkful of the tender meat with the soft, buttery potato and minty hit of the peas was a very, very fine thing indeed.
We almost didn't have room for pudding, but the dessert menu at Sous Le Nez is the sort which makes you find that hidden corner of your stomach. The creme brûlée at Sous Le Nez is creamy, indulgent, and went perfectly with the accompanying lemon shortbread biscuit. Similarly, the delicate poached pear was a lighter way to round off the evening, and it could have been eaten with just a spoon it was so tender and well cooked.
Good food is of course enhanced by good wine and we were lucky enough to have the sommelier on hand to offer advice on which wines would complement the dishes we had chosen. With such an extensive wine list (over 70 pages) it was good to have an expert on hand. Sadly, since I was driving, I restricted myself to one glass but my Mum was happy to make up for my abstemious intake!
The sommelier suggested a Chardonnay to go with my Mum's starter of chicken and duck ballantine wrapped in Parma ham. Not being a Chardonnay enthusiast she opted instead for a Pinot Noir from Baron Phillipe de Rothschild. Its fruity, spicy notes complemented the ballantine beautifully, especially the fruit chutney which accompanied it.
For her main course she needed a more robust red than the Pinot and the sommelier suggested a Chianti Classico Antinori. My parents have enjoyed many trips to Italy and drunk more than their fair share of Antinori wines so his suggestion went down well. It complemented the peppery sauce accompanying the steak to perfection.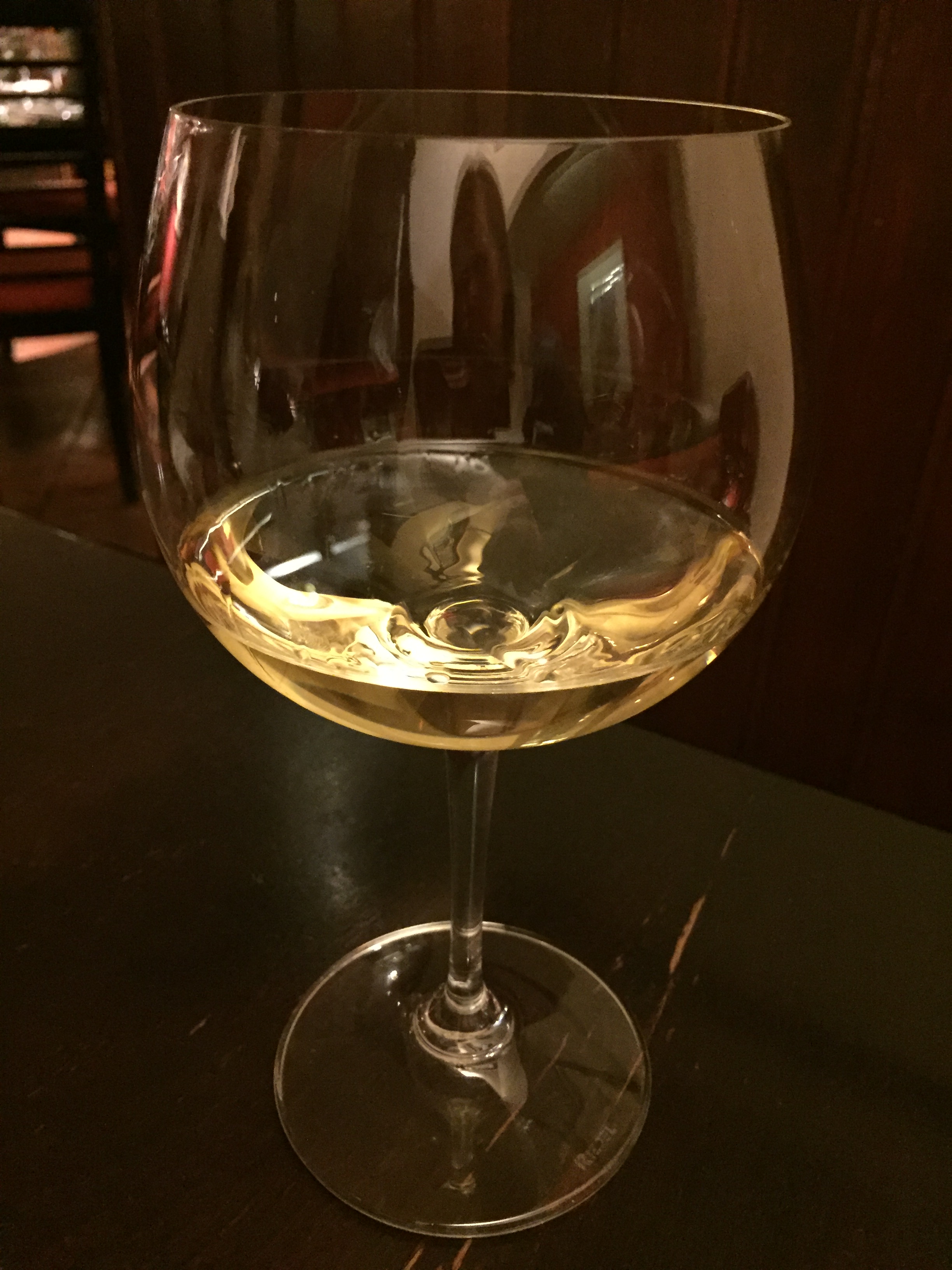 For my lamb, although the sommelier was keen to recommend a red to accompany it, I'm much more of a white wine fan so plumped for a white Burgundy which he suggested: a Chassagne Montrachet. Its complex nature gave it the weight needed to accompany the meat and proved an admirable alternative to a red.
As for rounding off the evening, my Mum has always been a fan of Muscat de Baumes de Venise so when she saw that it was available by the glass she decided not to consult the sommelier! She was also tempted by the Pedro Ximenez which she describes as eating liquid Christmas cake but the Baumes de Venise won the day on the basis that its delicate notes would not overwhelm the poached pear that she had chosen.