Having previously had the great pleasure of eating at the sister restaurants of The Scran & Scallie, Kitchin (alas no review!) and Castle Terrace (reviewed here), we had extremely high hopes when it came to trying out the newest of Tom Kitchin's Edinburgh ventures.
If you haven't been down to Stockbridge, then the Scran & Scallie is one of a number of excellent foodie joints that you need to visit in order to get a sense of how on trend the village is. There's a plethora of coffee shops that are all artisan and impressive, a range of bakeries, and even a butcher who proudly displays game hung in the window. You could argue that Stockbridge has all the makings of a Scottish foodie paradise.
The Scran & Scallie itself from the outside has the look of a nice, warm and somewhat unremarkable pub. This is all true once you reach the inside, except for the unremarkable aspect. That impression is quite quickly removed when you see the high class furnishings, are greeted by exceptionally helpful and welcoming staff, and start to have a look at the menu (at the same time noticing the kids' area that helps put family firmly at the centre of the eating experience).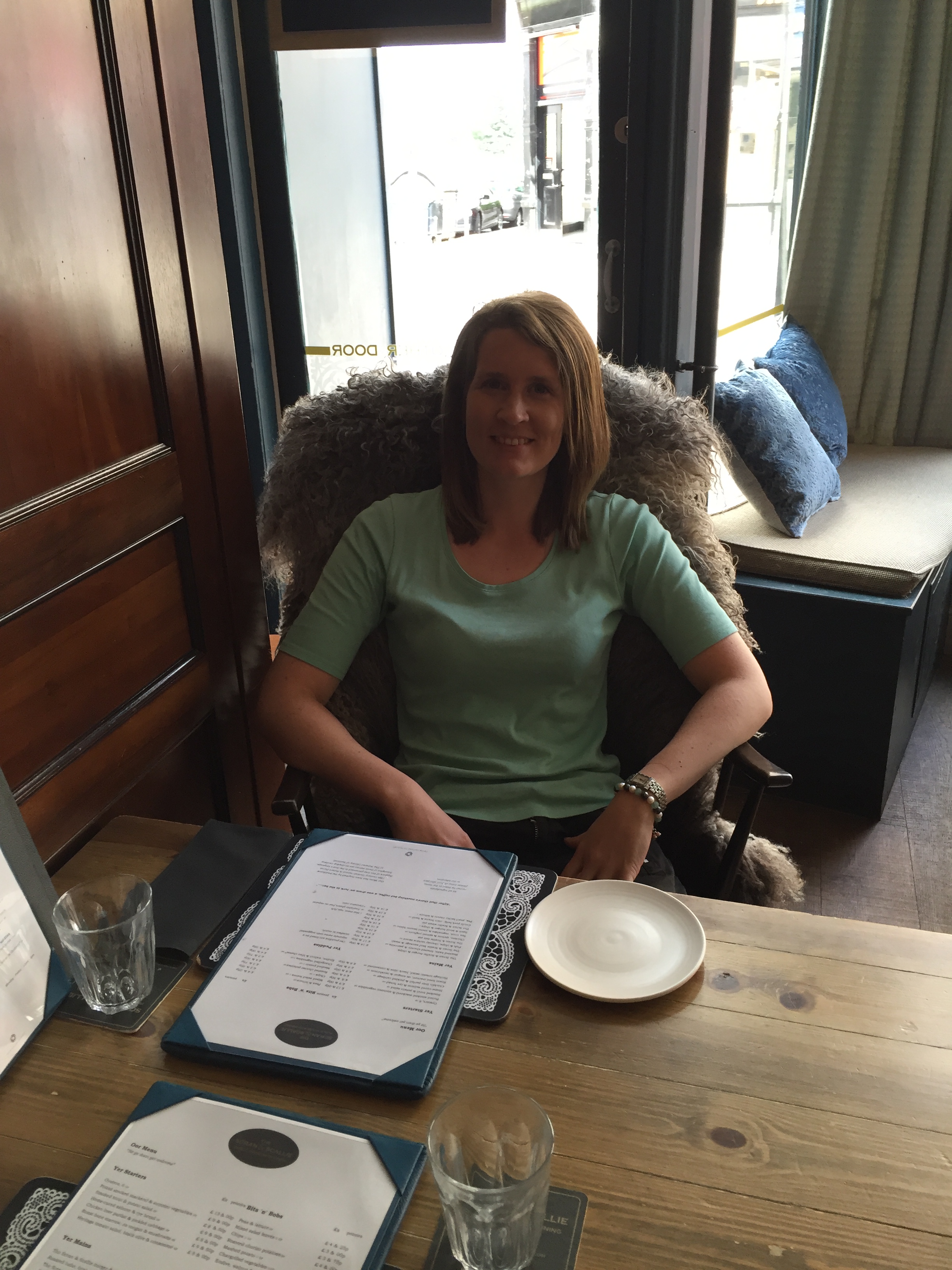 With Tom Kitchin seemingly frustrated by the fact that few high end eateries are hugely family friendly, one of the founding ideas behind the Scran & Scallie is that it caters for everyone. Dogs are welcome, the kids' area has been well thought out and caters for a range of ages, and there is a kids' menu. This concept is clearly not just a vague idea but one that has been carried out in reality very successfully.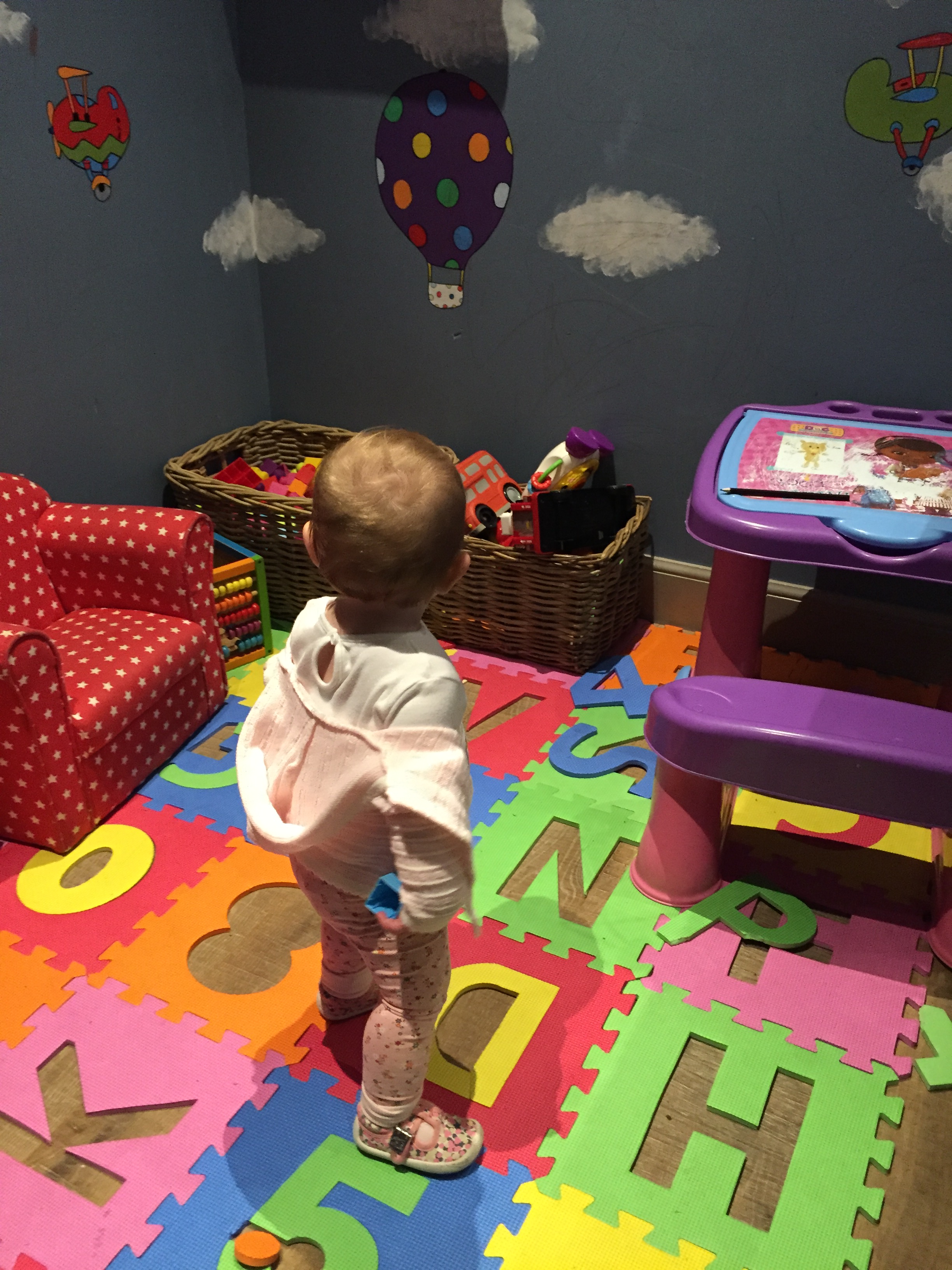 Of course none of this would matter if the Scran & Scallie failed to deliver where it matters – with its food. Everything is cooked fresh and therefore you might wait a little longer than at other pubs for the food, but you can relax safe in the knowledge that you will be offered some gorgeous bread (which certainly helped to placate our little girl before her meal turned up!).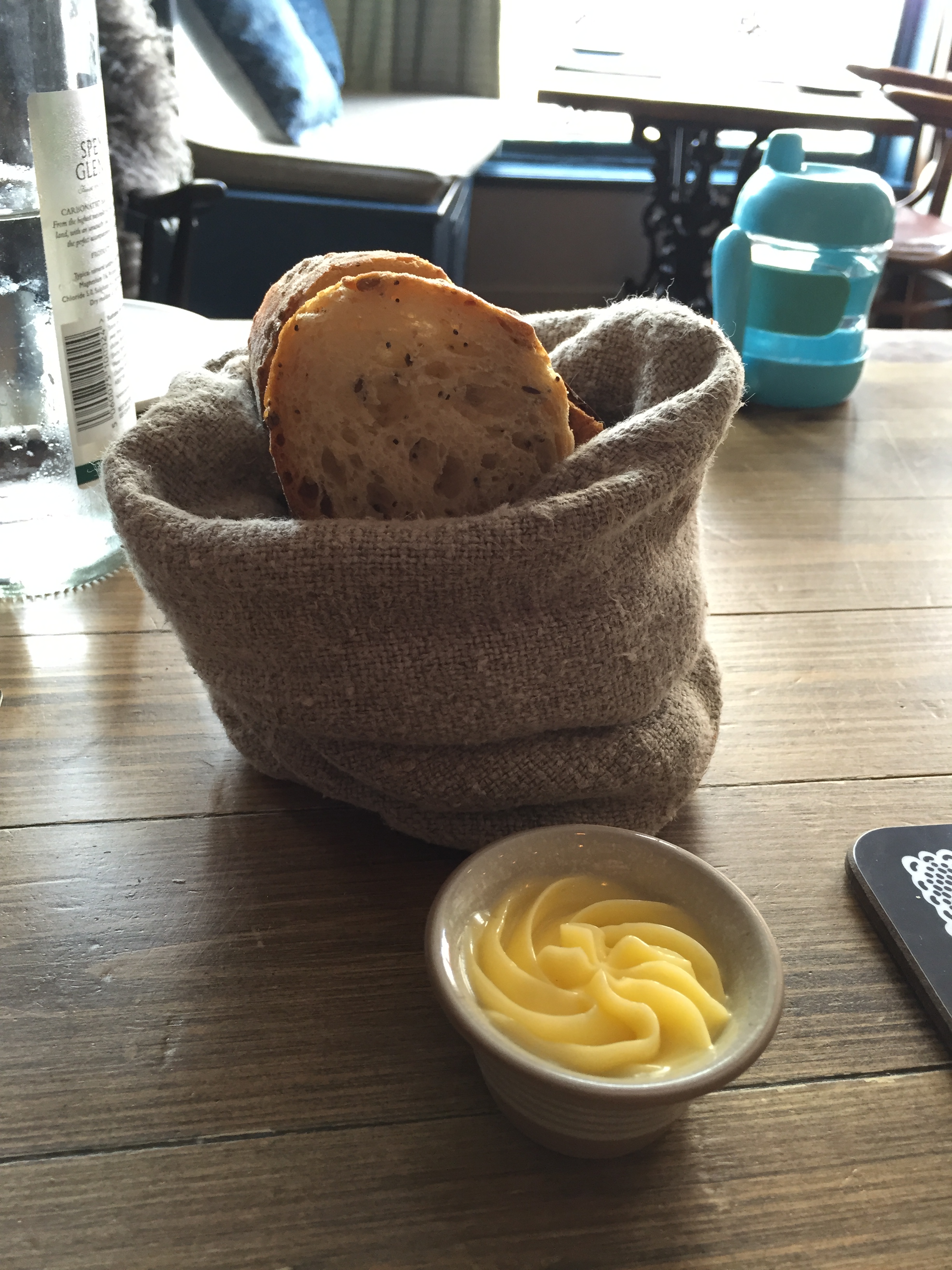 We opted against starters because we had been forewarned that portions at the Scran & Scallie are rather generous! With that in mind, we decided to go for filling mains and picked the fish dish from the kids' menu.
When the dishes arrived they were all rather impressive, however the quality of the kids' dish was perhaps the most shocking element. The chips in particular were phenomenal and we couldn't help ourselves from 'helping' our little girl finish her meal..!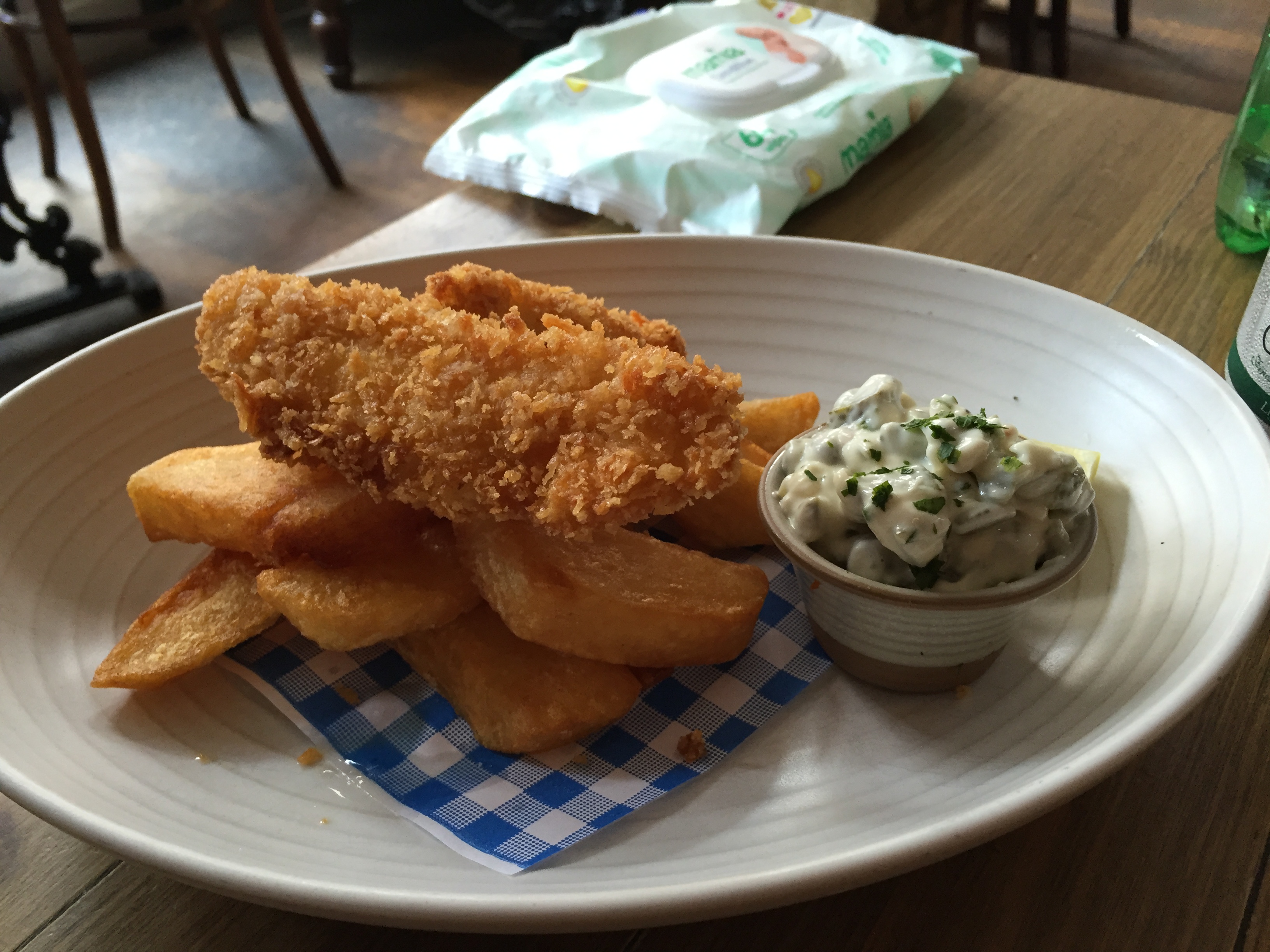 As for our mains, they both looked rather elegant (as much as they could considering they were both pies) but most impressively when we had ordered the dishes we were advised of the ingredients. This might not sound important initially but it enabled us to find out without having to ask that mushrooms were in the steak pie and that there was shellfish in the fish pie. While I was happy with mushrooms in my steak pie and Charlotte was delighted by the range of seafood in her fish pie, other diners may not have been and would therefore have been given the chance to change their minds.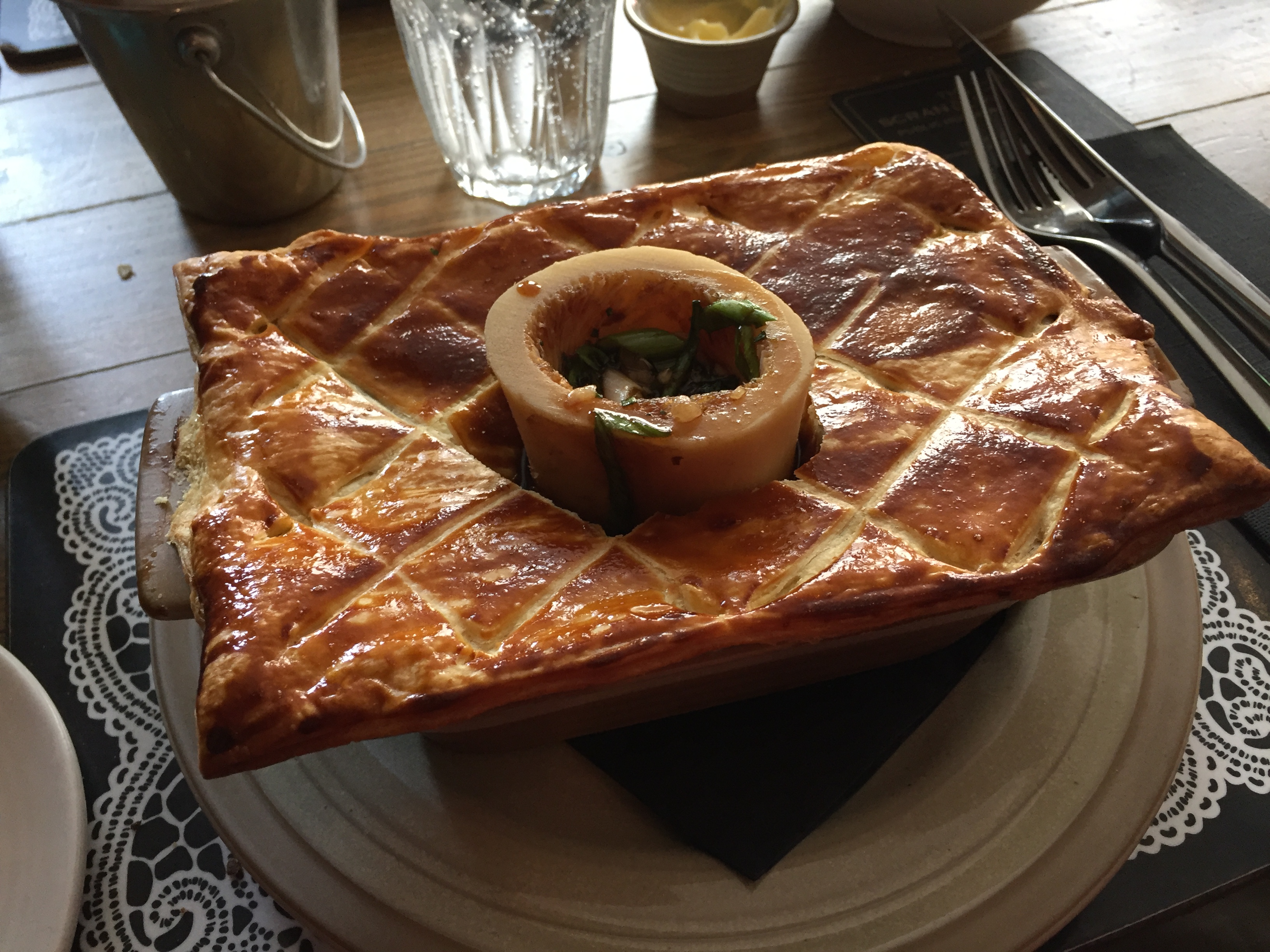 To taste, my steak pie was perfect. Filled with well cooked, well seasoned and brilliant quality meat this dish was a delight to eat and was only improved by the addition of some sauteed potatoes with chorizo that we had ordered as an indulgent side. My pastry was perfectly cooked, and the waiting time of half an hour to get the pie felt entirely justified.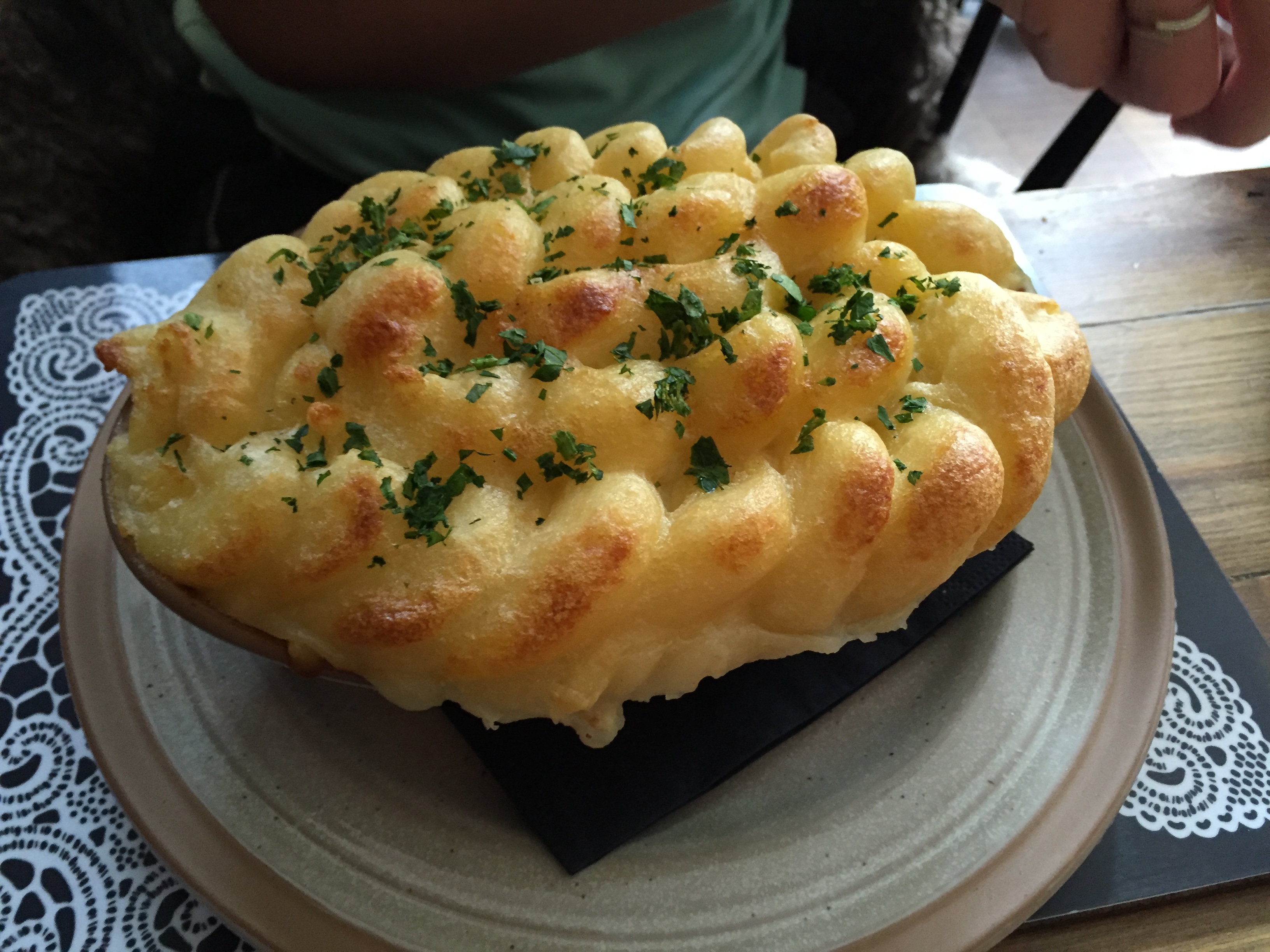 Charlotte's fish pie offered a great range of fish and shellfish and was bursting with flavour, the subtle flavours brought out by a hit of dill and the intriguing addition of chopped hard boiled eggs. While photos can overdo justice to dishes, the image above of her pie perhaps doesn't quite bring with it the wonderful smell and the beautiful textures that made this dish a really enjoyable eating experience.
Though of course just a touch full after our mains we had resolved to try and eat pudding and after some cajoling, Charlotte relented and we took the plunge. Charlotte opted for a chocolate brownie pudding with stout ice cream while I opted for the simple classic, sticky toffee pudding.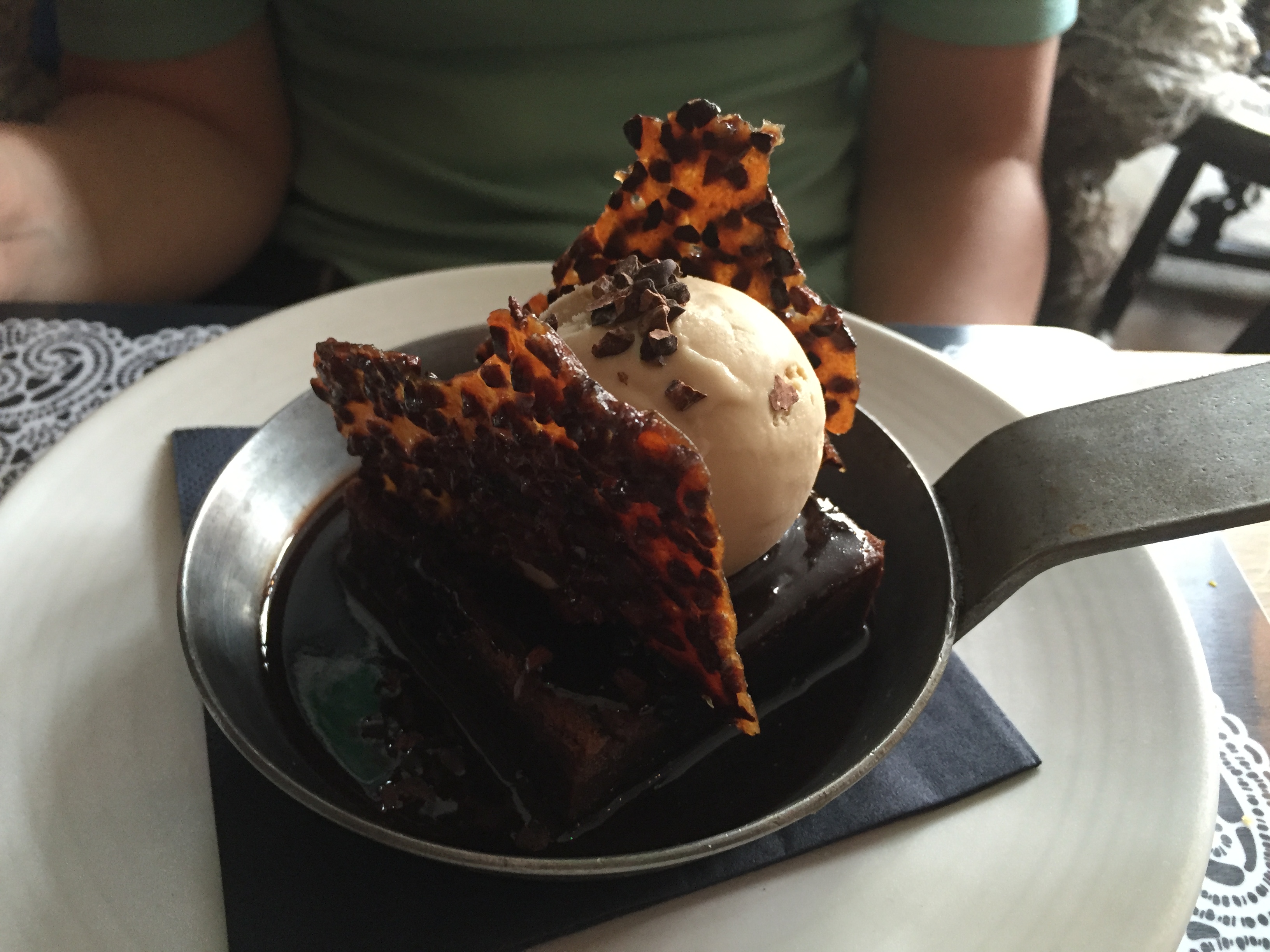 While both dishes had their refined touches, it was pleasing to see that the chef team had stayed true to the idea of letting the taste do the majority of the talking. My pudding was a dream, with the toffee sauce to pudding ratio perfect. Look how pretty that scoop of ice cream is on the top as well!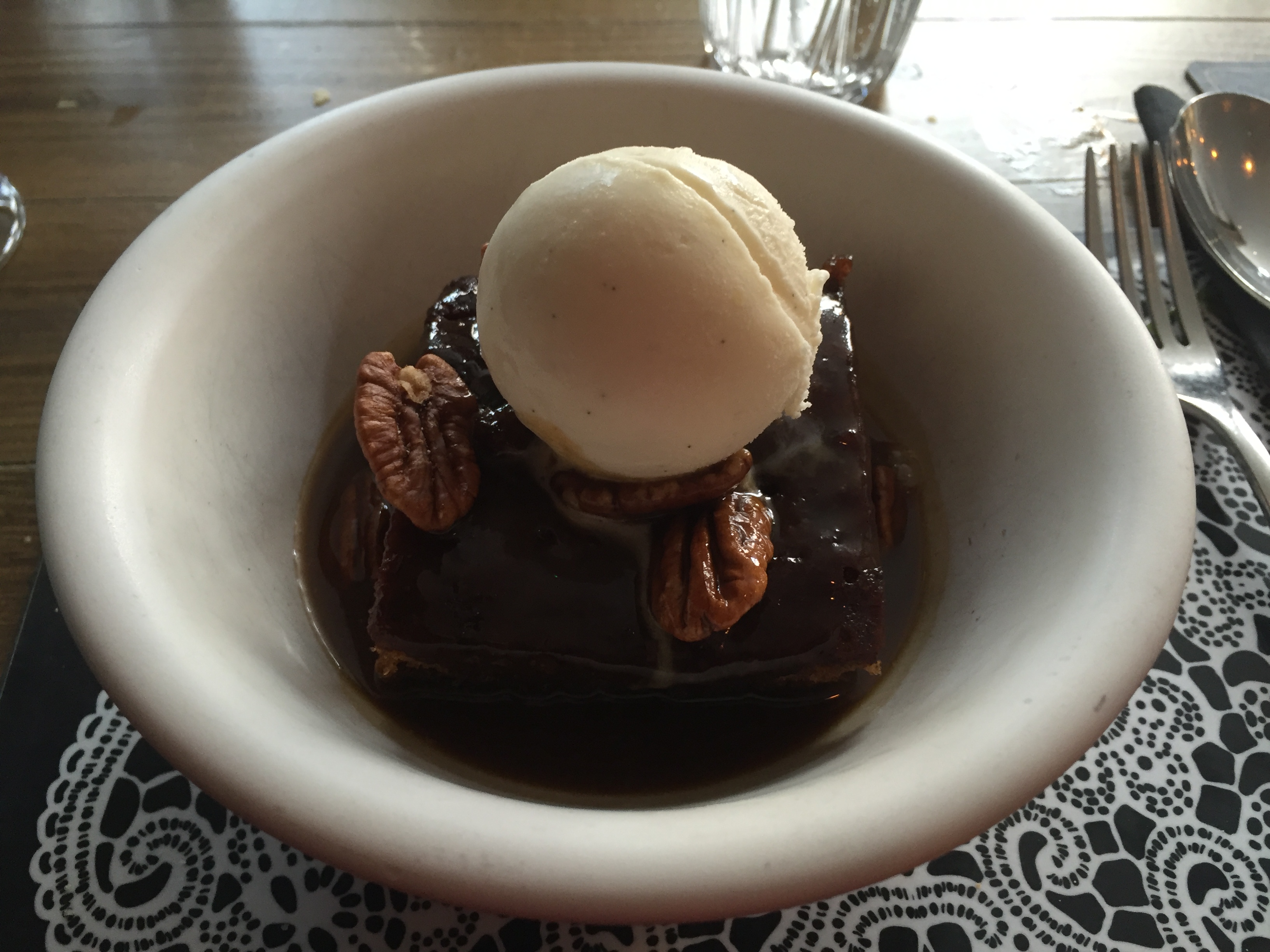 Charlotte was impressed with her brownie, which boasted a strong chocolate flavour and a dense, almost truffle-like texture balanced wonderfully by the stout ice cream. Disappointingly for our little one, we turned down the chance for her to get a small bowl of ice cream, but this is an option if you want to treat your little one(s).
Overall, the Scran & Scallie was a huge hit with us. Ticking the boxes of high quality food, a family friendly feel and also not completely breaking the bank (mains are about £15-£20) this was the perfect way to round off our weekend of eating. We would (and hope to!) go back in the future and would even consider picking this above the other two excellent restaurants Tom Kitchin is involved in, even if we weren't taking our little girl with us.
Where it is: 1 Comely Bank Rd, Stockbridge, Edinburgh EH4 1DT
Reservations: 0131 332 6281