Bill's is a fairly new restaurant to Leeds. Occupying a prime spot in Albion Place, it boasts an outdoor terrace suitable for dining in the Leeds sun, and a spacious interior for when the weather turns.
We popped along on a weekday evening to see what Bill's has to offer a crowded and ever-expanding dining scene in Leeds. Bill's may be a chain restaurant, and, as such, it's easy to be snobbish before even stepping foot inside the restaurant, but it distinguishes itself really well by focusing on British, seasonal, fresh food.
This was certainly clear when we visited. We started with some hummus and piadina bread. The hummus was spread out across the plate and elevated by the addition of some chilli and olive oil. The bread was served warm, as it should be. We followed this up with some mini cumberland sausages, again a simple dish elevated by little touches, in this case the addition of honey and grain mustard at the bottom of the bowl.
We decided to take two separate approaches to the mains: Kyle opted for indulgent, and I opted for healthy. Kyle's buttermilk chicken burger came piled high with chipotle mayo, creamy coleslaw, and the usual salad garnish you expect from a decent burger. A real challenge to eat, this caused no end of mess (a dish to avoid if you're on a first date!) but it was really tasty. The chicken was well cooked, staying moist despite being cooked in buttermilk and made crunchy on the outside, and the accompanying sweet potato fries were crispy and piping hot in the middle.
My dish was slightly more unusual and was executed really well by Bill's. The roasted aubergine and chickpea dhal with chilli had real texture and definition to it. Too often dhal can have a slightly dull texture thanks to the lentils, but that wasn't the case here. The green heirloom tomatoes were a clever way to add colour and the coriander chutney added a fresh flavour to the dish that went really well with the accompanying bread.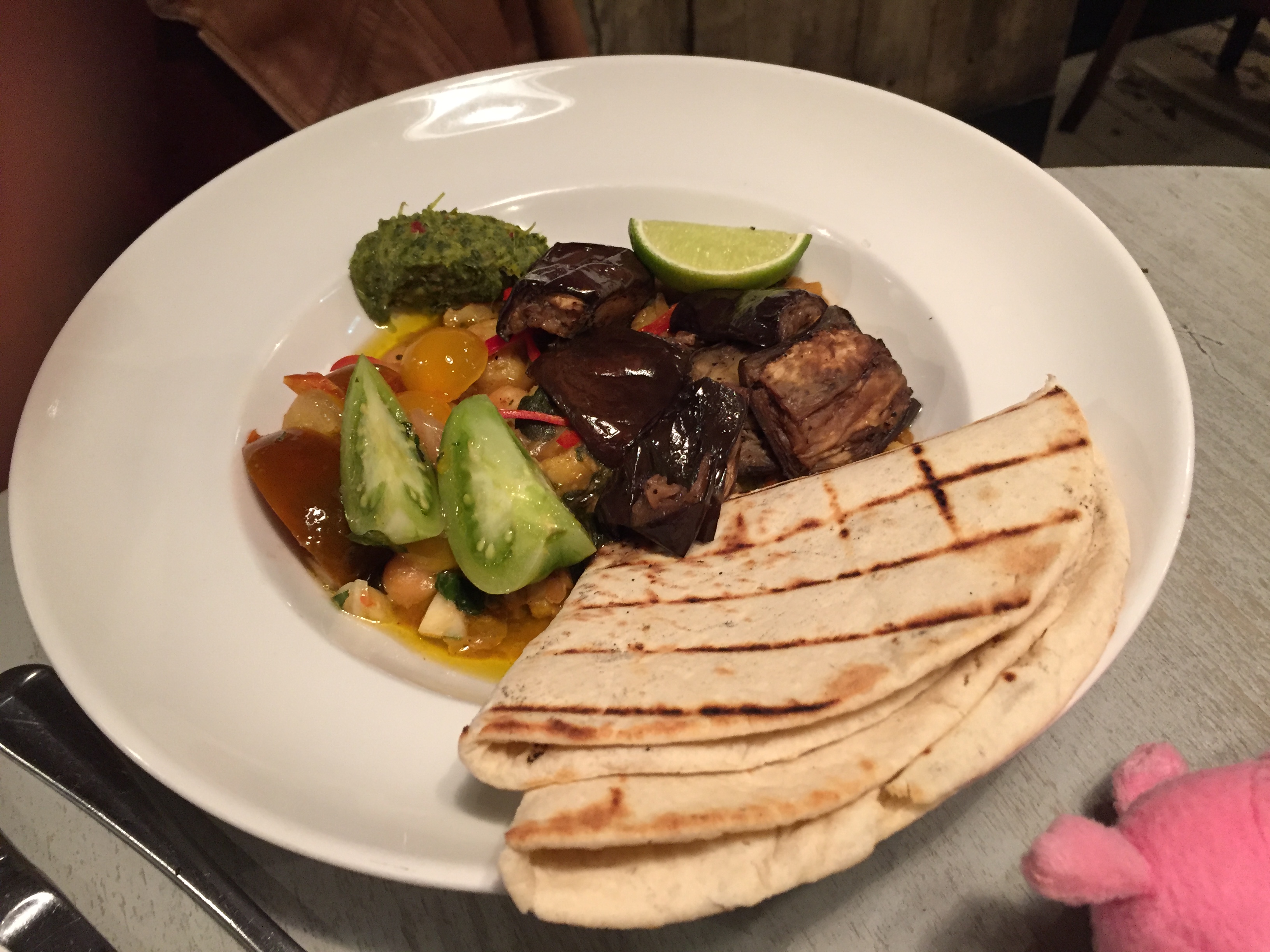 Feeling pretty full, we nevertheless managed to struggle through to order pudding, Kyle ordering gooseberry and almond crumble and me opting for the warm pecan pie with malted banana ice cream. My pecan pie was decadent, chewy, and had a deep, satisfying flavour that was brought out brilliantly by the banana ice cream. Kyle's crumble earned extra points for coming with both ice cream and cream – why choose if you don't have to!
Overall, we had a really nice meal at Bill's. Yes, it's a chain, but the food here doesn't scream mass-produced like the food at some chains. The dishes are cleverly thought through, nicely presented, and everything brought to the table with a smile from the friendly, warm waitresses. It's also a fantastic option for little ones (our daughter was a big fan of the broccoli!). All in all, well worth a try next time you're looking for a straightforward option in the city centre.