Living in Yorkshire, it's fair to say that we are spoiled for choice when it comes to good Indian restaurants. There's our favourite, Shalimar in Harrogate, there's Akbar's in Leeds (always good for a night out in town), Hansa's for some exceptional vegetarian fare, and many, many more worthy of a mention.
Until recently, though, we hadn't really strayed over the Leeds/Bradford border in hunt of another curry house to add to our list of go-to options in the region.
When Zouk in Bradford invited us down to sample their menu, we knew we were in for a treat. Kyle had previously attended a cookery masterclass at their Manchester branch, so we knew that we could expect food of a very high level, alongside a comfortable atmosphere and friendly service.
We went to Zouk on a Sunday lunchtime and found it to be fairly quiet. We appreciated the laid-back, relaxed environment though, and felt at home with our little girl (10 months old at the time).
To start with, we shared Tandoori Mixed Grill, an absolute steal of a dish at just £5.95. This dish consisted of Chicken Imlee, Seekh Kebab, Lamb Chop, and Chicken Drumstick. There was definitely enough for us to share, although it was a stern test of our relationship not to fight over the lamb chop – it was the real star of the starter! The Seekh Kebab was full of flavour and very tender, and the chicken dishes weren't at all dry, even if they did slightly fade into the background when set alongside the exceptional lamb chop.
For us, though, it was all about the main courses. Inspired by the lamb in our starter, we both ordered lamb main courses. I went for the Lamb Sultani, "tender lamb shank marinated in aromatic spices and slowly cooked until the meat just falls off the bone". Kyle opted for the Lamb Nihari, "a traditional specialty from Lahore – slow cooked lamb in a thick and spicy sauce". We're very familiar with the Lamb Nihari dish after falling in love with it at Shalimar in Harrogate, so we had a tough point of comparison for Zouk here to contend with.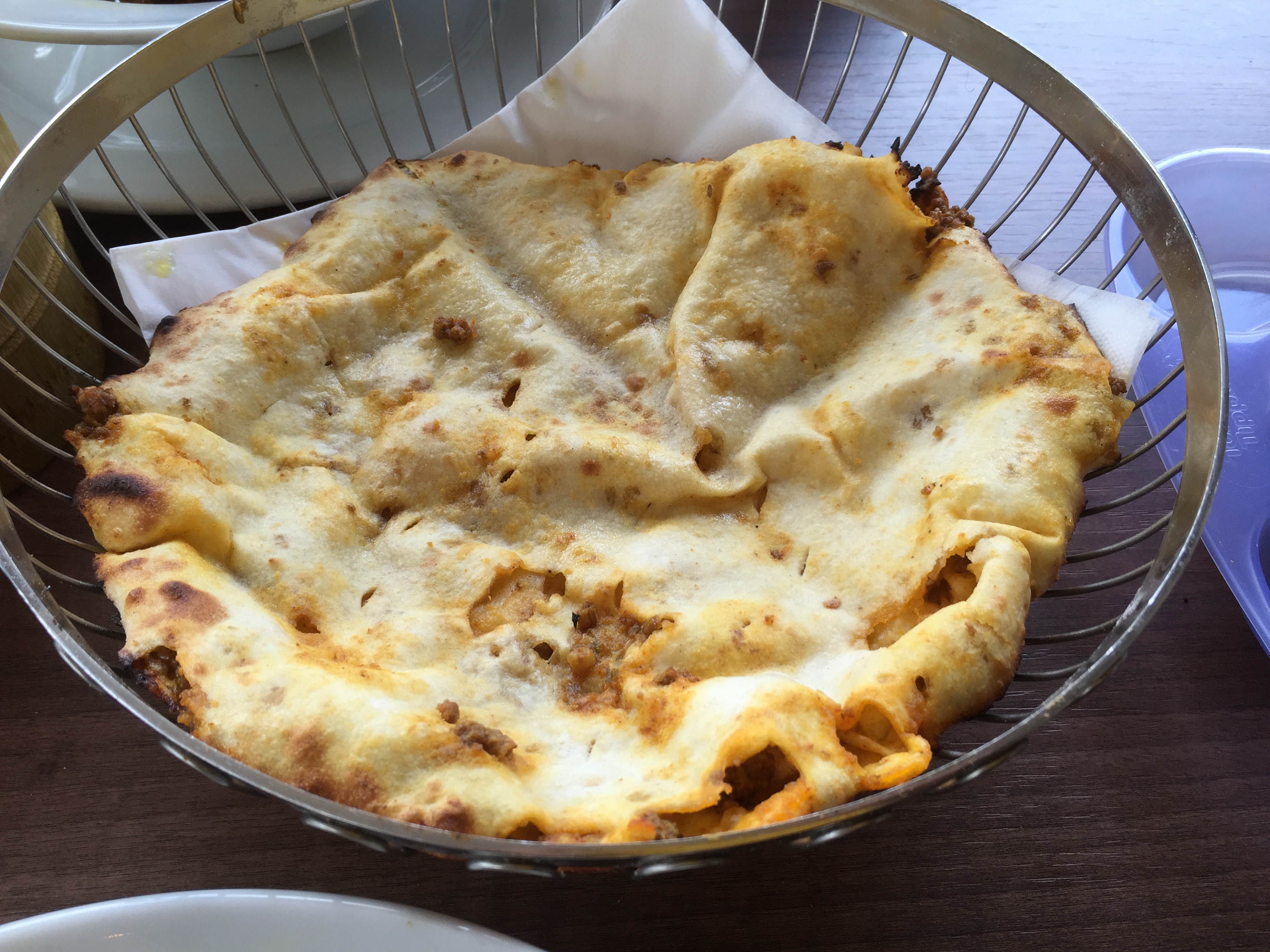 To complement our mains, we ordered a Keema Naan. I knew as soon as my lamb turned up that I was going to love it. I'm a sucker for a lamb shank and the description on the menu here really rang true; the lamb fell off the bone as I put my fork into it. The sauce was aromatic, not too spicy, and the perfect consistency to coat the beautiful lamb.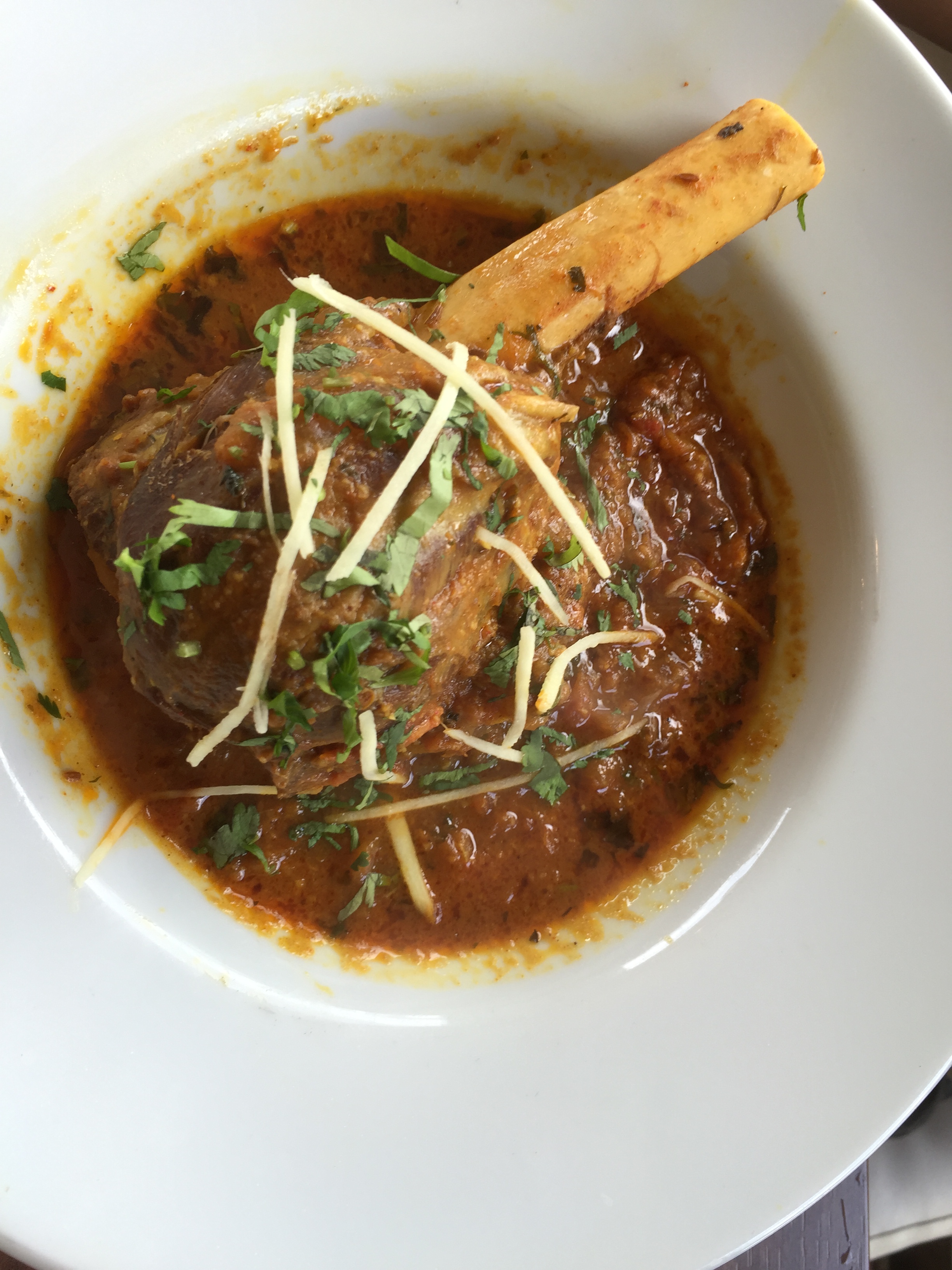 Similarly, Kyle's Nihari was of a very high standard. Not quite as buttery and rich as the Nihari at Shalimar, it had more of a "stock" consistency. The lamb, although served off the bone, also fell apart with a fork. Kyle was also impressed that the waiter brought out a selection of ingredients that could be used to make the dish spicier if desired. This included chopped green chillies, fresh ginger, and a mixture of Indian spices.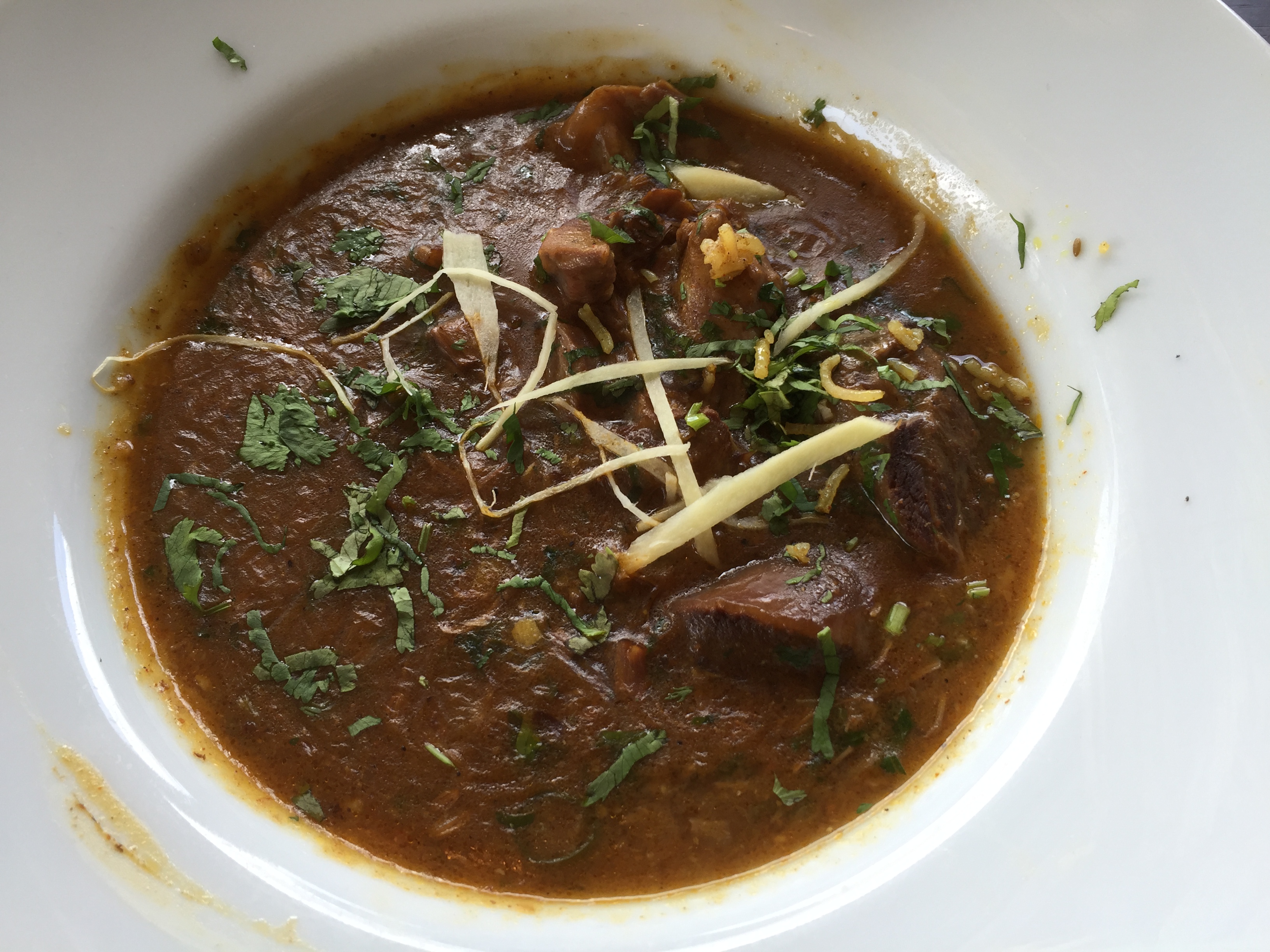 As nice as our mains were, the absolute highlight of the main course was the naan bread. Usually when you order a naan bread in an Indian, you're just hoping that it'll be a flavoursome element used to mop up the sauce of whatever curry you order. At Zouk, though, the naan is freshly made in their tandoor. The naan was soft, doughy, and filled with the most beautiful lamb you could imagine. I could have ordered a couple of these just for myself (I might not have eaten for a week afterwards, but it wouldn't matter!). If you want just one tip if you're heading to Zouk it's this: don't worry so much about the rice; just order at least one naan bread! Not to keep going on about it, but the flavour and texture of the naan has really stuck in my mind ever since our visit.
Unfortunately we were too full to sample pudding, because I noticed some very tempting options on the Zouk menu, including an ice cream sundae that would no doubt have gone down very well!
Zouk clearly know what they're doing in Bradford. They cook with fresh ingredients, high-quality meat, and make sure that the side dishes match the quality of their curries. They also offer really good value for money and for that reason we would recommend them without thinking twice as a fantastic foodie location for a weekend family lunch.