Here at Leeds Foodie, we've been getting really excited about the launch of POLPO in Harvey Nichols. This excitement was furthered when we were given the chance to give away one of the fabulous POLPO cookbooks whilst doing a Q & A with founder Russell Norman (which you can read here).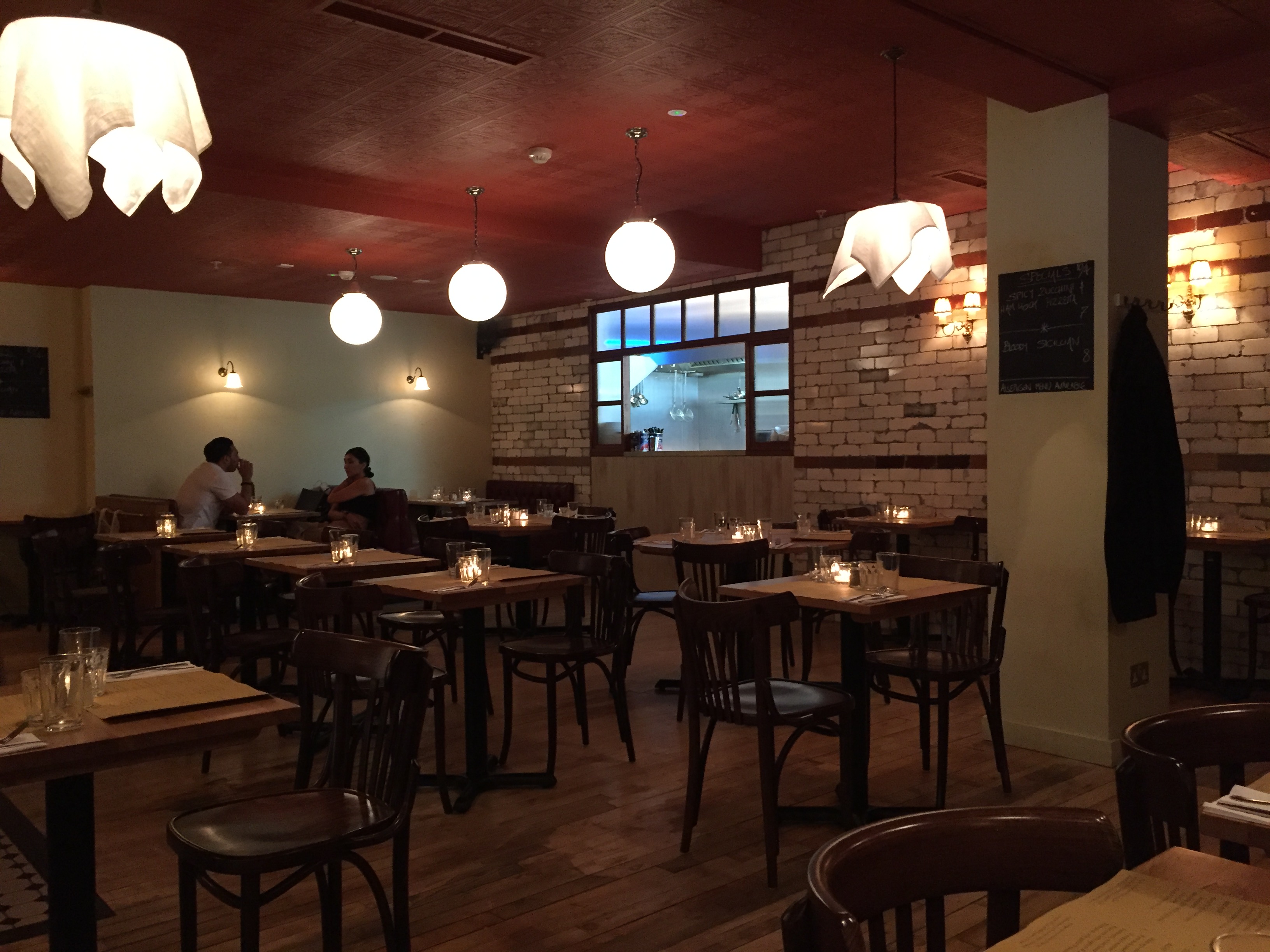 With this in mind, it's safe to say we went to POLPO with very high hopes and hungry stomachs!
Set where the old Yo Sushi had been, the new POLPO setting couldn't be any more different. With the bright lights and whirring plates replaced by more atmospheric lighting and a much more adult feeling (this certainly didn't have the grab and go feeling that Yo Sushi thrived on) POLPO certainly lives up to the level of class and sophistication that you would expect from anything that was going to attempt to associate itself with Harvey Nichols.
In some ways we made a mistake by taking our then 8 month old along with us to POLPO. While a kids' menu was on offer (and had a nice range of decent dishes) the fact is that POLPO doesn't scream baby friendly (though certainly might be suited to slightly older kids).
We still managed to enjoy some rather tasty dishes between us. We started with some stuffed fried olives, and were left intrigued by a dish full of flavour. We soon moved on to a fritto misto, which came with some delightfully fluffy battered prawns and a whole heap of battered calamari and courgette. While this dish certainly delivered on the seafood element, it would have been lovely to see a touch more variety and perhaps a touch more seasoning to really power home that flavour punch. It is also worth noting that we ordered this dish for our little lady from the kids' menu and it was indistinguishable (in our eyes and taste) from the main menu offering.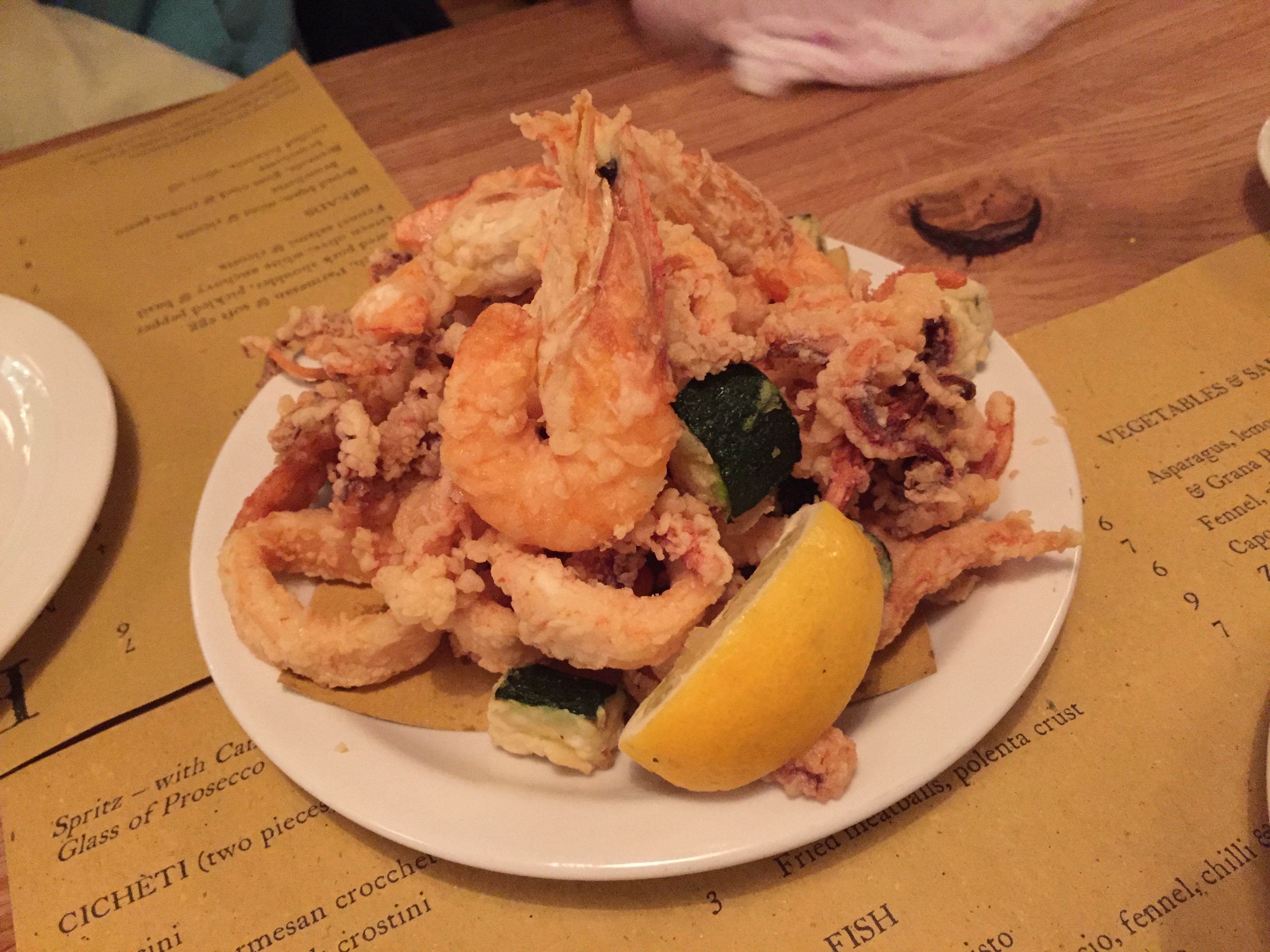 As well as our fritto misto, we also enjoyed a pizzette (a small pizza!) and a lamb meatball dish. The pizzette (we went for pork shoulder and pickled pepper) was a lovely mini version of a spicy pizza and was just the right size to share. We were especially impressed at how well the base had been cooked as a pizza this size could easily have been burned and left inedible!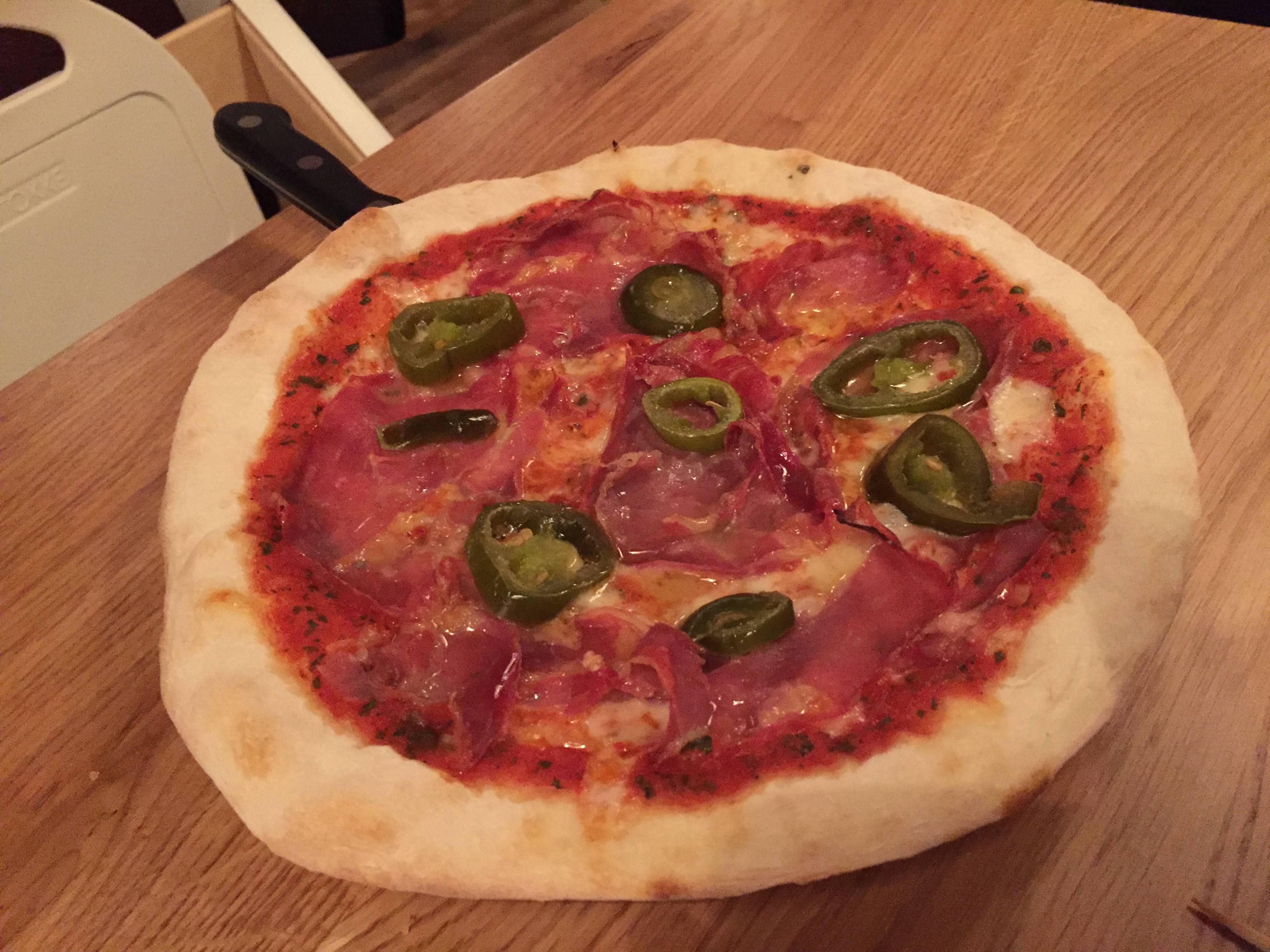 Our final main dish was a lamb and pistachio meatball dish. While meatballs are a speciality at POLPO, this dish didn't quite work for us as the creaminess of the pistachio and the mince just didn't work well enough together. That said, the tomato sauce was delicious and the meatballs were delightfully cooked, just not to our taste.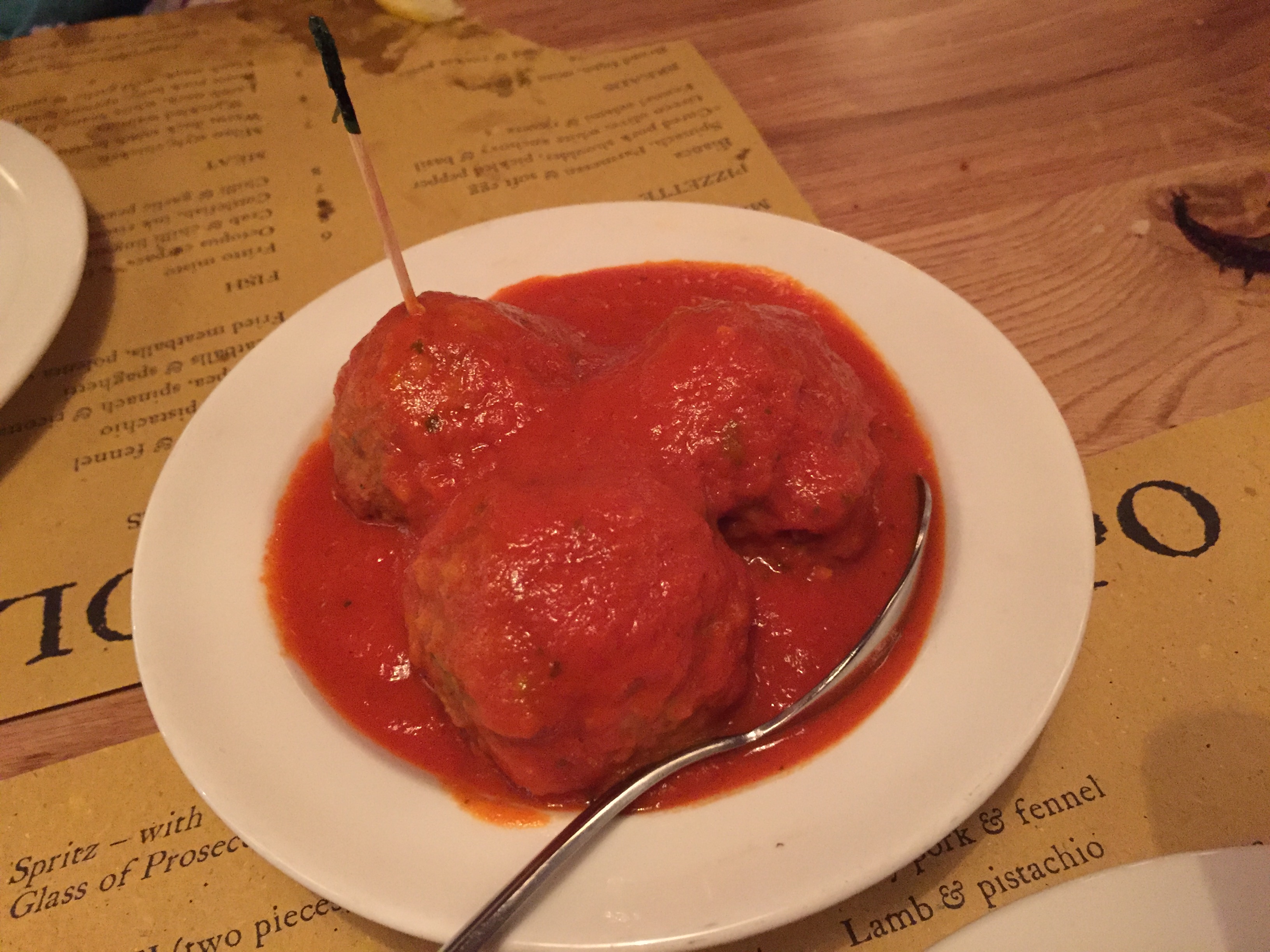 Contrasting with this was the dish of our visit: the lamb neck. Full of flavour, feeling fabulously rustic and really delivering in both appearance and taste, this was a dish that left us wanting more. Sadly, we were already fairly stuffed and had to leave room for a small pudding, so we will just have to head back for more (and to take a picture of the dish after we scoffed it too quickly to get a photo!).
Feeling rather full at this point, we decided that we couldn't manage a full go at a dessert so instead opted to share a chocolate salami! Having never ordered a chocolate salami before, we didn't quite know what to expect but what we received was rather delightful (if a touch heavy!). With some beautifully cooked chocolate mixed together with a range of fruit and biscuits, this was a delightful way to end the meal.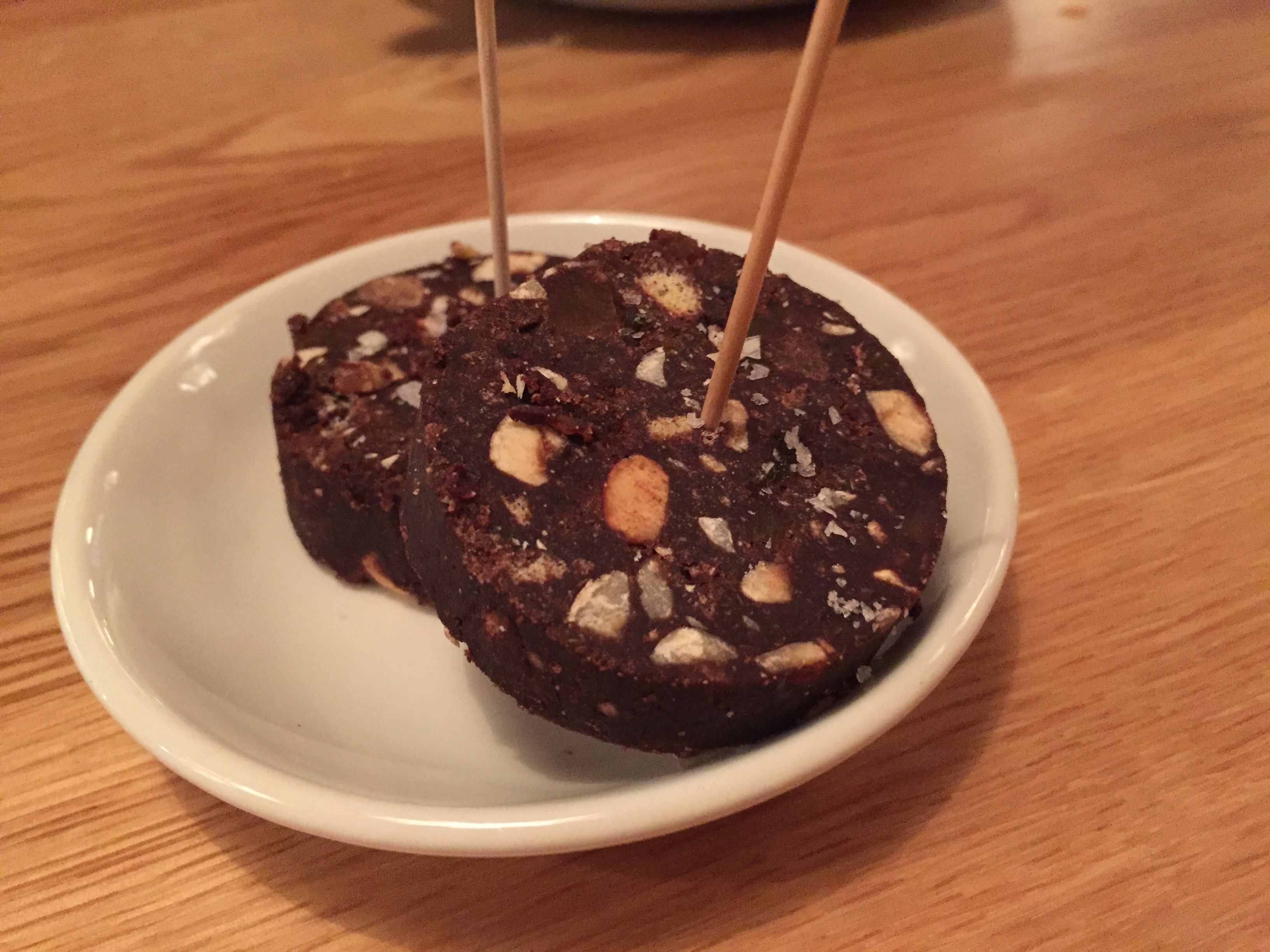 POLPO is certainly a place that we would go back to again to try the rest of the exciting and fresh dishes on offer. It is perfect for a date night, to share some dishes over a glass of prosecco with some friends, or to go for a celebration, just maybe not with an 8 month old baby!
Disclaimer: We were provided with a complimentary meal and drinks in order to provide a review. All views are our own and we were under no obligation to provide a positive review.