When we were given the chance by Cotton Traders to take part in the #CTGrowYourOwn campaign, it's fair to say we were pretty excited! Here at Leeds Foodie, we're big fans of using fresh herbs wherever possible in our cooking, and specifically using home-grown fresh herbs wherever possible.
In light of this, we set up and made our own herb garden after moving into our house. You can read more about that here. As we are currently enjoying baby led weaning, seasoning has been something that we've had to be very careful with in our household. For us, herbs have been an excellent way to season food without worrying about salt. We've now got to the point where we're enjoying a lower sodium diet that doesn't compromise on taste.
When thinking about what to make for our challenge dish, we wanted to showcase a variety of healthy ingredients for a family meal that can be made without too much notice. You don't need too much time (or energy!) to make this family-friendly dish, but the rewards are great, and very tasty.
Basil, sausage, and tomato bake with thyme sweet potato rounds
50 minutes cooking time and about 20 minutes preparation time
Ingredients (serves two adults and one little one with a big appetite!):
Sausage dish:
6 good quality sausages (we used Harrogate Sausages to keep things local)
500g cherry tomatoes
1.5 tablespoons of balsamic vinegar
Good handful of fresh basil leaves
Glug of rapeseed oil
1 red onion
6 garlic cloves
Sweet potato side:
6 sweet potatoes
4 garlic cloves
Glug of rapeseed oil
Chilli flakes (to taste)
Good handful of thyme leaves
Few sprigs of thyme for garnishing
Method:
Pre-heat your oven to 200 degrees. Get your casserole dishes, one for the sausages and one for the sweet potatoes, into the oven to get them nice and warm.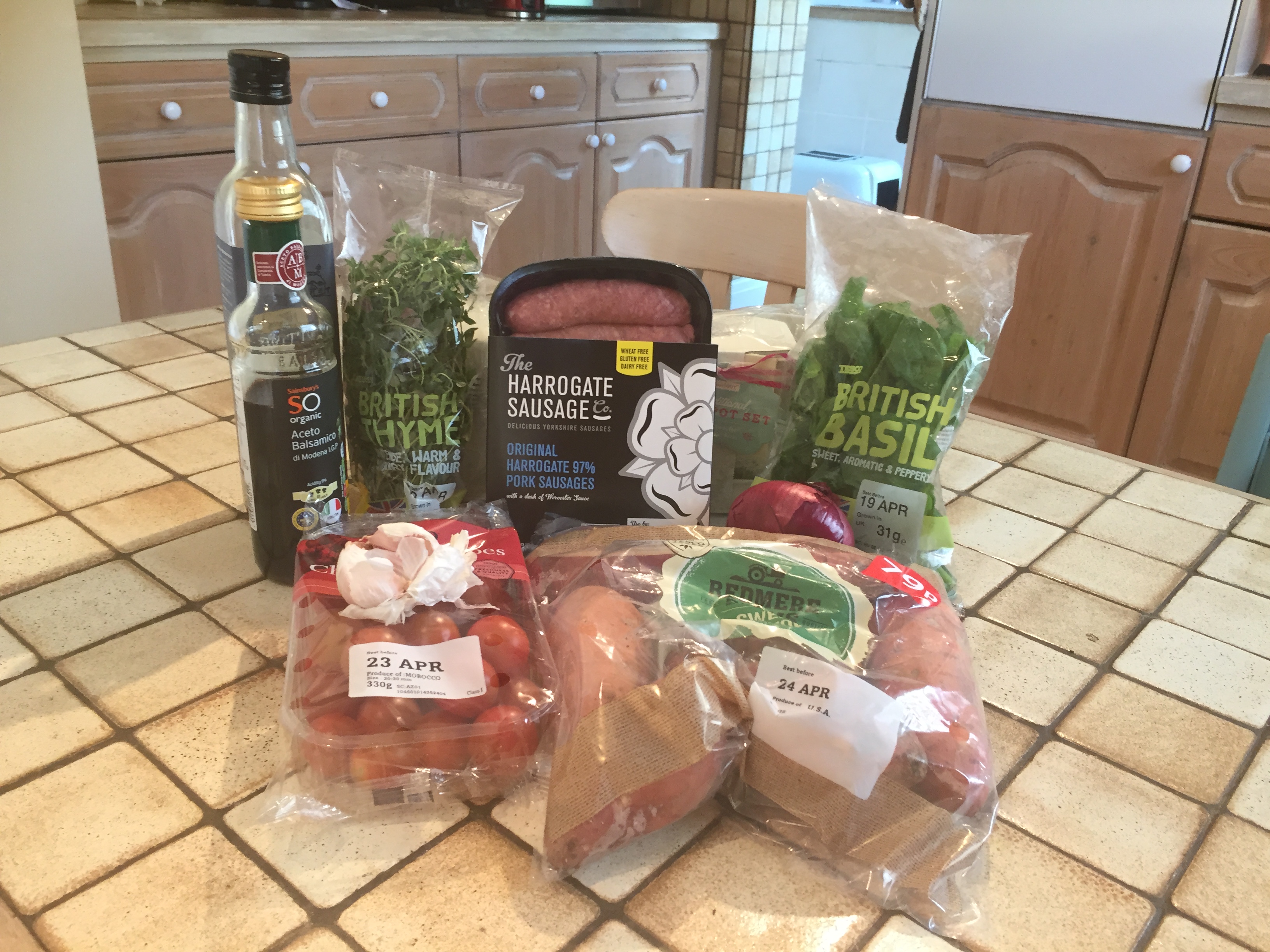 Peel the sweet potatoes and chop them into rounds, roughly the same size. Ours were about an inch thick. Peel your garlic cloves and chop them as finely as you can. In a bowl, throw the potatoes and garlic in with the chilli flakes, thyme leaves and rapeseed oil. Mix everything well until the sweet potato rounds are covered and pop them straight into the oven for about 50 minutes or until crispy!
While this is happening, get your red onion chopped up into wedges, while halving your tomatoes and peeling and slicing your garlic cloves. Get your dish out of the warm oven and add the rapeseed oil (making sure the oil covers the bottom of the dish as well) before adding the sausages, red onion and garlic.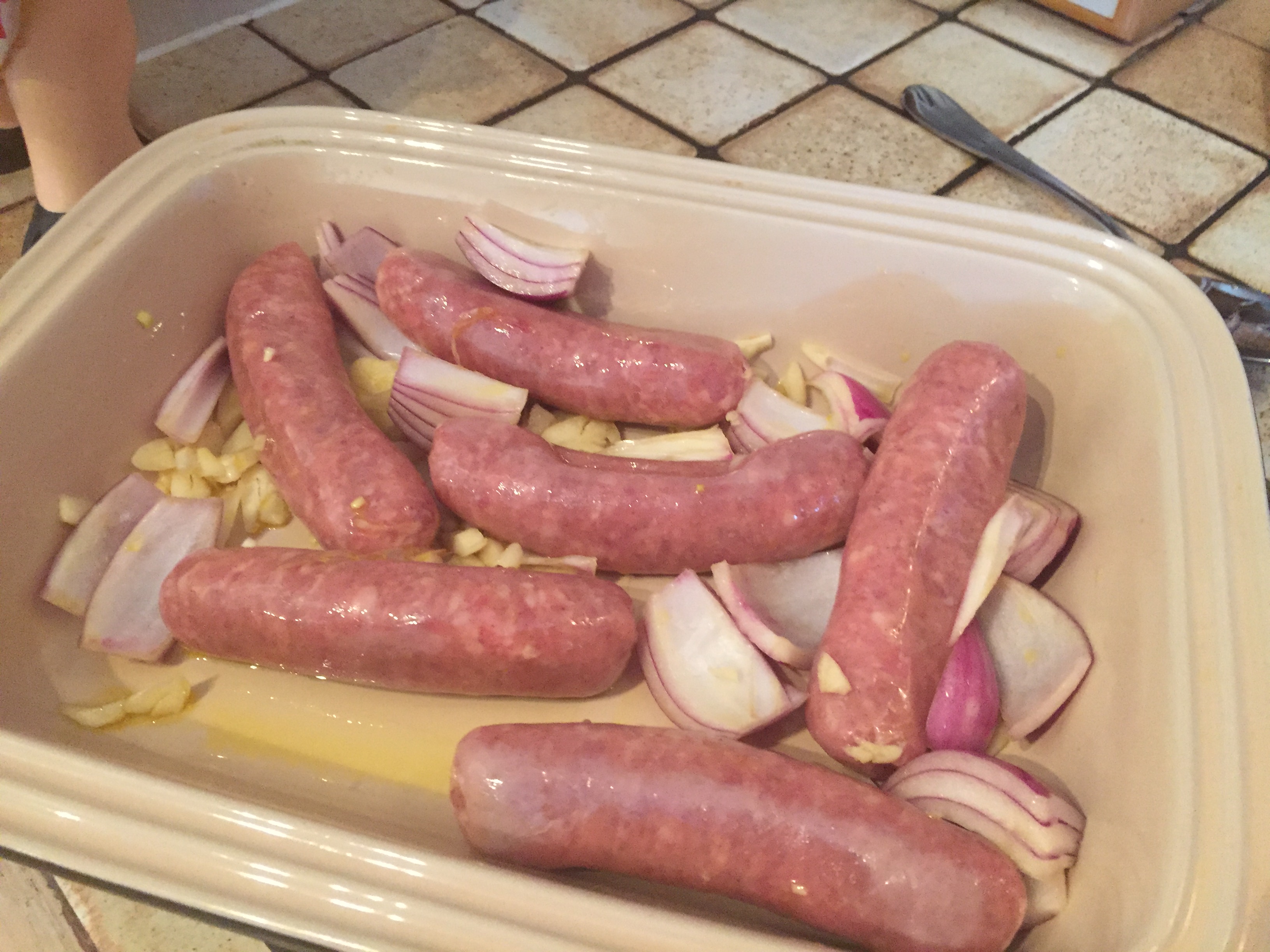 Bake in the oven for around 15 minutes. Then, grab your dish out the oven quickly, before chucking in your halved tomatoes and the balsamic vinergar. Toss everything together and pop it back in the oven for another 15 minutes.
Once both dishes are ready, take everything out of the oven. Garnish your sweet potato slices with a few sprigs of thyme to introduce another layer of flavour, texture, and aroma. Take the basil leaves and mix them into the sausage dish to reinforce that beautiful fresh flavour. The basil also gives the dish a slightly continental feel.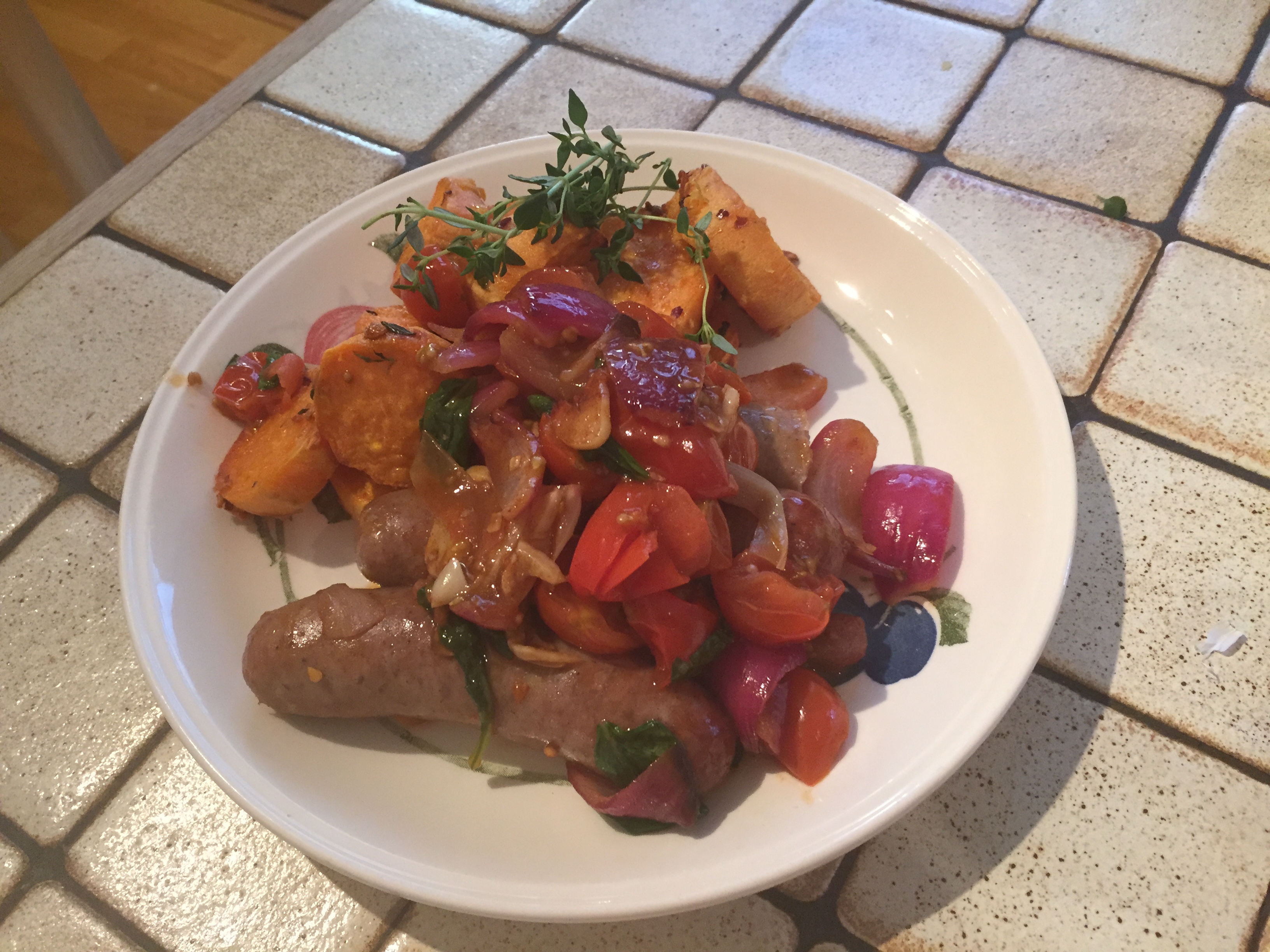 This simple dish tastes absolutely fantastic, doesn't take long to make, and worked really well as a good baby led weaning dish for adults and baby to enjoy. We're really looking forward to using the herb pots that we were supplied with to show our little one how plants grown at home can be enjoyed year round in our own cooking.
If you would like to find out more about growing your own herbs you can find out some useful information from Cotton Traders here.
Disclaimer: We were provided with a herb pot set, as well as a £10 Tesco voucher to buy ingredients.