Set in the heart of the business district in Leeds, Wolf Italian Street Food is designed to appeal to those with an appetite and a need to find a satisfying lunchtime option in town! Suffice to say, when I was offered the opportunity last month to spend £15 to review a few items, I made sure that I headed down to the deli "hungry like the wolf" (that's the last wolf joke I promise!).
Wolf Italian Street Food is a chain of restaurants specialising in what it describes as Italian street food options. While I would argue that perhaps they need a few more fried calzone or arancini to really be able to boast that truly authentic Italian feel, the menu certainly offers a decent taste of the more common Italian foods on offer in the UK.
Bearing in mind that the average lunch in town is about a fiver (unless you are heading to Greggs or McDonald's), I felt that on the whole the menu hit the right price points, especially as the food is very easy to personalise. For the £15 I was given, I was easily able to order two filling dishes that had a few added extras.
Just to mention here that I went with my little girl strapped to me in her Baby Bjorn carrier. Had I known that Wolf Italian Street Food was quite so business orientated, I probably wouldn't have attempted this as the restaurant really isn't designed to accommodate little ones. It had no high chairs that I could see and the seating areas were trendy and set up for business chatter rather than for family lunches. The opening hours (only open on weekdays between 7am – 3pm) really show what clientèle they are aiming for. This is no criticism and shows that the concept has been well thought out.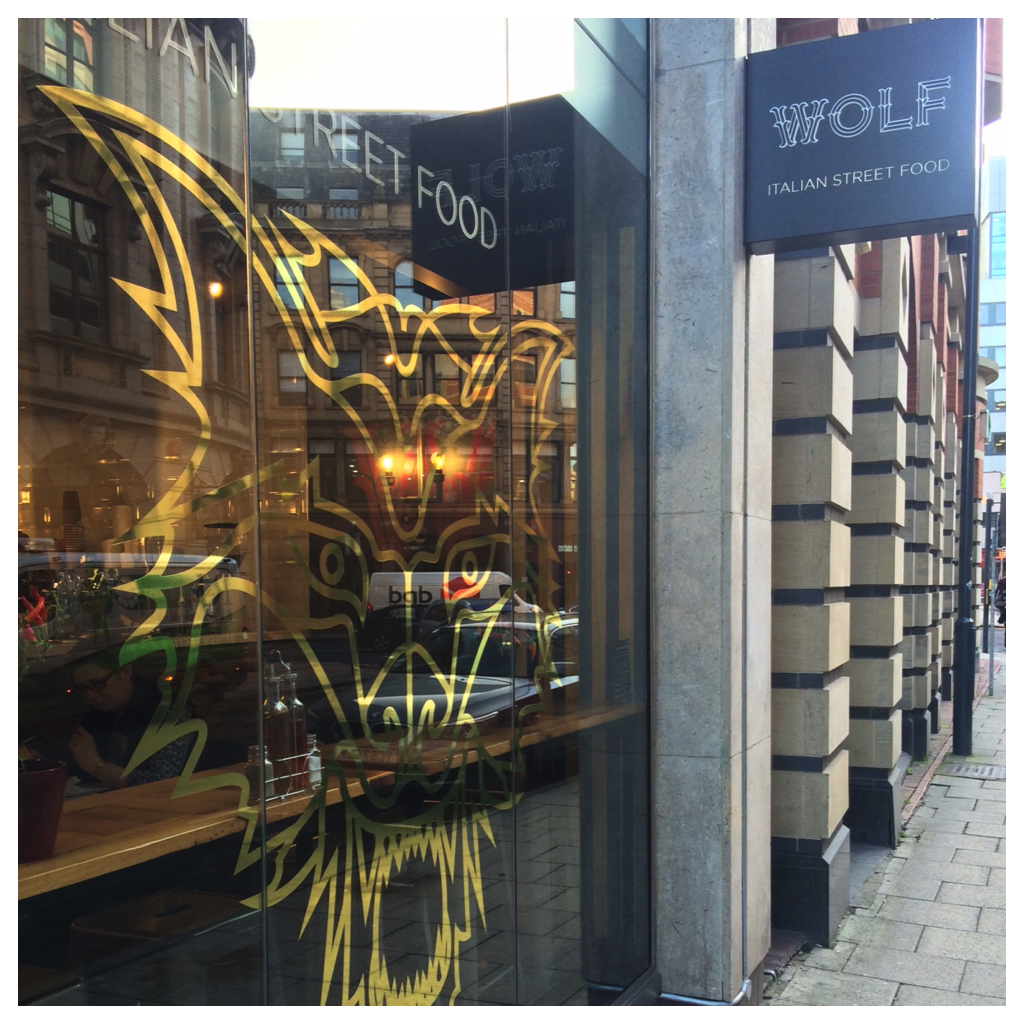 For the uninitiated, you head up to the counter, much like you would in a Subway (although that is where that comparison ends!) and then pick your dish from a range of options, including salad and pasta. You then pick what you want to top up your 'base' with, choosing from a range of meats and veg before adding sauce, salad, and dressings if required. Or, you can just order a pizza!
I decided to go for a salad and a pizza to see how the two options compared and to see if the food on offer looked and tasted fresh. I was impressed that the salad (I went for lemon and garlic chicken as my added item) was well presented and was of a generous serving size. Being on a health kick and wanting to balance out the fact that my other order was for a pizza, I opted to go without dressing. The chicken was nicely seasoned and, as a healthy option, this was spot on.
My pizza represented good value for money (weighing in at about £6) and was cooked quickly and well. I was pleased that nothing tasted greasy; the pizza was clearly freshly baked on decent quality dough and was so filling that I actually enjoyed half of it for lunch again the next day (and impressively it still tasted good cold!).
Overall, Wolf Street Food has its place in the Leeds food scene. If I still worked in the city centre, I would certainly consider it as a place to enjoy and treat myself when I wasn't having a homemade lunch. Price-wise, it is spot on and the platter options for delivery to offices would make an excellent treat for hungry office staff!
Where is it: 8a St Paul's St, Leeds LS1 2LE
Disclaimer: I was invited down to try out Wolf Street Food and was given £15 to spend. I was under no obligation to be positive in my review and all opinions are my own.