Call Lane. A magnet for students looking for cheap booze, standing room only bars, loud music pumped out into the street until the early hours, and long queues for taxis. A magnet for foodies? Not so much. Or at least that was our assumption before last weekend, when we headed down to Black Swan to sample their new menu.
We didn't know much about Black Swan before we arrived, despite previously having lived a stone's throw from the pub during our city centre days. For those unfamiliar with the pub, what looks like an unassuming bar area downstairs, with a dining room kept cosy and inviting by a huge pizza oven, finds itself transformed by an upstairs restaurant area churning out some genuinely fantastic, locally sourced dishes that would be more at home on the menu of an exciting, suburban Yorkshire restaurant rather than a pub in Call Lane.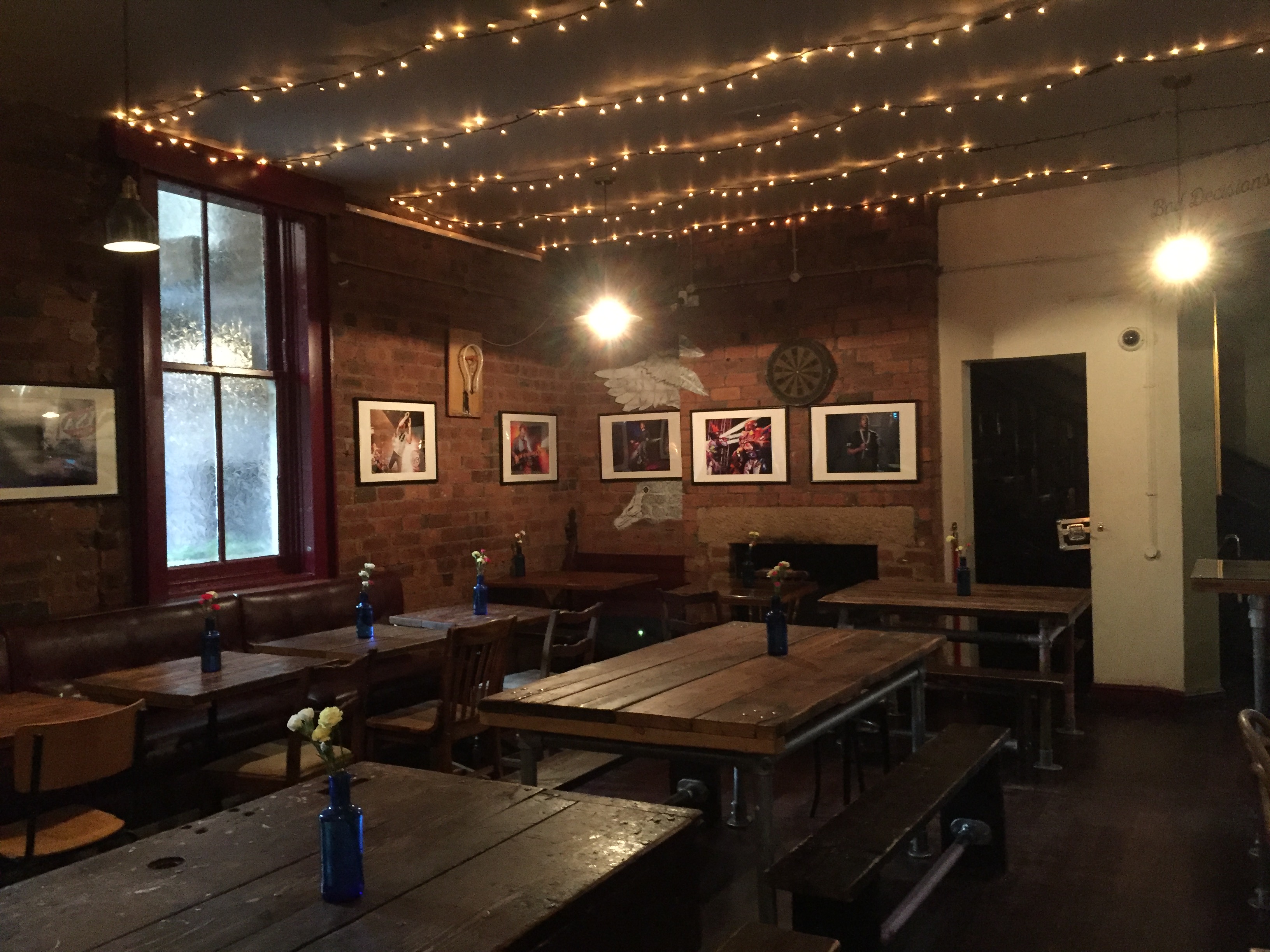 The pizzas on offer downstairs have their appeal; that much was evident from the groups of people tucking in during a quiet Saturday lunchtime in town. It's upstairs, though, where the magic really happens, and where you can find all the evidence you need to justify Black Swan's recent shortlisting in the Best of British category in the Oliver Awards.
To start with, we opted for the soup of the day (French onion) and the leek and pearl barley risotto. The soup was delicious; full of warmth and a delicate balance between creamy textures and light flavours, it was served with toasted focaccia bread and presented really smartly.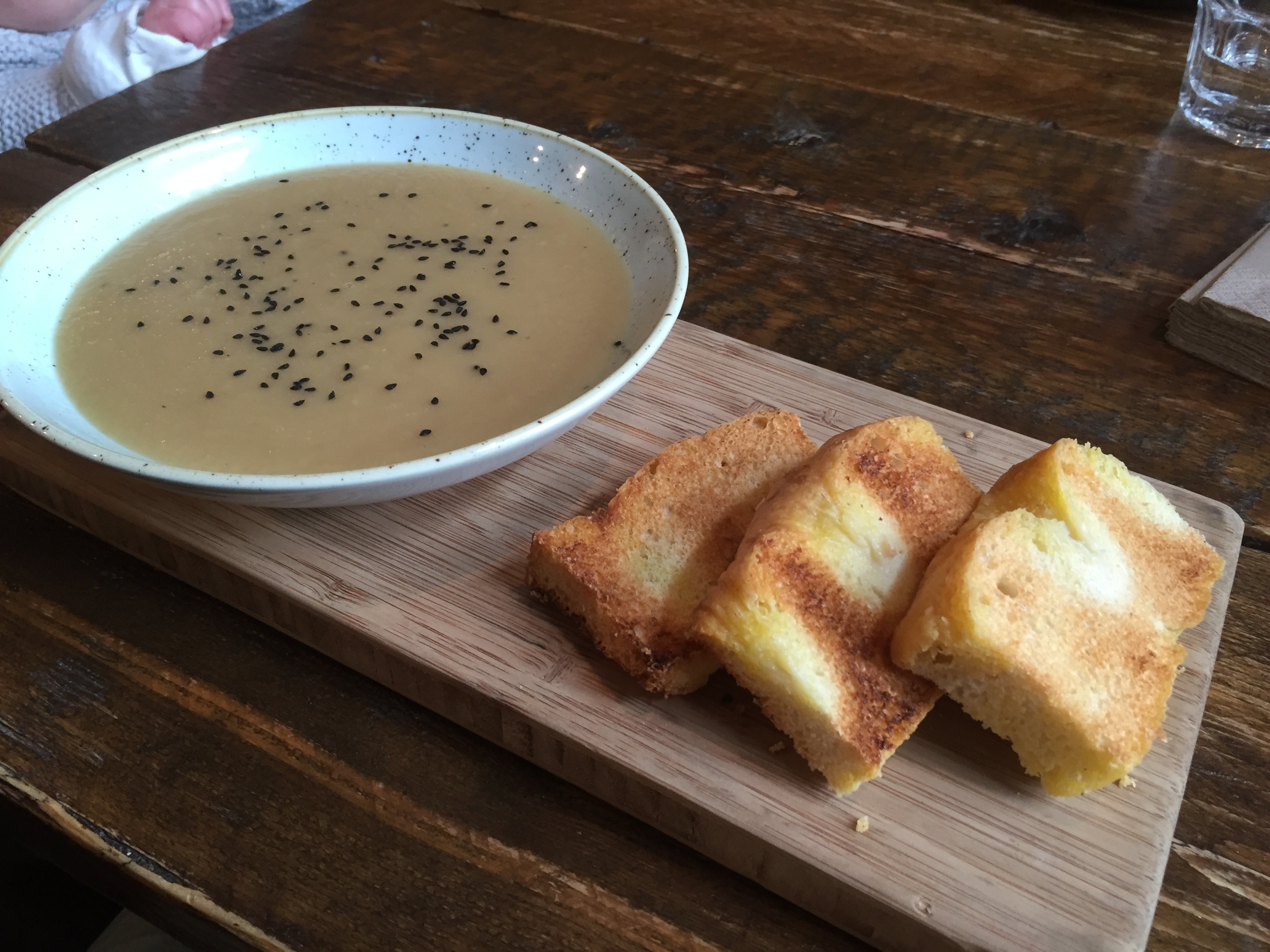 It was the risotto, though, that really sang. The depth in flavour was impressive, the dish very well seasoned, and topped off nicely by some crispy leeks. The risotto had earthy undertones and retained a pleasing crunch thanks to the use of pearl barley in place of traditional risotto rice. This was a winner of a dish and one which deserves to be a real star on this new menu. I don't know how they created the crispy leeks, but crispy leeks should be placed on top of every dish; they were so yum!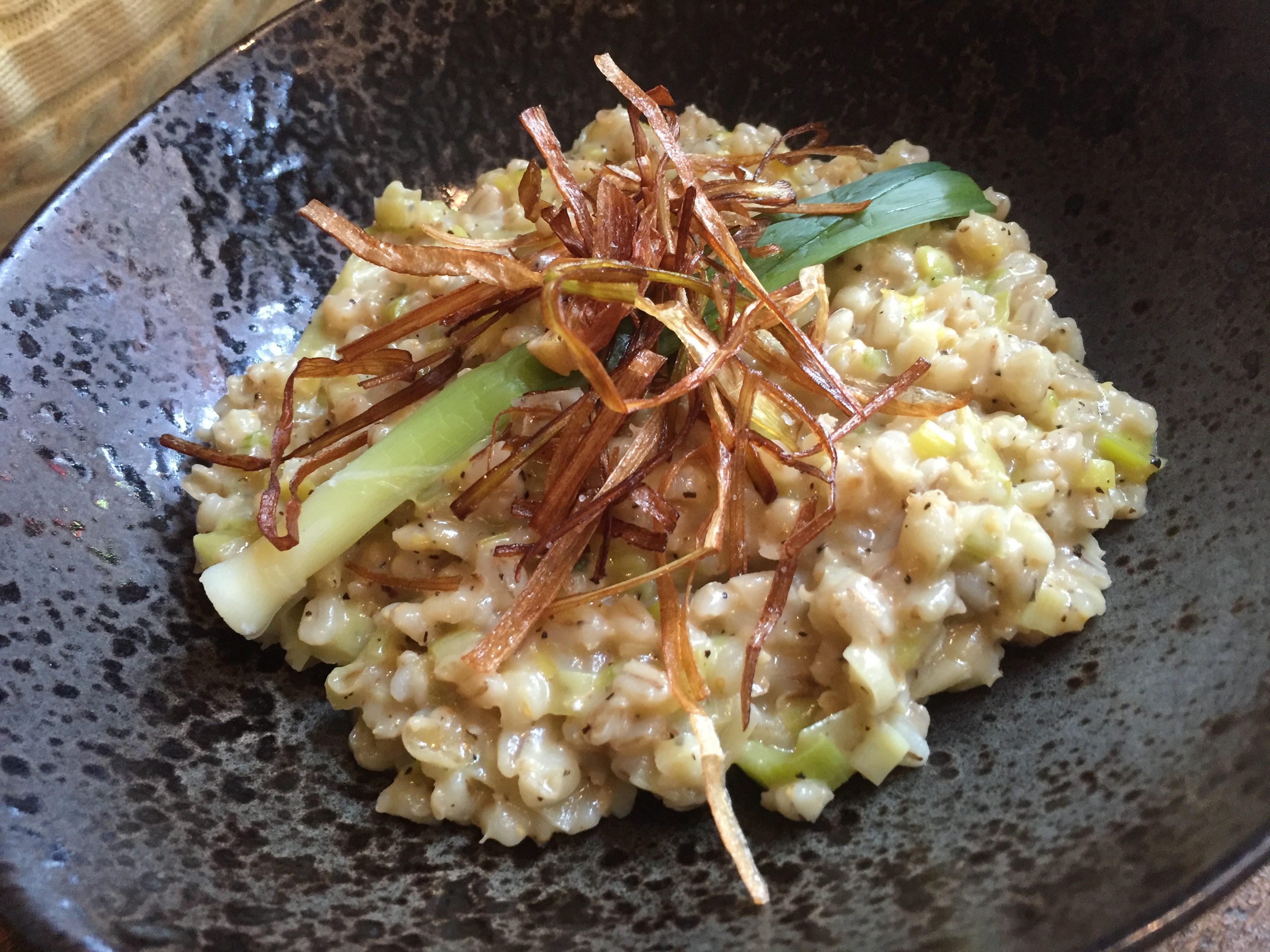 Moving on to the mains, I ordered the 24 hour lamb rump, which was served with chargrilled purple sprouting broccoli, a caramelised shallot, and mint jus. Kyle opted for the roast chicken breast, which came with pancetta rosti, roasted shallot, and crispy kale.
I had been extremely impressed by my risotto starter and thankfully the lamb followed this knock-out dish with another strong showing. The lamb was melt in the mouth tender, the caramelised shallot sweet and sticky, and the mint jus rich enough to add flavour to the lamb without overpowering it. You could tell the lamb was locally sourced and cooked with the respect this fantastic ingredient deserves.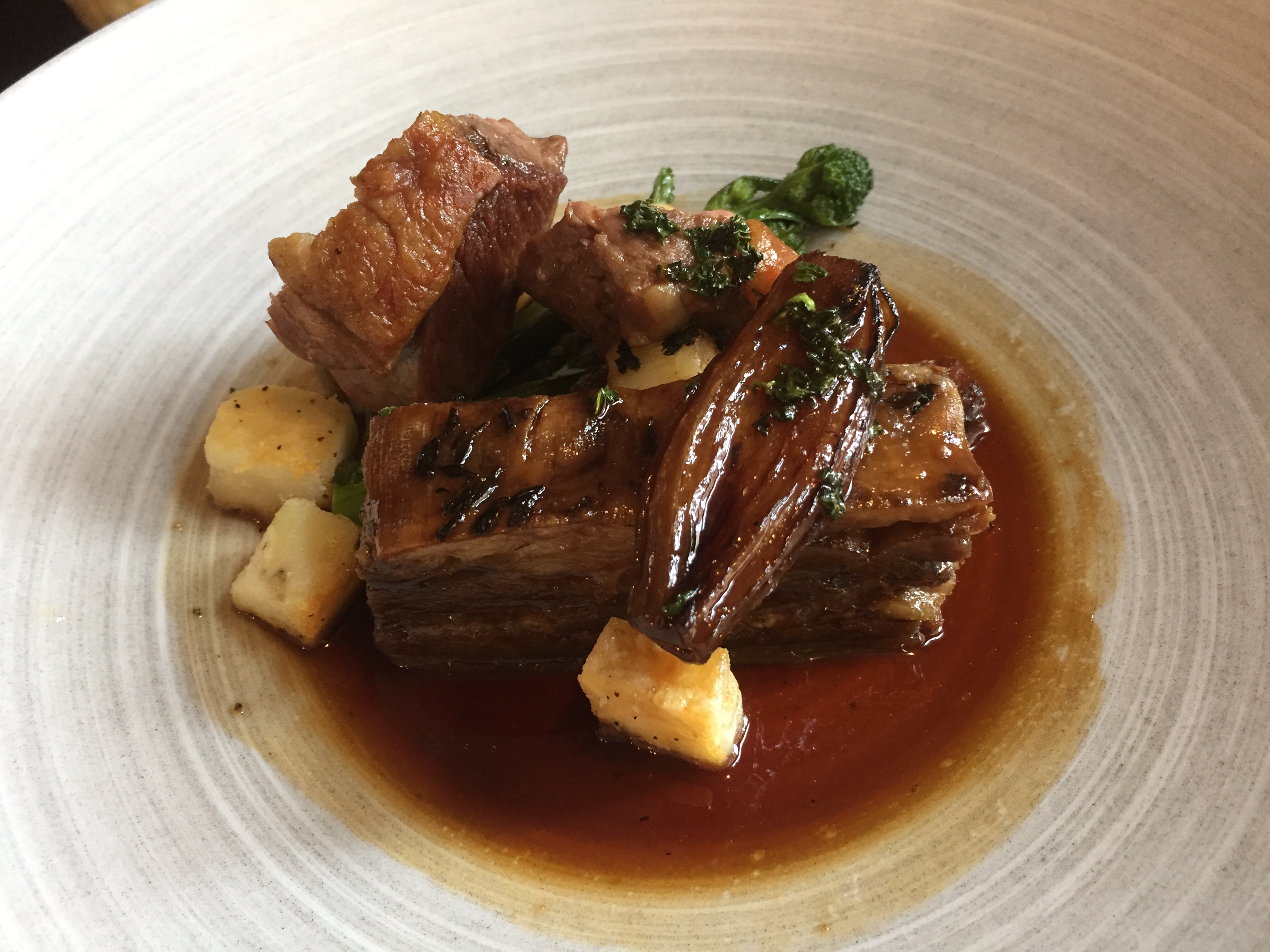 Kyle's chicken dish was an interesting one. The chicken was moist, had retained bags of flavour (which you can't always say about roast chicken at restaurants), and the rosti, which was very generously sized, added another layer of texture and flavour to the dish as a whole.
Being greedy, we also ordered some sweet potato fries with saffron aioli and a bowl of seasonal roots. The seasonal roots were great, but they paled into insignificance alongside the glorious bowl of sweet potato fries! These were sweet potato fries done the way they should be done: thick cut, crispy on the outside, fluffy on the inside, salted properly, and served piping hot. The mayonnaise was pure indulgence and I liked the fact we were given a proper portion of the mayo rather than a tiny little pot!
Unfortunately I was too full for dessert (risotto for a starter often has this result for me!) but Kyle ordered a dark chocolate tart, which came with huge chunks of gorgeous honeycomb. Sometimes with pudding, pictures speak louder than words, so just look at the photo below to find out all you need to know about Black Swan's dessert offerings!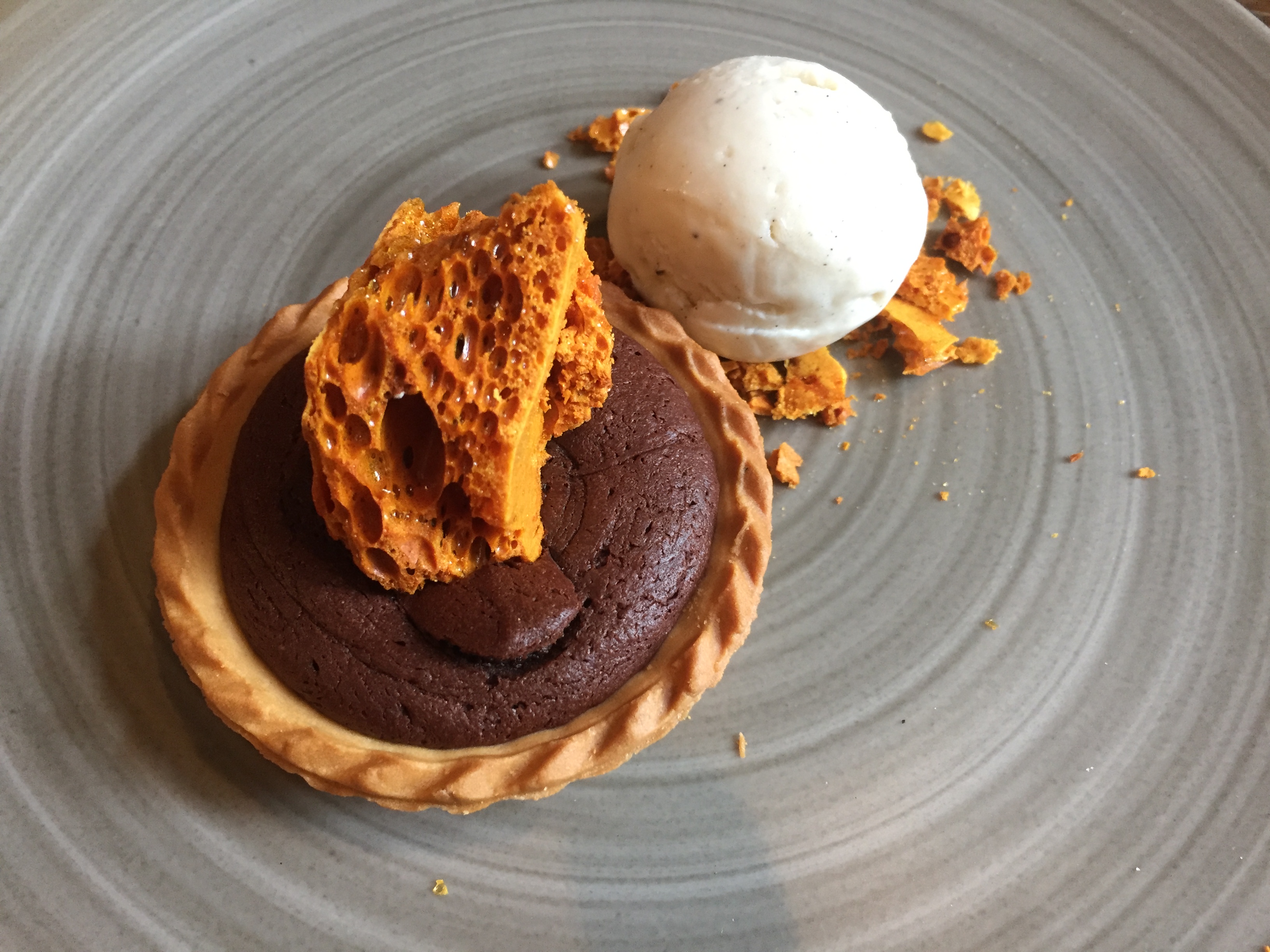 Black Swan state on their website that they offer 'great quality coffee' and I tested this out with a flat white. The coffee was rich, smooth, and served really nicely. Thumbs up for the coffee offering here.
The pub also serves a range of craft ales and will happily point you in the right direction if you want to try something new (they'll also let you sample some of the ale before you order a pint).
All in all, if you're a fan of fresh, locally sourced British food, your instinct may be to turn your nose up at a venue on Call Lane in town. However, turn your nose up at Black Swan and you really will be missing out on something quite special happening in the heart of Leeds.