On New Year's Eve, we made the most of being able to nip into London for a few hours without our baby by heading to a foodie venue that definitely isn't baby-friendly: Hakkasan (the Mayfair branch).
We were intrigued to see what the dining experience would be after dining at another Michelin starred Chinese restaurant in Hong Kong the year before. We went to T'ang Court in Hong Kong in 2014 to celebrate 10 years of being together and everything, from the food to the service to the atmosphere was really special.
Would Hakkasan live up to these special memories? Well, in short, not really. It wasn't that we didn't have a good meal highlighted by some very tasty dishes, because we did. It was more a case of the extras that you expect from Michelin starred restaurants (and when paying out Michelin starred prices) were lacking, as was the high level of service.
Let's rewind a little to our arrival. Hakkasan looks a little bit like a nightclub from the outside and you have to peer at the venue for a while before taking the plunge and hoping you've found the right door!
You're then greeted by an array of waitresses whose sole job it is to take your coats and lead you to your table. They're dressed a little bit like air stewardesses and, when we were there at least, seemed to have a little bit of an aloof air to them. Their main role other than taking coats seems to be opening the door to the toilets for you and standing around in groups chatting.
Once we were sat down at our table in the dimly lit, atmospheric downstairs dining area, we were handed menus and then left to peruse them.
We had some questions to ask about the different menus available but knew what we wanted to order on the whole and so were a little annoyed not to be able to catch anyone's eye or to have anyone come over to us for around 20 minutes. Overbearing service is never nice, but you expect attentive service as a minimum at a restaurant like this.
After placing our orders, we relaxed with a very nice (albeit expensive) glass of champagne.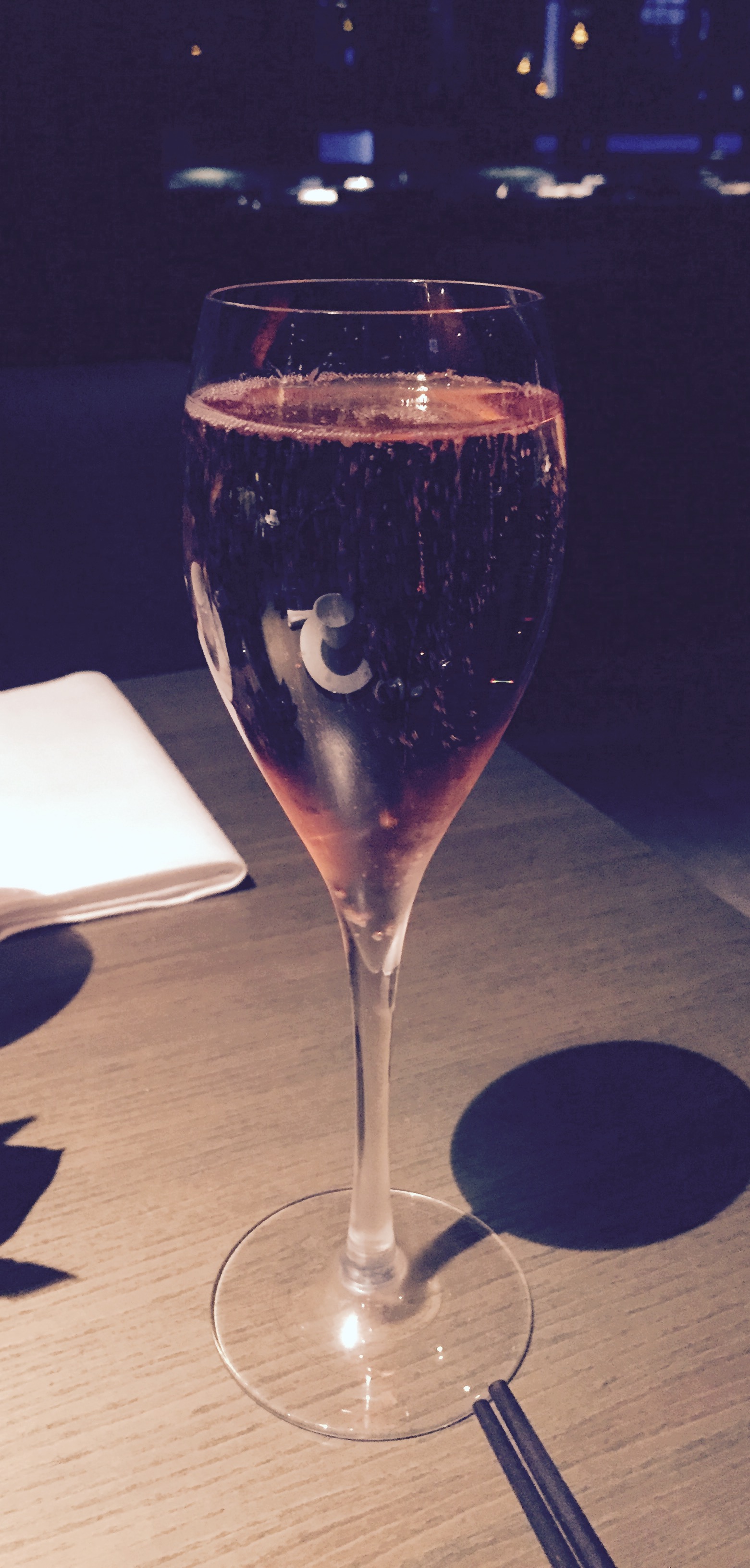 It wasn't long before our starters arrived: two dim sum selections. We had gone for the Taste of Hakkasan menu, which offers three courses for £35, not bad value for Michelin starred food. The dim sum selection was made up of three steamed dim sum and one venison bun.
The starter was actually very nice, especially the little venison bun, which had the sweetness you expect from these little Chinese baked treats but with an extra dimension from the venison. Being picky, the dim sum as a whole wasn't really anything too different from what you might get in a decent Chinese in Chinatown in London (for a fraction of the cost). That shouldn't detract from the fact that this was a tasty introduction to the meal.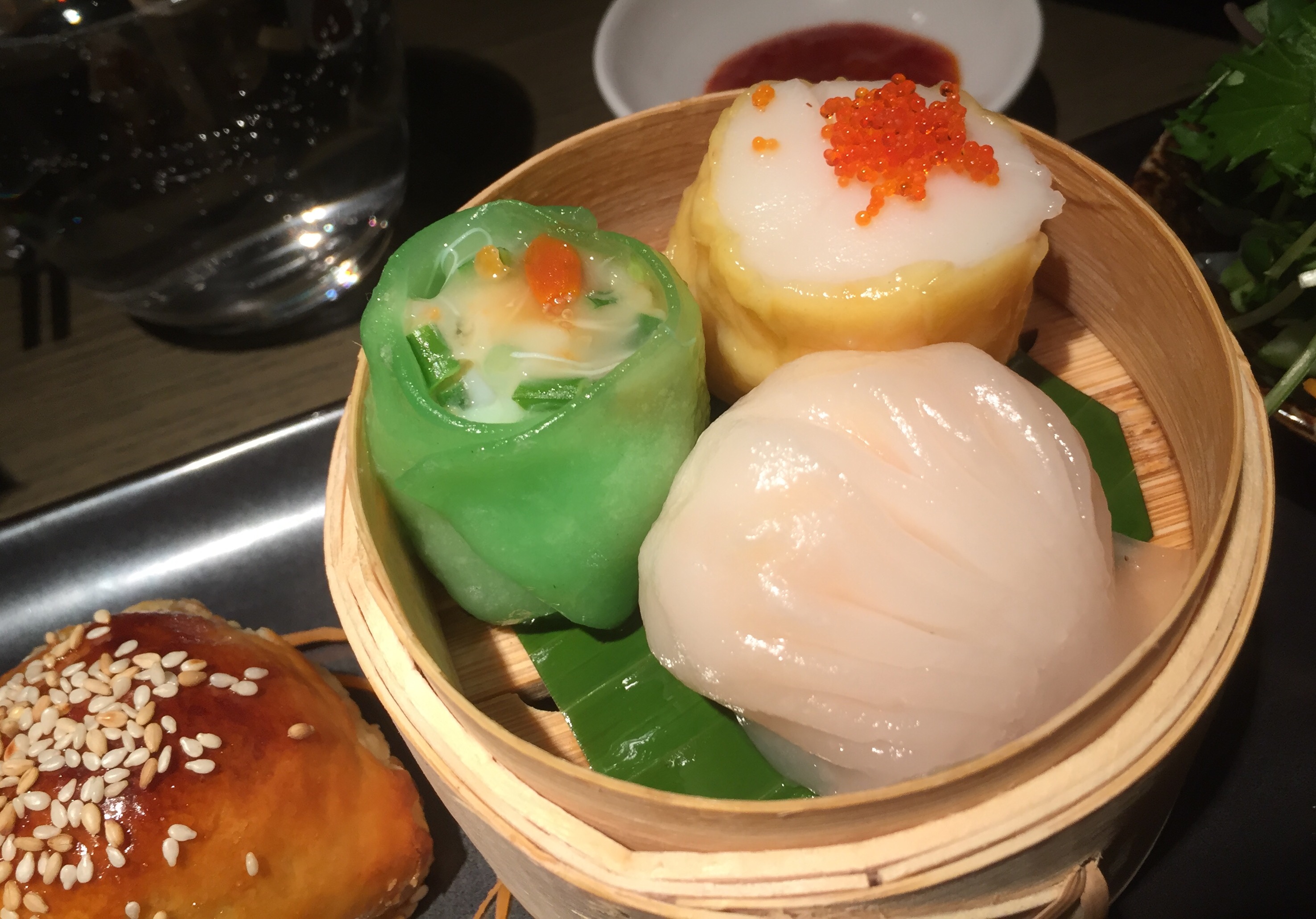 It wasn't long before our main courses arrived. We had opted to share the stir-fry Peking duck with chilli, baby leek, and onion, and the claypot chicken with sweet basil, spring onion, and chilli.
Both dishes came with a small side of rice, which was dished out before we got the chance to touch it! It always annoys me at restaurants when certain things are assumed based on gender. Whether this is the man being asked to taste the wine even if the woman was the one to order it, or the bill presented by default to the man, little things have the potential to annoy me in this respect.
Here, it was a case of assuming the man to have the bigger appetite, as Kyle was given an extra spoon or three of the rice (and it wasn't a big portion to begin with between two people).
The mains themselves were delicious, especially the claypot chicken. The chicken was so tender and succulent and the sauce clinging to the meat was extremely moreish and packed full of flavour.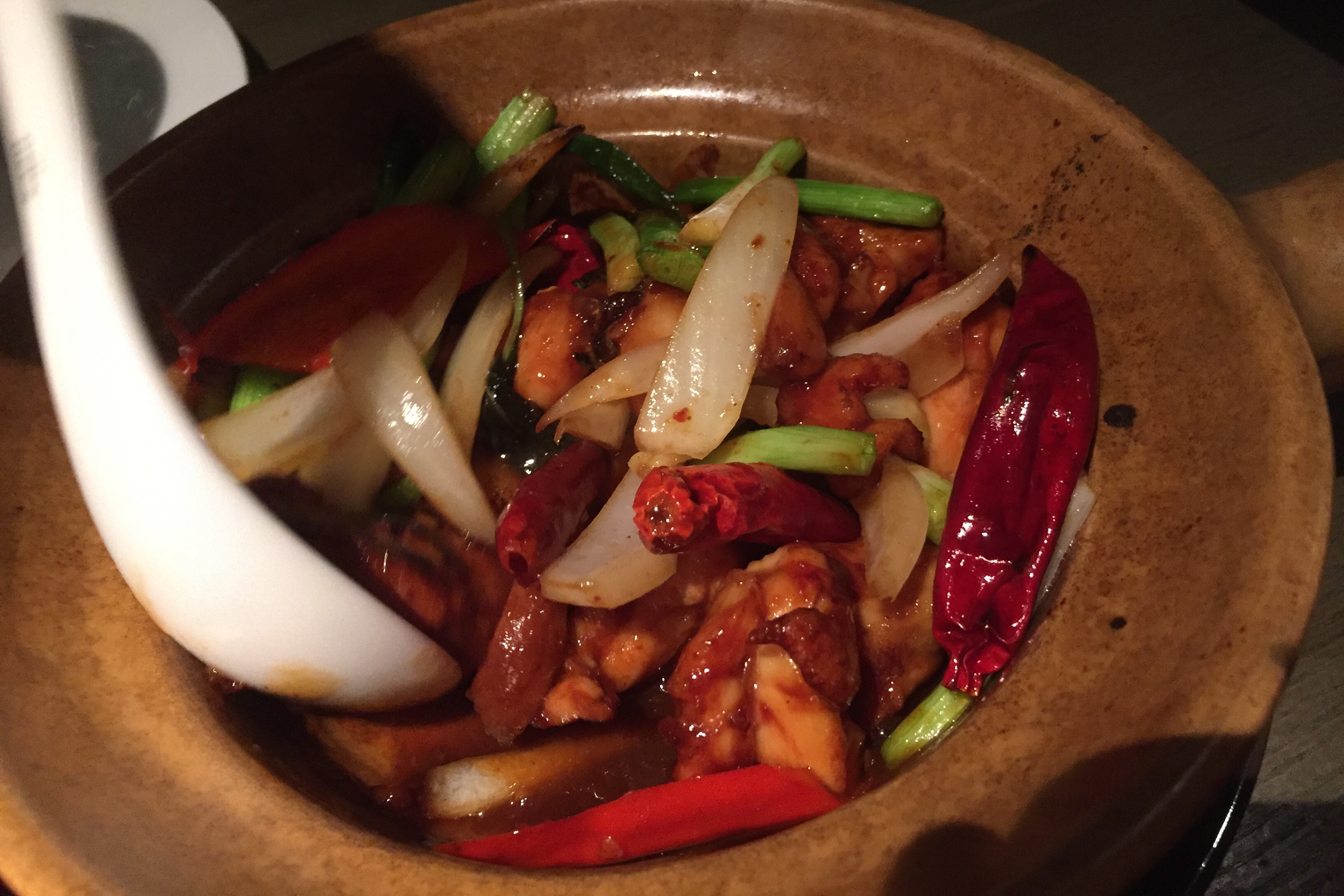 Likewise, the duck had a real kick to it without being overpowering. There was plenty of meat to share in both dishes, which made up for the rice issue!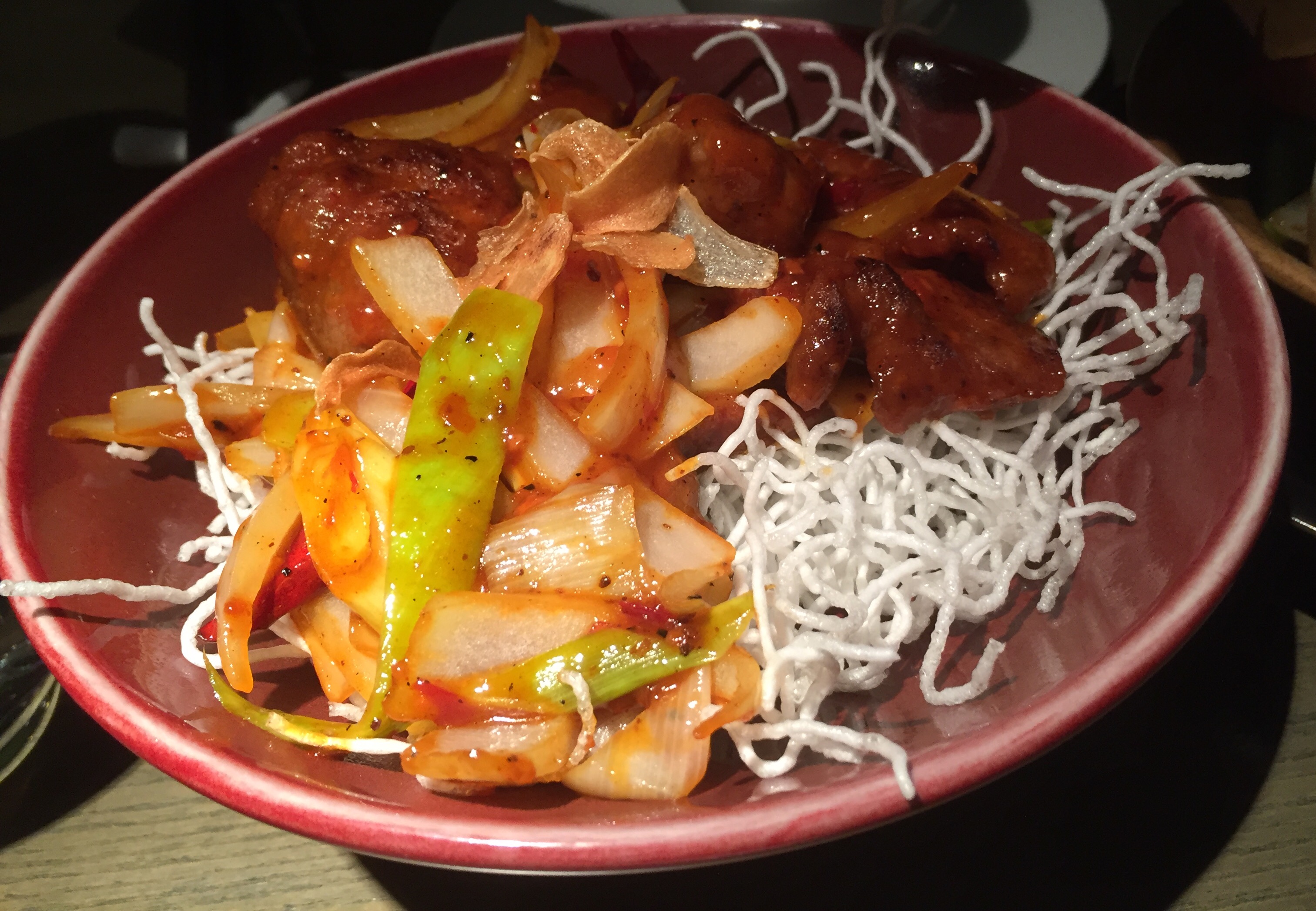 Both mains also came with a vegetable accompaniment, which was an interesting addition to the meal.
The only odd thing was that there was no real edge to the dishes to signal that the food here is Michelin starred. At T'ang Court, the dishes all had twists on them to hint at their status as something a little bit special. So, the roast duck came as deconstructed little squares of meat, fat, and crispy skin. The result was a real sight to behold and the taste experience was memorable. Here, the mains tasted sensational but weren't clever twists on classic dishes.
Moving onto pudding, we were feeling pretty full but there's always room for pudding if you want it! Luckily the Taste of Hakkasan menu allows a choice of three tempting desserts and we picked an apple tatin with vanilla ice cream, caramel, and calvados (me) and a Jivara bomb with milk chocolate, hazelnut praline, and rice krispies (Kyle).
The puddings were, surprisingly, a highlight of the meal for us. My apple tatin was sweet, rich, and decadent. The layers of apple and pastry were balanced beautifully by the sticky caramel and it really was a treat to behold.
Kyle's pudding was even more spectacular, as you can see from the photo below and it tasted as good as it looked.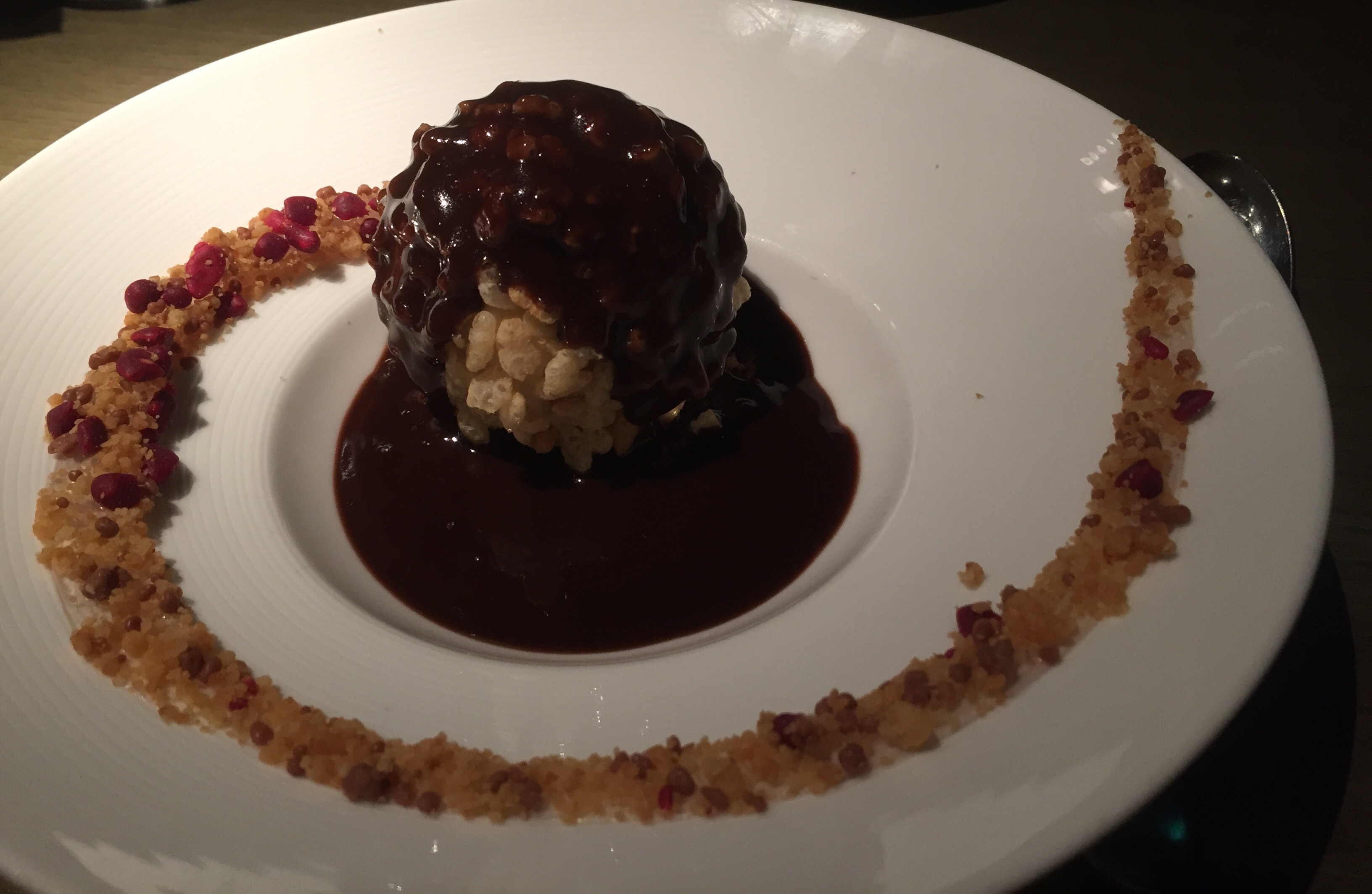 We ordered the bill and, after waiting a while for it to arrive, were disappointed to notice that we'd been charged for the two puddings, even though they were part of the Taste of Hakkasan £35 menu. This added around £16 to our bill so it was good that we had scrutinised it carefully.
The manager was very apologetic when we pointed out the error but again these are little things you hope not to experience when paying big money at Michelin starred venues.
Overall, we had a nice afternoon in Hakkasan fitting of a NYE celebratory meal. It's just a shame that the levels of service don't match the taste levels of the food.