We stumbled across Cheeky Chompers Neckerchews whilst looking around JoJo Maman Bebe for a baby Christmas outfit (read our tips for finding a cute outfit here!). It immediately drew our eye because our little one has been struggling at times recently with grumbling gums, making her dribbly and desperate for a good old chew on something – usually her fingers!
We've tried Sophie the giraffe with varied levels of success. I think she'll get more out of Sophie once she's a bit older and can hold Sophie herself and move the various poor old giraffe limbs to the bits of her mouth that need a good chomp, but at the moment Sophie tends to end up on the floor or at the bottom of the changing bag when you need it most.
Cheeky Chompers Neckerchews combine the necessity of a dribble bib with a teether on the end so you never lose it or drop it on a dirty floor! You can see from the picture below how the Neckerchew looks.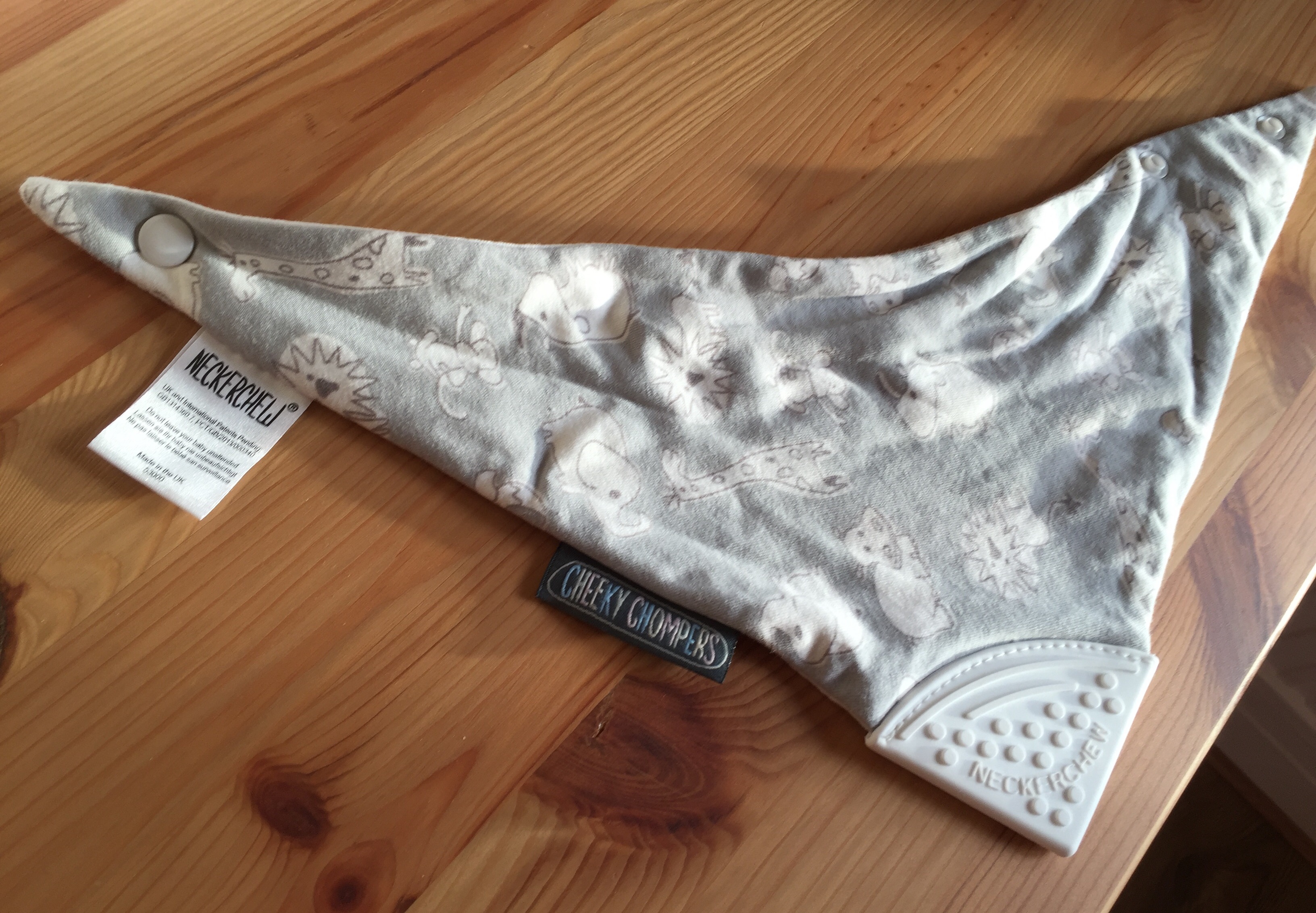 The bib itself is made of soft material and the chewy bit on the end is thick enough to provide a satisfying texture for a teething baby whilst being thin enough for a young baby to hold (unlike Sophie's thick legs!).
We think it's a great idea – one of those ideas that once you've heard about it you wonder why it took so long to hit the shops. The bibs look great and are easy to clean – just pop them in the wash.
Prices range from around the £9.99 mark to around £12.99, which isn't bad when you consider the individual prices of (good quality) dribble bibs and teething items like Sophie the giraffe.
So, thumbs up to Cheeky Chompers; our very own cheeky chomper likes them so much we've just invested in two more from Amazon (although you can buy them in the likes of Boots, JoJo Maman Bebe and directly from the Cheeky Chompers website).