Leeds should be a city with excellent Chinese food to be proud of. This wonderful city has such a fabulous array of great cuisines to boast about, ranging from jerky Jamaican, to indulgent Indian and amazing American. However, to some extent, our Chinatown has been badly decimated so that, in my opinion, only Ho's truly remains as an authentic choice for those craving a Chinese in Leeds.
Fear not, though, Chinese food fans! Maxi's may not be in Chinatown, its decor is not exactly 'tasteful' either inside or outside, and it's not an easy stroll from the city centre, but my God, the food is damn fine.
Having been tipped off about Maxi's by one of Charlotte's friends, we felt pretty excited as we navigated our way off the main Kirkstall Road to access the car park at Maxi's.
I cannot lie: my gut feeling from the look of the outside was not positive. In fact, the building looked like it had been adapted from a film set from the late 1980s about China! Adamant that we'd let the food do the talking, we headed in and were greeted by a truly enormous room full of happy diners.
Whilst I have read some reviews that slate the staff for being rude, we found them to be courteous and actually very attentive. They didn't take away our chopsticks or presume to know what our experience of Chinese food was, which represented a nice change from some places we've visited. As we sat down, the menu was presented to us and we noticed that it was surprisingly short for a Chinese restaurant, where you can often feel overwhelmed with choice.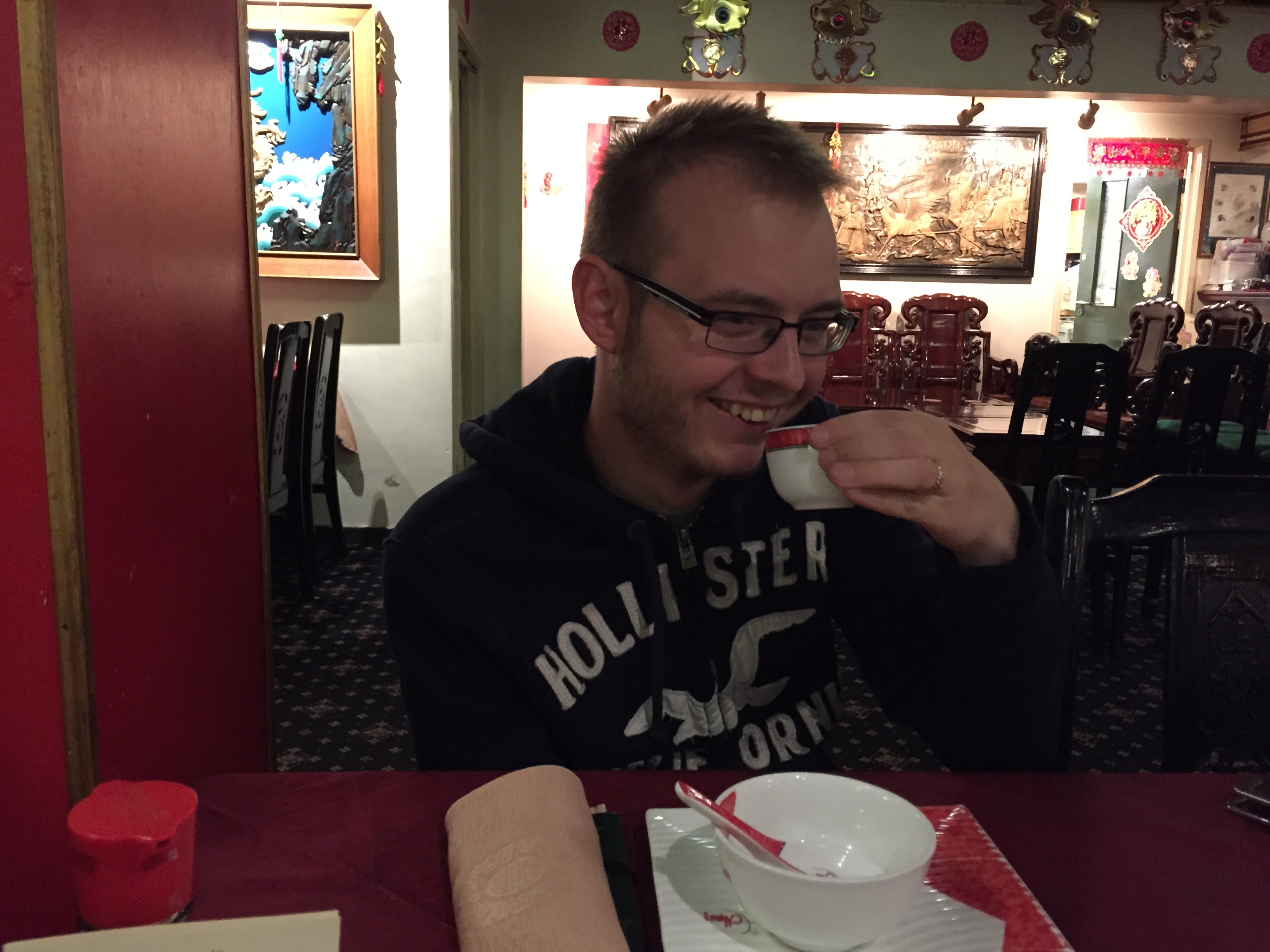 After a quick debate, we decided to be very unoriginal with our starters by sharing salt and pepper chicken wings and meat spring rolls. Sure, this was a bit of a cop-out, but it was a nice way for us to ease into the menu. When the dishes arrived they were delightful! The spring rolls in particular were a real find. Often you can find a terrible spring roll at a Chinese, with the rolls either flavourless or so greasy that you struggle to taste anything except the fat.
These spring rolls had a good crunch, and a really tasty filling. They were the perfect size as well, meaning that we could enjoy them without becoming too full! The salt and pepper chicken wings were lovely and spicy with a good kick really complementing the nicely cooked and battered chicken. All in all, this was a fine standard that had been set by the starters, whetting our appetites for the main dishes.
Whilst you could accuse us of being a bit boring on the starters, we really went for it when it came to the mains! I decided to order 'Frank's beef hot pot'. As it turned out, this was a typo on the menu and should have read 'Beef flank hot pot'..! Meanwhile, Charlotte went for a dish that we had not dared go near after tasting near perfection at Tang Court and Spring Deer: roast duck.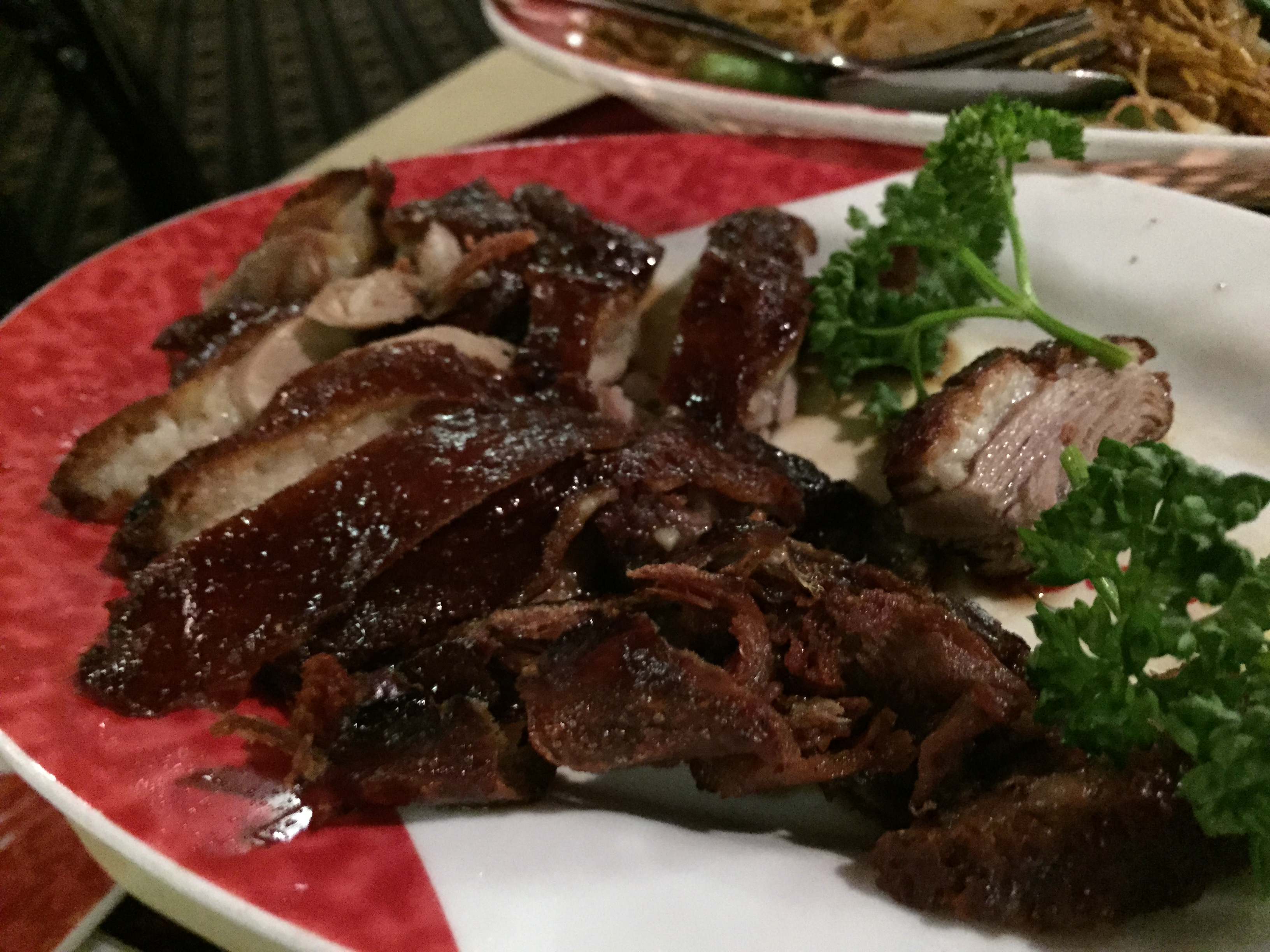 Of course, on top of this, we ordered some noodles and some egg fried rice. Charlotte was absolutely delighted by her roast duck. It had just the right amount of crispy skin, fat and meat per bite, and she was genuinely sad to finish the dish!
My beef flank hot pot was not quite what I had imagined! I had expected a big bowl of soup for me to throw a fair amount of beef into but instead I was presented with some beautifully braised beef flank that had been allowed to stew and marinate in a lovely sauce and then cooked for a decent amount of time with garlic, chilli, spring onion and a whole range of other spices and flavours. Whilst it was not what I had expected, it was certainly a really tasty dish.
One positive for me (although perhaps not for poor Charlotte who had to watch me eat!) was the relaxed atmosphere at Maxi's, meaning that I used my hands and chopsticks to really pick apart the flesh in my beef flank hot pot.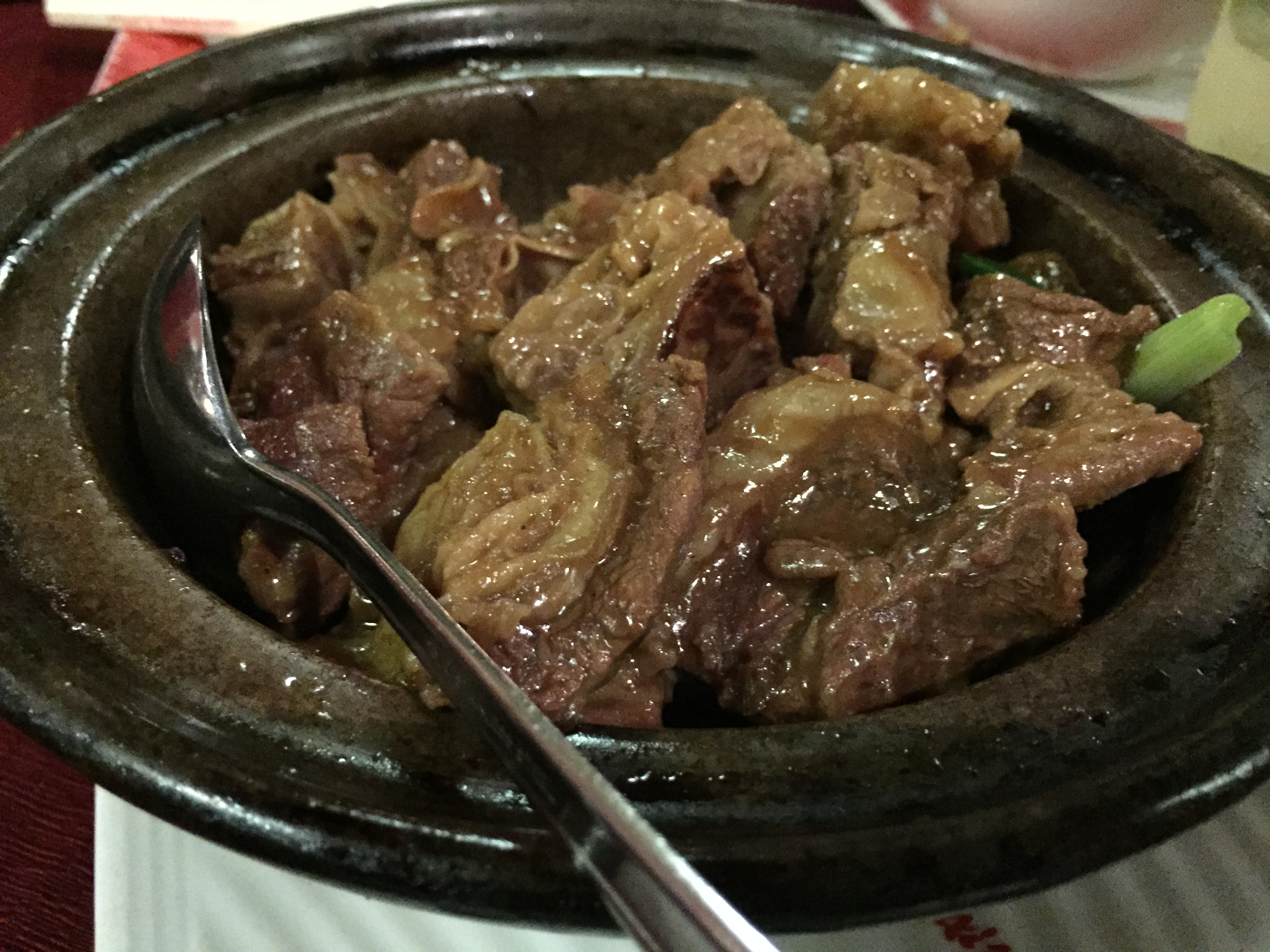 Sadly, we were a touch too full to entertain the idea of pudding and this adds to my feeling that we need to go back and explore more of the menu and eat more of the delicious food on offer at Maxi's.