Sometimes when you're baking, you want to do everything from scratch. I know that Kyle likes recipes that take a lot of time and demand a lot of care, but sometimes, I think there's nothing wrong with adding a few shortcuts into a recipe to save a bit of faffing around!
This week, I made Millionaire's shortbread for a charity bake sale at work, and decided that there were more important things to spend my life doing than making caramel from scratch!
I found a recipe online that struck exactly the right balance of care and attention, and a few cheats that made the baking experience far more manageable for an amateur like me. Here's how I made some of the tastiest Millionaire's shortbread I've ever eaten!
First of all, preheat your oven to 150C and line a square cake tin with baking paper. Combine 225g plain flour and 175g unsalted butter in a food processor (cheat number one!). Pulse for a few seconds until the mixture resembles fine breadcrumbs. Then, tip in 75g caster sugar and pulse the food processor again to combine.
Tip the mixture into the cake tin and spread it out with the back of a spoon. Then, use the back of your hand to compress the mixture. Pack it in tightly until it is fairly level and the shortbread mixture is compact. Shove the tin in the oven and leave it to bake for about half an hour. I ended up leaving mine in for about 40/45 minutes but just keep an eye on it; you want to be looking for a golden brown colour.
Take the shortbread out the oven and leave it to cool for a good 45 minutes to one hour. Whilst it's cooling, heat up 150g salted butter and a tin of condensed milk (cheat number two). I had never baked with condensed milk before but now I'm a huge fan, mainly because licking the tin and the spoon is a divine experience! Add in 100g golden syrup and wait for the butter to melt.
Once the liquid is smooth and smelling gorgeous, increase the heat and let it bubble away. Don't be scared of the mixture burning; just don't go crazy! Keep stirring frequently and the mixture will eventually thicken into a caramel. Set it aside to cool (this can take a while, so try not to do what I did by eating around a quarter of it while it's cooling) and, once completely cool, pour it over the shortbread.
Put the shortbread and caramel to one side and melt 350g dark chocolate (I actually used half dark and half milk) in a bowl over a pan of boiling water. Stir it until the chocolate has almost melted and then remove from the heat. The rest of the chocolate should melt on its own without risking burning.
Then, all you need to do is pour the melted chocolate over the caramel and put it in the fridge for about an hour to let it all set.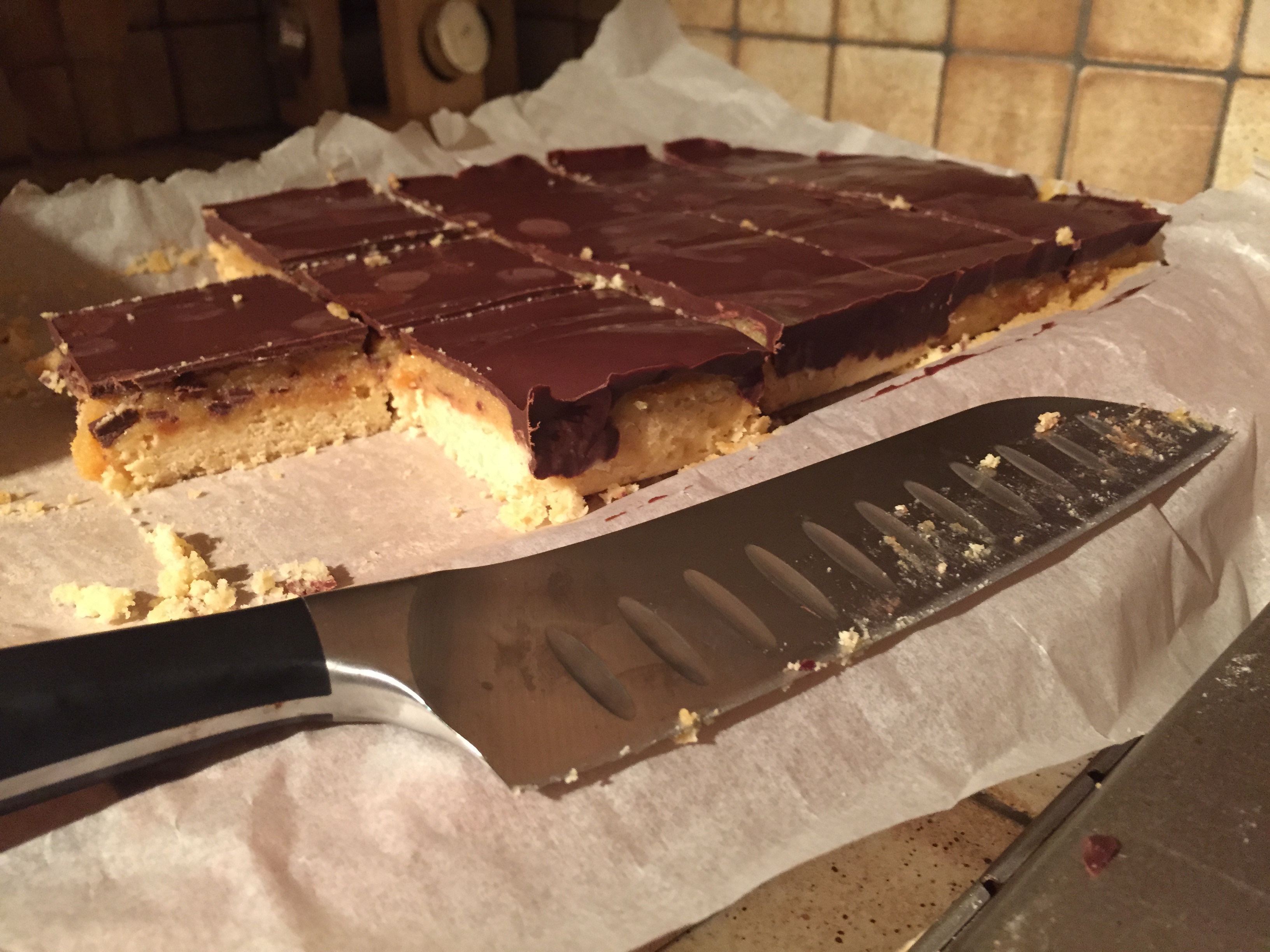 The result is fantastic and you won't have spent your entire evening slaving away making caramel from scratch to achieve a great result!