Caroline writes about her favourite Keith Floyd recipe…
Twenty odd years ago I bought a second hand copy of Keith Floyd's book, Floyd on Spain. The front page had a handwritten message "To Catherine on your 25th birthday from Mum and Dad". Catherine was obviously unimpressed by her parents' attempts to get her into the kitchen because the book had only been published the previous year and was in pristine condition! Catherine's loss was my gain and the book now has all the hallmarks of a favourite cookbook: dog-eared pages and random splodges of unidentifiable ingredients.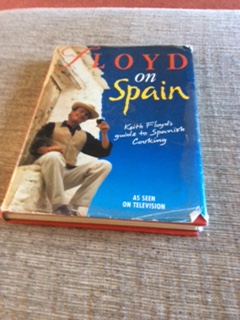 One recipe which I have made over and over again is Floyd's Spiced Lamb or Tafalla Blanca to give it its Spanish name. For any budding Spanish linguists wondering why the word "Tafalla"is used for lamb rather than the usual "cordero", it transpires that Tafalla is actually a town near Pamplona, which is presumably where the dish originates.
Here's what to do:
1) Heat a generous splash of olive oil in a large frying pan and add a bay leaf, a large chopped onion and a whole garlic bulb (divided into individual cloves but not peeled).
2) Cook until the onion is translucent which takes about 5 mins.
3) Add a kilo of lamb neck fillet cut into decent sized chunks. Floyd suggests using a boned shoulder and using the bone to give extra flavour but personally I prefer the fillet, to save making a special trip to the butcher.
4) Cook the lamb over a high heat for 15 mins and then add a large glass of dry white wine. Let it bubble away for a few minutes to get rid of the alcohol. I feel sure that Floyd would have poured himself a glass at this stage but that's optional!
5) Add about 700ml of water so that the lamb is covered.
6) If you have a lamb bone add that at this stage but if you don't then dissolve one and a half lamb stock cubes in a tiny bit of boiling water and add.
7) Make a little muslin bag and put in the following spices: 1 cinnamon stick, 2 teaspoons ground cumin, 2 teaspoons ground coriander, 1 teaspoon nutmeg and 1 teaspoon ground ginger. (I have to confess that the only time I have ever possessed muslin was when my children were babies and you definitely would not want said muslin going anywhere near your dinner. If this is the same for you or if life's too short for making little bags, just chuck the spices into the pan!). Whether you remove the cinnamon stick and the bay leaf is up to you.
8) Season with black pepper and a little salt, although you may find that the addition of the stock cubes makes the dish salty enough.
9) Bring to the boil and then simmer for two hours.
10) Add 100g of flaked almonds which you can fry first in butter if you wish (Floyd does but with a nod to healthy eating I don't!)
11) Thicken the sauce with cornflour blended with a little cold water.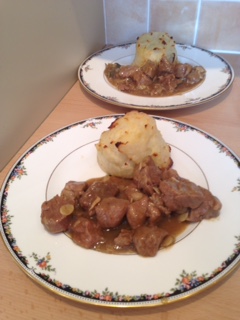 Served with a carefully crafted mound of mashed potato (which I top with a drizzle of olive oil and brown in the oven) the melt in the mouth lamb and unctuous sauce never fail to receive compliments.