Having had the pleasure of receiving the Roast cookbook for Christmas (a meat lover's cookbook given to me by my vegetarian father!), I hadn't had the chance to try out any of the recipes until now. That's not to say that they are overly complicated, particularly expensive to make, or even hugely time consuming.
The main issue with the recipes is that you want to do justice to them and Marcus Verberne because they are such flavourful and well crafted dishes. For this reason, I waited until I had a nice clear evening before deciding to attempt a dish that is, according to the cookbook, one of the restaurant's most popular: slow roasted pork belly with Bramely apple sauce and mashed potatoes.
Charlotte and I have always loved pork belly. A great value cut of meat that really packs a punch and can be made to melt in the mouth if done well, sometimes nothing beats it. Add to that the bonus of the crackling and the fact that one of our cats (Mog) has a real penchant for pork belly and you can see why it goes down well with the whole family!
I was inspired to try this particular Roast recipe because the stuffing of the belly sounded interesting and also because nothing I had cooked before required me to pour a kettle full of boiling water over a joint of meat!
Ingredients and preparation-wise, the dish is not particularly difficult and the key thing for me would be to make sure you pick the challenge you want. As we only had an evening to play with, we used Bisto and shop bought Bramely apple sauce but you can go the whole hog and make these elements yourself according to the full recipe if you want a bit of extra pressure or fancy improving your sauce and gravy making skills.
Whatever you do, it is worth noting that the book suggests this is a dish for eight people, so unless you are having a feast, you really need to make sure you scale down your amounts!
After prepping the carrots, celery, garlic and picking the sage from our herb garden, it was time to get on with one of my favourite jobs of getting the joint of meat ready. I had a bit of a fail in that, trying to score the pork, I didn't really have a sharp enough knife and I think the suggestion of using a Stanley knife (alas I didn't have one) would be a good tip to follow if you are looking to maximise the level of cracking you can achieve.
Getting the sage and garlic into the pork was an enjoyable process but I did need Charlotte's steady hands to help ensure that I managed to get the joint tied up again properly. All in all, this level of preparation was not particularly challenging and means you could still have a conversation with your other half while getting tea ready!
The next stage of the dish was an enjoyable one. After boiling the kettle, I placed our neatly rolled belly onto our roasting rack and proceeded to sear the entire belly. This is meant to help open up the pores, allowing salt and heat to penetrate more and produce a more flavourful dish. While it may sound like a faff, this really was a step I would now use for any pork belly dish. The end result was the best crackling I have ever made.
After patting down the belly and then rubbing it with vegetable oil and salt, it was popped into the oven on a roasting rack in the roasting tin (again it was all to aid the crackling!) and then left for about 30 minutes (we only had a joint big enough for the two of us).
While this was going on we sat back, had a herbal tea (how very middle class of us!) and then peeled and boiled a few maris piper spuds in preparation for the mashed potato. Again, for those of you with families or who are entertaining this kind of pause and lack of intensity really can help you prepare a great meal whilst still being a part of any conversation!
With the halfway point of the roast reached and the crackling already looking golden and beautiful, it was time to turn the belly down and then crack on with throwing into the base of the pan the veg I had chopped up earlier, also letting Charlotte finish off her magic mash potato.
Half an hour later and, hey presto, it's done. We let the belly rest for a few minutes but we could have left it for longer so it really is about your personal taste in this regard.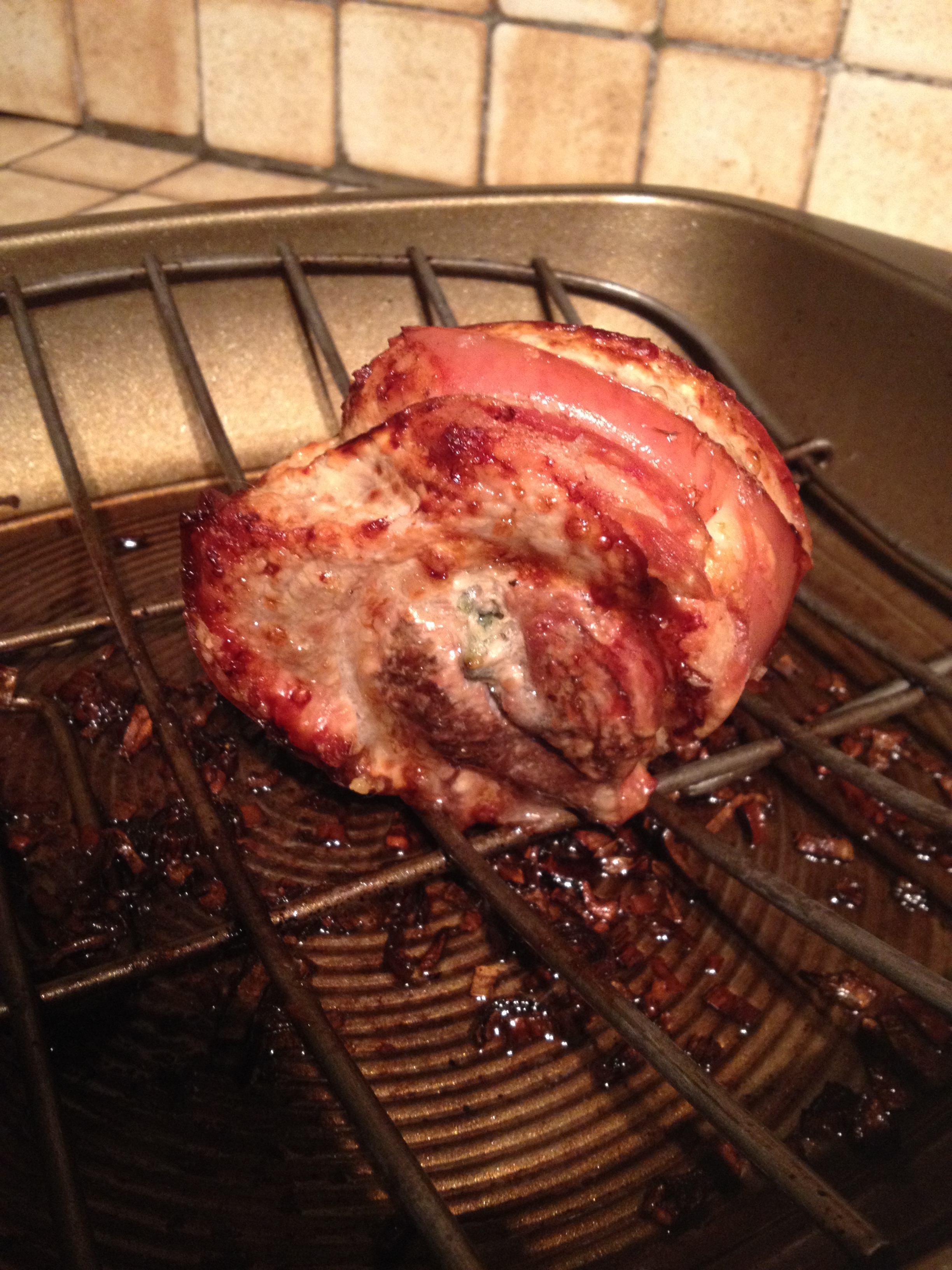 The dish itself was packed full of flavour. The garlic and sage shone through, the actual contrast between the crackling and the silky mash was divine and the pork mixed with Bramley apple sauce is a pretty unbeatable combination. Given the cost, the time taken, and the end result, this dish for me was a real winner. I would make it again in a heartbeat and it has inspired me to book a trip to Roast in London next weekend, which I shall be blogging about very soon!