Portugal may not be associated with haute cuisine but every time we visit we come home with fond memories of the tasty food that we've eaten and the remarkably low prices charged, even in the capital.
Here are some of our favourites:
Gambas al ajillo
I have a confession to make: we had prawns with garlic as a starter on each of the four nights of our recent trip to Lisbon and Evora – unoriginal, I know, but when you find something you love….
It's a dish that you'll find in many restaurants in Portugal; some serve the prawns peeled, some whole, some with more or less red chilli, some with or without flat leaf parsley. However it's done, make sure you order plenty of bread to soak up all the tasty olive oil.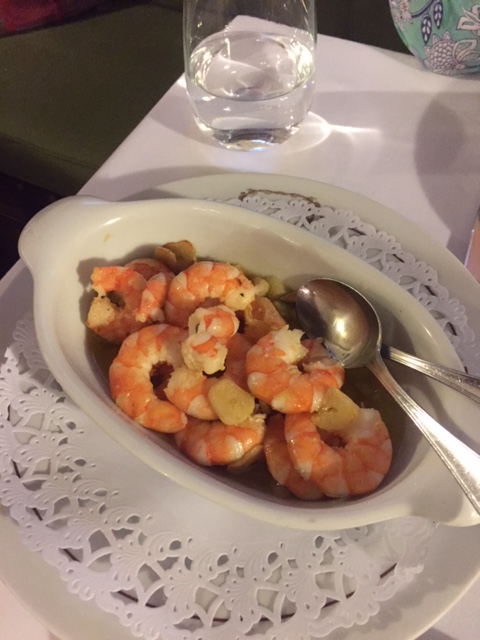 Arroz com marisco

This dish of rice with shellfish is nothing like a paella, which is what I was expecting when I first ordered it. Instead it is a much "soupier" dish and contains a variety of shellfish including prawns, clams, mussels and lobster. Many restaurants will only cook it for a minimum of two people so choose who you dine with carefully!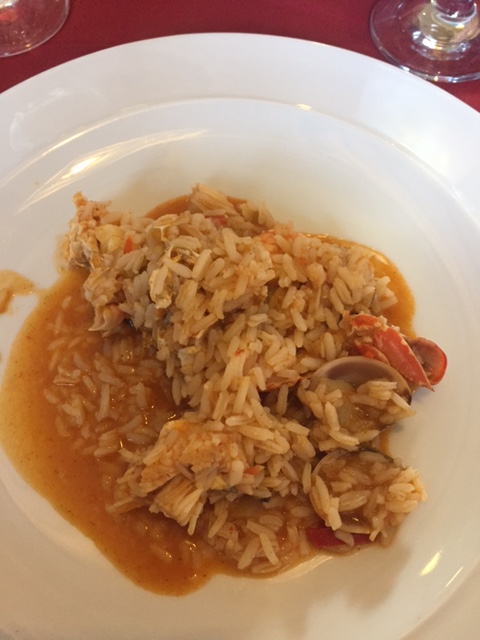 Scallops with mango salsa
The shellfish theme continues at the Sea Me restaurant up in the Chiado area of Lisbon. As you can see from the picture beneath, the seafood lover is spoilt for choice by the array on offer!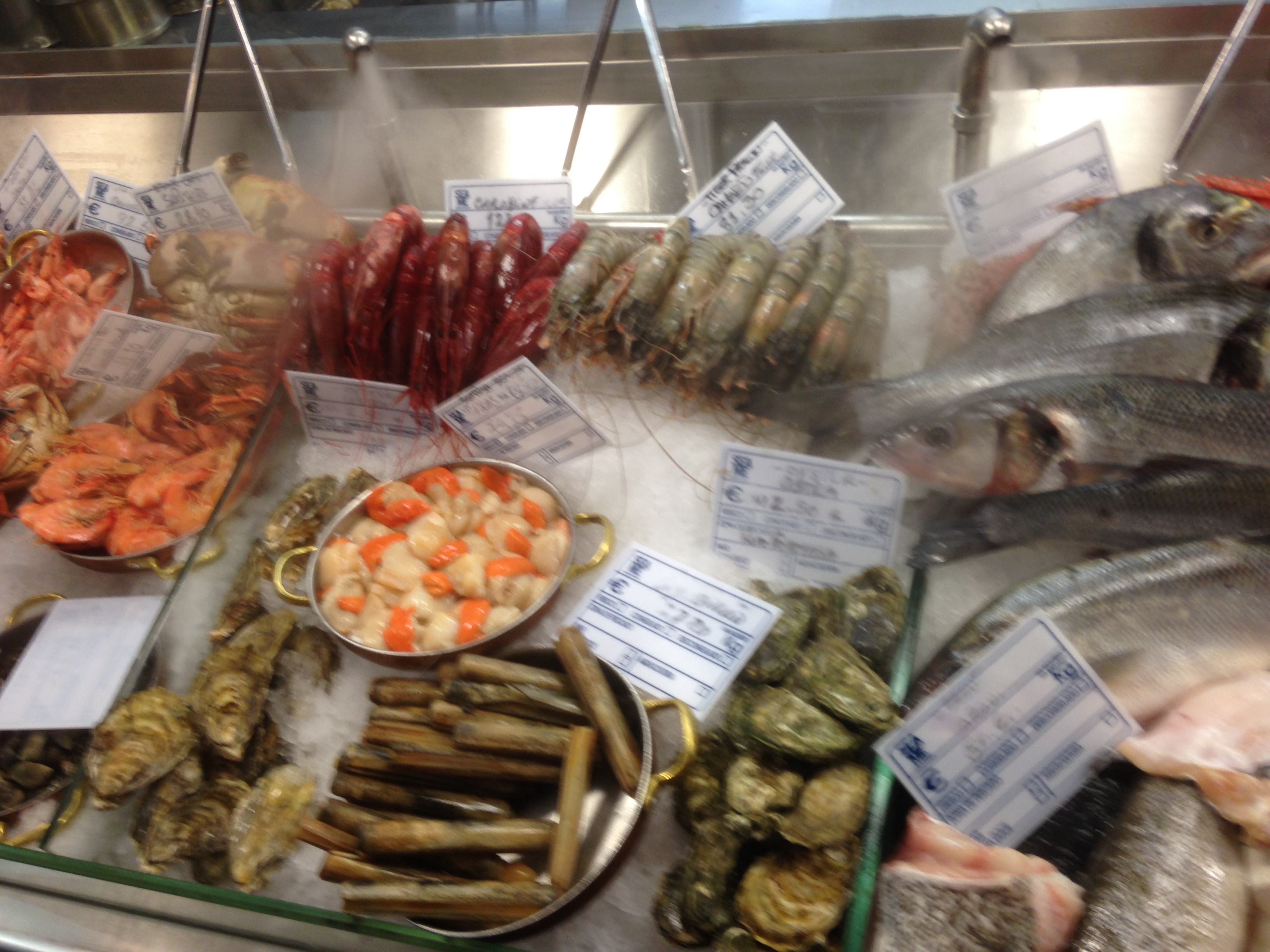 We were bowled over by the scallops which we ordered as a starter. They were cooked to perfection which is in itself quite a fine call: cooked slightly too long they can become rubbery and under-cooked they taste gelatinous – and we've had both in restaurants at home! These plump scallops were simply cooked and served with a delicious mango salsa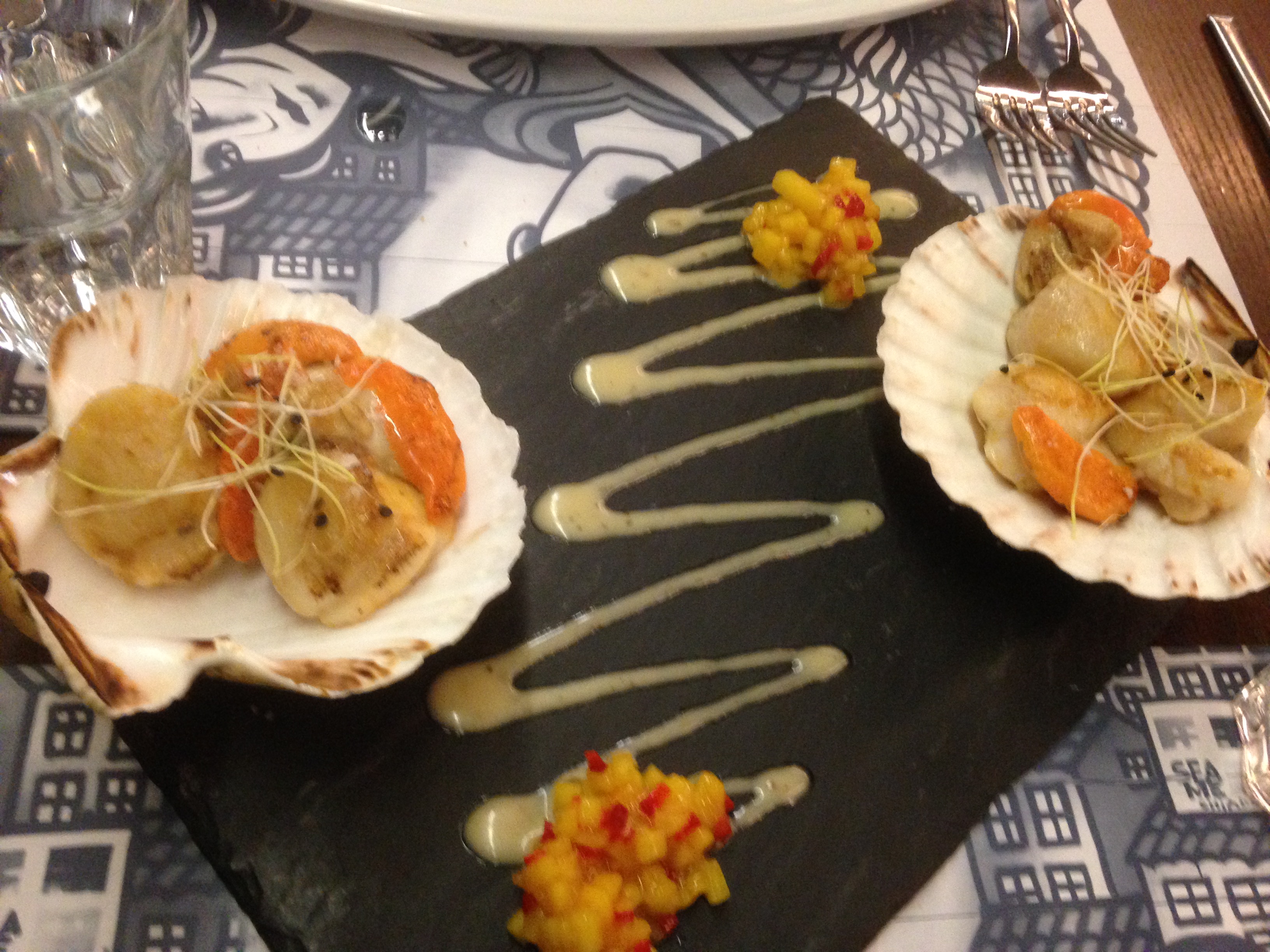 Pork with clams

We've eaten this dish many times in Cascais but knowing it originates in the Alentejo region we couldn't resist trying it in Evora and it didn't disappoint. Meat with shellfish might sound an odd combination but it's really delicious, with the pork taking on the flavours of wine, paprika, garlic and coriander, and the clams added towards the end of the cooking process adding a taste of the sea.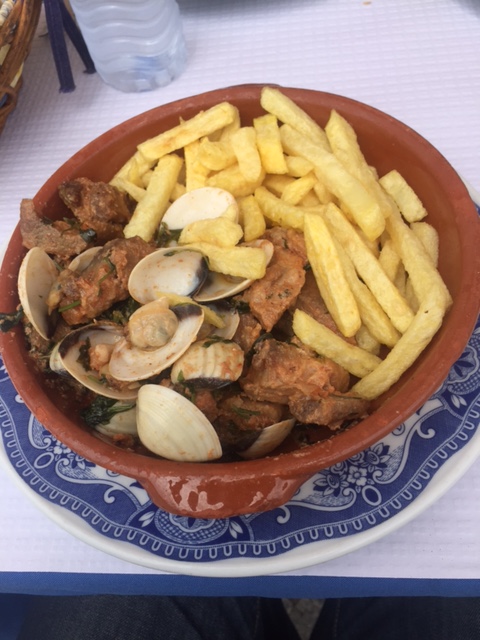 Pasteis de nata

The really famous place to buy these delicious custard tarts sprinkled with cinnamon is a shop in Belem and as we passed it on the tram the other day we couldn't believe the length of the queue. It's little wonder that they're said to sell 20,000 a day. It all looked pretty chaotic to us and we chose to satisfy our pasteis desires this holiday at Evora's Pastelaria Conventual Pao de Rala bakery, extremely popular with local residents.