Turtle Bay has been a popular addition to the Leeds food scene since opening. We love that the chain has introduced accessible Caribbean cuisine to diners who may never have tried it before, and the big bold flavours running through their menu have kept us coming back over the months since its launch.
Last weekend, though, we popped in to review their Little Turtles offering to see what they have to keep the little ones happy throughout the dining experience.
Let's start with the atmosphere. There's plenty of hustle and bustle going on to keep your little ones – if they like being nosy – entertained, and the bright colours splashed across the walls and the interior decor is a treat for little ones' eyes. You won't feel uncomfortable bringing your kids in here, even though Turtle Bay is a big draw with groups of friends (although, thankfully, not welcoming to hen or stag groups) and those who enjoy a post-work cocktail.
Next up, bridging the gap between ordering and eating. Our little girl is just about getting to the age where she's interested in crayons and activity books, and the Turtle Bay activity book is pretty good.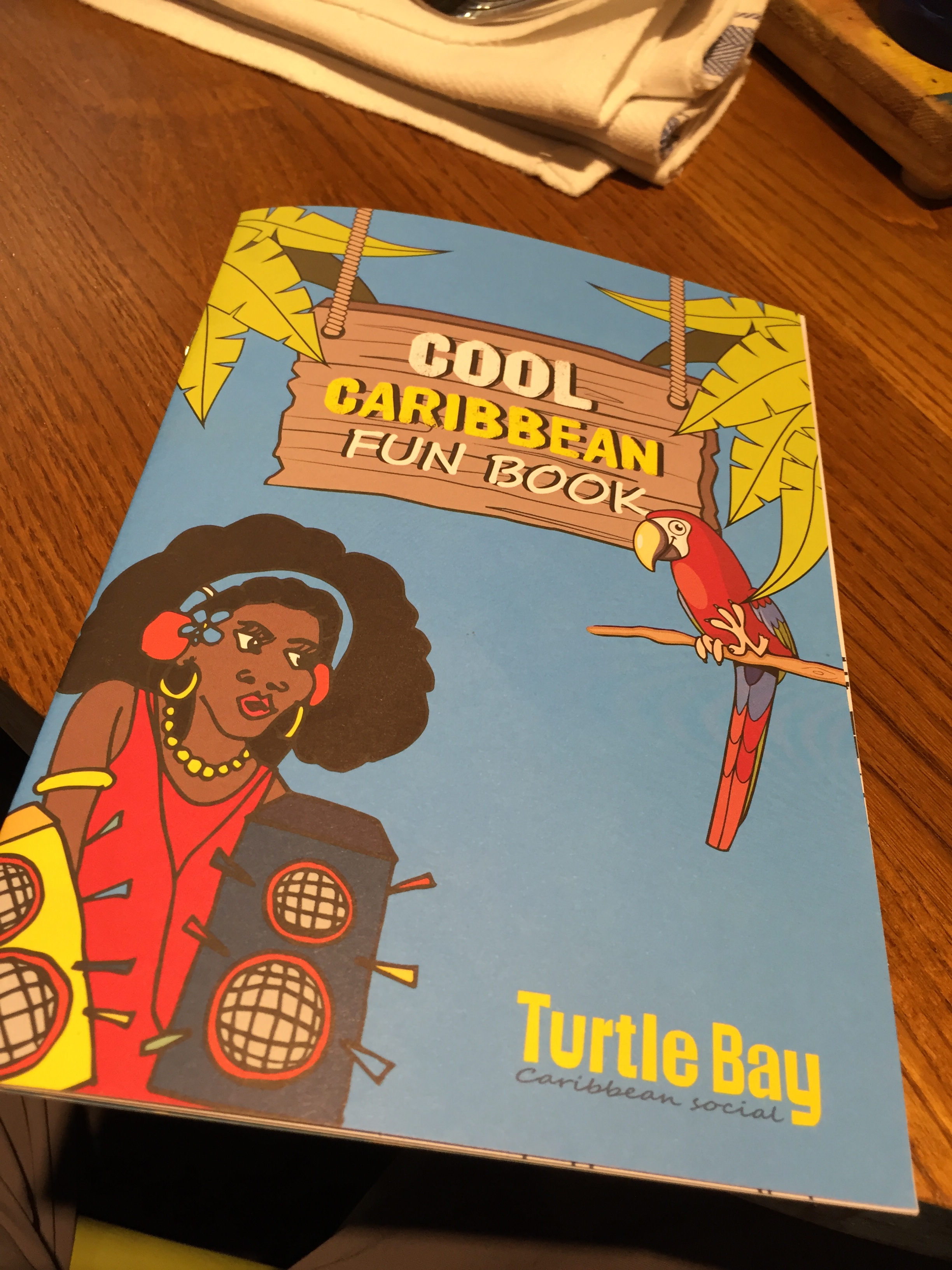 It'll be ideal for her in a few years but for now the crayons and the colouring page in particular kept her entertained as she enjoyed scribbling the different colours across the page, filled with exotic images of moneys, parrots, and palm trees!
And so on to the most important element of any kid-focused restaurant review: the food! The Little Turtles menu mixes accessible options found on most kids' menus, like hamburgers and cheeseburgers, with slightly more experimental options like chicken flatbread, which we ordered alongside a portion of rice and peas for our little girl.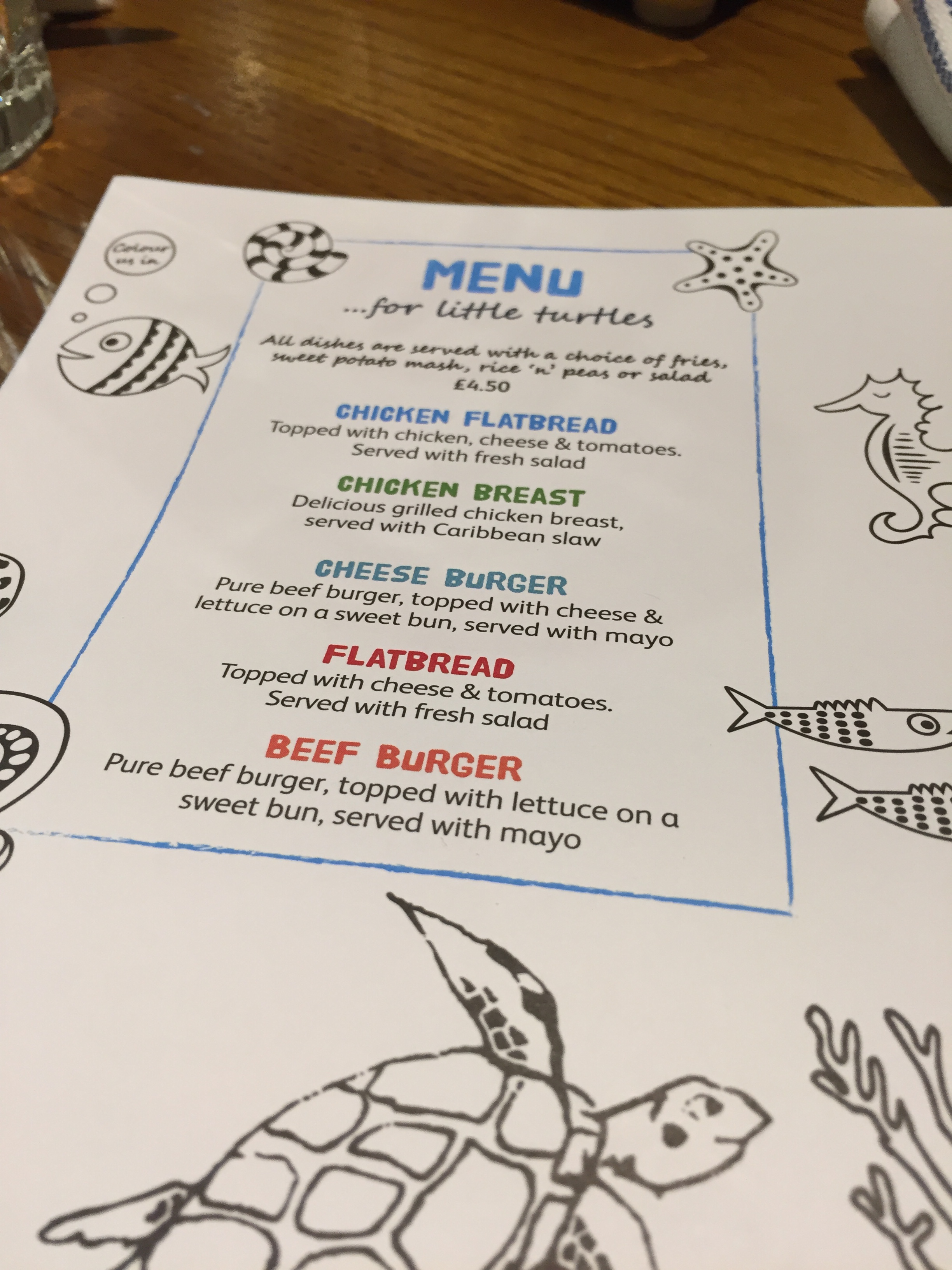 The flatbread looked a lot like a pizza when it turned up, but it was far healthier and packed full of fresh flavours. We actually tried some of this for ourselves and it was really nice! The rice and peas was always going to be a hit with our little one, and the huge portion size was wolfed down by her in impressive time.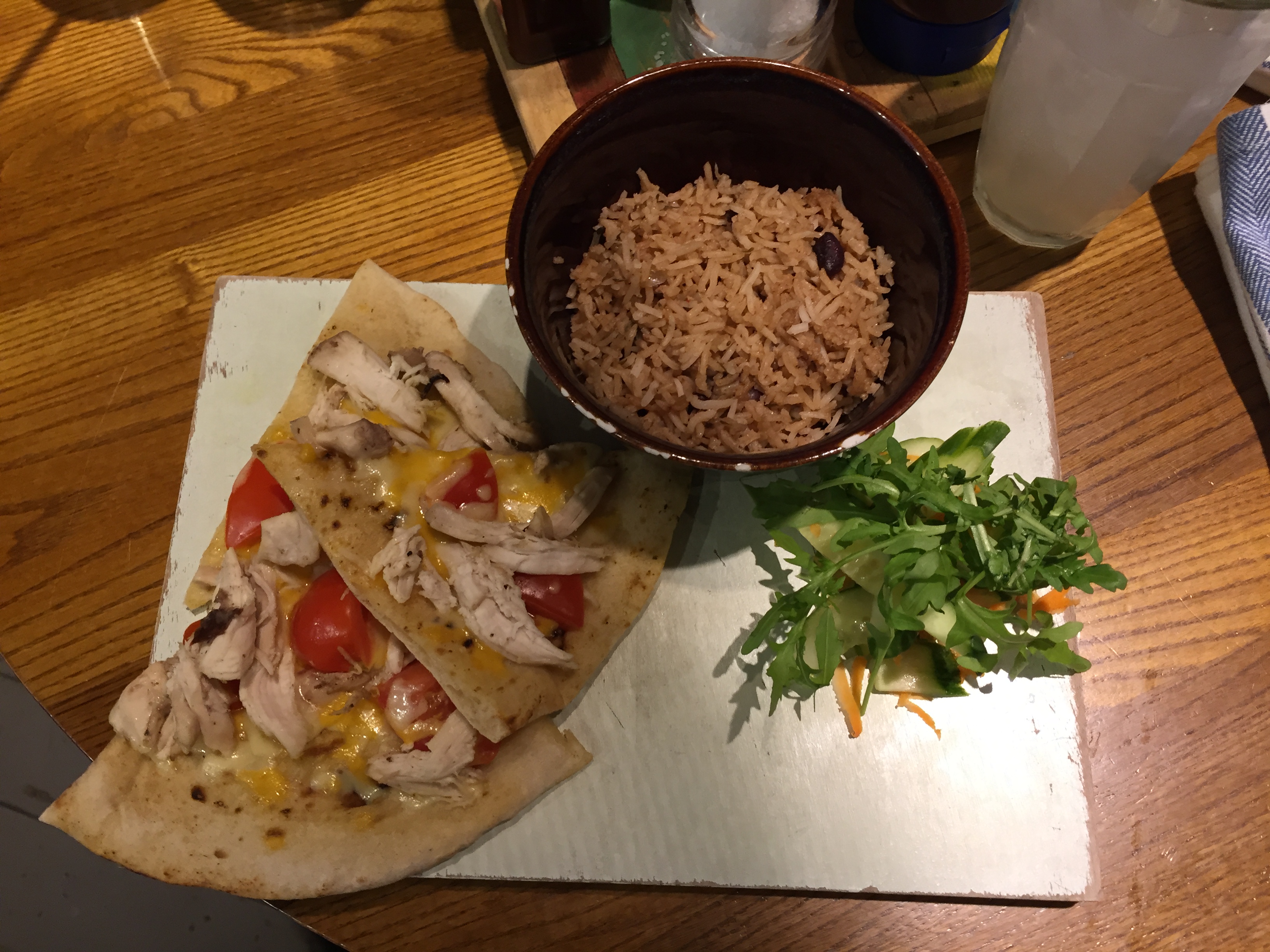 One thing to note: it may sound random but whatever you order for your little one, get them a side of plantain (from the adult menu). This sweet fried treat is divine from an adult's perspective (trust me) but also seems to be a huge hit with little ones.
Our little girl would be annoyed with us were we not to mention the coconut ice cream! We ordered some for her thinking she would only eat one of the three scoops served, but how wrong we were. We sat in amazement (and shock) as she finished almost the whole bowl. There was no compromising on flavour here, the coconut aroma from the ice cream spread across the whole table and it was delicious.
Turtle Bay is fantastic for adults (a shout-out again to the jerk belly pork and the AMAZING rum cake with rum caramel sauce – we could eat 10 portions of this every day and never get bored of it!) but also, as you can hopefully see here, a fantastic option for kids. We'll be back – even if just because we've been dragged there by a certain someone demanding another coconut ice cream fix!