Today's post comes courtesy of our good friends Asha and Chris, who stayed at the Highfield Hotel in Keswick. Here's what they had to say about their stay…
Tucked away slightly from the hustle and bustle of the centre of Keswick (but still on a main drag of lots of hotels and B&B accommodation), the sophisticated Highfield Hotel offers an opportunity to relax with a panoramic view from the communal lounge and restaurant areas towards the mountains.
The street in front of the hotel is popular for parking as the location is set equidistant from the main town and the lake (and a big golf course!), giving options for walking easily to either, and, since there's thankfully a car park for guests, you can take advantage of the location.
Walking up a small hill to the front entrance, you go past the lovely front garden set up with tables and chairs to enjoy drinks and canapes in the sunshine and admire the distant peaks. We enjoyed dinner in the dining room that evening with similar views.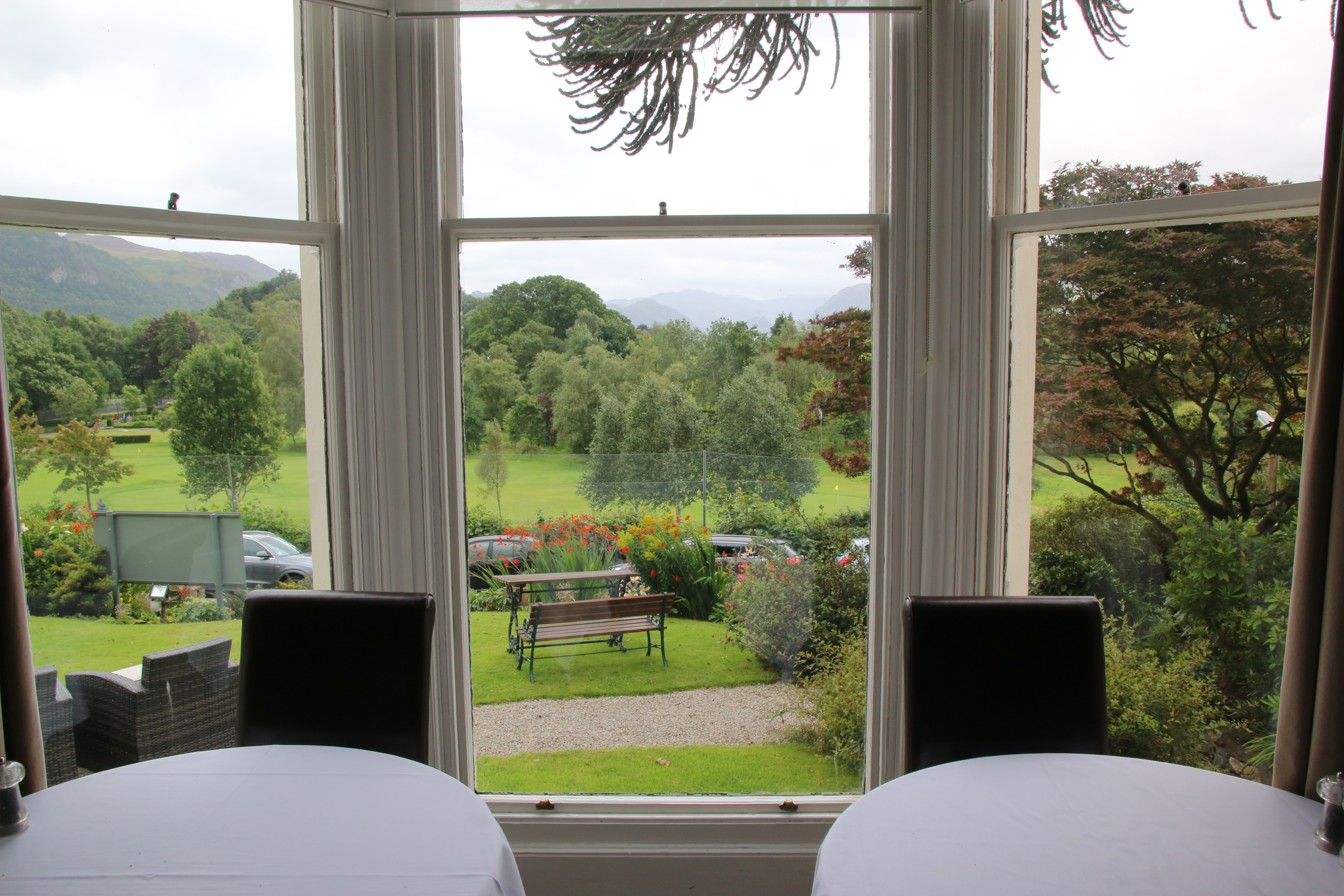 We had an extremely spacious room – The Woodford – for our stay, with a regal appearance, boasting a comfy king-sized bed and raised seating area. The suite had a large wardrobe at the entrance to the room, as well as a full-sized dressing table area with mirror. We had a very large bathroom too, complete with free-standing bath and walk-in shower; covering off all bases. There was also a selection of nice toiletries for our stay.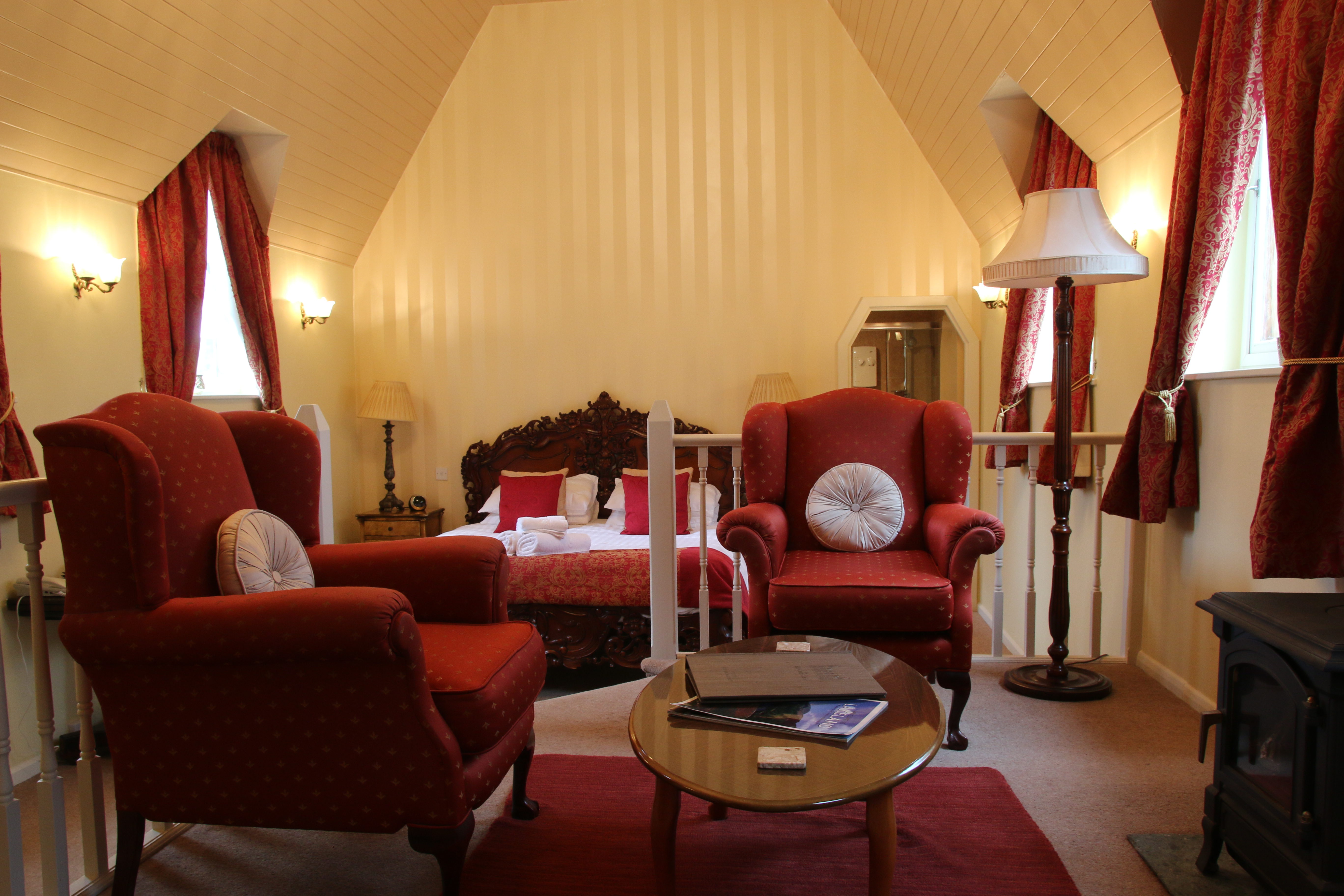 The hotel also supplies 3D glasses and DVDs for use on the TV in the seating area, great for a quiet night in opportunity, if you're staying in the suite.
Dinner comes with the option of two or four courses, plus canapes beforehand, and is included in the hotel cost (but non-residents can dine there too).
We shared our starters; a delicious grilled scallop and king prawn dish and a cold duck breast salad with a very unusual remoulade; think a cross between coleslaw and coronation chicken! This was followed by a rather generous sized portion of a palate-cleansing lemon sorbet.
For the main course, I ordered the pan-fried salmon with a crab and seafood risotto; it was very light and summery, and well-seasoned. Asha had a melt-in-the-mouth end of fillet slice of beef with truffled mashed potatoes and a selection of vegetables. Again, the portion sizes were on the large size (but I'm sure would be gratefully received after a proper day's walking in the Lakes!).
We, of course, had to finish with a dessert to complete the evening. I had the rhubarb and apple cheesecake, while Asha enjoyed the white chocolate panna cotta with strawberry coulis; our only slight criticism would be that maybe Asha's dessert needed a bit more sharpness to balance it out; perhaps raspberries over strawberries would've worked better.
Overall, we had very warm and friendly service and the food was very good; they took your order in the lounge before you were seated, so actually the whole process ran very smoothly, without you feeling rushed at any point.
After a rather filling dinner, we decided to make the most of the spacious lounge area in our room and enjoyed a post-dinner aperitif while watching the Olympics; there really are few ways better to enjoy a Saturday night than that!
In keeping with our dinner the night before, breakfast was a generous affair. There was a good choice of cereals, fruits and yogurts to start followed by wide range of hot options, including a full Cumbrian breakfast or even Craster kippers. I fancied a light breakfast, so chose the smoked salmon with scrambled egg; it was, rather unusually, served on a crumpet rather than toast, so I really wasn't over-full afterwards. Meanwhile, Asha opted for a rather hefty vegetarian breakfast with a very generous portion of mushrooms (much to her delight!).
All in all, we had a fantastic stay at Highfield Hotel and couldn't fault, in particular, its staff and its location. Our room was beautiful and extremely comfortable, setting us up for a very enjoyable day of exploring the northern Lakes on the Sunday before heading back across the Pennines to Yorkshire.