When we were offered the chance to review Banyan Bar & Kitchen in Harrogate we quickly realised (after a moment or two on Google!) that Banyan Bar & Kitchen is part of the Arc group of restaurants/bars that includes some hits (The Pit) and some – in our opinion at least – relative misses (Kobe in Horsforth).
Banyan Bar & Kitchen has just undergone a huge refurbishment in Harrogate, so we were excited to see if this upgraded eatery would offer us the foodie delights (or at least the greed factor!) boasted by The Pit rather than the slightly too diverse menu that Kobe offers. The menu is rather all encompassing, with pasta, burgers, risotto, and curry all included on the menu via a few other detours, so we were slightly worried this was going to be a case of too much choice and not enough focus. However, we were fortunately proved wrong.
Despite appearances to the contrary from the outside, the restaurant is spacious inside and has a good mix of tables for having a drink and seating areas for people to sit down to have a proper meal. When we arrived we were unable to get a seat at one of the tables but the staff were very good at keeping us informed about our progress before leading us towards one suitable for enjoying a meal. This process didn't take long, our bottle of fizzy water that we ordered was promptly brought to us, and everything was moved swiftly to the other table on our behalf, including our pram that we were (correctly) advised wouldn't fit in the space we were initially allocated.
The tables were perhaps a touch too close to one another given the family-focused nature of the food corner we were sat in. Despite this slight negative, the high chair we were offered was fine for our 6 month old little one (with a few jumpers shoved down the back) and we could see it being fine for older babies as well.
In terms of the food on offer, we opted to share a starter of crispy duck spring rolls, always one of our favourite starters to nibble on. The two spring rolls we were given were indeed crispy and had an aromatic flavour to them (spiced up a little with the oriental dipping sauce) but I cannot be entirely complimentary about them on the basis that this is a restaurant that is largely marketed to be affordable for families yet charges £6.50 for two spring rolls. In my eyes, this is steep; I would expect some kind of lobster or fillet steak element in my spring rolls to pay £6.50 for two!
Moving on swiftly, we were looking forward to seeing what our mains were like as we had opted for two very different choices. I had ordered a chicken skewer while Charlotte had gone for the Crossfit Leeds Burger, inspired by Leeds' own Mike Rawlinson. Both these dishes came suitably served for us to continue our baby led weaning for our little one and anyone who is doing BLW would be well advised to go for a skewer!
In my opinion, my skewer compared favourably to a few I have eaten recently at the likes of Cabana. Mainly this was because the food actually came on the skewer (!), looked like it was cooked on the skewer, and had the texture and taste to it that a grilled skewer should! I was a big fan, especially since the chicken was well cooked and the addition of the flatbread made the meal complete.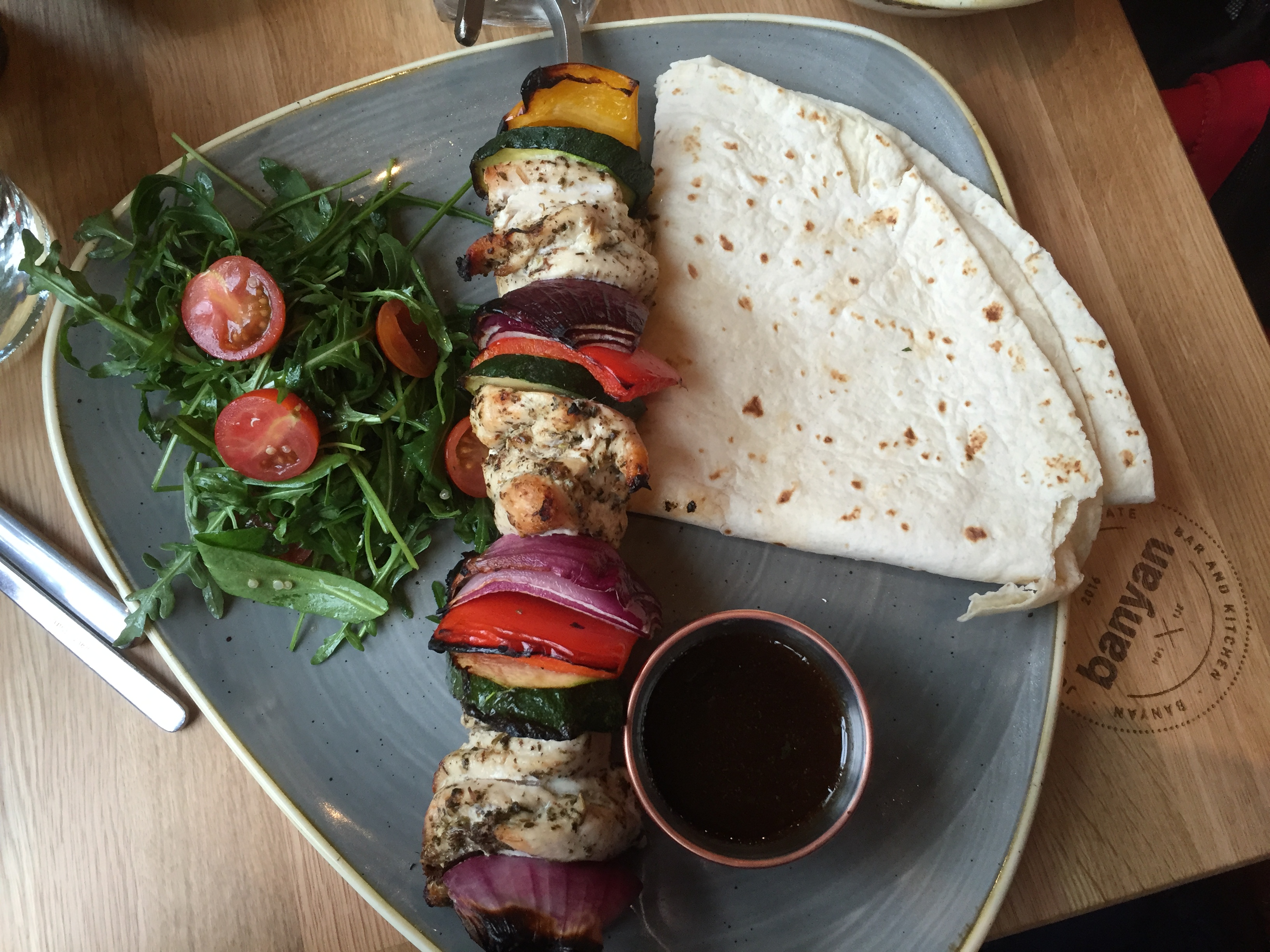 I had a side of sweet potato wedges that also went down nicely with our little girl. They were perhaps a bit too mushy for me but they worked well with the skewer.
Charlotte was happy with her burger (a breadless affair!) with the lack of carbs meaning that the meat took centre stage. The fried egg on top had a runny yolk, which was nice to see (it's always reassuring to know food isn't left lying around before service) and her avocado and bacon salad was full of flavour. This was a healthy take on a burger that nailed the brief.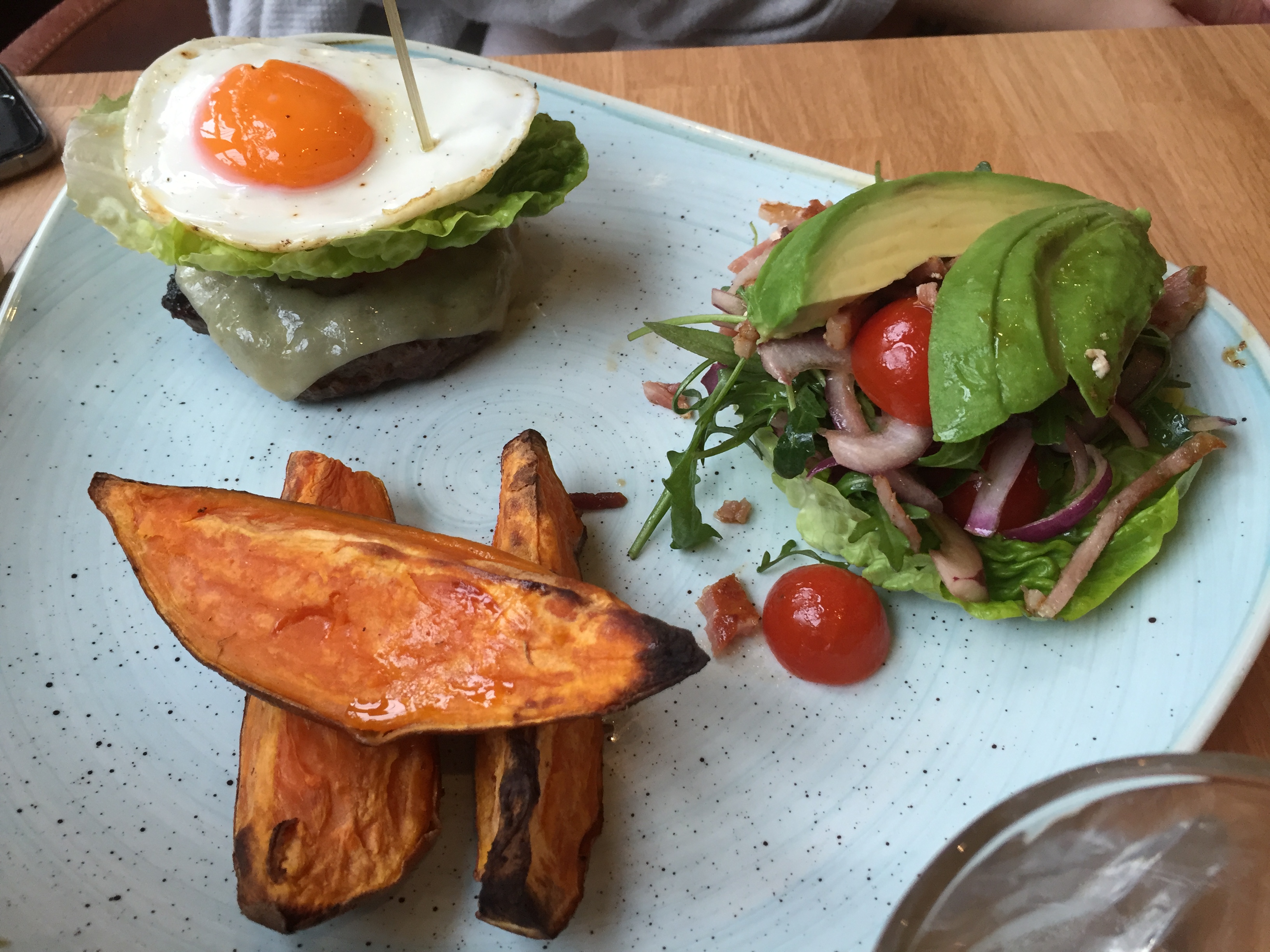 We enjoyed a couple of nice drinks with our meal, Charlotte sampling the house pink prosecco and me a revitalising mocktail. Charlotte's pink fizz was rather tasty and at £4.95 wasn't bad value while my mocktail did what the name said, providing a good value refreshing drink to go with my meal.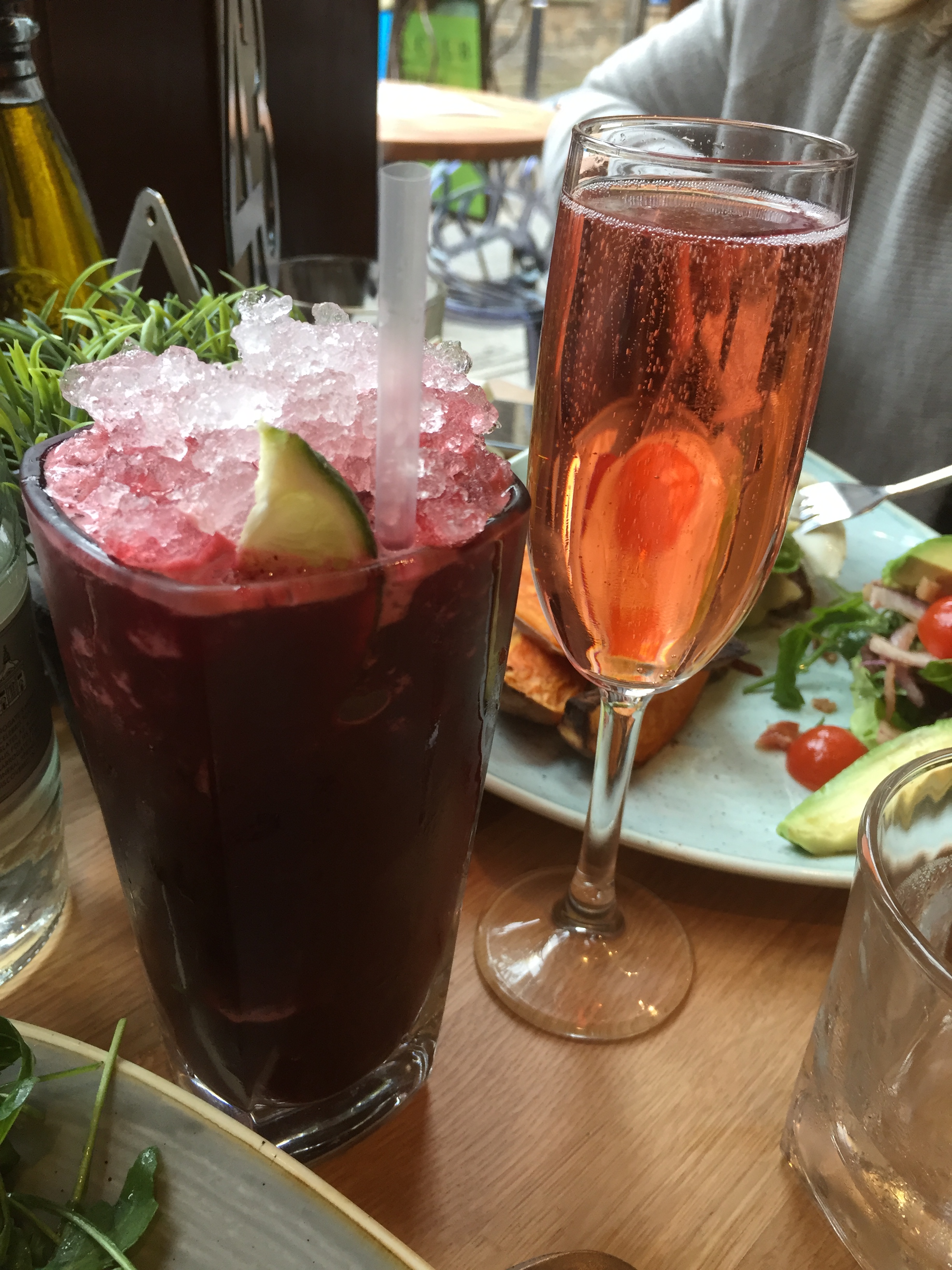 We just about had room after our mains to squeeze in dessert. Charlotte opted to go for the warm triple chocolate brownie which she found to be extremely tasty! In her view, the peanut butter smeared underneath the brownie made the dish complete. I ordered a Bakewell tart, which came with raspberry ripple ice cream. The pastry was well done and the frangipane was tasty but it was the mixture with the ice cream that made the dish! All in all it was a decent dessert that I would not hesitate to order again.
Leaving Banyan Bar & Kitchen we were impressed with the atmosphere and the quality of the food. In terms of who it should appeal to, this venue could suit people out for a drink after work or at the weekend and is also perfect for those with a family, especially as they offer a separate kids menu. It's not the cheapest option but the food on offer is of good quality and it's safe to say that this upgraded Banyan Bar & Kitchen in Harrogate is certainly worth trying out.
Disclaimer: We were provided with a complimentary meal for two with a drink. We were under no obligation to provide a positive review and all opinions are our own.