Caroline likes the parking at Britannia Spice but that was the high point of her evening…
They say there's no such thing as a free lunch and it seems that there's no such thing as a free bottle of birthday prosecco at Britannia Spice either – or at least not if you want to use your Tastecard! We decided to skip the free prosecco and use the Tastecard but in retrospect this probably made poor financial sense. The Tastecard is meant to cover the cost of one free starter and one free main at the restaurant although in actual fact only the cost of one free main was deducted from our bill. Having waited ages for the bill we had lost the will to live and couldn't be bothered arguing over the fiver by which we felt we had been overcharged.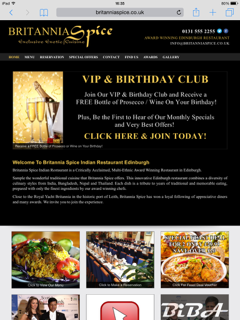 I have tried hard in the past to be impressed by the food at Britannia Spice but it just hasn't ever done it for me – it does, however, have lots of parking right outside and that's the reason why we use it for our once a year get-together with my cousin and her husband who drive in from Fife.
Maybe we are spoiled by places such as Shalimar in Harrogate but Cafe Mother India in Edinburgh can knock spots off Britannia Spice and for that reason I won't bore you with an account of the food that we had. It's not that there's anything particularly wrong with it but it just isn't anything special. I'm also always a bit suspicious of places that try to offer an over-extended menu – why for instance does Britannia Spice need to offer Thai food? Is Indian, Bangladeshi, Nepalese and European not sufficient?
What IS particularly wrong, however, is the service. The waiter who greeted us initially was polite and friendly but the one who took our orders and served us was not only clumsy but downright rude. Despite the fact that two of us said we didn't want rice and would be happy with naan he insisted that for four people we needed two of their generous portions of rice in addition to the two naans we had ordered. I wasn't going to embarrass our guests by standing my ground but decided that since he was determined to stuff us with rice I wouldn't bother ordering the two side dishes that I had chosen.
Having had a look at Tripadvisor it seems we are by no means alone in finding the attitude of some of the waiting staff pretty poor. Next time I think we'll be heading for Cafe Mother India regardless of the parking problems!