Not long until Great British Menu 2016 hits our screens! We personally can't wait for one of our favourite shows on TV to return. To celebrate the imminent comeback of GBM, today we bring you an exclusive interview with Jude Kereama.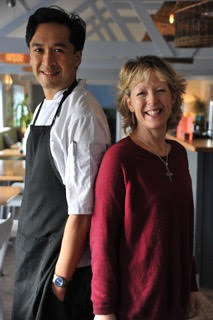 Originally hailing from New Zealand, Jude moved to the UK in 1996, gaining crucial experience in London before moving to Cornwall and making a name for himself at restaurant with rooms Kota. Jude also runs sister restaurant Kota Kai down the road from Kota and is a hugely popular figure on the GBM scene.
He took a few minutes out from his busy life down south to chat to us at Leeds Foodie.
As you are originally from New Zealand, did you find you were able to apply a slightly different take on this year's brief?
The brief was very hard to narrow down, and always slightly cryptic but the brief clearly wanted to celebrate Great Britons rather than taking a Kiwi angle by using Great New Zealanders commemorated by the Queen.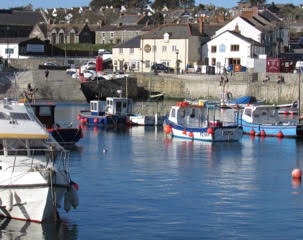 What were the main challenges you faced being inside the pressure cooker of the Great British Menu kitchen?
The main challenges in the kitchen were being under the watchful eyes of the judges, cameras, and of course your peers. Timings are also essential and you are under constant pressure to get your dishes out on time. Also working in a foreign kitchen without your equipment and staff is tough!
Which ingredients have really inspired you recently?
I feel very inspired by my local ingredients, whether they are foraged, caught in the harbour or reared locally. I love using my local foraged seaside ingredients, and my son loves to forage with me too.
Aside from your own, which restaurant have you really enjoyed eating at?
I had an amazing meal at The Elephant in Torquay. My wife and I took all our staff as a thank you, and Simon Hulston, the chef/proprietor produced an inspiring meal. It was also lovely to meet him afterwards and chat to a true Great British cheffing hero.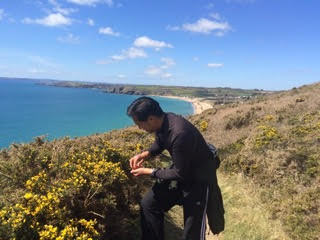 How would you encourage amateur/home cooks to get involved in using more seafood?
I think people are quite scared of cooking fish as there is little leeway between fish being moist and suddenly too dry. I suggest cooking fish whole and stuffed with herbs and lemon and a splash of extra virgin olive oil. Wrap it in foil and bake it. Also, cook individual fillets with skin on, as this helps to protect the fish from drying out. Cook your fish fillets on a nice medium heat with rapeseed oil until the skin is nice and crispy. Add a knob of butter, turn over and baste your fish on a low temperature. Have everything else ready on your plate first. Just give it a go!
Which dish that you have created are you most proud of and why?
The 'Life in a Rockpool' dish from my first Great British Menu. It is all locally sourced. The different textures and ingredients were very challenging, but I was satisfied that I had created a dish that represented my style of food, and using ingredients that I am enthusiastic of to make it look like life in a rock pool.
If you want to try out Jude's food, you can at Kota or you can find out more here.
Where is it: Harbour Head, Porthleven, Helston, TR13 9JA
Reservations: 01326 562407